How to Spend Three Days Hiking and Camping Around Moab, Utah
Now that I've moved out to Colorado, Western wilderness adventures are that much more accessible. To keep myself sane while working a desk job and dreaming of my next long trail, I'm doing my best to take advantage of the geography. This past weekend, I took an impromptu trip to Moab, Utah, with four other Appalachian Trail thru-hikers and two hiker-trash groupies. We planned everything last minute, coming up with the idea on Monday and leaving after work Friday. We only had three days to spend there, with six hours of driving each way. We packed as much as we could into our three days, and it was wonderful. Here's my guide to make planning a last-minute trip to Moab easier.
If you haven't been to the Moab area, or Utah in general, I highly recommend it. Especially if you want to feel like dinosaurs could pop out any minute. Or like you're on another planet. Or that you could stumble off a cliff with one misstep. You know, danger at every turn and all that (just kidding–it's perfectly safe if you're smart and prepared). The Southwest is so different from anywhere else I've been, and it's truly spectacular. I never thought I'd be a huge fan of the desert, but Utah truly has won over my heart with its red rocks and spires, majestic arches, deep canyons, endless sunshine, and wide open spaces.
Even despite the remarkable wilderness, Moab is a charming, cool town in its own right, with ample bike paths, stunning scenery, charming cafes, an abundance of artwork, the most unique neighborhood park (literally full of musical instruments) I've ever seen. Mill Creek also runs through the town, creating a little oasis in the desert, so after getting dusty and hot exploring the area's many amazing wilderness areas, you can visit one of its swimming holes for a dip. This is a town worth visiting, for sure.
The Parks
Canyonlands National Park
Canyonlands National Park is an incredible well-kept secret of a park, seeing far fewer visitors each year than neighboring Arches National Park. It is broken up into three (land) districts: The Needles, Island in the Sky, and The Maze. While all geographically connected, they are not connected by roads within the park, so you have to exit the park and drive along public roads to get between them. Each district is known for its different characteristics. Island in the Sky is the most accessible by car and features deep canyon views. The Needles is a bit more remote and features red spires and backcountry hikes. The Maze, which is the only district I have not been to, is the least accessible of the three, known for its dead-end canyons and high cliffs, and was named by Backpacker Magazine as being one of the most dangerous hiking locations in America. Fun fact: Canyonlands was the park in which Aron Ralston, of 127 Hours fame, cut off his own arm after getting pinned beneath a boulder. No matter the district, keep in mind that this is the desert, water is scarce, and days can be hot. Be prepared and always let someone know your destination.
Arches National Park
If you're into geology, Arches is the park for you. As its name suggests, towering rock formations and dramatic arches are easy to find here, and views of the snowcapped La Sal mountains are visible from multiple places in the park. According to the National Park Service, this park alone boasts over 2,000 sandstone arches. It's truly otherworldly, but unlike Canyonlands, it's fairly crowded with RVs and tour buses. So while the weather is nearly ideal in the spring and fall, I might recommend going in the off season if you're looking for solitude.
Dead Horse Point State Park
Dead Horse Point State Park came highly recommended by a Salt Lake City resident who said it is "the place" in Utah to go for incredible deep canyon views…. which you'll also get in Island in the Sky if you're looking to save time. Dead Horse Point, for which the park is named, sits 2,000 feet above the Colorado River. The park, a high desert ecosystem, is known for its sandstone cliffs deep canyons, and geology carved from ancient oceans, freshwater lakes, and sand dunes. Unlike the national parks, dogs are allowed in Dead Horse Point State Park, so if you have a pup, this could be a great option.
The Hikes
Druid Arch, Canyonlands National Park
Druid Arch is my favorite hike I've done around Moab. Beginning at the Elephant Hill Trailhead, this hike is 10.8 (or more) miles round-trip of needle formations, desert landscape, and colorful canyons. The total round-trip elevation gain is about 1,300 feet, so it's a fairly easy 10.8 miles, and there are plenty of beautiful natural rock formations, and photo opportunities, to distract you along your way. This trail is an out-and-back, so after your first 5.4 miles, you'll be rewarded for your hard work, after a short rock scramble, with the massive, majestic Druid Arch. This hike is a must-do if you're in the area, and you can even make it longer if you like.
Fiery Furnace, Arches National Park
Into rock scrambling and discovering hidden passageways? You'll love Fiery Furnace, a labyrinth of a hike featuring slot canyons, towers of sandstone, and tucked-away arches that you can stumble upon accidentally. This hike involves rock scrambling through an area without a well-defined trail, so you really have to pay attention while you're in there as to where you're coming from and going. It is a lot of fun, though—like a natural playground. Fiery Furnace requires a permit, and as the National Park Service only gives a certain number each day, they go quickly. You can get your permit up to seven days in advance at the Arches visitors center, so if you're in Moab for a few days, it would be worth getting ahead of time.
Devils Garden, Arches National Park
Want to see a ridiculous amount of sandstone arches? Devils Garden is for you. You can make this hike anywhere between 1.9 miles to 7.9 miles, depending on how many arches and other structures you'd like to see. There is a main trail and a primitive trail that run through the area, and you can take short side trails to reach different destinations. For example, out and back to Landscape Arch, which is the longest arch in North America, according to the National Park Service, is only 1.9 miles. If you do the entire loop and include each optional side trail, your hike will total 7.9 miles. We did the entire trail, which was great fun, but I was a little arched out by the end.
Delicate Arch, Arches National Park
Delicate Arch is the most famous arch in Arches National Park. It's the one on Utah's license plates, is the largest freestanding arch in the park, and is pretty accessible. It's also backdropped by the La Sal Mountains. The round-trip hike to get to it is only three miles with an elevation gain of 480 feet. It's certainly worth the minimal effort to get there, but expect this to be the most crowded hike you do in the Moab area, and you will more than likely have to wait in line to get your quintessential photo under the arch. Bonus: only a short distance along the trail off the parking area, you can view some petroglyphs dating back to the 1800s.
The Dead Horse Point Rim Trails
As previously mentioned, I haven't yet been to Dead Horse Point State Park. But if and when I go, I plan to visit the rim trails. The park, and hence the trail, sits 2,000 feet above the Colorado River and therefore offers (supposedly) spectacular views of the deep, eerie canyons below. The rim trails are all considered "easy" with very little elevation gain or loss, and as with Devils Garden, you can kind of make your hike as long as or as short as you'd like. The Dead Horse Point Overlook Trail, only 400 feet round-trip, is the shortest and easiest in the park, and happens to be its main attraction. The West Rim Trail System is 3.5 miles each way. View the full trail map here.
Where to Camp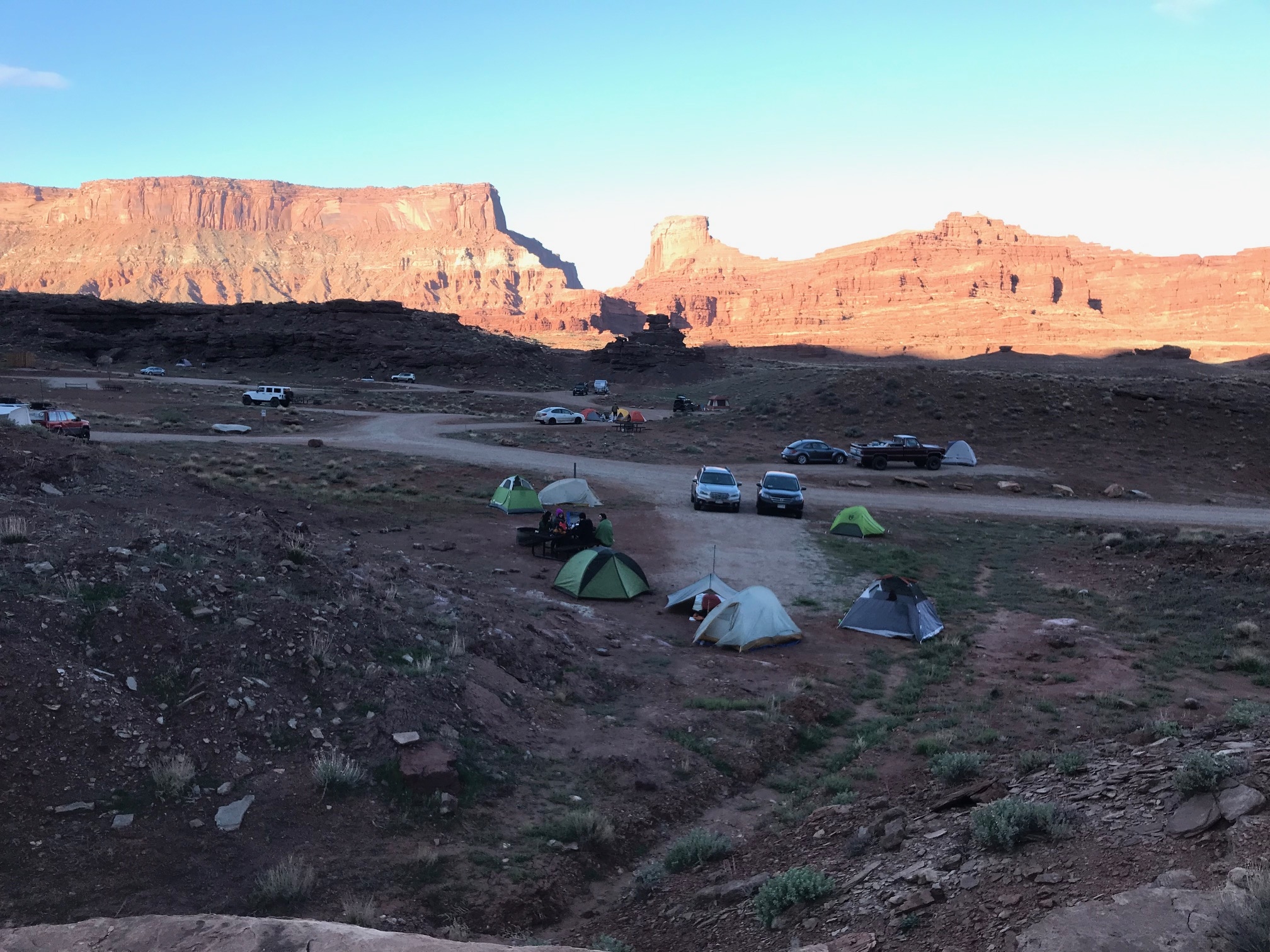 Both Canyonlands and Arches have amazing car camping sites for rent, but they fill up quickly. Island in the Sky (Willow Flat Campground) only has first-come, first-served sites, while Needles (Squaw Flat Campground) has some first-come, first-served and some available for reservation ahead of time. The campsites in Arches (Devils Garden Campground) are first-come, first-served from Nov. 1 to Feb. 28, and available through reservation-only (which you can do up to six months in advance) from March 1 to Oct. 31 (your guess is as good as mine during a leap year!). You can camp in the backcountry in both Canyonlands and Arches, but you'll need a printed and signed permit. Water is scarce in the backcountry, so you will likely need to carry in all that you need. In Dead Horse Point State Park, reservations for car camping sites are open four months ahead of time.
Because camping in the parks are limited and tend to fill up quickly, it's worth having a backup plan. The Bureau of Land Management has a bunch of sites in the area, most of which go for $20 per night and include privies but no water. They very helpfully describe on their website which sites tend to fill up quickly. For example, we arrived at about midnight on Friday, so we headed straight for the Ledges Campground, which we knew was the least likely to fill up as it sits about 30 minutes outside Moab. We stayed there for two nights, then moved to the riverfront Kings Bottom campground after the weekenders began to clear out.
There are also private campgrounds and hotels available in the area, which are more likely to have amenities like showers available. But who needs showers?
Suggested Schedule
Day One
Canyonlands: Druid Arch Hike.
Celebrate with a beer.
Day two
Arches: Devils Garden Hike.
Moab: Swim in Mill Creek and visit Harmony Park.
Arches: Delicate Arch Hike (this is supposed to be excellent at sunset).
Celebrate with a beer.
Day Three
Arches: Fiery Furnace Hike.
Dead Horse Point: Rim Trails.
Celebrate with a beer.
If you happen to get sick of hiking (which I never do), there's plenty more to do in the Moab area—climbing, rappelling, rafting, ATVing, swimming, drinking (I can personally recommend the Moab Brewery), you name it. It's an incredible town with an unreal amount and quality of wilderness to explore. And if you have more than three days to explore, Utah has so many other incredible parks to explore—Zion National Park, Bryce Canyon National Park, Capitol Reef National Park, Goblin Valley State Park, and I'm sure plenty I haven't even heard of yet. Happy adventuring!
Affiliate Disclosure
This website contains affiliate links, which means The Trek may receive a percentage of any product or service you purchase using the links in the articles or advertisements. The buyer pays the same price as they would otherwise, and your purchase helps to support The Trek's ongoing goal to serve you quality backpacking advice and information. Thanks for your support!
To learn more, please visit the About This Site page.