The 2020 Thru-Hikers Who Stayed Home and are Helping Their Communities
At this point it's old news: the 2020 thru-hiking season isn't happening. I've seen prospective 2020 thru-hikers referred to as NOGO hikers (instead of NOBO or SOBO hikers… get it?), which means the abrupt end to years of planning and saving. Some hikers were already on the trail, others were about to embark. Hikers who were aiming for a later-season SOBO hike might still be considering their options, but recent news from Baxter State Park have made even that plan tenuous.
That means that thousands of hikers who were planning to spend six months in the woods are now back at home, and a lot of them are giving back to their communities. The same pandemic that took us off the trail is wreaking havoc on supply chains, the healthcare system, and at-risk populations. The need for volunteer efforts—both in time and monetary donations—is astronomical, and we were thrilled to see how many displaced 2020 thru-hikers are taking this time to support their communities. My home in Montana has remained relatively unscathed compared to other parts of the country, but there's still a huge need for donations of supplies and time. I've been delivering groceries to at-risk community members, volunteering for the food bank, and last week my household donated blood at a local Red Cross drive. It might not be what I planned for this season, but it feels good to have a small impact.
Here are how 2020 NOGO hikers have been giving back to their communities, and finding use for the time they have on their hands. Are you a 2020 thru-hiker who's taken this time to give back? Shoot an email to hugh[email protected] and let us know. We'd love to add your story.
-Maggie Slepian
Managing Editor
Related
Adrianne Rigez
Adrianne, who canceled her Pacific Crest Trail thru-hike, is a loadmaster with the California Air National Guard, managing the weight and balance of the aircraft. (Basically the cargo and passengers in the plane.)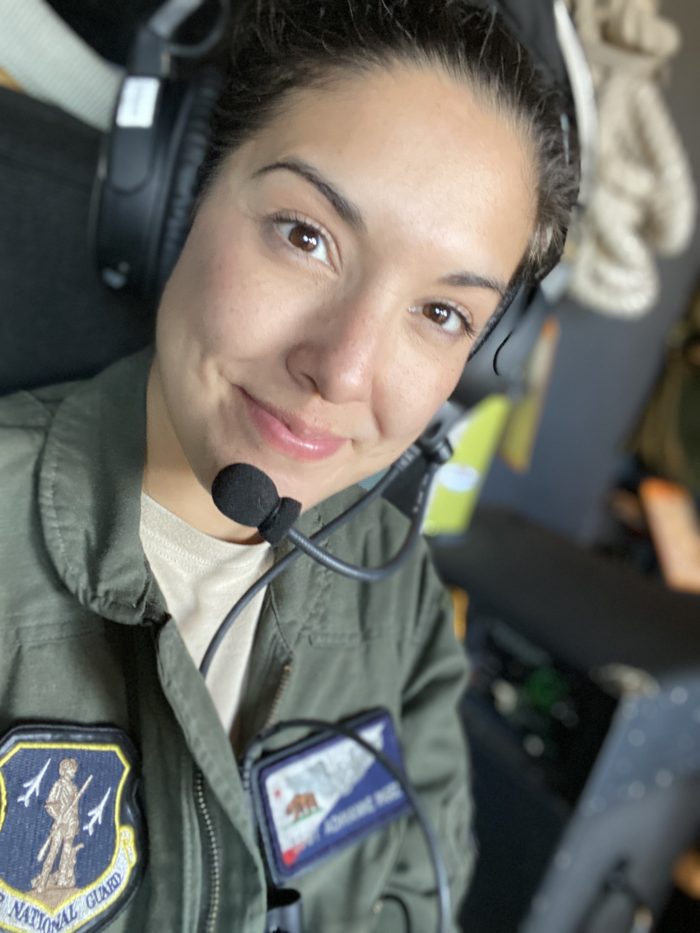 The morning after calling off my hike, I was activated to fly with the California Air National Guard. Within a few days I was flying fellow Guardsmen around the state to set up mobile hospital sites and food banks. I have been active and busy since and was lucky enough to recently bring ventilators into New York during their time of need.
Not a day goes by that I don't think about being on trail and where I would be in my journey and if I will ever have the opportunity to take so much time off work to ever complete a thru-hike, but I am grateful to be employed and help make a positive impact in the world.
Marijn Keuken
Marijn canceled her PCT thru-hike, and is working as a nurse in a COVID-19 unit in the Netherlands, where she lives.
I am doing quite well considering all the circumstances (not being able to hike, self-isolation, working at a COVID-19 unit, etc.).
At the moment there about 46,000 people infected with COVID-19 and over 4,000 deaths in the Netherlands. In the Netherlands there isn't a complete lockdown as in Italy, Spain, and France. However, schools and universities are closed. As are restaurants, (movie) theaters, libraries, sports facilities, and every museum. So unfortunately no Rembrandts and Van Goghs for me, but I can definitely live with that for now. We still have the freedom to go to a park, bicycle ride, and run our daily errands. This is all possible because of social distancing of six feet.
Nurses and other medical staff are very overwhelmed here as well. For me it has been tough to see the fear in my patients' eyes. They feel like they're suffocating and they're scared to die. For all my colleagues this is not a normal working situation. The whole country supports nurses, doctors, and other caretakers. They see us as heroes and praise our work at the front line. Though I don't see myself as a hero. This is my job and simply the work life I have chosen.
Medical supplies are getting more scarce every day. We are recycling our COVID-protective scrubs by sterilization. We're reusing our mouth masks as well. I have never thought I would be doing that!
I feel extremely sorry for my colleagues in the United States of America. I couldn't believe my eyes when I saw health workers protesting against people opposing the safety rules. I'm shocked that the president of the United States supports the people violating the safety rules. I hope my colleagues in the US get the support they need to do their job. I want to wish them all the best in these difficult times.
Bonita Salmeron
Bonita, a Trek blogger, started hiking the AT on March 1, but left after a few weeks.
Since then I've been working with a local Baltimore health care clinic for the homeless. I do patient intake, contact tracing for COVID cases, and delivery of sanitation products to camps around the city.
It has definitely been a reality check in the sense that we see what a privilege it is to be able to shelter in place and have a space to feel safe. From my perspective, Baltimore has really tried to protect the homeless population. A lot of those in shelters that fall into vulnerable categories have been moved to motels to self-quarantine; however, shelters are still quite crowded. Obviously, it's hard for those who rely heavily on individual in-person donations so they have stressed the shelter system.
At the clinic they are seeing a lot more patients with minor illness who normally would not come to get checked out but they are afraid they may have the virus. I've heard that some facilities have tracked outbreaks to their residents and it can be very hard to trace where it might have originated and where else it may have spread.
For better or worse, now that people have settled into quarantine, donations have picked up. Initially, basic sanitation products that are vital for homeless shelters operation were scarce but these days there are many donations that come from households that mention stocking up too much and wanting to give to those who need it. Usually donations of supplies do not come from individuals. The clinic has become a base of operations for collecting supplies to be distributed to shelters around the city.
China Addison
China is volunteering at a food pantry in Chicago after canceling her AT thru-hike.
I'm volunteering at Lakeview Pantry in Chicago, Illinois, instead of thru-hiking this year. The demand for their services has gone up by a whopping 140% during the pandemic and they got a swanky new place to distribute food while practicing social distancing: Wrigley Field!
Volunteering at a food bank is an essential service and I feel lucky enough to be in a position to give back during this time. Plus, I figure doing 4-6 hours of loading up people's cars with food, making boxes for food, and running around a warehouse each week is keeping me in thru-hiking shape for when everything does open back up!
Rachael Andrews
Rachael gave up her plans for thru-hiking the PCT with her husband, and is helping supply health care workers in London.
Since our plans have been canceled, I have spent a lot of time moping but now I've decided to try to put my time to good use by working in Cornwall, bottling hand sanitizer and packing face shields for use in the hospitals in London that are desperate for PPE. Hoping to be back to the trail in 2021 with a renewed sense of adventure!
It's a small business, but so far we've bottled around 30,000 bottles so we're doing OK!
Some people wear masks (in England) but mostly people tie scarfs around their faces—weird times.
Nikki Page
Nikki canceled her AT thru-hike, and has been making masks for family, friends, hospitals, and businesses.
My story is the same as a lot of thru-hikers this year. I finally got the kahunas to follow a crazy ass dream I've been having for years. Spent months saving and planning. Quit my job of five years. Watched with crushing defeat as my dream went from shaky to unlikely to totally impossible. Not knowing if the opportunity will ever come again. Totally. Devastated.
One month later, I've found unemployed life not the nightmare I feared. I've started making handmade masks. Lots of them. To send to family, friends, and now hospitals and small businesses. Every day I do yoga, I meditate. I laugh with the few people I get to keep close. … What I have right now is precious and no virus can take that away from me.
And I hope that someday, when this craziness passes, we meet somewhere on the trail. We can exchange grateful waves, our stories at the campfire, maybe even a hug.
Sophia Garber
Sophia, a Trek vlogger who  began hiking the Appalachian Trail on March 15, and left after six days, helps young adults who have cancer.
I am most certainly not on the front lines, but I went back to work at the Ulman Foundation where I work at a house that provides free lodging for young adults with cancer and their families. We are a nonprofit in Baltimore city and while I don't think I am doing anything too extraordinary, it feels really awesome to be able to help out the families we have staying at Ulman House right now!
So far, the people who are staying at the house I work at are doing OK. Right now, all of our patients at Ulman House are being treated at Johns Hopkins Hospital and because their treatments are vital, they are still going into the hospital multiple times a week. I know elective procedures at the hospital are all being postponed, but so far, access to their treatments are luckily continuing.
I think financially everything is much harder for them right now. Our organization is trying to ramp up our financial assistance so we can fill some of the gap, but it's so tough.
I know that Ulman House is usually such a positive, fun, and goofy place, and we try to create a community so young adults and their families aren't feeling so alone while they go through treatment, but now, our staff are working remotely and everyone is trying to keep to themselves, so I think our patients are feeling the loneliness more than ever, which breaks my heart.
We are doing virtual game nights three times a week which is nice, but not the same!
Feature photo by SrA Jonathan Lane showing the 146th Airlift Wing, California Air National Guard from Oxnard, California, delivering 200 ventilators at Stewart Air National Guard Base, Newburgh, New York.
Affiliate Disclosure
This website contains affiliate links, which means The Trek may receive a percentage of any product or service you purchase using the links in the articles or advertisements. The buyer pays the same price as they would otherwise, and your purchase helps to support The Trek's ongoing goal to serve you quality backpacking advice and information. Thanks for your support!
To learn more, please visit the About This Site page.