The John Muir Trail: 15 Days of… Fun?
DAY ONE:
My John Muir Trail journey started at Cottonwood Pass, 25 miles south of the summit of Mount Whitney. Going NOBO had been a decision made in part for the desire to make it up and over the southern passes before snow bridges collapsed, and in part due to a chronic lack of luck with permit lotteries. The first day passed quickly as I wound my way up in elevation, entered Sequoia National Park, and complained at how heavy my pack felt with a nine day food carry shoved into my bear can. 
The most common questions I got from friends and family while preparing for this hike are as follows:
How long is the trail? (214 miles, but my path would end up taking me 242 miles between Cottonwood Pass and Yosemite National Park)
How do you not get bored while hiking? (I do, but I listen to a lot of the Shrek 2 soundtrack on repeat, which certainly helps, along with audiobooks and other music)
Where do you poop? (Just like I do at home- in a hole in the ground I dig in the backyard, except for South of Crabtree Meadows, which mandates the use of a WAG bag)
The day ended at Guitar Lake, where I had hoped to get a good night's sleep before my Whitney summit the following day but instead a thunderstorm rolled overhead, shook the ground beneath my sleeping pad, and lit up my tent with flashes of lightning. On top of all that, the privy marked on the map at Crabtree Meadows had been demolished and was unusable. Truly a disappointing and tough day.
DAY TWO:
Today made me forget all about my bitterness over the non-existent privy. Summiting Whitney, at 14,505 ft, is stunning at the worst of times, and I had the immense privilege to summit during a New Moon at the height of the Perseid Meteor Shower, which added a whole layer to the beauty.
While socked in at the summit, the ascent and descent were cloudless and I enjoyed the hundreds of shooting stars and brightening sunrise reflecting off the surrounding mountains.
DAY THREE:
Today took me to Forester Pass, the first and tallest pass of the trail. In what would quickly become a habit of the trail, a storm started gathering once I was too far out of the treeline to turn back but too far from the other side of the pass to feel safe.
When a friend pointed Forester out to me, I literally didn't believe that those sharp, steep, distant spires could possibly be where the trail led. But, step by step, the sharp spires grew closer and closer and the switchbacks took me out of Sequoia National Park into Kings Canyon National Park.
The snowfields on the other side of the pass took some time to navigate, but enough of the boulderfield had melted through to make the pass feel secure. This night was the first night where I noticed the mosquitoes- or maybe it was the first night where they really noticed me- and I was grateful for my bug net. I hear that's the hot fashion item of the JMT this year.
DAY FOUR:
The climb today took me over Glen Pass. My trail name (Double Dip) comes from my intense love of swimming in alpine lakes at least twice a day, and one of my pre-trail goals had been to swim in Charlotte Lakes, ascend Glen Pass, and then swim in Rae Lakes. Once again, the weather did not cooperate and I passed by Charlotte Lakes as it rained, crossed over Glen Pass as it rained, and ate lunch next to Rae Lakes while it rained a little bit more. No swimming for me today.
DAY FIVE:
Today gave me the gift of my first snow-free pass with Pinchot Pass. While there were a few nominal patches to cross, the switchbacks on both sides were clear and I was up and over it before my celebratory Hi-Chew was even fully dissolved. I celebrated further with a dip in Lake Marjorie (and a ritualistic playing of Taylor Swift's song, 'Marjorie'.)
Mather was a different story. The way up was clear of snow, which was a recurring theme for NOBOs this year, and I had gotten my hopes up after the dry Pinchot. However, the steep southern headwall had clung to several snowfields that were rotten with the texture of mashed potatoes. To make things worse, seconds after my foot touched the high point of the pass, a flash of lightning lit up the trail followed (far too quickly) by a loud clap of thunder.
I have no pictures of this moment, only the low clouds of the aftermath, so I can confidently tell you that I skillfully ran down the pass without crying, and you have no way to fact check that or prove that I'm lying to you.
DAY SIX:
My body demanded a bit of a rest after yesterday's emotional turmoil of Mather Pass. I hiked to the base of Muir Pass, taught my tramily how to play Eucher (a thru-hiker necessity), and finally started to deal with some meniscus pain I was having in my knee. My stomach also started to feel funny, and I hoped this wouldn't lead to anything worse.
(Spoiler alert: it absolutely will.)
DAY SEVEN:
I can say confidently that today was the best day of the trail. Muir Pass is stunning and, while it has clung to a shocking amount of snow for mid-August, the low grade of the slopes and consistently incredible views made the ascent pass in a blur.
The hut at the top gave a respite from the wind, but it was the descent down into Evolution Valley that will stay with me forever. Not only did I bag my double-dip for the day (Thanks Wanda Lake and Evolution Lake), but the jagged peaks and expansive, ice-filled lakes gave me my fill of eye-candy.
(For more dipportunities on the JMT, check out my other article)
That night, I learned about the incoming hurricane.
Then I threw up.
DAY EIGHT:
Today is my day of problems. None of them have any solutions as of yet, so I will list them here and move on.
Hurricane Hillary is barreling towards land, and is forecasted to smack right into the John Muir Trail, bringing with it six years-worth of rain along with 80 mph winds, flash flooding, downed trees, and intense temperature swings. I have no cell service with which to track the storm's progress, and the clouds are too thick to reliably send or receive Garmin messages from friends and family.

It has been 24 hours since I have been able to keep anything down. When I try to eat, it comes back up. When I try to skip the food in favor of water, it also came back out in an even worse way. I have a headache, intense fatigue, and- most concerning- a complete lack of appetite.

I need to find my way across both Evolution Creek and the South Fork of the San Joaquin River. The San Joaquin bridge is, best-case scenario, dangerously mangled, (if not destroyed completely) and both rivers are swollen and raging with the week of record-breaking rain.
DAY NINE:
I kept down no food today. Nor water. I am struggling to keep walking and worried about my physical health along with the incoming storm. Today was pretty, I'm sure, but I don't remember what happened and I certainly took no pictures. 
Do I quit here? If I do, how do I even get off the trail safely?
DAY TEN:
I am a new woman and life is good again.
Evolution Creek wasn't as deep as I had feared, the San Joaquin bridge was technically still standing, and I pulled a long day over Selden Pass to hike to Vermillion Valley Resort where I planned to get off the trail and find my way to a hospital. I had woken up to the unwelcome surprise of blood in my urine and, after two and a half days now of zero food, zero water, and intense physical activity, my body was just done.
The JMT is a very remote trail, which is beautiful, but did not provide many options in its southern sections to safely and quickly leave the trail. VVR, 18 miles away, was my best bet. I arrived in the pouring rain, choked down the largest burger I've ever had, crawled into a bed (a real bed!), and waited for the burger to make a reappearance.
Instead, I woke up 16 hours later hugging a Gatorade bottle my tramily had bought for me. One liter turned into two turned into six and, as time passed, I started feeling more human than I had felt in days. I knew things would be okay when I was excited- actually excited!- by the prospect of breakfast.
If you ever find your way to the remote Vermillion Valley Resort, I strongly endorse The Hangover breakfast sandwich. I'm not one to believe in cure-alls, but anything that gave me the ability to get back on the trail that day is nothing short of a miracle. I took the ferry across the lake and camped near Mono Pass. I ate dinner (!), watched the sunset, and peed clear, which I will never again take for granted.
DAY ELEVEN:
What a normal, standardly uncomfortable, typical thru-hiking day. I am so thankful. Silver Pass was a long, hard climb to the top, it was both too hot and too rainy, my knee hurt like hell, and the mosquitoes ate a measurable percentage of my body. I loved every second of it.
It's wild how the trail reframes after being so sick. Believe it or not, it's hard to enjoy swims in Marie Lake and stunning views of Mt. Hooper and Mt. Senegar when you're peeing blood and worried about how to find your way to the nearest hospital. Today is all about getting to the strikezone of Red's Meadow: that magical radius close enough to wake up early and haul ass to the restaurant before they stop serving hot breakfast.
DAY TWELVE:
The strikezone did not disappoint. After demolishing a hot breakfast at Red's Meadow, along with a breakfast milkshake, the end of the trail started to feel imminent.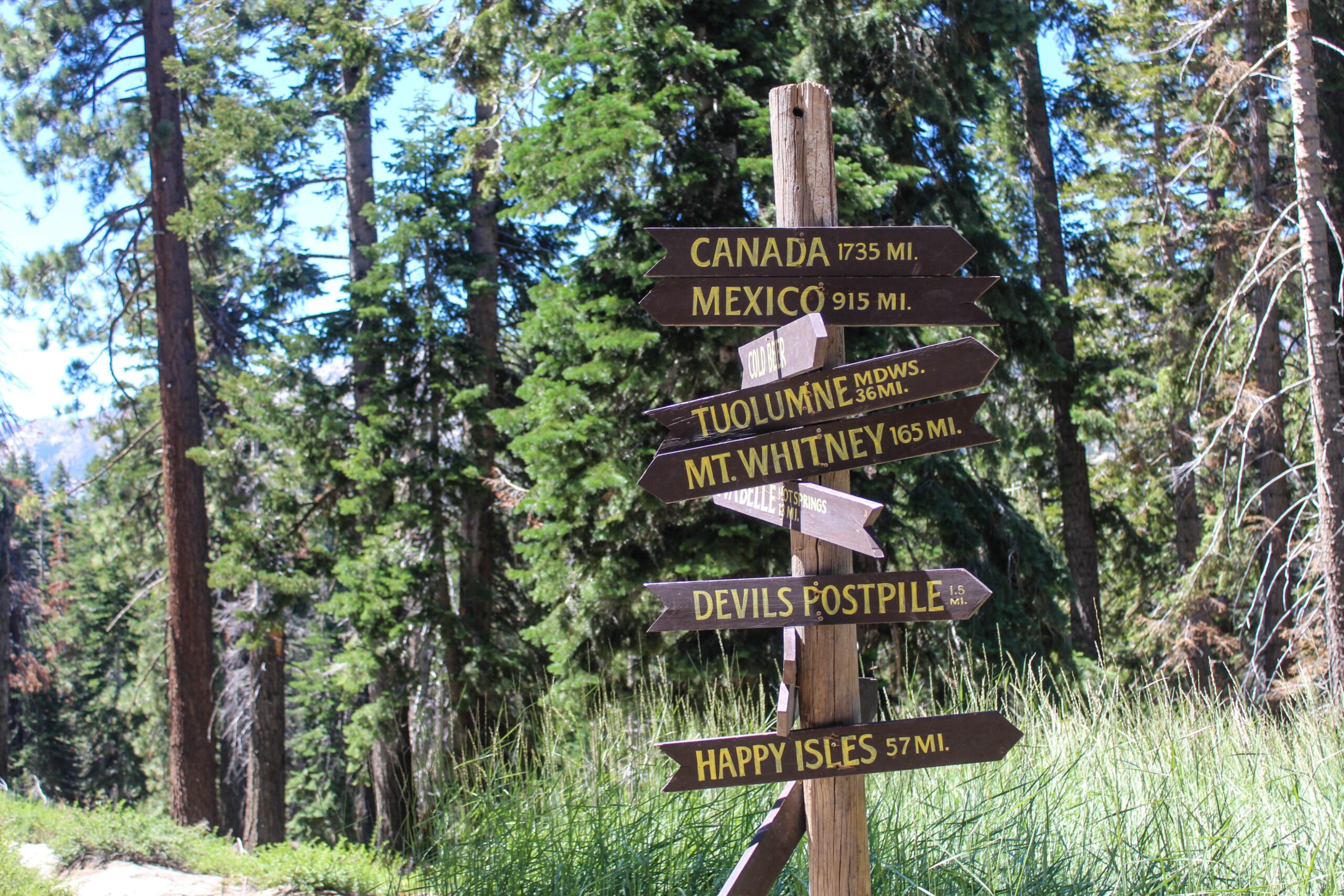 The 17 mile day felt effortless, Devil's Postpile was… cool (I guess), but not worth the side trip in my opinion. The flush toilet at Red's Meadow was honestly more impressive to me, but perhaps I'm biased given my recent digestive issues.
Tomorrow I enter Yosemite National Park, the last major boundary of the trail.
DAY THIRTEEN:
Remember when I said that Day Seven, with Muir Pass and Evolution Valley, was my favorite day of the trail? If any day were to rival that, it would be this one. Garnet Lake and Thousand Island Lake in the Ansel Adams Wilderness were maybe the most stunning alpine lakes I've ever had the privilege to lay eyes on. Both receive dip scores of 10/10, hands down.
Donohue Pass came next, with all the complex emotions that accompany the final pass of any trip. No cell service at the top like I had been promised, and (of course) another rain storm so it receives a pass score of 4/10.
(I am being unfair; it was quite pretty and marked our entry into Yosemite, which was neat, but I really had been excited to play Wordle).
DAY FOURTEEN:
The scenery changed from rolling pine-covered hills to slabs of granite as the trail drew to a close. I spent some time basking at Cathedral Lakes, taking one final on-trail dip, and stayed up at camp to watch the stars come out.
In what felt like a perfect parallel to my experience on Whitney, I saw the brightest, orangey-est, sparkliest shooting star of my life that night, and it stayed in the sky for a good five seconds before burning out. Someone more intellectual and literary than I- please find some metaphor in that. All I knew is that it was beautiful, I was tired, and I was ready to go home.
DAY FIFTEEN:
Finishing such a long hike on one of Yosemite's most crowded day-hiking trails is an odd experience, for sure. It's hard to go from weeks of complete solitude to fighting my way through crowds of people while grappling with the strange emotions that come with finishing a thru-hike.
I wanted everyone around me to know what I had just done- or to at least know what the John Muir Trail was. I wanted everyone around me to oh my god PLEASE just walk a little faster because don't they know how hungry I am and how tired I am and how much my feet hurt?
Imagine 1,000 people watching you accomplish something you've worked weeks for without understanding or caring about what this means to you. Also- imagine they smell like fresh showers and you smell like you've been living in the woods for two weeks and maybe (MAYBE!) had bad enough food poisoning to MAYBE… shit your pants in that time. That's what this felt like.
But, I inevitably found myself at the Happy Isles Trailhead. It felt like an anticlimactic end, in my opinion, so I supplemented with a big dip in the Merced River.
The trail is beautiful. The trail is over. I am excited to eat a burger, sleep in a bed, and get myself to several different kinds of doctors.
In that order.
Affiliate Disclosure
This website contains affiliate links, which means The Trek may receive a percentage of any product or service you purchase using the links in the articles or advertisements. The buyer pays the same price as they would otherwise, and your purchase helps to support The Trek's ongoing goal to serve you quality backpacking advice and information. Thanks for your support!
To learn more, please visit the About This Site page.