The Kalalau Trail: An Unconventional Shakedown Hike
A common piece of advice that you will see given to many first-time thru-hikers is that doing a shakedown hike prior to starting the trail is critical to having success on the trail. While this is a good piece of advice in the abstract, one of the things that is not talked about enough is that, leading up to a thru-hike, your free time quickly evaporates – making these shakedowns difficult – as you make plans to spend your last free moments pre-trail with the people in your life. 
As the rain and snow have continued to pummel Northern California, my lack of availability has been further compounded by a lack of dry trail. This led me to a situation where I realized that if I wanted to make a shakedown hike happen, I would need to combine it with another activity. So this past weekend, in the middle of a week-long vacation in Kauai, my girlfriend and I, along with two other friends, spent three days and two nights hiking the Kalalau Trail on Kauai's Na Pali Coast. Here is my trip report for that hike:
Day 1: Ke'e Beach to Kalalau Beach (11 Miles, ~ 5000 feet of elevation gain)
Our first day on the trail started like many do, with a long drive from our previous day's campsite to the trailhead. Unfortunately, this meant a later start time (~ 11am), putting us squarely in the path of the part of the day where the UV and temperatures are their harshest. Nevertheless, we pressed on with stoke tanks fueled by coffee and sweet Hawaiian pastries. 
The first portion of the trail was roughly two miles and consisted of a climb out of Ke'e Beach up into the jungle and then back down to Hanakapi'ai Beach. The beach is bordered by a large stream that is prone to flash flooding; and the one consistent piece of advice we received from locals and hiking blogs was that if the rain comes, do not cross the streams. This fact, combined with limitations on day hikers proceeding past Hanakapi'ai, results in this section being a very popular day hike; and since we started on a Saturday, this section of the trail was understandably crowded. Nevertheless, we made it to the beach after a little over an hour on the trail and rested there for a while to rehydrate, take in the surroundings, and let our bodies slowly adjust to the heat and humidity. 
After climbing out of the beach and continuing for another four miles, the trail descended into Hanakoa Campground – where we would be staying the next night. As we came to the river next to the camp, we stopped again for another rest. Peeling our packs from our sweat-drenched backs, we sat silently on large river rocks desperately trying to rehydrate. This break was our collective low point. Somebody asked the time and another person responded that it was 3:30 pm. We looked at each other and silently acknowledged that we had been hiking for four and a half hours and only made it six miles. My girlfriend asked, out loud, if we would be able to do the final five miles before the sun was due to set around 7 pm. The three of us looked at each other and half-heartedly nodded our heads one by one before picking up our packs and starting the climb out of the campsite. 
A mile after Hanakoa, we began a descent onto a section of the trail known as Crawlers Ledge. This section is roughly half a mile long and is the most exposed coastal cliff hiking I have done in my life. The trail is no more than a foot wide at any point, requires three or four points of contact in several places, and one false step at any point in this stretch would send you hundreds of feet down into the rocky edges of the Pacific Ocean. As crazy as this may make me sound, this was my favorite section of the trail. The need to be 100% focused on the task at hand spiked my adrenaline – just as I was feeling my most depleted – and gave my body the kick it needed to tackle the final stretch.
As we rounded the last corner of Crawlers Ledge and started the final climb of the day, we momentarily lost the trail because it wouldn't be a hike with Tommy if you didn't lose the trail at least once. Aside from that momentary departure, the last four miles of the trail were largely uneventful until the final crest. As we came up to the final descent, a trail sign emerged notifying us of our arrival at Kalalau Beach. Just past the sign was a clearing that gave us our first clear view of the beach. There are no words to describe how beautiful the beach looked at that moment. We were at the end of our ropes – physically and mentally – but this view gave us the final boost we needed to descend into our campground with 45 minutes to spare before sunset. 
As we sat around that evening eating our dinners and admiring the sunset, the group recounted tales of Crawlers Ledge, the countless climbs, and other sections of the trail that had drawn our attention. It felt like a true on-trail moment. We were exhausted and yet so excited to share our feelings about what we had all gone through together. I was largely silent through that conversation, as it was one I wanted to be more a witness to than a leading participant. I felt an overwhelming sense of joy at where I was and what I was doing: this was where I wanted to be, doing what I wanted to do, with exactly the right three people.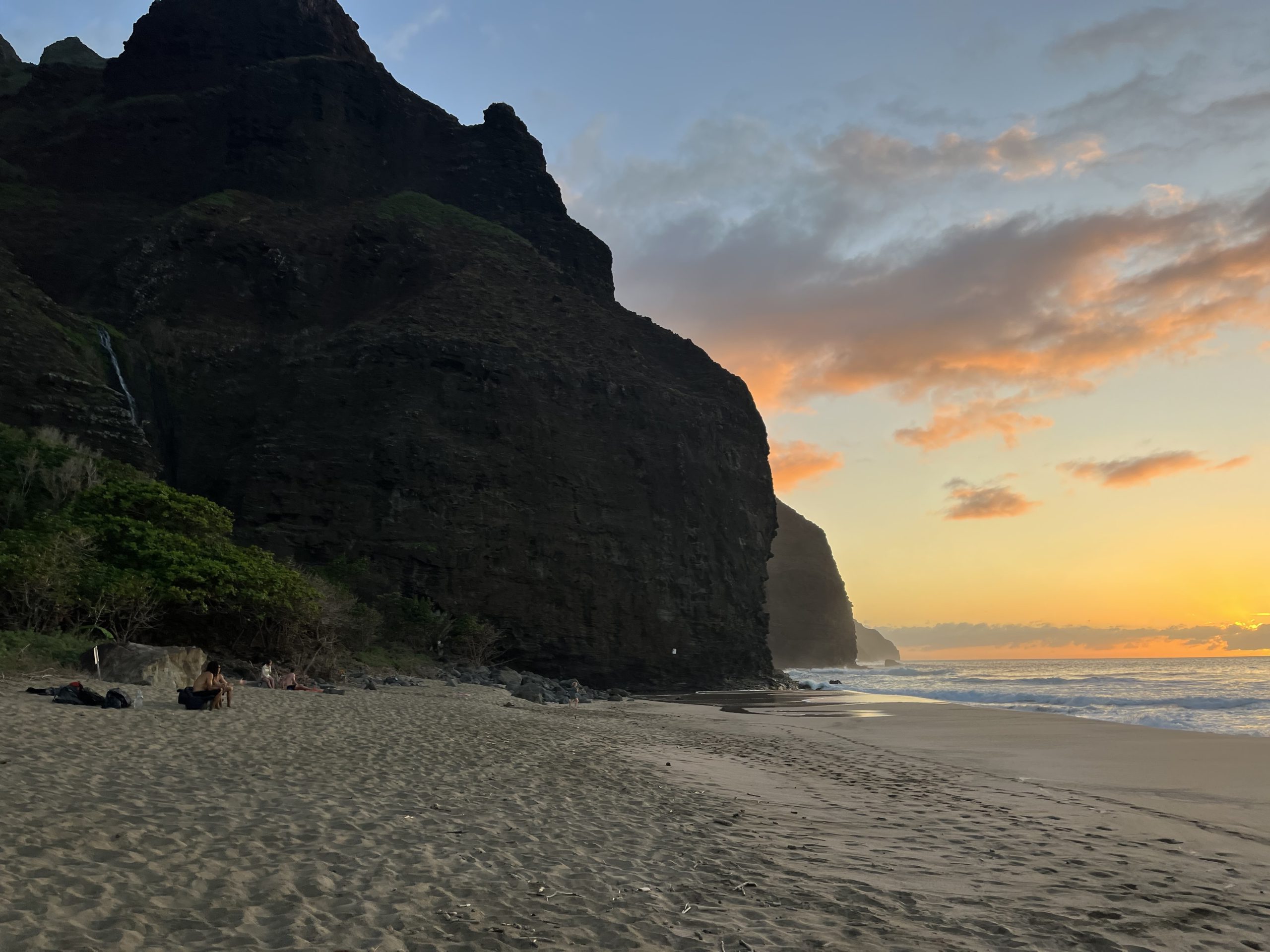 Day 2: Kalalau Beach to Hanakoa Campground (~ 5 Miles, Unknown elevation gain)
We woke up on the second day with a collective groan, as the intensity of the prior day's activities had morphed into hiker hobble. After a gentle morning breakfast on the beach, we packed up camp and headed back up the trail to tackle the most unforgiving portion of the trail. By 1pm, we had made it to Hanakoa and set up camp, marking what would be our easiest day of hiking on this trail. 
The rest of the day was spent ebbing and flowing through the campsite: we took a side trip to a nearby waterfall, rinsed off in the river and basked, albeit momentarily, in our cleanliness, and read books during the afternoon showers. As the evening came, we gathered at the campsite's covered table to cook dinner and play cards. About 30 minutes in, a couple from another campsite joined us and we all quickly became fast friends. Siva and Danielle were also from Northern California and Danielle was also a recent law school graduate now working as a public defender in the county our group lives in. The rest of the evening was chock-full of laughter, sage professional advice, and a card game named Palace. We ended the night around 9p feeling gratified to have made new connections in not only the outdoor community but in our own backyard.  
Day 3: Hanakoa Campground to Ke'e Beach (~ 6 Miles, Unknown elevation gain)
The final day on trail started similarly to the day prior: a slow morning was punctuated by murmurs of afternoon showers, but this time with an additional desire to get to our AirBnB. We hit the trail shortly thereafter, making strong progress through the first four miles of climbs and descents. Just as we had started the descent into Hanakapi'ai Beach, the gray clouds that had been keeping our morning cool opened up and started pouring rain. We stopped briefly to throw on pack covers before continuing the descent, knowing that the countdown had started – we had to get to the stream and cross it before this rain developed into a flash flood. About 20 minutes later, we arrived at the stream, our clothes soaked to the bone, and a stream that was rising into a fast river. Luckily, our group – and all of the day hikers around us – made it across without any issues. 
As we gathered on the other side to process crossing the final hurdle and prepare for the final two miles, we bumped into our friends from the night before. After a brief chat peppered with laughter at the absurdity of the situation, we started the final climb of the hike. This next hour or so was the textbook definition of a slog. The heavy rains quickly caused the trail to become slick and form puddles everywhere. Our steps became splashes as thin mud jumped up and coated our legs. Thankfully, the combination of the hard climb and humidity kept our bodies warm throughout and our spirits were buoyed by day hikers asking us about our experience along the trail and congratulating us on being close to completion. 
As the trail started to level out and we approached the final descent, the rain slowed to a trickle; and by the time Ke'e Beach was in view, it had ceased entirely. Rounding the final curve of the descent, the sign at the trailhead came into view and we hurried ahead to touch it – marking the end of our hike. 
After taking a group photo we sat down at a nearby picnic table to bask in the literal, and metaphorical, glow of what we had accomplished. For some of you reading this, 22 miles over three days is nothing. For us, it was a lot. To me, hiking your own hike doesn't only mean going at your own pace but also placing however much weight you choose into what you have just accomplished. As we walked to the car, we joked that we felt like we could take on the world after what we had just done. Between the river crossings, never-ending climbs, and sketchy footholds on Crawlers Ledge, we had accomplished a lot and we spent the rest of our trip reminding each other of it. 
Some Shakedown Hike Learnings
:
Trust your PT: In late December I was diagnosed with IT Band syndrome in my right leg and have been on a strict PT regimen since. This hike was my final test to see if I was fully healed and although I am not one to tempt fate, I am comfortable saying that my leg held up to the rigors of 11 miles and 5000 feet of elevation gain in a day without any IT Band-specific pain. I felt strong on the climbs and about as secure as one can feel, given the conditions, on the descents. 
Always bring electrolytes: Holy moly this was one of the biggest mistakes of my hiking career. Last summer when I hiked the Wonderland Trail – a similarly hot, humid, and vertically inclined trail – I was loaded with Liquid IV. Our group forgot to bring any electrolyte packets on this trail and we paid the price. Muscle cramps slowed our pace and tightness in our calves persisted until our last day on the island. This is a mistake I will not make again. 
How to manage soreness: The day before we departed for our hike, my left knee started to feel sore and this pain persisted throughout my hike of the Kalalau Trail. I was able to manage the pain through small doses of ibuprofen, and it disappeared for the most part once we stopped hiking, but it made me nervous that my body was breaking down. I'm hoping it is just soreness from my day-to-day training regimen combined with a sudden, sharp increase in hiking that a few days off will fix. I have a PT appointment next week in case it's something more serious, though I am guessing she'll just tell me to rest. 
My backpack choice was a good one: This was the first trip on which I used my new Durston Kakwa 40. It performed excellently throughout the three days. When paired with a pack liner, its internal storage area is 100% waterproof. It carried 20-25 pounds more comfortably than any pack I've used, and it hugged my body well throughout the difficult terrain, allowing me a nimbleness I had thought only possible with frameless packs. I especially loved the way the frame felt on my back: nicely rigid but without digging into my hips. The only piece I am going to need to figure out is what to do about snacks and my phone when it rains. Since the pack does not have an underside pocket (like the Pa'Lante packs have) I will need to find a spot to store my snacks for hiking. Further, since the hip belt pockets aren't seam taped I will need to find a spot to put my phone when it rains. 
Take another day: If there is one piece of advice I can give to fellow hikers who are interested in this trail it would be to do this trail over four days instead of three. Adding the fourth day would allow you to spend more time at Kalalau Beach – which is a big part of why people do this hike – and break up the difficult terrain into more manageable chunks. 
Affiliate Disclosure
This website contains affiliate links, which means The Trek may receive a percentage of any product or service you purchase using the links in the articles or advertisements. The buyer pays the same price as they would otherwise, and your purchase helps to support The Trek's ongoing goal to serve you quality backpacking advice and information. Thanks for your support!
To learn more, please visit the About This Site page.