The SNT: Milngavie to Aberfeldy
It's a Long Way Between Milngavie and Fort Augustus
I didn't appreciate this fact properly when I set out on the trail again for some reason and for the life of me, I don't know why. As many other thru-hikers have noted, it's really important to set small goals – instead of thinking about the end terminus of your hike which is crazy far ahead of you, think instead of a nearer goal. In my case, that became Aberfeldy, although if I had had better weather, I imagine that I would have picked further Pitlochry instead just because it has a train station. Trains in Scotland are a source of happiness because they can bring you to bigger centres with restaurants, hostels and good grocery stores. Food.
In any case, know that this is where Scotland's rampant tick population becomes very active. Back in British Columbia the ticks are pretty big – corn kernal sized even – but the ticks in Scotland can be as small as a period mark. They're tiny, awful little things, and yes, a small percentage of them carry lyme disease, just like in North America. Always carry tweezers (or some sort of tick removal device,) and use insect repellent – the local, widely available Deet-free favourite is called Smidge. (Bonus – Smidge is waterproof.) You can find it at any outdoor store and probably lots of other stores too. Depending on the time of year you go, you may also meet the notorious midges, and trust me when I say that they are incredibly irritating. I'd say that they are more annoying than mosquitoes, especially because they will fly into your ears, bite your eyelids, and pretty much swarm you like an evil cloud of spite. Thankfully, it's pretty easy to outpace them, but should you dare to stop? They'll be waiting!
Tips
The best resupply point I found was Callandar. It has a small co-op grocery store and an outdoor store which does sell bug repellent.
Aberfeldy has regular bus service to Pitlochry, which has a train station that can take you to Inverness. (It can also take you to Edinburgh and Glasgow, but that's expensive.)
The Journal
Day 15 – Glorious Glasgow
Kilometres: Zero
Travelled: Nowhere, except to resupply on isobutane canister fuel at Tiso, food resupply at Sainsbury's (I basically just buy whatever is on sale, max budget for each item is £2, preferably less,) and go to Mountain Warehouse (bought a quick dry shirt for questionable days.)
Things Seen: Buchanan Bus Station, Partick (a part of Glasgow, like Manhatten is part of New York City and Burnaby is part of Vancouver,) and a strip mall. I also went to a Tesco Express to grab supper and it looked creepily exactly alike to another Tesco Express at a different location, it was weird! For the second time on this trip I also saw a charity shop raising funds specifically for domestic cat welfare and it made me sigh because I wish Canada cared more about cats that way. I really miss my boys.
Weather: Sun, glorious warm sun with big fluffy white clouds – oh why must today be a zero day? (My feet are perfectly happy that it is a zero day.)
Camp: A warm cozy bed in a hostel in Glasgow. My lower bunk mate told me off for moving around excessively when it was past 8 AM and I was literally only shifting my weight while sitting completely stationary. Glad that I only have to deal with her presence for one more night!
Injuries: Still looking after the three blisters; I opted to leave the drainage thread in them when I went out on errands so that they could continue draining and I wore my clean 'zero day' socks.
Food Eaten: Breakfast was leftover Tesco orange juice and Mackie's sea salt chips (how are they only £1 here? They are at least $3 back home!) Lunch was seven Cadbury mini rolls (chocolate swiss rolls) because I was really craving some cake and they were only £1 compared to actual cake which was at least £6 and I still have three of them leftover for later.) Early supper was tomato and feta penne pasta, green olives with herbs (dunno what herbs,) and one of three different cheese sandwiches in my Tesco sandwich box thing that I bought. Also my favourite UK juice Copella Apple and Elderflower. (Don't ask me what the elderflower tastes like, the juice just tastes like really exceptionally good apple juice to me.)
Favourite Moment: Listening to a mother lovingly interact with her adorable five year old son on the bus, who at one point said "When I was little…" which was sooo charming because he was still little! I love watching and listening to parents interact with their young, it's so sweet.
Funniest Moment: Watching an episode of PBS Eons on Youtube (great science series) about how ancient aboriginal Australians probably met extinct megafauna based on their artwork. There was a moment where the host noted that the long dead artist of one of the cave paintings depicted an extinct male kangaroo's genitalia as evidence for attention to proper anatomy which really made me giggle. I love being an artist.
Animals: Pigeons and dogs.
Stuff I Thought About: An ongoing issue of mine is that my bladder is kind of getting 'trigger happy.' I don't know if other ladies ever have problems with their bladder shrieking to relieve itself instantly, but it is slightly troubling for me. I am going to attempt to combat it by wearing my hiking dress on forecasted nice weather days to make it easier to get relief; it's not as hard to pee in a dress. I really hope that this will help calm things down; it makes me feel so inept when I have to suddenly cross my legs and plead with my body to not. Realities of thru-hiking, I guess.
Anything to write about?: I really wish that Scotland had more public bathrooms, at least in its parks, and free fountains for refilling reusable water bottles in urban areas like France is doing – also, more recycling, like in British Columbia! I can't help but wonder how old people and people with kids deal with the seemingly profound lack of bathrooms here.
I am very tired and looking forwards to snoozing soon but I am very excited to relive Day 1 of the West Highland Way tomorrow. I am going to attempt to take it easy in order to help my feet but I am so soo excited to be finally getting into more familiar territory. The Rob Roy Way will be completely new to me but walking through loads of forest will be great, and it will remind me of home, a land pretty much completely shrouded in woodland (except for its regions of arid semi-desert grassland of course.) These tiny patches of forest which Scotland has are so bizarre to me! 
I never thought I'd call Glasgow nice; the last time that I was here the weather was so dreary and wretched that I absolutely hated it. I still greatly prefer Edinburgh, but I feel better about Glasgow now; it isn't so bad. All in all, this has been a far more successful zero than my last one. My next zero will be in Inverness, where I plan to do some fun touristy stuff too, so I might take two days off instead of just one; we shall see. I really want to see Culloden Battlefield and it'd be great fun to take one of the nerdy boat tours which they run on Loch Ness just for a change of pace. Last time that I was in Scotland I went on a one hour boat cruise at Mallaig and it was one of my favourite memories of the entire trip.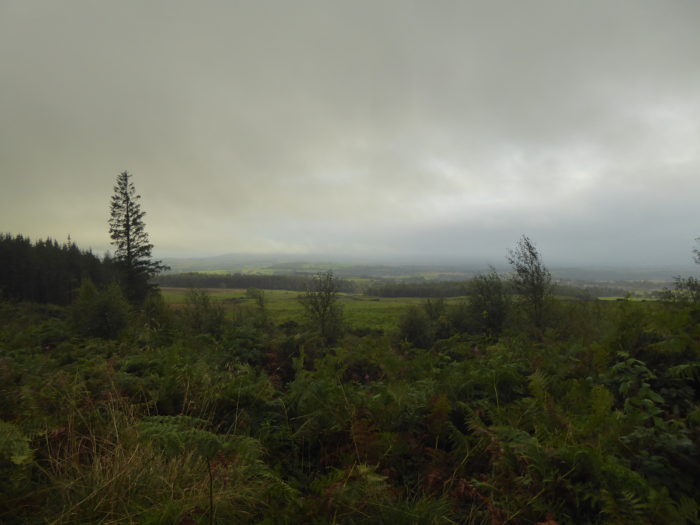 Day 16 – Nostalgia on the Way
Kilometres: 25.8 km/16 miles with somehow a moving average of 17 kph/10.5 mph (which is odd because I thought that I was going intentionally slow, but it's s'what the inReach says.)
Travelled: Milngavie to a forest on the literal corner between the West Highland Way and the Rob Roy Way, just outside of Garadhban Forest.
Things Seen: The southern terminus of the WHW, in almost exactly the same rainy grey weather as in 2018, except Milngavie has definitely added a few things to the terminus area since then. The trail was also a bit better marked and there were more honesty boxes, including the same laughable one claiming that there is no water until Balmaha (there's a good source probably only about 2 km past that honesty box.) It was weird to relive my first day of the West Highland Way, seeing all the stuff I saw before like Glengoyne Distillery, all the sheep and the trail in general. There were a lot more wild campers this time around and it took me a while to find a wild camp which wasn't already occupied. The one I used in 2018, which I had hoped to use again, had people in it, so I avoided it.
Weather: Low cloud cover spat rain all morning until thankfully the cloud rose and the sun came out. Windier than in 2018 but thankfully not down pouring like it was then!
Camp: A pretty coniferous forest populated by moss, grass, and clover with a lovely floor of soft pine duff.
Injuries: Footsore but I seem okay; I did not want to push my body too hard today. My feet hated the road walking parts of today – let there be as little concrete as possible moving forwards, please! UPDATE:  there remains a blister between my left big toe and its neighbour which currently stings because I lanced it. Otherwise everything seems fine; might try my thinner socks tomorrow because there was far too much sweat happening in my socks today.
Food Eaten: Leftover Copella apple juice, orange juice, three Krispy Kreme doughnuts (there was a shop in Glasgow Central Station which drew me in like a moth to a flame,) a granny smith apple (I remembered why I dislike this variety – they have all of the apple taste without any of the delectable sweetness of other varieties,) and two cheese-and-onion pasties for breakfast. I also ate a little bag of Walker's Ready Salted chips, a Cadbury Double Decker bar (sad that I bought a four pack considering that I found it meh,) and a phenomenally delicious little ice cream lolly from an honesty box which was shaped like a cartoon strawberry. The 'seeds' were little niblets of dark chocolate, the 'berry' itself was strawberry and the 'leaves' were kiwi flavoured – why isn't there more kiwi flavoured ice cream?! It's so refreshing and good! For supper I am eating Sainsbury's macaroni and cheese with three added chunks of various cheese plus some hot chocolate. For some reason Britain loves onion with their cheese, so guess what is in my supper? Ugh. I like onion well enough, but I just want my macaroni to be cheesy… that being said though, with two packs of it my dinner is going to be 1,064 calories (plus the added cheese,) which is definitely nothing to complain about! UPDATE: I ate it and it was palatable but a little boring. Not as bad as the Super Noodles!
Favourite Moment: Leaving my hostel late; the staff were so kind about it. If I ever return to Glasgow I will definitely stay there again, the hospitality was wonderful. 
Funniest Moment: I made more dumb Mandalorian jokes and was snickering about something or other this morning but I can't remember what.
Animals: A beagle puppy, two vizla hounds, a flat coated retriever, bunch of other dogs, a really cute songbird, a really ugly crow (no wonder there are so many negative legends about them here, North American ones are far better looking,) a much more attractive jackdaw, cows including some fluffy highland ones but most were dairy moos, some shetland ponies and many, many sheep.
Stuff I Thought About: Transformers, the AZT, how I felt like I had more in common with the locals than with the horde of West Highland Way thru-hikers, several of which asked me whether I was okay when I was very obviously just resting, leaning against a square brick cistern thing. I remember getting quite frustrated when I hiked the WHW because people kept asking me if I was okay then too; seriously, what is it with other hikers and asking me if I am alright? What red flag am I  accidentally putting off? Whatever it is, the locals seem oblivious to it, so I am very confused! Thank goodness I leave the WHW behind tomorrow!
Anything to write about?: I wonder if I'd actually do all that well on a more social trail like the PCT; all day today I just wanted to get away from the WHW hikers – the thought that tomorrow I will no longer be in their midst was a proverbial carrot dangled in front of my nose. I did not want to talk to them and I wonder if I would still be a loner on a more social trail. Is hiking alone just my style? Is that how it is always going to be? Would I even be part of a tramily, or would I continue to skulk on the fringes, slinking past unseen to a quieter camp?
I wonder how it's going to go once I reach the Cape Wrath Trail section of the SNT; it's supposedly kinda busy there. Maybe that's when I will bond with other thru-hikers.
Day 17 – Misty Day on the Way
Kilometres: 35.9 km/22.3 miles with a moving average of 17 kph/10.5 mph again
Travelled: Forest corner of WHW and RRW to a site just south of a big active clearcut near Aberfoyle.
Things Seen: Wide open pastoral expanses, hills and at least one munro from a distance, the singular lake in Scotland one Lake of Menteith from far away, natural (sheep-free) grassland, Muir Reservoir, an active logging site, clear cuts, forests of baby trees, beautiful mossy forests of big trees, deer tracks, moorland, a lot of broom plant, heather, larch trees, weird water cistern thingies which were tragically too high for me to sit on, and a lot of road. (It was entirely a road walk, but thankfully only maybe half of it was paved, although the big sharp stupid rocks on the gravel road going past my camp are no better!) Also, three ticks – absolutely wearing bug repellent tomorrow. Still no midges.
Weather: The day began with mercifully high cloud cover with patches of lovely warm blue, then the cloud level dropped and I walked through intermittent patches of misting rain for the rest of the day. I was literally walking in the stupid cloud. 
Camp: A coniferous forest beside a gravel road just south of an active clearcut and a stream. (I did not want to walk through the clearcut.) 
Injuries: Feet are a wee bit sore; mostly just damp from sweat (unless I am wrong and my waterproof socks are waterproof no longer.)
Food Eaten: A Gala apple which was not properly fabulous, Nairn oatcakes, a Lion bar (not a fan,) a fake Sainsbury's Snickers (am a fan,) fruit leather, a Nature Valley protein bar and two pieces of cheese. I also got to eat some ice cream (after dinner mint flavour – yum! Don't have that tastiness in Canada!) Additionally, I bought a piece of Scottish tablet, which should last a few days if I nibble at it. For dinner I had Nongshim Kimchi ramen, which somehow wasn't as good as back in Canada?! It's pretty much my favourite ramen back home, but I think the European version might be blander; siiiigh. Buying the Mama brand kimchi ramen instead next time.
Favourite Moment: Figuring out how to use my Sawyer Mini (paired with a Platypus softbottle,) in the most efficient way possible. All the nummy water is mine!
Funniest Moment: I brainstormed what a Scottish version of the reality TV show Survivor would look like, such as how the contestants would actually have to wear clothes. I decided that one of the challenges would be walking through the Highlands during prime midge season without bug repellent and that another challenge would be attempting to understand a Scot speaking Gaelic. Also the men would have to wear kilts, 'cus the highlanders did it.
While having Disney music stuck in my head I also started laughing when I got to the part of The Little Mermaid song which goes "…play all day in the sun…" because Scotland is so rainy.
Animals: Another beagle puppy (maybe from the same litter,) a malinois cross who was wearing a muzzle because she does not like other puppers, sheep (from a distance,) some jackdaws, a few other dogs plus a very friendly and purry tortoiseshell kitty whom I petted. Also the damned ticks (hate them so much! When I was choosing which leggings to bring for this trip I was initially trying to choose entirely based on which ones would show a tick on the fabric.) Additionally I saw the tracks of a badger and I saw a slow worm (a type of lizard which looks very much like a snake due to convergent evolution. It's like how hyenas look a lot like dogs, but aren't canines at all, instead being their own entirely different thing. There's many examples of convergent evolution in the fossil record and it's pretty cool!)
Stuff I Thought About: Transformers, water, the weather, missing my cats and family, food, whether or not birds are a useful warning system for shifts in the weather (pretty sure that they are not.) How cute it was watching parents in Aberfoyle walk their kids home, and watching the beagle puppy interact with a white mop dog. Various songs (including The Little Mermaid OST for some reason.) Kept wishing the rain would go away and stay away! I additionally contemplated getting a hose accessory for my new big 2L Platypus bottle; then I wouldn't have to bother with pulling it in and out of its pocket – I could have it upside down vertically in the pocket with the tube coming out the bottom. I'd feed the tube through the fabric stay things on my shoulder harness and I'd be able to drink from my bottle without touching it, like a hydration reservoir, only I keep getting reminded of hamsters drinking.
Anything to write about?: I really need to buy a small container of salt because I only have two tiny packs of it left; also maybe if I buy a little curry packet it would make the Sainsbury's vegetable ramen that I have taste good, because I bet that it is bland as heck as-is.
I hid under my tent vestibule while I was making and eating supper which worked great.
Still wishing that I'd see a fox; haven't seen a deer since pretty much the border (day two,) but at least now I have seen their tracks, so that is promising.
I don't want to jinx it but I believe that my bladder and I may have finally come to a peace agreement; here's hoping so, anyway. Also, here's hoping that tomorrow is sunny!
Day 18 – The Highlands!
Kilometres: 25.9 km/16 miles with a moving average of 21 kph/13 mph! Woo!
Travelled: Forest clearcut camp to the stone ruin of what I believe was a sheep paddock overlooking mountains, streams and a reservoir.
Things Seen: The day started with the shocking utter devastation of a fresh clearcut and me missing the reroute trail, causing me to take the forestry reroute track instead which commenced with my left leg sinking into black mud up to my shin. Next, I walked through a forest plantation, a cow pasture, then more forest and had to take another reroute through ferns taller than myself (I am 5″8′.) It joined up with an FSR that had epic views of Loch Venachar and led into the town of Callander where I bought more snacks. Some rude guy in a red station wagon shouted something nasty at me but its bite wasn't felt because I couldn't understand it! Next was a very steep winding climb which became stone stairs to the treacherous summit of a windy ridge with good views of the whole surrounding area including Venachar again. Finally I followed a farm track into the Highlands – the true highlands, a landscape of deceptively tall looking mountains carved by glaciers long dead, grasslands, moor, sheep, midges and herds of red deer. Beautiful.
Weather: Pretty much sunny with clouds all day except for a few short bouts of spitting rain. Not too windy, except on top of that ridge!
Camp: A mossy spot partially enclosed by old stone fences with a view of mountains and a reservoir. 
Injuries: Feet are fine, apart from the dumb blister which refuses to fade between my big toe and its neighbour. Right arch/metatarsal is a bit sore, which my mom theorizes is the result of a crooked back.
Food Eaten: A bag of Walker's Ready Salted chips, Nairn oatcakes, a Nature Valley protein bar, two pieces of cheese, fruit leather, a Topic bar (weird hazelnut thing,) a Double Decker bar and a tub of raspberry yogourt. Ate Sainsbury's rice packets for dinner – surprisingly good and well flavoured!
Favourite Moment: Talking to my mom for an hour.
Funniest Moment: Just laughing with my mom about stuff although it was also pretty funny this morning noting how almost every cow patty I saw had a bike tire track through it, as though the mountain biker had been intentionally aiming for the poop.
Animals: Birds, a flat-coated retriever, three very licky springer spaniels, a chocolate lab who was afraid of cows and had to be carried past them by her owner, a few other dogs, sheep, cows, ticks, a whole mixed gender herd of red deer and midges! Also I saw a barn owl fly by me!
Stuff I Thought About: Transformers, water, how happy I was to escape Callander, my excitement over tomorrow's rations (mint Aero bars plus coconut Bounty bars woohooo!) Also trying to find a dry, flat tent spot took forever.
Anything to write about?: Not really; it's cold and I want to get on with huddling in my sleeping bag where it is warm.
Day 17 – Tick Drops for Humans, Please
Kilometres: 13.7 km/8.5 miles.
Travelled: Cool ruin camp to tick forest camp in a grove of pretty oak trees near cute little waterfall.
Things Seen: After accidentally sleeping in until 10 AM (I'm guessing that I really needed that sleep since I usually very reliably wake up between 7 and 8,) I spent the day walking along farm tracks through the beautiful highlands, occasionally passing patches of coniferous forest. Eventually I came to Glen Artney which is very beautiful, but not as pretty as the wilder highlands with its neater pastures and maintained buildings. I saw many ruins today, also many galvanized steel farm gates, a couple of which I could not be bothered to figure out the mechanisms for so I just climbed over them. I witnessed the tail end of a cattle drive and saw five very happy border collie employees helping their humans with it. I spent a lot of time admiring the many creeks here, with their black water and huge boulders.
Weather: Windy with lowish cloud cover which occasionally spat at me and looked mysterious. Bit chilly; I was a bit whiny starting out but once I got going I was fine as usual. There was one patch of blue towards the end of my hiking day.
Camp: A lovely spot in an oak grove within a larger pretty forest, unfortunately teaming with ticks (found only one biting me though thank goodness,) but very close to a pretty little waterfall which provided the water for my supper. (I accidentally caught a teeny baby fish in my source water bag! As soon as I could after supper I brought it back to its little pool beneath the falls and set it free.)
Injuries: Feet are in good shape but the suspensory ligament/muscle/tendon/whatever-it-is stretching from my right ankle to my shin became rather painful towards day's end, causing a limp, and it became part of my decision to wild camp despite having wanted to hike later to make up for sleeping in this morning. I will put some tiger balm on it and hope that the medicine helps it ease up by morning.
Food Eaten: Peanuts, Nairn cheddar oatcakes (I am in love with oatcakes,) a peppermint Aero bar, a Bounty bar (both were like a taste of home, them being some of my absolute favourite Canadian chocolate bars – glad the Brits love them too!) I also ate a Nature Valley protein bar, a couple of pieces of cheese, fruit leather, and sadly just-as-bland-as-feared Sainsbury's instant noodles for dinner. I think that I will buy them again, because they are decently cheap, but with a packet of something like curry to throw in to help – but only if I can't find foreign ramen instead!
Favourite Moment: Getting to see the working border collies, then finally managing to convince a flock of sheep with my sweet talking that I was not a Tyrannosaurus rex looking to have mutton for supper. (Sheep seem terrified of absolutely everything – they're probably even scared of other sheep sometimes, honestly. They are the most nervous animals that I have ever seen.)
Funniest Moment: I dunno if there was one, although there was a songbird that flew away from me only to land on the gravel road ahead of me where I was about to walk. I don't think that bird got enough sleep last night.
Animals: A confused songbird, pheasants, border collies, hoof prints of many varieties, a croaky raven, ticks, some birds of prey and a single midge. I vastly prefer midges over ticks – they're just extremely annoying, while the ticks (which are creepily indestructible by the way,) can mess you up for life. I seriously wish that there was a tick drop for humans like there is for dogs, cats and horses – a little dab on your nape and that's it! No bugs bothering you for six months! (On a happy note though I can confirm that icariden works well on both ticks and midges.) UPDATE: Icariden may work on ticks but it doesn't work on midges if there's a grand army of them assailing you – and should you neglect yo spray a patch of skin, they will find it!)
Stuff I Thought About: The stupid ticks, how I want to buy a big can of Smidge (the local favourite insect repellent) as soon as I find it (correction I want to bathe in it,) how pretty my surroundings were, food, water, my family, my cats and fictional story stuff.
Anything to write about?: Seriously, if someone could invent a tick drop for humans then I bet that they'd win a Nobel Prize for a serious step towards preventing Lyme Disease!
Finally filled up the first of my 16 GB SD cards today – I am glad that it took so long, since it hopefully means that I have enough space in total with my other two cards.
Tomorrow I hike through Comrie where hopefully there will be at least a convenience store selling foreign ramen although I have enough dinners for four nights (but the next town after Comrie is Aberfeldy and it looks like it might take a few days to get there.) Heading into some serious wilderness, so I better get snoozing and heal my right leg!
Day 18 – Sun and Storms
Kilometres: 18.1 km/11.24 miles.
Travelled: Pretty oak trees near cute little waterfall to a maple grove beside a creek.
Things Seen: Many livestock pastures, some old buildings, a cool church, a dead toad, a sheep turd which looked suspiciously like a frog until closer visual inspection proved it to be a turd and some other very unhealthy sheep poop which I averted my gaze from. I also saw sweet looking rugged reddish mountains, a large boulder on a hilltop pretending to be a sheep, and the tallest fences that I have yet encountered. Also a disturbingly large spider on the outside of my tent whom I tapped off the mesh but who came back, only hiding where she thought that I could not see her on the bathtub floor part of my tent. (I can't blame her for seeking refuge, the weather was pretty bad today.)
Weather: Horrid this morning, causing me to hide in my tent until the sun came out; then it was beautiful for many hours until about 5:30 PM when windy rain caused me to hide under an obliging and surprisingly protective tree, where I stared morbidly at the dead toad, wondering why I keep finding dead Scottish amphibians. Eventually the rain let up a touch and I shambled back out, trudging along even after the rain came back until I came to the end of an awful messy cow pasture at which there before me suddenly was good weather again, shining down on a hillock ahead of me covered in sheep.
Camp: The one stinging nettle-free spot in a grove of maple trees beside a creek. 
Injuries: My right leg remains sore in the shin/ankle area, and there is still a blister between my big toe and its neighbour on my left foot, although I have no idea why, given that it doesn't bother me at all when walking. 
Food Eaten: Peanuts, Nairn oatcakes, Aero peppermint bar, two pieces of cheese, a Snickers, a Nature Valley protein bar, a Topic bar and my favourite Maggi masala curry ramen (SO good!)
Favourite Moment: Getting out from under the storm into dry, beautiful (if windy,) weather again.
Funniest Moment: The sheep turd that looked like a frog, and the boulder which looked like a sheep, making me imagine some majestic silly ram just chillin' up there, occasionally baaing.
Animals: An endangered British red squirrel, a rat, many cows, sheepies, a duck, a songbird which let me take pictures of it from fairly close range, many pretty dark blue beetles, a herd of red deer and their stunning monarch, a big, gorgeous stag whom I hope is wise enough to avoid the hunters. 
Stuff I Thought About: The silliness of sheep, angst, de-angsting thoughts, the pretty weather, the ugly weather, my decision not to linger in Comrie (I have enough food,) and how the Deil's Caldron is not a particularly impressive waterfall (the cool boardwalk leading to it was much more interesting.)
Anything to write about?: Turns out icariden can be washed off; I will not go plunging through wet ferns without pants on again. Also there is apparently an 80% chance of rain tomorrow – ugh.
Turns out this section between Milngavie and Fort Augustus is longer than I thought, so I am gonna see if there's a hostel in Aberfeldy or Pitlochry that I can take a zero in. The length of this stretch is messing with my brain a bit and I need something to look forwards to sooner. 
Really hope tomorrow is sunny with only short periods of spitting rain if there is any. I'd really like to get some proper distance in, although today was really good, all things considered.
Day 19 – Adventuring to Soggy Places
Kilometres: 28.8 km/17.9 miles (my InReach claims that my moving average was 32 kph/19.9 mph but I think that it's full of it.)
Travelled: Maple grove beside a creek near Coisavachan to a beech grove (also beside a creek) above Loch Freuchie near Turrerich.
Things Seen: Oh dear Zeus; today was crazy. First was a majestic and easy hike (apart from a couple of stepping stone stream crossings,) up the glen containing Invergeldie Burn (a burn is a creek,) in the shadow of Ben Chonzie, a munro. Finally reaching the pass, I was bewildered by the sudden end to the gravel vehicle track that I had been following, which really should have been foreshadowing to what was to come. Almost immediately the path became boggy, and passing through a farm gate, the path seemed to utterly vanish within a couple of hundred metres. Ominously, I found a sheep skull.
Despite being pretty accomplished at pathfinding back home (there have been several instances where I have got my family back on track while out hiking,) I couldn't find the trail. Glancing at the GPS route on Viewranger, which basically just directed me to get down to the river below, I commenced trying to find my way down using my route finding skills. Barely had I figured this then foul weather struck and amidst hail, fierce wind as well as rain I tore across the pass as fast as I could without risking a misstep, rats leaping out of the grass like furry brown dolphins ahead of me. After about half an hour of plunging through sopping grass, heather, and rushes, I dropped into the gully of a burn where at last I had some shelter. And, of course it was then that the awful storm blew off, sunshine beaming down upon me, so that by the time I had picked my way down to the River Almond my waterproof gear was dry again. 
Now, I had to cross the river, which seemed easier said than done. Coming down the pass, I had aimed for what looked like stepping stones just before a dam. Upon actually walking up to the place, I realized that it was a ford for 4×4 vehicles, and the water looked too deep for me. Then, just at the right moment I glanced up to see three cyclists riding across the dam, something you wouldn't be able to do usually in Canada! Delighted, I crossed the same way and joined the gravel track on the other side, thinking the hardest part of my day over with. 
All through Glen Almond the ferocious wind pushed at me, occasionally making me sidestep and stagger. Whenever I got to metal farm gates the wind would make the galvanized steel sing, and it was harder than usual to push them closed. At one point up ahead I saw a commotion with a sheep flock, and reaching the other side of the hill which had obscured my view I saw two hunters dragging a young buck by its forelegs, moving as swiftly as wolves! I shouted hello to them and walked on, impressed by their stamina dragging such a heavy animal; I am not generally the biggest fan of hunting, but Scotland exterminated its natural native predators a long time ago, so until those predators are reintroduced humans will have to do the job of deer population control in Scotland. 
Finally I reached Auchnafree, what seemed to be a private estate (the likely owners of Glen Almond's typically large sheep population,) and hiked up into Glen Lochan (in English 'valley of tarns' or 'valley of small lakes,') where I discovered that the challenging parts of my day weren't done. The trail through Glen Lochan is thin – sometimes no wider than my foot – and seems more a sheep trail than a path constructed for humans. It feels slightly precarious in places, carving along the steep sides of the narrow glen, which was every bit as boggy as the pass I'd crossed earlier in the day. At last, after passing multiple lochans (the glen is well named,) I reached gravel road and cheered at the sight of Loch Freuchie below me in Glen Quaich, (a word which I hope means 'pheasant' because I have never seen so many all at once in my life! There's even road signs warning about them and asking motorists to please drive slowly.)
After all that, it was a huge relief to find my wild camp.
Weather: Altogether windy, but with long periods of blue sky and only short patches of spitting rain (except for the awful – albeit thankfully brief – storm in what I will always think of as Boggy Pass.)
Camp: A comfy spot beneath a beautiful old beech tree. (I… think that it's a beech tree – we don't have beech trees back home in British Columbia as far as I know.) I have a view of Loch Freuchie and the sound of rushing water in the nearby stream as a lullaby.
Injuries: I attempted to see if wrapping my right leg in the human version of vet wrap would help today, but sadly it did not. That being said, my right leg did just fine, although it certainly made me yelp a bit after walking on gravel roads for longer than it liked. It preferred the off trail hiking in Boggy Pass and the proper hiking in Glen Lochan to all the stupid gravel road walks. (Which I don't really mind, but they definitely aren't trails. Honestly though the SNT has been about 90% road walk so far.)
Food Eaten: Peanuts, Nairn oatcakes, fruit leather, two pieces of cheese, a Nature Valley protein bar, a Bounty bar, a Double Decker bar, a Lion bar (these have grown on me now,) and for dinner I had a Knorr side dish (tomato alfredo penne pasta,) mixed with a mushroom soup packet which turned out really nice! I only have two soup packets left from Canada now.
Favourite Moment: Seeing Loch Freuchie at last!
Funniest Moment: The moment where I realized that I could just walk across the dam.
Animals: Hordes upon vast hordes of sheep, pheasants, rats, unidentified birds of prey, songbirds, a British red squirrel and some bunnies – not a single cow!!! I also heard a rooster near Auchnafree but I didn't see it. Additionally there was that poor stag.
Stuff I Thought About: Various songs, sheep, the fun technical hiking, my sore leg, how I want to zero if I can in Aberfeldy (I really need a shower, plus my hiking clothes reek.) 
Anything to write about?: It looks like I may have lost my Sawyer Mini filter and the Platypus soft bottle which it was attached to. Another reason to zero in Aberfeldy – I need a new filter! (Too bad Sawyer products aren't available here; I will probably have to buy a second Katahdin Befree.) I also need to buy some dinner meals as I now only have two and I like having a few options.
It's too bad hostels usually don't have bath tubs; I'd love to take a hot bath, be warm all over for once – or just sit in a hot tub. For now I just have my sleeping bag to huddle in; I digress. Tomorrow, hurting leg and weather permitting, I will reach Aberfeldy. The fact that it has a hospital of all things gives me hope that it has a hostel, or at least a bus terminal which I can use to reach another place that does. Hopefully it also has a grocery store, or a Gregg's, so that I can feed my addiction to tasty juice.
Day 20 – Walkin' to a Lochan
Kilometres: 21.9 km/13.6 miles.
Travelled: Beech grove beside a creek above Loch Freuchie near Turrerich to Aberfeldy (and then to a guest house in Inverness.)
Things Seen: First thing I really saw (besides Glen Quaich's vast legions of pheasants,) was a rabbit bound out into a sheep pasture and scare the hell out of the flock, splitting it into two (except for one ewe who was off by herself.) The bewildered rabbit vanished down a hole and then the other sheep behaved afraid of their lone compatriot, proving once and for all that sheep are weirdos. 
I walked on, crossing the glen, and came upon one of many cattle guards; looking down in order to place my feet on the precarious metal grid (it'd be so easy to break a leg, just like a cow,) I saw what I was stunned to recognize as a hedgehog! The poor dear had fallen into the three foot deep pit beneath the cattle guard and gotten stunned – I checked to see if it was alive (because it was not moving,) by gently touching it with the business end of my trekking pole. When it grunted and twitched in response I took off my pack and gingerly reached into the pit, grabbing it by what I hoped was its scruff then lifting it out, the animal scrunching up into a ball in response. I put it down beside a fence in some grass, then tore up some other grass to protect the hedgehog from the inclement weather and the sight of any predators. Leaving just a hole for the hedgehog to see out of, I stepped back and the adorable creature uncurled, peering at me out of one beady black eye. Satisfied that at least I'd given the hedgehog a chance, I walked on, and felt grateful that I was there to help it, saving it from a death of starvation in that wretched concrete hole from which there was no escape. Later on I found another cattle guard, this one with a board in it serving as a ramp out from its bottom, telling me that my hedgehog was not the first victim of a cattle guard. It's something I never thought about until today – how cattle guards can trap small animals like my dear little hedgie friend. 
After that it was an uncomfortable climb up a one lane switchbacking paved road. Scotland has a lot of one lane roads, with passing places instead of a second lane. This one also featured a couple of cattle guards, which became handy for me once they were behind me because they would rattle whenever a vehicle drove across then, warning me of danger's approach. For the most part Scottish drivers will give you a wave when you hop onto the shoulder out of their way, but a few didn't and I started getting a bit grumpy, a situation mostly brought on by the horrid weather (since usually I don't care.) Cold, sodden, and internally griping at my very non-waterproof waterproof socks, I felt more like I was trudging then hiking as I stalked through what was literally a cloud across the unforgivingly windy highlands. As the rain was hitting on my left side, my right side weirdly remained quite dry until I zipped my jacket up, (no longer needing the ventilation,) – then that side got soaked too.
Every so often some grouse would scare the crap out of me with their ridiculous rubber chicken noise that they make as they fluttered away. (Only slightly less startling then the dumb grouse back home in Canada, who seem to absolutely explode out of the brush as if their primary defence mechanism is to give their predators a heart attack.) 
Finally after being cheered up by a group of friendly cyclists, I reached an unnamed lochan and turned east onto a gravel road which felt very nice after many kilometres of wretched fresh concrete. Now I was being showered on from behind, but weather conditions gradually improved and I was soon within sight of greenery, which meant that civilization was at hand. I descended through the lush green glory of the Birks of Aberfeldy (a string of very pretty little waterfalls, with the star being a big proper waterfall called the Falls of Moness – also 'birk' means 'birch,' as in a birch tree.) At last I reached Aberfeldy, where a cafe promised WiFi which my phone couldn't lock onto for some reason, but at least I got a very tasty veggie burger out of the deal – probably the best one that I have ever had from a restaurant in fact! Also, there was fries, and a small teensy salad – real food oh my gosh! (I had water with it, due to an agonizing lack of root beer in the United Kingdom. Oh sweet sasparella, how I miss thee.)
Having failed to get onto the internet, I paid for my meal then stepped outside, morbidly anticipating having to begin the next section to Pitlochry when I really wanted/needed a zero day. Suddenly spotting a Stagecoach bus – with a sign saying that it was going to Pitlochry, which has a train station – I hurried over, then jumped aboard. From there, everything just fell into place – upon disembarking from the bus in Pitlochry (after the most entertaining transit bus ride ever because whoaa I am not used to moving fast anymore,) a fantastic hotel employee on her break directed me to the train station which was right behind the fancy hotel, even letting me walk straight through the building. Reaching the station, I immediately saw that despite it being Sunday (a day of little travel from what I recall of two years ago in Scotland,) there was a train arriving imminently which was bound for Inverness, where I knew that there were hostels! After a very scenic, wonderfully dry journey (so lovely to be protected from the awful weather at last,) I arrived in Inverness, where I was able to steal WiFi from the Pizza Express beside the station. 
And after a kilometre walk, a hasty trip through a Tesco Metro and a bit of time spent staring lovingly at a pair of stone wolf statues, I am now comfortably nestled in a guesthouse which features all-you-can-drink black tea in my room, plus a pitcher of water. (Black tea in the UK is very delicious so I consider this a huge bonus.)
Weather: Spent most of the day walking in a hellish cloud; it got more tolerable later on.
Camp: A guest house in Inverness (it was the only thing available on Hostelworld.)
Injuries: A blister on my left heel has joined the weird blister between my toes; my right leg extensors (apparently a group of tendons,) are still grumpy and swollen. Hiking down the Birks of Aberfeldy with its high steps was pretty hellish for my right leg and there were quite a few times when I yelped in pain – the poor thing absolutely hates going downhill right now, which is another reason for this zero day.
Food Eaten: Peanuts, Nairn oatcakes, two pieces of cheese, a Nature Valley protein bar, a Snickers, a Bounty bar and a peppermint Aero bar. I had the best restaurant veggie burger ever at the friendly Fountain Bar in Aberfeldy.
Favourite Moment: All the thing which fell together to help me have my zero day, plus helping the hedgehog!
Funniest Moment: A funny old Scot in the pub attempted to convince me (after I started giggling uncontrollably at the delightful sight of his pet – not a guide dog – black lab romping joyfully into the establishment, something you'd never, ever see in Canada) that in Scotland they eat dogs. (They do not! Scots adore their dogs, and their horses too. You can tell by how the puppers are always incredibly gleeful, and by how well groomed their horses are.)
Animals: My hedgehog friend! Plus… a couple of hedgehogs who had unfortunate encounters with cars. Also pheasants, the wild rabbit, the tiniest little black toad/frog ever (could not tell variety of amphibian due to exquisite tininess,) many dumb grouse whom I cannot help but hope have terrible run ins with golden eagles, the sweet purity which are sheepies (including a flock which did not run away from me, whooaa,) several labradors and some springer spaniels hanging out with some dudes whom I assume were hunting the noisy grouse plus the cute black lab in the pub. Additionally some crows which I saw from the train, some swans, and two flocks of what must be some of the happiest chickens in the world because they were living in huuuuge grassy pastures!
Stuff I Thought About: Angst triggered by the wretched weather; having a small puddle in my tent for the second or third morning in a row did not make me a happy human, especially because it soaked my waterproof shells. Apparently the forecast is going to improve a lot now though – hopefully that's true, I am getting so sick of being drenched every day. Two days in a row I have had feet which looked like they have been in a swimming pool for hours when I finally took my socks off, which just isn't cool. I am mad at my waterproof socks for failing, because the entire reason I spent almost $80 CAD on them was to avoid this problem and keep my poor feet safe! I owe it to my feet to keep them dry – and things just don't dry out in Scotland unless you check into a hostel. They just don't! So I am politely pissed, and righteously full of angst because my expensive ass socks failed me, endangering my feet to freakin' trench foot. Also the whole having to buy a new filter sucks too, and just altogether today wasn't great, so I am soooo glad to have a day off! (Even if, thanks to my stupid guest house's lack of laundry facilities, I have to go find a laundromat to de-stench my clothing. At least it has WiFi!)
Anything to write about?: I felt such relief stepping out of Inverness Train Station – there, right in front of me, were no less than three outdoor stores. One of them'll have my new filter and socks! Hopefully my pair were just lemons – because so far Bridgedale is the only brand of waterproof sock that I have seen this visit to Scotland. 
Next: Aberfeldy to Kingussie! (The Cairngorms.)
Affiliate Disclosure
This website contains affiliate links, which means The Trek may receive a percentage of any product or service you purchase using the links in the articles or advertisements. The buyer pays the same price as they would otherwise, and your purchase helps to support The Trek's ongoing goal to serve you quality backpacking advice and information. Thanks for your support!
To learn more, please visit the About This Site page.