TN/NC
Fontana
What a cool place! It's really just a resort village but just outside of "town" there is a shelter that is dubbed the Fontana Hilton. It's quite a large shelter that sleeps 16 with luxuries like a shower and proper toilet, even a solar charging station. The shelter overlooks the lake (which was frigid FYI) that made for a spectacular sunrise. I, like many, took advantage of the free accommodations and rested the body for a day before heading into the Smokies.
The Great Smoky Mountains
Ever been through four seasons in five days? Welcome to the Smokies. Leaving Fontana we couldn't have asked for a better day, the sun shining, birds singing, and new growth. We stopped to take in scenery with the clear skies and enjoyed the company of the bubble created from Fontana. Then the Smokies lived up to their reputation. We walked through the rain our second day out and got drenched as the temperature began to drop with the elevation gain. After I set up camp, cold and soaked, I squeezed into the crowded shelter to cook and eat. It would be the last time I felt warmth for next 24 hours. That night it stormed and I awoke to over two inches of snow covering my tent. The only way I knew to get warm was to get to hiking and find my way into town. I made the most of the day and appreciated the stunning scenery of the last snow fall I may see on this trek.
By the time I got to the gap that leads to town the snow had built to about 8 inches and Rangers started to close the roads. I managed to find a ride into Gatlinburg, TN from a trail angel I had met a few days earlier. Thanks Boomer! If you're unfamiliar with Gatlinburg it's where Dollywood is. 'Nuff said. Getting back to the trail. Snow still blanketed the ground but the sun was shining which made for a gorgeous day but terrible hiking conditions for the next couple of days. The snow began to turn to slush creating close connections with myself and the ground. We still managed to have fun of course and made it through the worst relatively unscathed. With our persistence we were rewarded with a day that mirrored that first day that left me in awe and wonder.
Max Patch
I have felt a lot of joy throughout this journey but I can't put into words the bliss of getting to Max Patch. It's a small summit that is clear cut of trees and has lush green grass. Like run-around-barefoot grass. And that's exactly what we did. We enjoyed the afternoon with a bunch of other thru hikers and trail angels (thanks Arrow and Firefly who provided BURRITOS!) and watched a beautiful sunset behind mountains we hiked across.
That night was my first night cowboy camping (no tent; just a sleeping bag under the stars) and was blessed with watching a moonrise.
In the morning I watched a sunrise to complete a full day of subliminal serenity. Something I would have in my back pocket to look back on during days that weren't so wonderful. Like Roan.
Roan Mountain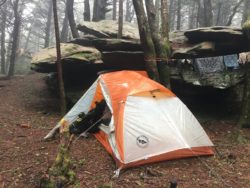 It's not always sunshine and butterflies. Literally. I didn't see the sun in the four days it took to get from Erwin, TN to Kincora (Bob Peoples' hostel, a well known trail angel that does a ton of trail maintenance. "The trail doesn't change Bob Peoples, Bob Peoples changes the trail." – Dusty). It rained everyday and for 24 hours straight at one point. It was by far the coldest I've been, even through the snow in Georgia and the Smokies. Hiking was quite miserable as I couldn't gain any momentum or traction in all the mud. Everything was wet. Ev-er-y-thi-ng. I also lost my trail family because I had to stay an extra day in Erwin to wait on a Kindle (definitely worth the cost and extra weight as a lot of my time was spent in the tent then). On the last day into Kincora I hiked 25 miles to catch up to the boys. After hiking virtually alone with time for introspection and reflection, I gained a new appreciation for sharing laughs with familiar faces and the warmth in the days following.
I'm in Virginia now (3 states down!) and will be for next 500 miles. I look forward to what's to come but going live in the moment here and enjoy what's been accomplished.
From Appalachia with love.
Be the change you want to see in the world.
Affiliate Disclosure
This website contains affiliate links, which means The Trek may receive a percentage of any product or service you purchase using the links in the articles or advertisements. The buyer pays the same price as they would otherwise, and your purchase helps to support The Trek's ongoing goal to serve you quality backpacking advice and information. Thanks for your support!
To learn more, please visit the About This Site page.