Ultralight Backpacking 101: A Psychological and Emotional Guide
The following series on ultralight backpacking is brought to you by Gossamer Gear, a leading UL gear manufacturer since 1998. Gossamer Gear is a small, passionate company whose mission is to improve your experience with backpacking with the best ultralight products.
After increasingly unsteady steps, I stopped in the middle of the trail,  unbuckled my hipbelt with a sweaty flick of my wrist, and wrested the 40 pound pack off my shoulders into the dry, Maine dirt with a resounding thump.
The pack slumped to the side of the trail, and I collapsed into the dirt.
I could not walk another step. My shoulders ached with the weight of the pack, the thin foam padding of the shoulder straps collapsed under the weight. My sunburn had begun to peel and bleed where the pack straps crossed my exposed shoulders.
I was utterly exhausted. Not just physically from the weight of the heavy pack, but also mentally. With every step my body ached . I struggled from dawn till dusk to walk the miles I had easily covered as a day hiker. I resented the heavy pack that made me crawl along the trail. How long could I go on like this? Certainly not for five or six months – or at the pace I was going… even longer?
When I began my Appalachian Trail thru hike, I chose a traditional style, heavy-framed, heavily padded pack. Everything I read indicated that ultralight backpacking was not for beginners – that it required a complex skill set and a spartan tolerance for the bare essentials. That wasn't for me – I was just a beginner.
2,189 miles, 14 states and a whole new setup later, I ended my hike not only a faster, more efficient hiker, but a happier backpacker.
Why Go Lighter?
Lightweight hiking allows a hiker to…
Hike Longer
Hike Faster
Reduce Risk of Injury
Backpack for a Lifetime
and ultimately have a
More Enjoyable Experience
…whether that is logging a few more miles, feeling fresh at the end of the day, or having more time in camp to roast a few marshmallows.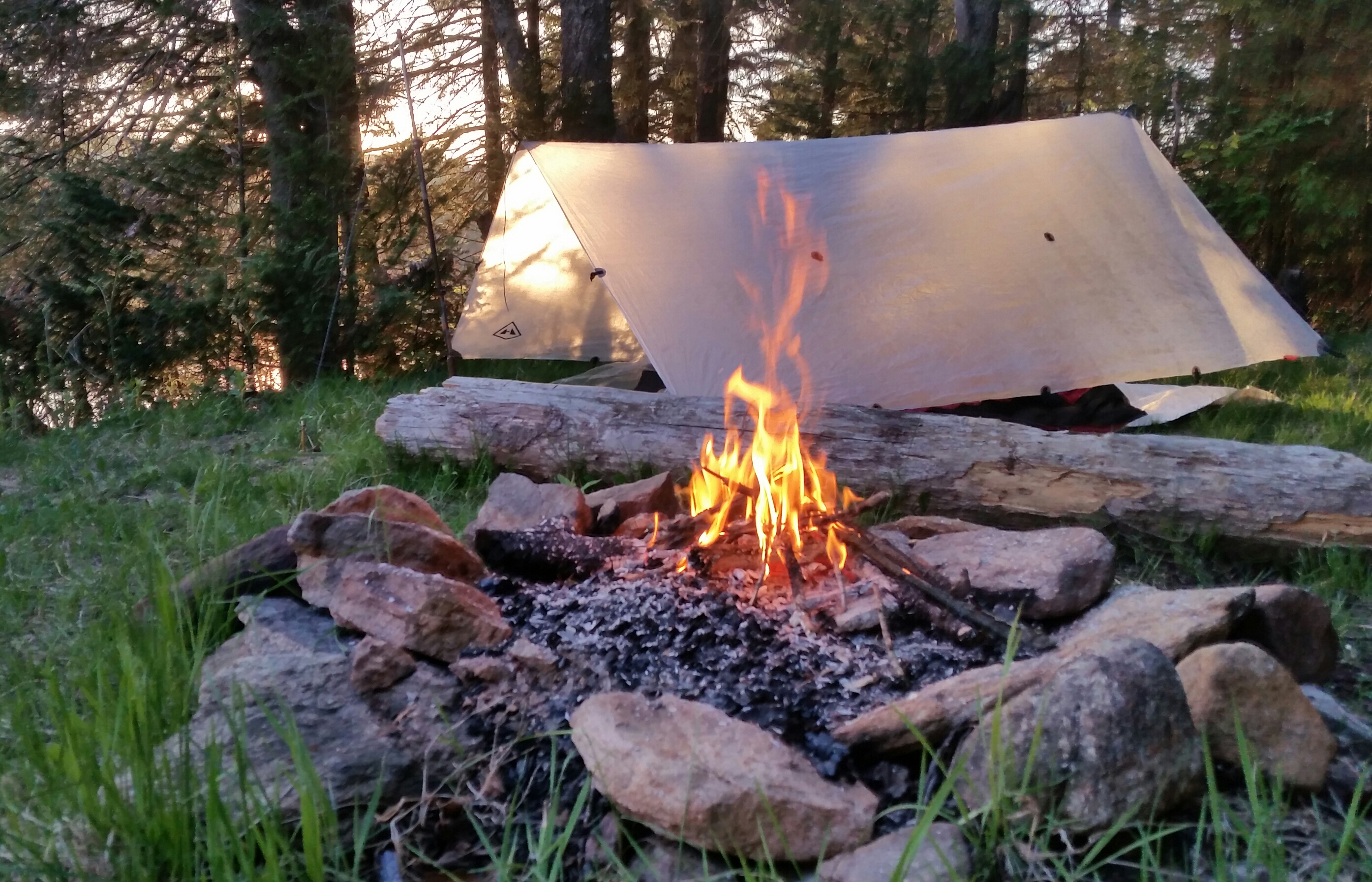 Getting Started
This three-part series will not only explore the ins and outs of ultralight gear and cover valuable skills, but we will delve into the essential transformations in the mindset of the most efficient lightweight hikers.
Your Lists
Here at The Trek, we're big on lists (if you've read Appalachian Trials, you know). They serve many purposes. They hold you accountable. And they make a whole lot of information more clear.
With the amount of technical specifications and descriptions of space-age fabrics, it may seem daunting to jump right in to the highly technical world of ultralight backpacking. Before a hiker can begin to make decisions about gear, they must ask themselves a few crucial questions about the hike they want to hike.
What kind of hike do I want to hike?
How many miles per day? How many hours on trail? How many hours in camp? What is the length of the trip?
What will I gain by achieving a lighter pack weight? 
Avoiding previous injury? Hiking more miles? Spending less time on trail and more time in camp? More comfortable hiking experience?
Determining the answers to these questions are quintessential to choosing the right gear for you. With the wide variety of blogs and online communities out there, it's too easy to just copy someone else's gear list. Simply copying someone else's gear list is like stepping into someone else's shoes – they could be the nicest shoes in the world but if they don't fit, you will be left uncomfortable.
Determining Goal Base Weight
Now that you've determined what sort of hike you'd like to hike, it's helpful to have a solid goal weight in mind. Base weight is a term often thrown around by lightweight hikers, and it's integral to the lightweight hiking.
The definition of ultralight backpacking is determined by the calculated weight of a backpacker's gear minus food, water, fuel, items carried and clothing worn. This calculated weight is called Base Weight.
Why subtract food, water, fuel, items carried and clothing worn? The weight of food, water, and fuel will vary by the terrain and length of your trip. Items carried and clothing worn is not included in base weight because they are items the backpacker will not be carrying.
Base Weights
Base weights vary greatly by the time of year, length of trip, location of trail, number of people in party, etc. However, general three-season continental U.S. base weight categories can be subdivided into the following four categories.
Ultralight: < 12 pounds
Lightweight: < 20 Pounds
Traditional Backpacking: 20 – 30 
And The Kitchen Sink: 30+
Again, these definitions are general, and need to be personalized. At 5'2″ and 100 pounds, a 20-pound base weight is not lightweight for me. For someone a foot taller and fifty pounds heavier, 20 pounds would be a lightweight pack. Again, if I am going on a weekend trip to the Smokies in July, my baseweight is under five pounds thanks to a summer-weight sleeping bag and lack of insulation. If I am going out for a weekend peakbagging trip in the Adirondacks in January, my baseweight will be much heavier due to a larger sleeping bag, thicker pad, technical gear, and the loads of insulation needed to have a safe trip.
The Ultralight Mindset
Question It All
Traditional backpackers look at store shelves and ask themselves, "what do I need?"
Ultralight backpackers rip their packs apart and ask themselves "what don't I need?"
This is the quintessential difference in the mindset of the traditional backpacker and the ultralight backpacker. Ultralight backpacking often consciously departs from the comforts of home, whereas traditional backpacking seeks to incorporate many of the routines and comforts of the frontcountry.
It is safest to start with small sacrifices to determine your comfort level. Can you forgo that morning coffee and the 10-ounce French Press that goes with it? How about switching to instant java? Consider switching from a heavy tent to a non-freestanding shelter. Save a few pounds by learning how to pack a pack, ditching your old three-pound internal-frame pack and choosing a lightweight frameless pack.
The list continues – right down to the missing handle on the ultralighter's toothbrush.
Flipping the switch to the lightweight backpacker's mindset can be intimidating for the burgeoning lightweight backpacker. When attempting to adopt this new mindset it is essential to ascertain wants vs. needs.
Wants vs. Needs
A very smart backpacker once told me that everyone carries the weight of their fears on their back. I know I did. I left Mt. Katahdin with a solar charger, a hand crank radio, and two portable battery banks. In the ten days and 100 miles that followed, it was not the lack of communication with my family that was the most difficult for me, it was the gnawing hunger pangs as I hurried out of the 100-Mile Wilderness with a pack full of electronics and no food.
Determining wants versus needs is integral to any type of backwoods travel. With ultralight backpacking it is essential to determine what is absolutely necessary to have on trail and what luxuries you can do without.
Determining wants vs. needs does not, however, exclude bringing the "wants." It's totally okay to bring a book, a pair of camp shoes, a pair of Pajamas, a stuffed animal, whatever you feel is worth the weight on your back for comfort at night. But is 5.5 pounds of electronics necessary? For me, it wasn't. I'd much rather have 5.5 pounds of Snickers.
The best way to determine wants vs. needs is a shakedown hike.
Shakedown
A shakedown is just what it sounds like. Getting rid of all the unnecessary gear in your pack and getting down to just what you need. A shakedown hike is an efficient way to mimic trail conditions and dial in your gear before your big hike.
While you may be tempted to stick with old habits and gear on this hike, try to mimic daily distances and trail conditions as closely as possible. If you plan on hiking 10 miles per day on your backpacking trip, hike as close to 10 miles per day as is possible on your shakedown.
Be smart on a shakedown hike, take notes. What pieces of gear did you find yourself using every day? Is there a piece of gear you didn't use? Too tired to use that camp chair hanging off your pack at the end of a long day? Did you go through all six of those pairs of socks you packed? Didn't use them? Cut 'em from your pack weight.
Lastly, the time to try new things and practice skills is on shakedown hike. Research a little bit about UL backpacking, try some crazy stuff. Cut your toothbrush in half, try cooking with an ultralight alcohol stove, set up your shelter a few times, bonus points if it's in the rain. Push your comfort zone on a shorter trail – or your backyard – where the stakes are low.
Next Steps
Asking questions, making lists, and gaining the lightweight mindset are a good entry into the world of lightweight backpacking. The continuing series will build on this backbone of understanding, including the intricacies of ultralight gear and, lastly, the skills necessary to be ultralight, successful, and happy in the backcountry. Subscribe to The Trek email newsletter to ensure you don't miss the next two parts of this series.
This UL series is brought to you by Gossamer Gear, a leading manufacturer of UL packs, shelters, sleeping pads, and more.  You can keep up with their latest products, ambassadors, and deals by following Gossamer Gear on Facebook, Twitter, and Instagram.
Affiliate Disclosure
This website contains affiliate links, which means The Trek may receive a percentage of any product or service you purchase using the links in the articles or advertisements. The buyer pays the same price as they would otherwise, and your purchase helps to support The Trek's ongoing goal to serve you quality backpacking advice and information. Thanks for your support!
To learn more, please visit the About This Site page.