West Yellowstone to Dubois – Welcome to Wyoming!
Day 47
Took an unplanned zero. We couldn't talk ourselves into going back into the rain just yet.
Day 48
We bought a giant cinnamon roll before catching a shuttle ride back to trail from the owner of the Madison hotel. I'm so thankful to have sunny weather right now. I really tried to be present in this moment and feel the sun on my skin and the warmth in the air. It's been a few days since I've gotten to enjoy this feeling.
It's pretty flat walking all day. In the evening, it rained/hailed for maybe an hour or less. I hid under a tree for the worst parts of it. After that it was cold. We ate dinner at the last water source for 12 miles. We hiked a few more miles to the boundary of Yellowstone NP. There were at least 10 other tents within a mile of the boundary with the same idea. Our spot wasn't great but we tried to make it work.
I woke up in the middle of the night on the cold ground. My air pad had deflated presumably it has been punctured. I dread this happening. I can't fix it now so I put down our the foam pad we use as cushion on our backpacks and slept on that for the rest of the night. My biggest complaint wasn't even the comfort of the foam pad, it was the low r-value which resulted in me being so cold all night! It was a poor night of sleep but I have hope I can easily patch it and tomorrow night will be better.
Day 49
We woke up early this morning so we could have plenty of extra time to spend at Old Faithful. It was so cold. I hiked with all my layers on until the sun warmed me up. It wasn't raining though so I'll take it as a win.
It was flat all day which makes for easy hiking. The trail went directly through fields of geyser after geyser. So cool! We got to the lunch buffet 4 mins before they stopped seating. The food selection was excellent but I was disappointed in myself that I could only eat 1 plate and a salad. What's up with that?! My inner hiker trash was very displeased.
We saw old faithful blow and explored the visitor center. We picked up our resupply box at the post office and used the comfy couches in the hotel lobby to sort it all out. While I was patching my air pad on the porch it started to down pour. We waited 2 hours under the porch with Bookworm until it stopped raining and we hiked out the remaining 4 miles to our campsite.
Our campsite was right next to another geyser! This is wild! Of course it started raining as we are setting up. The ground is either sand or rock and is not compatible with our tent stakes. It's especially important to get a good pitch when it's raining because if it's not taut we may get wet inside. We could not get a good pitch. I love our tent when it's perfect weather and perfect ground. When variables are difficult, this tent is frustrating. We settle with a crappy pitch. I'm NEVER one to skip a meal, but I was so done with today I went to bed without eating. As we're falling asleep we hear 5 explosions, or fireworks, or gun shots? We are still not sure what those were.
Looking back at this day and this terrible weather week in general, I now see this was an opportunity to practice weathering the storm… literally and figuratively. I don't have control of the weather, but I have control of my mood and how I chose to react to the things out of my control. I maybe didn't do the best at controlling myself and not letting the weather dictate how my day will go, but I am proud I persevered and I will apply what I learned towards the next "storm".
Day 50
My air pad held all night! What a relief! We woke up to more rain so we slept in. We only have 20 miles to our next camp spot so we have some time to spare. Weather reports say it should be done raining sometime in the morning. I hope it is true. I can't even truly convey how exhausted I am dealing with myself and my gear being cold and wet for consecutive days. These constant conditions have drained the life and happiness out of me. The weather report shows this rain event should be ending today and back to normal weather conditions tomorrow. I am clinging to that idea like I'm dangling from a bridge and I've got one finger left holding me up.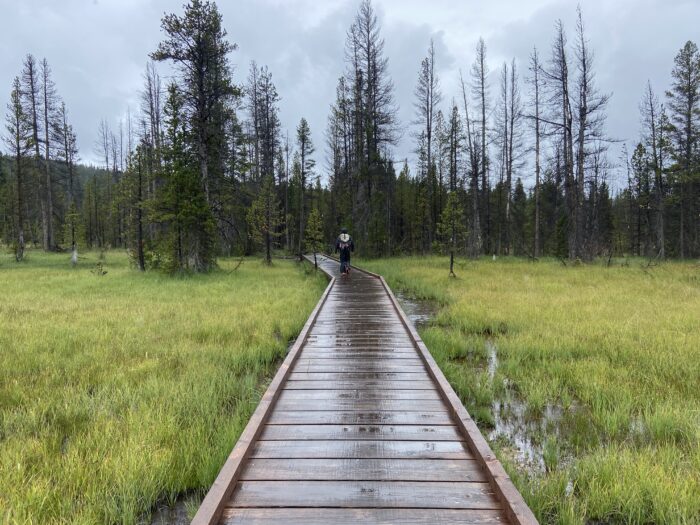 We tried waiting out the rain but we couldn't wait any longer. We got on trail around 11 and it rained until early afternoon. We walked past the COOLEST geyser section. It was crazy… it felt like a different planet or like dinosaurs should be walking through it.
The sun finally came out and I could see the blue sky!!! A sight for sore eyes. We walked through a swamp in ankle deep mud and forded a lake outlet over our knees but at this point it doesn't even phase me. I just march right on through it because what's a little more water going to do???
We finally get to the road and join up with Sporks and another hiker trying to get a hitch. We see a giant RV coming down the road and we're all thinking there's no way they will stop… wouldn't you know THEY STOPPED! I've never gotten a hitch from a full sized RV so I'm pumped!!! A family of 4 from Florida gave us a ride into Grant Village, where we will camp for tonight. We got a shower, dried the quilt under the hand dryer in the bathroom, and wiped down the wet tent with toilet paper. We got to eat dinner at a picnic table and it wasn't raining!!!! I can't stress enough how much this means to me. We might just get a dry night of sleep tonight.
Day 51
We woke up and it wasn't raining!!! We hit up the breakfast buffet at Grants Village hotel before heading back to trail. I got 2 plates this time!
Another bucket list vehicle gave us a hitch… an ambulance. A Yellowstone National park ambulance pulled over and told us to get in the back. We sat in the paramedic seats surrounding the patient bed. I was way too excited to be riding in the back of this ambulance. They said if they get a call they'd have to kick us out but luckily that didn't occur.
We saw more bubbling and smoking geysers. We walked around a lake. We had several wet feet creek crossings. My feet are still sad and soggy from being wet so much this past week. I'm taking extra care to make sure they don't get water logged. I thoroughly enjoyed hiking in the sun today and my experience in Yellowstone NP. It was such a cool park! We camped just on the outside of the NP boundary line. There were a field of active horses near by wearing cowbells that freaked us out as we approached them in the dark. And for the cherry on top of this miserable week… I woke up in the middle of the night with intense stomach ache and nausea. My first back country vomit! What's the LNT approach to this scenario… bury it?
Day 52
I felt like I needed extra sleep this morning. Actually, I feel like I need extra sleep every morning. We hiked in the sun all day. Excellent. A few wet feet river crossings. Our first day out of Yellowstone and we're right back in elevation gain and loss. Yellowstone was seriously flat. KD saw a black bear around dusk.
Day 53
I loved today.
The trail is more than mountains and sunsets. The people you meet are a special part of trail.
Sometimes I find myself in a funk. Today was one of those days. I just felt kinda blue and discouraged for no particular reason.
Then the trail provided. It knew just what my heart needed. Kindness from strangers. Friends. Love. A morale boost.
At the end of the day, when the trail turned into a dirt road, a lady gave us fresh fruits and veggies. She offered to drive us the remaining 2.5 miles to the paved road where we planned to hitch to town.
We quickly got a hitch in the back of a pickup (which is my preferred way to hitch and always so fun). We chilled in the back for the 25 min ride to town and watched the landscape of Wyoming develop all around us. Absolutely stunning rock features of different colors and shapes. I became so encouraged, optimistic, and excited for Wyoming.
After getting dropped off we walked down the side walk of Main Street towards a restaurant. A rodeo cowboy with a big belt buckle stopped us to ask what we're doing. After chatting for a bit, he generously gave us $100 to get a good diner. We shared our $100 with JK and Beer Run and all enjoyed a delicious dinner, drinks, and dessert.
This is EXACTLY what I needed, especially after this challenging week.
Affiliate Disclosure
This website contains affiliate links, which means The Trek may receive a percentage of any product or service you purchase using the links in the articles or advertisements. The buyer pays the same price as they would otherwise, and your purchase helps to support The Trek's ongoing goal to serve you quality backpacking advice and information. Thanks for your support!
To learn more, please visit the About This Site page.