What Thru-Hiking Has Taught Me About Traveling
I took away a lot of things from my 2016 thru-hike. I have lifelong friends, amazing pictures, an even greater appreciation for the outdoors, and I acquired many life skills that I didn't know I needed. These life skills have become especially handy when it comes to traveling, and doing it cheaply.
I no longer feel the need to shower incessantly

I don't feel much of a need, even when I'm filthy. Others may not find this to be a skill, but I've come to find it especially handy.
I only showered once during my week-long trip to Iceland—it was cheaper to tent or sleep in the car than to have accommodations every night.
Traveling in this fashion meant that I did not have access to a proper shower. Prior to hiking the Appalachian Trail, I would have found this completely unacceptable. I would have wanted a bed and running water. But now I'm willing to be uncomfortable if it means spending money on experiences instead of things.
After all, on the AT my pale redheaded self almost looked tan from the amount of dirt covering my body.
I enjoy hitchhiking
Traveling cheaply, especially in a foreign country, also means not having a car. Thankfully international metropolitan areas tend to have fabulous public transit. As a lover of mountains, however, city life is not what drives my passion of exploring. Once out of the city and without a vehicle, I've relied on the kindness of strangers. While hitching seemed like a daunting task when I first started the AT, it is almost second nature and a fun game now…. And I always do it safely.
I have met some great and caring strangers while hitching. I have denied offers less than a handful of times, but I always reserve the right to not get in the vehicle. Sooner or later I have always gotten a ride. More often than not the person who picked us up was a traveler at some point. While traveling in England a women gave us a ride and also shared her experiences hitching in the seedier parts of California.
Hitching has also made me a more caring traveler. In Iceland, having a car enabled me to "pay-it-forward." Since I have stood on the side of a road with my thumb out, I was sure to pick anyone up who was doing the same. Even when I wasn't so keen because it was pouring rain and our junk was thrown all over the back seat. After-all I've been the Hiker dripping wet hoping beyond some hope to get a ride and be a little drier.
It's only a little rain

I won't forget being at Trail Days in Damascus, VA 2016 and 2017 having the sky open up and release a floodgate. The hikers stayed and enjoyed the festivities, while visitors ran for shelter. Now when it rains I think, "I'll be dry eventually." I won't end the fun I'm having to avoid some rain. As my Mama says "You ain't made of sugar; You aren't going to melt."
The week in Edinburgh had mostly good weather, but there were a few days when we didn't. On a bus tour to the highlands we saw some amazing sights. The bus didn't stop as often as I had wished, so at every opportunity I got off the bus. I needed fresh mountain air and to get pictures that wouldn't have a rain smeared window ruining it. I was surprised to see some people wanted to avoid the rain so much they did not leap at the same opportunity.
Not having plans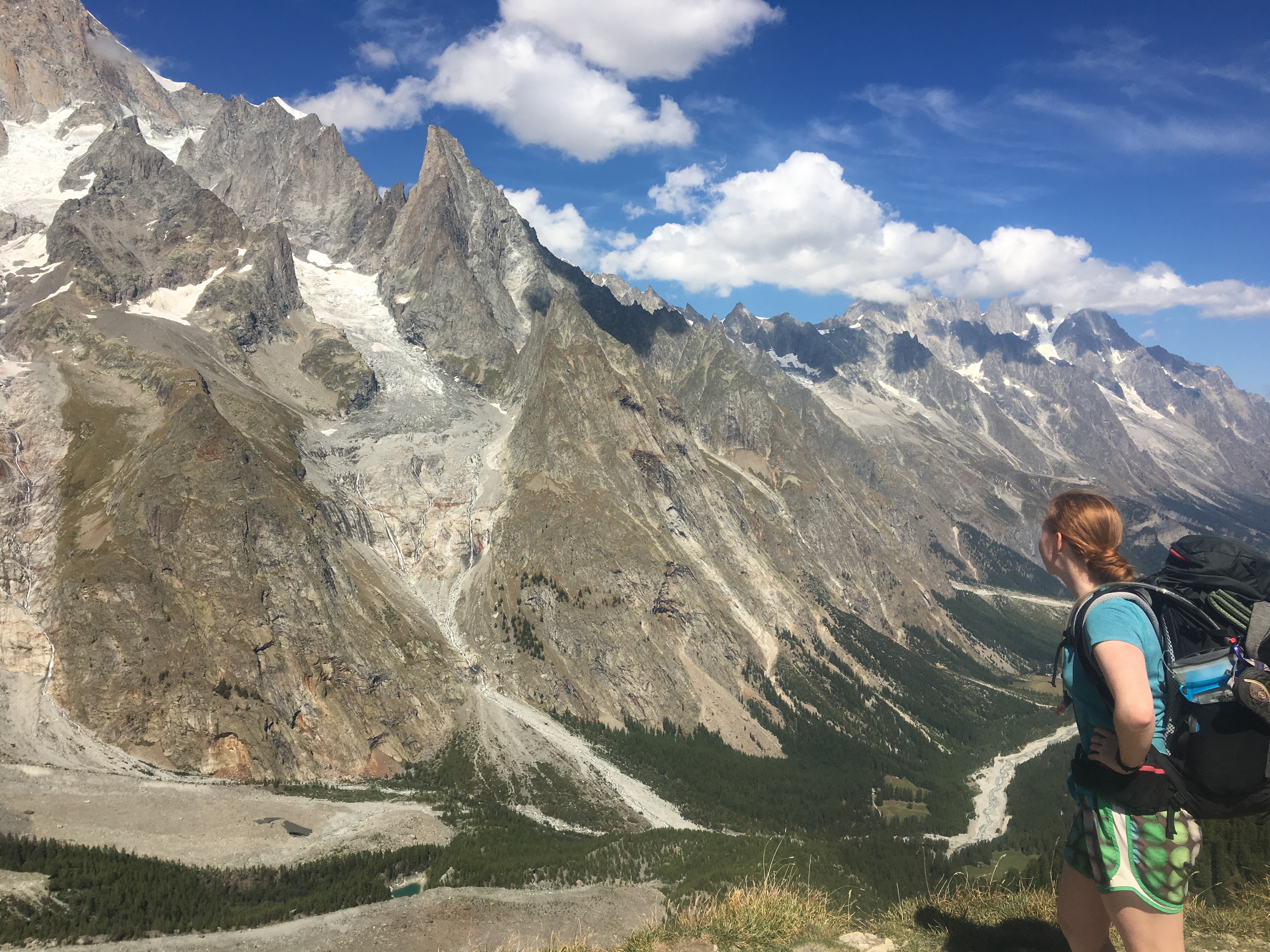 I am now much more keen on having a designation in mind, but letting the journey take me where it will in the meantime.
On the AT, I always knew where I was going. Katahdin was the end goal from day one. But backpacking is an adventure so much larger than making the miles. I didn't worry about staying in between the white blazes. I was swept away to stranger's houses and trail magic. I sat in shelters all day playing card games and laughing until my sides hurt. So many wonderful things happened during my time on the AT because it was about the journey.
Traveling Europe has been the same. In general I know where I want to go and what I want to do, but I've let the time between be filled with spontaneous adventures. These moments have been spectacular. Now I can also admit that I've probably missed out on some things from not being forward thinking enough. But I have not regretted any time I've spent traveling. I've loved the time I've planned out and all the times in between.
Safe Travels,
Shay
Affiliate Disclosure
This website contains affiliate links, which means The Trek may receive a percentage of any product or service you purchase using the links in the articles or advertisements. The buyer pays the same price as they would otherwise, and your purchase helps to support The Trek's ongoing goal to serve you quality backpacking advice and information. Thanks for your support!
To learn more, please visit the About This Site page.