Our 2015 Backpackers Holiday Gear Guide
Whether you're looking for the perfect present for the outdoors(wo)man in your life or simply gifting yourself (no judgement here), the below 16 items are some of our favorites.  The following list compiles gear across all seasons, they aren't winter specific.  Submissions are courtesy of Appalachian Trials Writers. Any gear recommendations not attributed are courtesy of me (Zach).  Enjoy!
"Having tried 5 tents now I have returned to the HMG Echo as my number one shelter of choice. Post AT thru-hike I gave my Echo (which I used for over half the AT hike) to my son. However I have missed it that much I just bought a new one. Light, versatile, spacious, waterproof and easy to put up. A bit costly but the benefits make it worth it." – Paul Bunker, 2014 AT thru-hiker
Yes, this is being recycled from our Fall Gear Guide, but Feathered Friends' Lark UL 10-degree bag is too good not to include in our annual gear best of.  Even camping at 12,000 feet in the heart of fall, this bag provided plenty of (and sometimes excessive) warmth.  At two pounds (score 900+ loft), this bag offers winter warmth with a summer's load.  Although I'd opt for the Feathered Friends Swallow for a three-season hike, the Lark is hands down my go-to for nights with expected lows into the teens.
"I can't stop raving about Outdoor Research's Helium II Jacket. It's waterproof yet breathable, a perfect layer to cut the wind at the top of a hike or climb, and it weighs about as much as a granola bar (the women's version is less than 6 ounces)." – Maggie Wallace, 2014 AT thru-hiker
"At only 6.6oz for a men's size large, the warmth to weight ratio of this 900 fill down jacket makes it difficult to justify ever leaving the Montbell Ex Light Down Anorak behind, even in spring and early fall. The 7-denier ballistic airlight nylon fabric is incredibly windproof surprisingly water resistant, and with fibers nearly half the width of a human hair, it doesn't leak down. The hood also provides additional warmth when using a sleeping quilt, allowing your favorite backpacker to also drop weight from their sleep system by ditching their heavy sleeping bag." – Brent "Wander" Borgemeister, AT section hiker
"What if I told you there was a way to turn your mid weight breathable fleece layer into a bombproof wind cutting, heat trapping, mega insulating layer? What if I told you it could be done for a mere 1.6 ounces (for a men's medium)? Yep, it's all true. The Montbell Tachyon Anorak does it all." – Caet Cash, 2014 AT thru-hiker & 2015 Colorado Trail thru-hiker
"Merino wool is the workhorse of the layering system, and Ibex makes a high-quality, durable line of tops and pants. The Women's Woolies Zip Turtleneck fits right in as a mid- layer, taking the place of fleece or synthetic fabric… and it smells a lot nicer. It has a longer hemline and a sleeker shape than other boxy layers, which makes it smoother under a jacket and prevents the material from bunching under a hipbelt. The merino is sweat-wicking, which made me less clammy on a chilly winter hike, and it keeps me toasty warm in the frigid Montana winter. The only downsides are that at 11.64 ounces, this isn't the lightest midlayer option out there, and it also feels a little itchy next-to-skin, which means that I need another long-sleeve layer under it. Overall though, it's an excellent, warm, high-quality top to add to your layering system." – Maggie Slepian, 2015 AT thru-hiker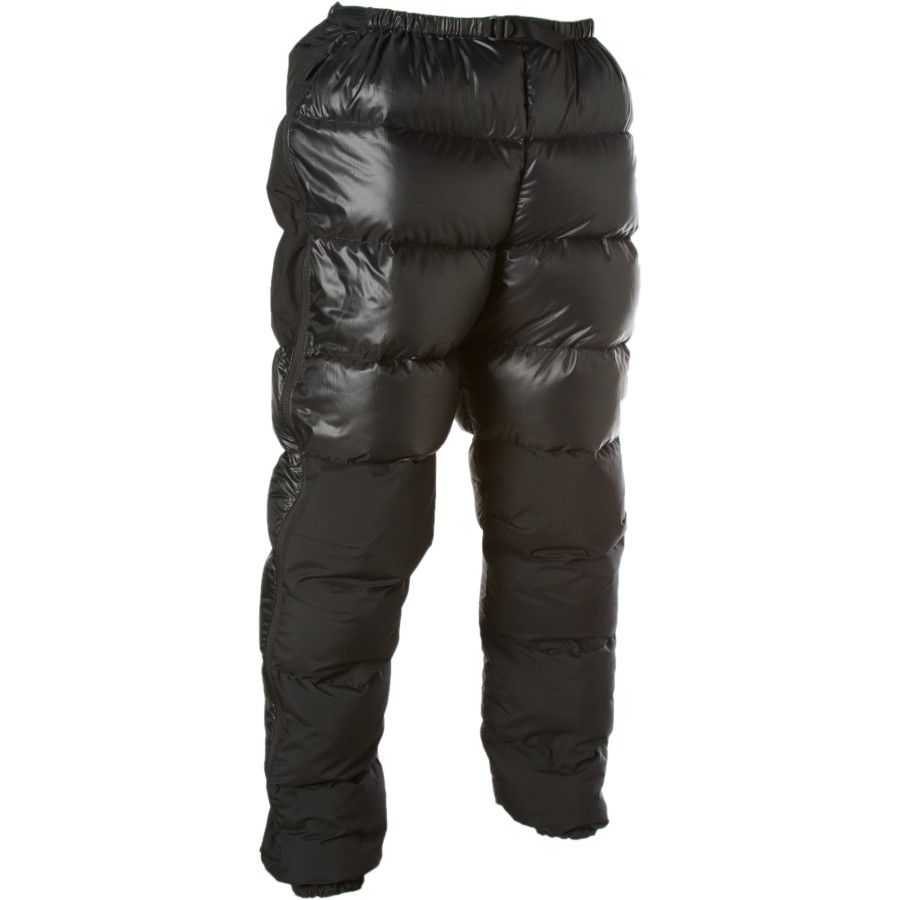 "Definitely a luxury item you will not buy for yourself. Maybe not even an item you will end up taking on a long haul hike, but these puppies are like wearing a sleeping bag on each leg. They are so multipurpose because being cold happens everywhere at some point. If you live in a cold climate, they're great for wearing around the house. If you ski, they're awesome to pop on after jumping off the slopes. If you're into white water, they are a god send when you get off the river in creeking season. If you climb, these are great to throw on during breaks. But lets face it, Western Mountaineering Flight Pants serve you best when you are hanging out at camp, whether backpacking or car camping, these guys give you that feeling of sitting around, hunkered down in your sleeping bag, but will all the mobility to get up and grab a beer. So bring a koozie!" – Carlie "Rainbow Braid" Gentry ", 2013 AT thru-hiker
Had I known about ExOfficio's BugsAway Sandfly Pant before my AT thru-hike, I could've prevented a lot of paranoia.  As someone who perspires at an astonishing rate, the idea of wearing pants in the heat of the mid-Atlantic's summer was quickly dismissed.  The obvious downside to shorts is a greater exposure to deer ticks, and thus Lyme disease, which runs rampant on the Appalachian Trail.  The Sandfly pant offers the best of both worlds: protection from ticks (and mosquitoes!!) through its application of Insect Shield and superb temperature control by way of mesh inseams and a very lightweight nylon material.  The Sandfly is now my goto during the height of bug season. ExOfficio offers a comparable model for women in The Damselfly.
These are my go-to for backpacking, hiking, running, basketball, traveling, and anything else that requires more activity than walking to the kitchen.  Simply put, I have yet to test any underwear that can compete with Exofficio Men's Give-N-Go Boxer Briefs combination of odor control, comfort, durability, and moisture wicking.
"Yep, I wear men's hiking boots. My Vasque Breeze GTXs were great on my first 500-mile AT hike when I was new to hiking and terrified of wet feet. The extra weight was vastly outweighed by my personal comfort that come rain or shine, my puppies were staying warm and dry! These durable boots are five years old now and still get me over the mountains during our tough Colorado winters. I'd recommend these for any new hiker- they're comfortable, they'll last and you never have to worry about your feet!"– Ashley UpChurch-Kreykes, 2014 AT completed section-hiker
"8 oz. – 227gm of trail awesomeness! The Six Moon Designs Silver Shadow a replacement of the popular GoLite Chrome Dome and is just as good! I would never consider a hike without an umbrella, both for sum protection and rain wear." – Paul Bunker, 2014 AT thru-hiker
"Between both my husband and myself, the GSI Halulite Minimalist Cookset is our only piece of gear that has traveled the entire length of the AT. It was originally my entire cookset, but we expanded to a larger pot when we started sharing gear. Now it's just my coffee mug (not a luxury time- coffee is a must have). This lightweight mug and its insulating sleeve let me slowly enjoy my coffee on the coldest morning (while hubby either scalds his tongue or chugs cold coffee), and it doesn't add to my back's discomfort on the steepest climbs! This is a great personal cookset or personal item in group gear." – Ashley UpChurch-Kreykes, 2014 AT completed section-hiker
"Big Sky International's DreamSleeper UL Pillow is so comfortable that I've been using it every night, literally EVERY night, since I bought it two years ago. The comfort of the contour is unlike anything I've seen, perfectly cradling the head and maintaining proper neck alignment for side sleepers. Weighing only 1.5oz with optional stuff sack and packing down to the size of a pack of gum, bringing a pillow becomes an easy choice, rather than being considered an optional "luxury item". Big Sky also makes a really sweet Primaloft lined pillow case, but I tend to leave it behind to drop weight and use the Buff that I'm already carrying as a pillow case." – Brent "Wander" Borgemeister, AT section hiker
"You're probably giving and receiving your fair share of Christmas cookies this month, but if you're looking for a confection that keeps giving, Big Sur Bars are the best hiking food I've tried yet. Granola bar on top, cookie on the bottom. After trying them at a couple outfitters down South while hiking the AT, I was hooked. I have ordered a box of these California-based treats every winter since for those really cold winter hikes where I need fast, dense, and highly motivating food." – Maggie Wallace, 2014 AT thru-hiker
I have two rules of backpacking: 1) never carry whiskey and 2) always ignore rule #1.  When huddled around the campfire with friends, nothing adds some color to the conversation like a few swigs of Bulleit.  Over the past year, I've graduated from carrying my nightcapper in a plastic flask to the much lighter and compact Vapur Incognito Flexible Flask.  Bonus: the Flask comes with a handy pourer to avoid spilling any precious happy juice.
"Call it a luxury if you must, but I can't think of a more peaceful place to knock out a few pages in a book than in the middle of the woods. I carried the Kindle PaperWhite with me from Georgia to Maine, and I have no regrets about adding its paltry 7.3 ounces to my pack weight. It is surprisingly resilient and can hold thousands of ebooks at once, so you don't need to worry about being stuck with a single novel until your next encounter with civilization—add in the fact that most A.T. backpacking guides are available in ebook form, and you might actually end of saving weight. The PaperWhite also has a built in, easy-on-the-eyes backlight and a battery that lasts for weeks, making it one of the handiest tools available for backpacking book lovers." – Jordan Bowman, 2014 AT Thru-Hiker

Disclosure: some of the aforementioned products were donated for the purpose of review including those from ExOfficio, Outdoor Research, Feathered Friends, Ibex, and Vapur.
Affiliate Disclosure
This website contains affiliate links, which means The Trek may receive a percentage of any product or service you purchase using the links in the articles or advertisements. The buyer pays the same price as they would otherwise, and your purchase helps to support The Trek's ongoing goal to serve you quality backpacking advice and information. Thanks for your support!
To learn more, please visit the About This Site page.