4 Pieces of Advice for Solo Female Thru Hikers
As an associate at REI, thru hiking the AT comes up quite a bit. Customers want to know they're speaking with an experienced and knowledgeable backpacker. Sometimes a customer is preparing for their own thru hike and I can't help but get excited. No matter the reason, the conversation almost always goes the same way.
"Oh, you hiked the AT? How long did it take you? Did you do it alone?"
Very rarely do people go off script from those first few inquires. Why? I suppose because the idea of walking for six months alone as a girl seems crazy enough that they feel the need to clarify it. The spoken fact of a thru hike, when dwelled upon, can sound really daunting and unmanageable. Yes, it did take six months and, yes, I did start alone. But I always tell people that I was never really alone. One can hardly manage such a feat on the Appalachian Trail, particularly in the beginning of thru hiker season.
Appalachian Trials recently received a question from a follower that we get pretty often:
"I've been thinking about hiking the trail starting spring of 2015. I'm worried about being a lone female hiker. Any advice?"
Dear Poster, Continue reading!
When I started my thru hike on March 3, 2013, I walked out onto the snowy pathway leading up to Springer Mountain all alone. I had made halfhearted attempts to find a hiking partner in my months of preparation but I knew the importance of finding the perfect hiking partner, not just anyone. I have seen so many fantastic hiking duos and trios that came out to the trail together and I wish I had had such committed and foolhardy dreamers for friends at the time in my life when I thru hiked the AT. I surely would have trekked alongside them, but for me, it was a solo endeavor.
In the beginning, everyone is alone. Everyone is isolated, whether they are with people they know or not. Most of us have never been in the position of living out of a backpack in the woods and it's a lot to get used to! But it is such a strange and beautiful feeling to stumble through this transition with the other hikers around you. This time of most intense "wingin' it" is where a lot of strong bonds are built.
I quickly found hikers in the first few days that matched my walking pace (this happens naturally) and they were there with me to commiserate about the first snowstorm and to celebrate the first big peak. We worked our way through the first town stop together and perfected our camp set up skills together. By the end for the first week, I knew we were in it together. On a larger scale, we collected and lost members of our group for many months until my original group was nearly completely different. But all along the way, each hiker had cemented their likeness into my heart as a brother or a sister. We worked together in all of our efforts. Each morning a location would be chosen and we would all walk, sometimes together, often times apart, but I always knew they were there. I had my time and space to think and enjoy myself in nature, but when I wanted a friend, I could always find one. That being said…
Advice Nugget #1: Don't Worry!
Between the people in my immediate group, the other wonderful thru hikers we often found ourselves traveling with and the log books, I had a great sense of safety on the trail. If anything were to happen to me, those around me would notice my absence quickly. Despite being removed from regular part of society, the trail community is one of tight communication. Word of disruption travels quickly and hikers are fast to defend and protect their kind. When sketchy characters were around, we heard of them before we met them. If ever I felt uncomfortable, I knew I was under the watchful eye of my trail brothers. Even still, such precautions always proved to be overzealous. Some people are strange, but most mean you no harm.
Advice Nugget #2: You CAN Do It
In those first few days on the trail, I got a lot of help. It was nothing huge, but it felt huge. A ridge runner taught me how to bear bag my food. Someone showed me a neat trick with setting up and taking down my particular tent. Every now and then a guy would lift my pack onto a peg in the shelter that was too high for me to reach. I appreciated these things a lot but eventually I didn't need the assistance anymore. I grew physically stronger and became more confident in my own choices and abilities on trail. Although I had come to the trail as an independent lady, I was suddenly an independent mountain lady.
Advice Nugget #3: Don't Limit Your Experience
That being said, when I met a guy who made a tough hiking day more fun with his dumb jokes, tuneless dancing and constant singing, I wasn't too proud to admit he made my trail life more fun. We started out hiking the same pace, then we experience some rough trail situations together and eventually decided on an unspoken rule of looking out for each other. I felt safe with him around and he got hitches into town more easily. In the toughest of times, we were there for each other. He let me cry everytime I was too worn out to walk. I stopped him from quitting when the mosquitos had sucked too much blood out of his body for his brain to think correctly. We didn't traverse the entirety of the Appalachian Trail together, but we stood on Katahdin together on August 22, 2013 and I know for a fact I would never had made it if I had not have found him on the way.
Advice Nugget #4: Don't Over Do It
I have heard similar stories from ladies who met someone and ended up deciding to separate themselves because it was not the experience they were seeking. In my own hike, I worked too hard for too long to stick to the pace of a group of guys who had become my brothers. When an opportunity arose for me to stay at a hostel and help out, I took it because my body was too beat up to continue on doing such big miles. I knew I would loose them or have to work hard to catch them later but I also knew that at the pace I was keeping with them, I would never make it to Maine. It was a tough decision to leave my little roving family of nomads but it was one that benefited me more than any other I made on the trail.
I truly feel that my experience with finding a hiking group and the hiking community as a whole are not unique. I believe that any female hiker can go out on to the trail alone and with common sense avoid undesirable situations. Most women on the trail command an air of respect and independence that nearly all men abide by and uplift. This paves a path for excellent friendship and strong relationships to be built that will not only leave you feeling loved and protected on the Appalachian Trail, but also aid you in reaching your goal of standing on Katahdin with a group of people who changed your life for the better.
For another tidbit of information that may come in handy as a solo lady on the AT, read Megan Maxwell's post about: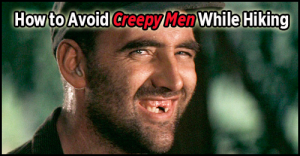 For inspiration as a female hiker, turn to none other than the lady who truly thru hiked the AT alone,

Affiliate Disclosure
This website contains affiliate links, which means The Trek may receive a percentage of any product or service you purchase using the links in the articles or advertisements. The buyer pays the same price as they would otherwise, and your purchase helps to support The Trek's ongoing goal to serve you quality backpacking advice and information. Thanks for your support!
To learn more, please visit the About This Site page.
Comments
17
Great article! Thanks for posting! Just wondering if you had to do any hitch-hiking into towns? If so were you nervous/did you have any problems?

There definitely were times that a hitch into town was necessary, but as a solo female I only hitched alone once on my whole thru hike. I usually knew of other hikers hitting the same town stops and we'd agree to hitch together which is obviously safer. Not once did I ever feel unsafe, and I hitched quite a bit. Just be smart, and trust your gut- if something doesn't feel right, you don't have to accept a ride

THANK GOD I FOUND A LONE THRU HIKER i'm a 17 year old female that wants to hike the trail next year perhaps in april and honestly my family is giving me SO much shit for being in a group and its pissing me off they don't understand that not everyones going to be a rapist out on the trail i want my bf to come but while he doesnt want to go he says its undecided but i really prefer being alone because im not a people person (im socially awkward) and i NEED to get away from my loony bin of a family like seriously but do you have tips for supplies and first aid and food?

sierra! wow i am a 17 year old girl hoping to hike the trail next april as well and it's so nice to see that other young girls like me are dreaming of this! i hope i will see you on the trail 🙂

I am also a lone female i plan to leave late april. im mostly worried about being so small and being targeted because i would be an easy target.

Does your family members send you your shipments of food and meds you might need at certain so called "posts "? I would love to know?

Awesome article! I also hiked the trail solo and had a great hike with no major difficulties, and I have no special talents. It's totally possible to hike the trail alone, and like Carlie says, you will find times that you want to hike with others because your paces and temperaments match, and you can totally do that when it makes sense. It's really freeing to hike solo – you make your own decisions about where to stop, when to stop, how long to stop, and it's great to learn about yourself and your own needs and wants.

I really enjoyed reading this article. I'm thinking about hiking the trail in the spring 2017. I will be 45 years old. I'm very nervous about the wildlife more than anything else. I've read blogs and some spoke of wild dogs. Bears and the dogs are my main concern. Has anyone had any problems with wildlife on the trail?

Rachel!!! I an 44, so nice to see someone my age also planing a hike thru in 2017! I worry about bears but I am so excited. This was a great uplifting article. Females rock the trail!

In 1997 I had a bad falling out with friend about hiking the trail. I was too fearful that something bad would happen to her alone on the trail. Once she and I had been skydivers so why this irrational fear? Gott weib, warum? Was too ignorant then. Safer to hike the trail then walk most streets in America. Hope she did make it to Katahdin.. To all good luck and good times on the AP Trail!

This is a great article! I am also a female who completed my SOBO thru hike this year, and I began my hike with a partner which didn't last long. I was on my own but the trail provides! Including awesome people to hike with!

Very interested in your account of a SOBO hike, especially pack weight and start & end dates. Back then NOBO & SOBO weren't in useage; they were called GAME & MEGA. I did a MEGA thru-hike 8/5/78 – 6/7/79 with 50-86# pack weight that for a time included snow shoes. I had a buddy until 1/10/79 when he took a bus home due to pneumonia. After that I was alone on snowshoes through Shenandoah NP to almost the James River. Have you written an account anywhere of your SOBO hike?

I turn 50 in April. I was a Marine a lifetime ago and then a nurse for 20 years. My dream has always been to hike the A.T.
I am divorced, mother of two grown children, and retired.
Nothing holding me back except that fear of the unknown.
I had Tolal hip replacement five months ago and March 1st I'm throwing myself into local hiking and finally preparing to undertake this dream.
Thank you for posting this article. Very encouraging for me.

Way to go girl!! I'm 52 and I am planning to do the AT solo in 2019. It's always nice to see that there are other women of my age range with the same sense of adventure!