5 Key Ingredients for Dairy-Free Thru-Hikers
"I don't think I'm lactose intolerant, just sensitive," is what I used to say. Then I told my friend about how it felt when I ate dairy. She said to me, "You're describing an intolerance." This happened somewhere around Mammoth during my PCT thru-hike, and it was a tragic realization. Reluctantly, I began to cut dairy from my diet, while the few lactose-processing enzymes that I did have left decided to abandon me. Without even knowing it, I was on my inevitable slide towards dairy-free thru-hiking.
Over time, I've become far more sensitive to lactose, which has made refueling on trail more difficult. Emotionally, I'm plagued by the sickening fear that the half-gallon challenge might literally kill me. Even more troubling, during those early days, it seemed like almost every solid resupply option incorporated massive amounts of powdered milk. I used to be a Knorr side devotee, but things had to change.
From Dairy to Innovation
What do we do as hikers when we face an obstacle? We grow beyond it, of course. Often, this forced growth, whether it be in our diets, our relationships, or our habits of any kind, leaves us richer than we would have been without it. This was the case for me with my backpacking diet. Going dairy-free while thru-hiking has been a delicious and educational ride.
In order to healthfully coexist with my growing lactose intolerance, I needed to be more intentional about what I ate in the backcountry. That learning process led me to some fun ideas and delicious alternatives to the classic thru-hiking staples. Some of the following ingredients I love because they're flavor proxies for dairy products. Others I love for their nutritional value. Either way, hopefully they treat you as well as they've treated me.
READ NEXT — Our Favorite Dairy-Free, Nut-Free, Vegan, and Gluten-Free Backpacking Meals
1. Ghee
Let's start with a personal favorite: ghee. You may also know ghee as "clarified butter," which begs an important clarification about this ingredient. While it's not dairy-free, ghee is free of lactose. This means that the lactose intolerant can feel free to pack out ghee, but hikers with allergies to dairy, however minor, will want to avoid it. They might opt for coconut, olive, or some other vegetable oil.
I picked up my first jar of ghee on the CDT, looking for a hit of fat's quick, dense energy. It hit the spot for me because, even though it isn't quite butter, it still has that buttery essence that I've come to miss. At home in the front country, it's great for cooking too.
Ghee is shelf-stable, and if you can find the options with a screw-on lid, it's a great call for a dairy-free thru-hiking resupply. That lid is especially important if you're hiking in heat since this stuff will turn into liquid if it warms up. Additionally, you can often find garlic-flavored ghee, which is always welcome in my book. Add a few spoonfuls to your instant noodles or spread it on a bagel in the morning. After my stove broke in Wyoming, I had a few nights of eating exclusively garlic naan with ghee and Cholula hot sauce. It was delicious, even cold.
Ghee like a pro: Add it to everything.
2. Chia Seeds
Granted, chia seeds are not a direct replacement for an equivalent dairy product, but they're on this list for a couple of reasons. The first is calcium content. I know the prevailing school of thought on calcium is that it's just something kids need to grow big and strong, but adult thru-hikers need it to stay healthy too.
Besides bone health, calcium helps with muscle function, and it can be tough to get enough of it with high-protein, high-sodium diets. My hiking buddy and I found that we could just add some chia seeds to almost anything we were eating on trail and it wouldn't affect the taste. If we ever went overboard, a little hot sauce always brought us back into "edible" territory.
Reason two for including chia seeds is the miracle of chia puddings. If you've got a Talenti jar or something similar, you can toss together chia seeds, coconut milk (preferably canned,) and honey or some similar sweetener. It'll take a few minutes to set, and then you have a cute little snack for the top of your climb. A little water can keep the pudding from getting too thick, and make sure to shake it up so the seeds don't all settle at the bottom. This works especially well as a collaborative effort with your tramily, and fresh or dried fruit really kicks the flavor into high gear.
Chia like a pro: Add these super seeds to everything and get down with chia pudding.
3. Tofu
The irony here is that for me, tofu almost looks like it should be a dairy product. It has that creamy texture and it has the protein. I realized I could pack out tofu when I found out there were shelf-stable varieties. Mori Nu is one such brand, and comes packaged in airtight cardboard. It might still be worth tossing in one of those ziplocs that you're reusing, in case it explodes as you shove your food bag into your pack.
The biggest crisis I experienced on my journey to becoming a dairy-free hiker was dinner. Specifically, I was hungry for more diversity. This brought me to a new favorite meal: instant miso soup with tofu. Miso and tofu make a historically perfect combination, and adding some rice noodles for carbs really brings it home.
Backcountry tofu also makes a great addition to ramen, and if you like it spicy like me, the tofu can have an almost cooling effect. Those hot meals with protein do the body good, especially in colder conditions.
Tofu like a pro: Add it whenever you want a satiating protein kick. Combine with rice noodles and miso soup for a hearty meal. Add to ramen to round out the nutritional profile.
4. Powdered Milk Alternatives
I have to admit, I completely understand why every Knorr side, every instant mashed potato, and most dehydrated meals include powdered milk. It's a super versatile ingredient. If you track down some powdered oat, almond, or coconut milk, you can find some good use for it. You could add it to your dairy-free meals for some richness, but mostly I just think of it as a way to make instant coffee more bearable.
For a long time, I wasn't much of a hot-coffee-on-trail type of hiker. I was more the type to toss a bunch of Breakfast Essentials into a cold water bottle for liquid calories, then drink my chocolate milk on the go. Guess what "B-ssentials" is full of? Powdered milk. So there goes that luxury and those delicious B vitamins.
I know that you can probably find some really nice instant lattes and such with plant-based milk alternatives, but if you're stocking up for 5 months, that might hit the bank account a little harder than you want. For my next big hike, I think I'll spend a few hours at home finding the perfect ratio of instant coffee to powdered oat milk to sugar. My own personal coffee mix should make a nice addition to a slightly more cost-effective resupply package.
Dairy-free milk like a pro: Find your favorite powdered milk alternative and add it to dinner, coffee, tea, and breakfast — pretty much anything that you want to make more delicious.
5. Nutritional Yeast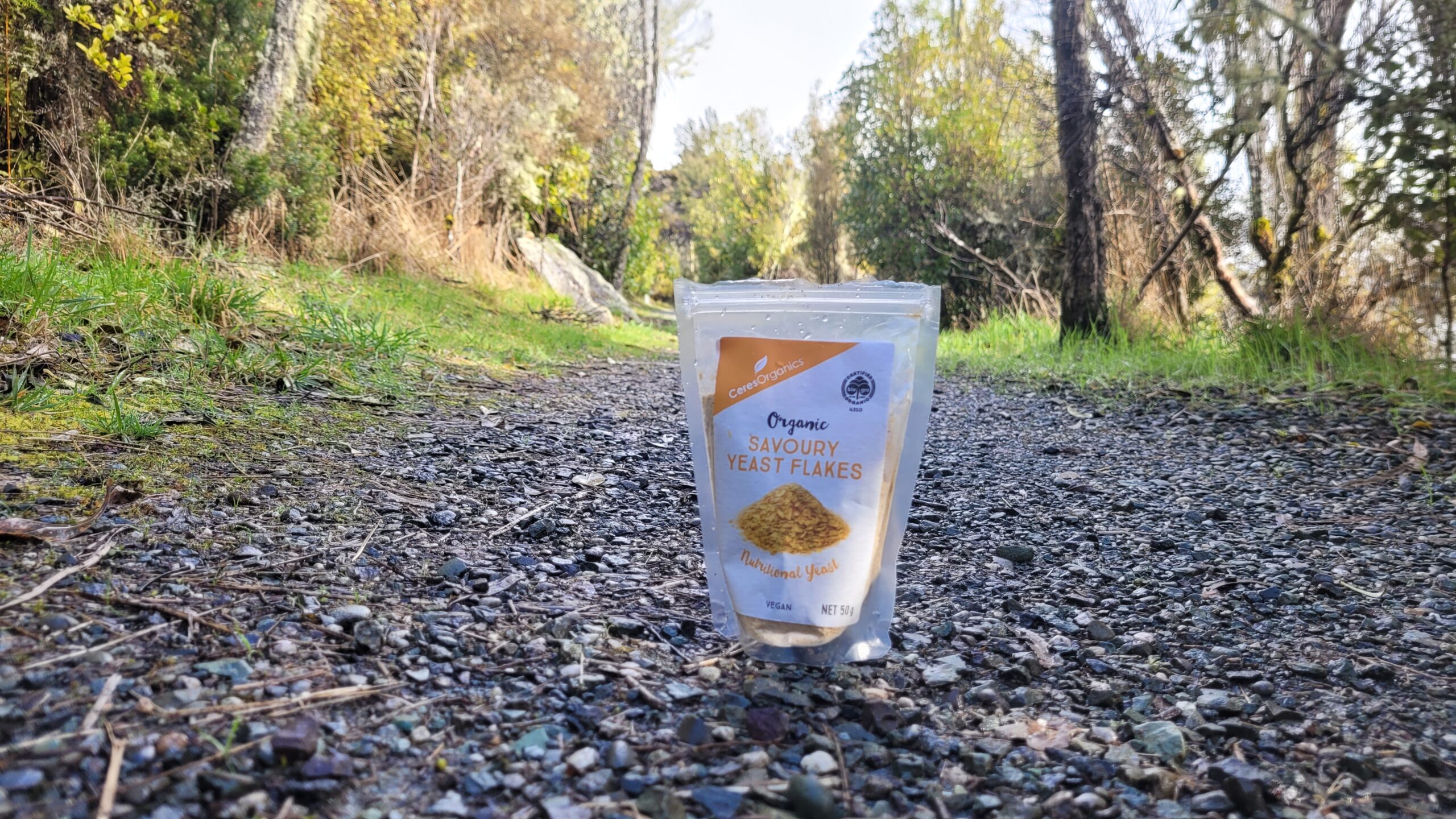 I love this stuff. When it was introduced to me, I was shocked I'd never heard of it before. It's cheesy, it's nutty, and it's flavorful in all the best ways. It's healthy, too, with great vegetable protein and, more importantly, vitamin and mineral content. 
I mentioned B vitamins above, and it's worth noting how important these are for energy. They can be really helpful for preventing fatigue, and "Nooch" has plenty. I've gotten to the point where I can really tell the difference between when I do or do not have enough B vitamins — you can feel it in your body.
Note: When you're shopping for nutritional yeast, you will most often find the "fortified" version with that great vitamin content, but you may also run into the "unfortified" version, which will not offer the same benefits.
Put this in your pasta, in your couscous, on your wraps, in your vegan mac and cheese. Mix it in with the premade salad you grabbed last minute as you left the grocery store because your friends found a hitch and you had to hurry. Put a little bit in your bag of salted cashews, almonds, peanuts. Any time you miss cheese, you can reach nutritional yeast.
Nutritional Yeast like a pro: Sprinkle it on everything for cheesy flavor, protein, and B vitamins.
Off-The-Shelf Favorites for Diary-Free Thru-Hiking
Don't worry if mixing chia pudding, preparing tofu-laden miso soup, or blending your own instant coffee mix seems like too much of a hassle to get you started on your dairy-free journey. There are many dairy-free options that you can find right on the grocery store shelves as long as you're willing to scrutinize the ingredient lists. Popular options include couscous, ramen, and a few specific flavors of Knorr sides. And when in doubt, you can always look for "plant-based" or "vegan" options. Those should be free of dairy as well.
In addition to the yummy stuff above, here are some of my favorite off-the-shelf noms for dairy-free thru-hiking, but this is just the start:
Favorite freeze-dried meals:
Favorite ramen:
READ NEXT — The Ultimate Guide to Vegan Thru-Hiking
Happy Stomach, Happy Hiking
Listen, when that hiker hunger kicks in, it's hard to keep myself from devouring everything in sight. When I do break from my dairy-free ways while thru-hiking (it happens to the best of us) and eat chocolate or something with dairy, it sucks. In moments of weakness, I remind myself that nothing tastes better than how a healthy digestive system feels. However, perhaps the better source of motivation is to make sure my dairy-free diet is as delicious as it can be.
So you can't eat certain foods, who cares? The solution is to eat other foods — better foods, more delicious foods. Every resupply haul is a testament to your independence from dairy, and a chance to be your most creative, delicious self.
Featured image: Graphic design by Chris Helm.
Affiliate Disclosure
This website contains affiliate links, which means The Trek may receive a percentage of any product or service you purchase using the links in the articles or advertisements. The buyer pays the same price as they would otherwise, and your purchase helps to support The Trek's ongoing goal to serve you quality backpacking advice and information. Thanks for your support!
To learn more, please visit the About This Site page.