Hiking With Your Dog: Experienced Hikers Share their Stories
Dogs on the Appalachian Trail can be a polarizing subject. There are plenty of dogs on the trail. Some do great, and some probably shouldn't be there—both health and personality-wise. To better understand the ins and outs of hiking with a dog, we talked to three people with extensive dog backgrounds, hiking experience, and opinions.
While hiking with a dog comes with its complications, Maija, Eric, and Jennifer wouldn't change it for the world. Here's why.
Meet Maija
You might know Maija DeSalvo as Two Dogs, one of our 2015 bloggers. Maija wrote wonderful updates from her 2015 thru-hike attempt with her two dogs. The choice to bring her dogs was an easy one, but she will be the first to tell you that undertaking such a journey with two fur-babies brought many logistical challenges to an AT hike.
In her words:
Earlier this spring I hiked over 500 miles of the Appalachian Trail with my two dogs, Griffin and Little Bear, known on the trail as Mooch and Diva. We left our home back in the midwest in March of this year, spent a couple of months exploring the trails of Appalachia, followed up by four months living like nomads in a sprinter van, and have recently taken up residence in Hood River, OR where we spend our days hiking, swimming, kayaking, and otherwise exploring the great outdoors. Life is good out west and we're thriving in this active, outdoorsy, dog-friendly community of free spirits like ourselves.
Taking my dogs with me on my hike, especially both dogs, was a huge undertaking but the decision was easy. I knew I wanted an adventure, I didn't want to leave the dogs behind, and backpacking was something we loved to do together already. It was a no brainer. I knew also that hiking with them would be incredibly different than choosing to go solo, I just believed whole heartedly that the ways they would enhance the experience for me would far outweigh the extra work involved. I spent hours, days, months, looking for information from people who had done the same thing, but I found very little. The few resources I found were good, so I studied them, met with my vet multiple times, and talked to other canine professionals. I also solidified sponsorships and relationships with canine outdoor-gear companies, and used my knowledge in the dog-training world and my understanding of my own dogs and the bond I have with them to be sure that we were capable of what lay ahead.
On the trail, there were days that we were all on the same page, but there were many days we weren't. Sometimes the heat was hard on them, and we stopped what seemed like constantly to cool off in the shade or a stream. Sometimes we didn't make it as far because of this, and the amount of water we needed to carry was ridiculous. We needed a maildrop once a week to resupply dog food, which proved to be a pain at times. Sometimes coming into towns I couldn't find a vacancy for a dog-friendly room, or it would be more expensive than anticipated. Many nights I crawled into a tent with soaking wet and muddy dogs, on occasion giving up my sleeping bag liner or an extra piece of clothing to wrap their shivering, wet bodies. We dealt with poison ivy, ticks, and hot spots as well as sore paws and muscle aches. These were regular occurrences and I find the fact that we didn't deal with more severe injury and illness to be a blessing.
Trail life isn't easy and trail life with two fur children is full of its own challenges. Ultimately I sacrificed hiking my own hike as I was constantly focused on the care of the dogs. I knew them well enough to notice if something went awry, but I had to be paying attention to them very closely. Dealing with so many aches and pains myself, pushing myself through challenges, I had to remember to check in with them as well. They are two dogs that would follow me to the ends of the earth if I asked them to, and in a way that's exactly what I did. It was my job to keep them safe, healthy and happy on the trail. In return I was given the most amazing hiking partners I could have ever asked for. They were there with me to listen to my ramblings, to share in the joy of our victories and support each other when we felt defeated, to share physical warmth when mother nature chose to bring the rain and cold, to bring even momentary happiness to those who had left their four legged companions back home, and we were there to look out for one another.
In everyday life Griffin and Little Bear are my constant reminders to live life to the fullest with their exuberance for every moment. Out on the trail they reminded me constantly of the amazing journey I was on, how lucky we were to be spending weeks out in such an incredible place, and to absolutely soak up each and every moment. One of my biggest goals for hiking the AT was to be more present in my life. The most significant time I accomplished this was laying on the trail, my legs a tangle of leashes, frustrated with our lack of synchronicity. Almost immediately my frustration was masked by slobbering dog tongues covering my face and I was laughing out loud. As I opened my eyes I realized I was in a beautiful valley, completely disconnected and on my own, soaking up rays of sunshine with the two most devoted companions I could ask for. Life could not have been better and without the dogs and our mishap I may have missed that magical moment I still find myself returning to months later.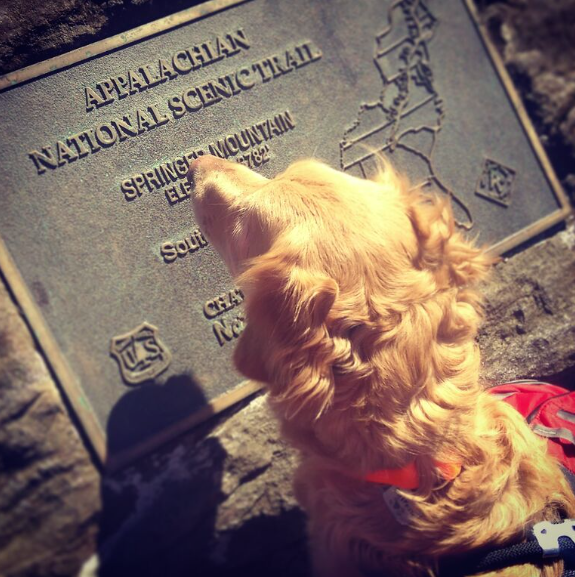 Our adventure turned out incredibly well. Thanks to all the preparation, we were ready for almost every scenario. We hiked to the top of dozens of mountains, trudged through days of rain and stormy skies, stayed hydrated through heat waves, kept ourselves and each other warm on cold nights, hitched rides with dog lovers and found trail communities that were welcoming and accommodating to us all. I can't say I would recommend a thru hike or other long distance hike with a dog, as it depends entirely upon your outlook and most importantly on your dog and. It takes a toll on us mentally and physically, and my dogs were no exception.
Throughout this venture I needed to be able to accept hiking my dogs own hike instead of my own, and they needed to be able to traverse mountains along side of me, carrying their own supplies. Though we've decided to section the Appalachian Trail instead of our initial plan to thru hike, I believe we were incredibly successful in what we set out to do and I wouldn't change a thing.
Meet Eric
In his words:
Friends Forever
Thru-hiking the AT had been a long time goal of mine, probably since I was a kid in scouts. So in 2009 at age 49, I set out on my journey along with my lovable canine companion, Colby. He was a black 15-month-old golden retriever/border collie mix who quickly became affectionately known as 'Coal'.
Still a pup with boundless energy, Coal spent a total of one day on a leash—the 8-mile approach trail to Springer Mountain, then he was leash-free for the next 2,000 miles. He, too, was looking for the freedom of the outdoors. Coal carried his own pack, including his food, bowl, blanket, leash and myriad of 'emergency supplies' for anything that I thought could possible go wrong with him. You learn quickly that dogs are resilient and durable, so many of those supplies, including the $40 dog booties, were quickly sent home. My wife had fabricated a nylon dog harness so I could carry Coal if he ever got injured. That I liked, and it was a novelty in camp, with me walking around with Coal on my back. Note: he also carried beer out of each town… making everyone love him more.
If you spend all-day, every day with anyone for five months, you get to know them really well. We had to work a few things out early on. For example, dining schedules included Coal eating his premeasured puppy chow, then licking clean mine and every other hiker's bowl in camp. Needless to say, hikers spoil dogs.
Most hikers love dogs, but not all. For that reason, we always slept in a tent, not the shelters, where someone might be bothered by the dog. There are pros and cons to tent camping with a dog.  One benefit is that bears (who might want your food) don't like dogs, so we were able to keep our food bag in the tent as opposed to hanging it from a tree every night. A disadvantage is that when it rains—2009 was a historically wet year—you're sleeping with a wet, smelly dog who wants to cuddle. Enough said. With April showers, come May flowers, high grasses…. and ticks. In the warmer months, Coal became a tick transportation service, so sleeping in close proximity, you need to take precautions against Lyme disease, which I ended up getting. Simply carry the antibiotics, no big deal.
There is a myth about hiking with a dog that you won't see any wildlife because they will sense the dog long in advance and scatter. Well, 26 bears, 5 moose and countless deer later, I'd like to dispel that myth. Coal chased everything that moved in the woods, luckily he drew the line at bears.
One of the biggest issues hiking with dogs is resupplying every 4 to 5 days in towns. Town Days were always exciting: a hot meal, hot shower, soft bed, and then a grocery store resupply. But with a dog in tow? Not as easy. Finding dog-friendly motels or hostels was never a certainty. Generally speaking, it was easier in the southern sections and a bit more difficult in the northern ones. I also devised a lock that went around Coal's collar so I could go into a restaurant or grocery store and leave him outside without concern.
There are a few sections of the trail that don't permit dogs, Smoky Mountain National Park in Tennessee and Baxter State Park in Maine, but there are kenneling services that will pick up and deliver your dog at those sections for a fee.
My thru-hike was a life-changing event for me, as it is for most. The beautiful scenery, wonderful people, and freedom from life's fast pace were wonderful, but my time with Coal and the joy that you could see in his eyes everyday made it amazing. Today, when we go for a 'hike' around the block, he just looks at me puzzled, "What? That's it, no 20 miles today!" Sorry, Coal, maybe on the PCT.
Meet Jennifer

This section is modified from a full post by Jennifer.
In her words:
Twiggy is my favorite hiking buddy. I always knew deep down inside that she would not be able to join me for my thru-hike, but I wanted her to at least hike a section with me. I decided she could join me once I got pass Grayson Highlands. She was by my side from Pearisburg to Harper's Ferry. Did I love having my four-legged friend around? Absolutely! But… that's when I found out that she was a section hiker and definitely not a thru-hiker. Thinking about taking your dog along on your adventure from Georgia to Maine? Here are just a few of my tidbits about hiking with a pooch.
Shuttles and Hitching
Even though you are paying for their services, not all shuttle drivers allow dogs. Some are concerned with allergies or the dog misbehaving in general. I first worried that hitching would be harder with a dog, but I never had a problem finding a ride to and from town when she was with me. Maybe it actually helped. Perhaps people who gave me rides assumed that if I had a dog, I had to be a good person.
Motels and Hostels
It can be hard to find a motel that accepts pets, especially in tiny trail towns. We couldn't even stay in Harper's Ferry because of this and had to go to the next town. It's also much more expensive with a pet fee.
Most hostels accepted dogs, but not inside. This means you can still set up your tent in the yard, you just can't sleep in a bed. Joe at Four Pines actually loves dogs. I had her leashed because she had never seen chickens before and I didn't know how she would act. He encouraged me to let her roam free on his farm as long as she didn't hurt his chickens. What did she do once I unleashed her? She chased his damn chickens!
Pack Weight and Food
I guess I have kind of spoiled Twiggy. I've never made her carry her own weight on hiking trips. I've always had a separate compartment for her needs in my pack. While talking to other dog owners before she joined
me, they convinced me to make her wear a pack. She hated it. She acted so pathetic when she had it on, even though I only put her food in it (I couldn't bring myself to make her carry any of my personal supplies). I actually ended up carrying her pack half of the time. I ended up mailing her pack home out of guilt.
I knew my appetite was increasing more and more everyday, so I could only imagine how hungry she could be after taking more steps than a human. I couldn't feed her enough. At home, she only eats until she is satisfied. On the trail, she was a bottomless pit. Not only did she have her dog food, but I added spam, tuna, chicken, and jerky to her diet. No matter how much I fed her, I noticed her waste becoming smaller. This worried me, because she is already skinny. Her food pack was almost as heavy as mine at times.
Wet Dogs in a Tent…
It happened… it happened more than once. Our day on Dragon's Tooth started out beautiful, but that didn't last long. We were suddenly in one of our worst storms that day. As soon as I set up the tent, Twiggy was seeking warmth… and got my down bag wet…
Heat and Fatigue
Like all loyal dogs, Twiggy will follow me anywhere. She will never stop just because she is tired. As long as I am moving, she is moving. It doesn't matter how hot and tired she is, she is going where I go. She couldn't tell me when she needed a break, so I had to guess. It started to get very hot and I found myself taking more breaks than I wanted to, but this goes along with the territory when you have a dog with you. It's not your hike anymore, it's your dogs. You have to put your dog before yourself, because they can't tell you when something is wrong.
Separation Anxiety and Resupplying
I saw dogs patiently wait outside of a store for their owners with no problems at at… not my dog. I couldn't leave her site without her throwing a fit. It got to the point where I dreaded going into town. In Waynesboro, some other dog owners and I traded dogsitting duties so we could go to town without worries. My dog was the one that did not want to cooperate with the deal. Even if she knew people I left her with really well, she wanted no part in it. A few places would let me bring her inside, but that is asking a lot out of a business owner.
Remember the No No Spots…
I didn't have to deal with this since Twiggy only hiked in Virginia with me. If contemplating taking your pooch in your thru, just remember she won't be able to go everywhere with you. There are times you will have to board her or find a place for her to stay. The Smokies and Baxter State Park are huge No-No spots. Please, respect this.
All in all, it's up to you to decide if your dog can make it on the trail. The hiker community is great and for the most part will treat your dog like their own. There are a few that are very much against dogs and you have to respect that. These are just a few things to think about.
**Contributions have been edited for length and clarity.
Affiliate Disclosure
This website contains affiliate links, which means The Trek may receive a percentage of any product or service you purchase using the links in the articles or advertisements. The buyer pays the same price as they would otherwise, and your purchase helps to support The Trek's ongoing goal to serve you quality backpacking advice and information. Thanks for your support!
To learn more, please visit the About This Site page.
Comments
2
I am hiking southbound later this year with a friend and both our dogs. Two questions:
– What do you usually do with your dog poop? Bury it? Pack it out? What is acceptable Leave no Trace with a dog?
– Is there a particular kennel or several kennels that help through hikers with dogs when they go through the Smoky Mountains? I have family helping with the time in Baxter Park, but maybe for reference for others mention kennel option there too?

This was great a great article, thank you. Very helpful for our "demographic" which has been more difficult to find references for.

Cheers
Sarah