Camino Day 6: 'Peppy Not Poopy' all the way to Santiago
The theme of the day was coined by Mary in the morning as (and I quote) 'peppy not poopy' in reference to bathroom and Coca Cola stops all morning. That's all I'll say on that😂
Leaving Padrón
After a great breakfast at our (really nice) hotel, we headed out. Unfortunately, from the moment we stepped outside, it was sprinkling/lightly drizzling🥲 We start in the dark again, and walked the ~1 mile back to the Camino.
After leaving Padrón, we walked along little village roads and began walking with a woman with an umbrella – 'Anna'. Anna is from Germany and shared with us a bit about her Camino trip thus far – she started in Porto solo, and has formed a 'woman family' (s/o female tramilys) of other older women walkers. Coincidentally enough – Hanneka (the Dutch woman from yesterday) is part of the same group! They will walk today until 8km before Santiago and share a last meal all together on trail.
Anna stayed with us and we all stopped at a cafe together for our usual coke and bathrooms. Mary saw they had Pepsi, my preferred drink over Coke, and splurged for KitKats🥳 Anna and I chatted about the West Highland Way, and I showed her this blog on her phone so she can find more info about the route (which I recommend to everyone!). She also mentioned her love of the book and movie 'Wild' about Cheryl Strayed, an American woman who walked a section of the Pacific Crest Trail (PCT). Buen Camino, Anna!
For other Americans reading this – Europeans love to ask about the PCT😅 It's very popular for people to go abroad and hike the PCT, and then write books when they return to their home country about their journey. I've heard this from a few different people, notable from Janna on the WHW (from the Czech Republic) and now Anna from Germany. Also, I'm from the East Coast, I've done sections of the AT, but I only recently even visited the West Coast for work in Seattle, let alone stepped foot on the PCT.
Leaving the cafe, we also left Anna and wished her well. 'Pepped' up on caffeine and sugar, I've never seen Mary move so quickly. She was flying, and I loved that we were putting down miles while the weather was mild, and it was still early in the day.
Afternoon miles
After about 8 or 9 miles (13 or 14 km) we stopped into a hotel restaurant right on the trail. We sat at a table next to two older men having drinks, also walking the Camino. They are originally from Iowa City, but have since moved elsewhere. One of them now lives in North Carolina (Apex area), which is my home state! The world is a small place, I swear. These two men also are married to two women we met separately yesterday!
Rolling into the afternoon, we walked mundane miles in the rain, hoping only that we were making more significant progress towards Santiago and the cathedral.
Our next stop was a small indoor cafe where we paid for the baño break by getting Magnum ice cream bars! I paid while Mary used the restroom, and after making (very) small talk with the owner in Spanish, I asked "Como se dice 'rainy day'?" Not realizing she didn't speak any English, suddenly she was on her phone calling someone and looking right at me… I apologized in Spanish, because I was just curious and it was incredibly inconsequential, but she said (again, in Spanish) that her son was coming.
Her son came down from the apartment above the cafe, was about my age, and spoke near perfect English, which was only shocking because we were in the middle of nowhere Galicia. I apologized for bothering him and that I am working on my español, so I wanted to know what rainy day was. He was so sweet and said it's 'día' for day and 'lluvioso' for rainy, and repeatedly it altogether a few times so I could get it down. He asked about our walk so far, what we had left in the day, and how much we typically walked. This is all while his mother stood right next to him watching us back and forth talk in English, but assumably not comprehending the meaning.
Santiago – the end is near
Nearing the end, you can begin to see the outskirts of the city, and the major motorways. We came to a juncture with two stone pillars, each pointing in opposite directions. The right, marked A Conxo, is a few hundred meters (I believe 600?) longer than the left, marked Choupana.
I saw every person in front of us (maybe 8) go left without much debate, but Mary in her tired state was pushing to go right because it was supposedly flatter according to our guide from Portugal Green Walks. Thankfully, a large group with a guide who has done both came up and recommended the left. I didn't want to walk an additional 600 meters…
After going left, you wind through urban streets and eventually you walk the main sidewalks of the modern part of Santiago de Compostela. Coming off trail into a bigger city is always shocking, and this was no exception – suddenly we were pushing past people on the street, all up hill, trying to make it to the older walled city where the cathedral sits.
Once we saw Alameda Park, we knew we were getting close as we began walking on the old cobblestones.
Next, we were suddenly standing in Praza do Obradorio, in front of the cathedral. A wave of emotions washed over us as we saw this beautiful, giant church. The energy in the square was electric as people from all of the Camino routes were simultaneously completing their journeys as well. I couldn't shake the feeling it's like the parade of athletes at the opening ceremonies of the Olympics, but for the conclusion of our walks.
After taking it all in, and realizing we were soaking wet and needing a break since we've been walking basically 8am to 5pm, we headed to our hotel.
The next morning we went to the Pilgrim's Office for our Compostela's when they opened at 9am. We had already registered, so we showed our QR codes, and were given a paper slip with numbers on them to be called when it was our turn. It felt a lot like waiting in line at the DMV. When it was your turn, you went to the corresponding counter, presented your credential (stamped passport) and QR code again. The person assisting me was actually from Texas!
The Compostela is in Latin and so is your name, and the certificate of distance (which costs 3 Euros) is in Spanish and more easily translatable. I've included photos of both below. After collecting both documents, you get in a second (very orderly line) for the cash register. You can also buy a small tube so your documents are not damaged in travel. All of this comes out to 5 Euros + tax, and they do take card!
Compostela document (above) and Certificate of Distance (below).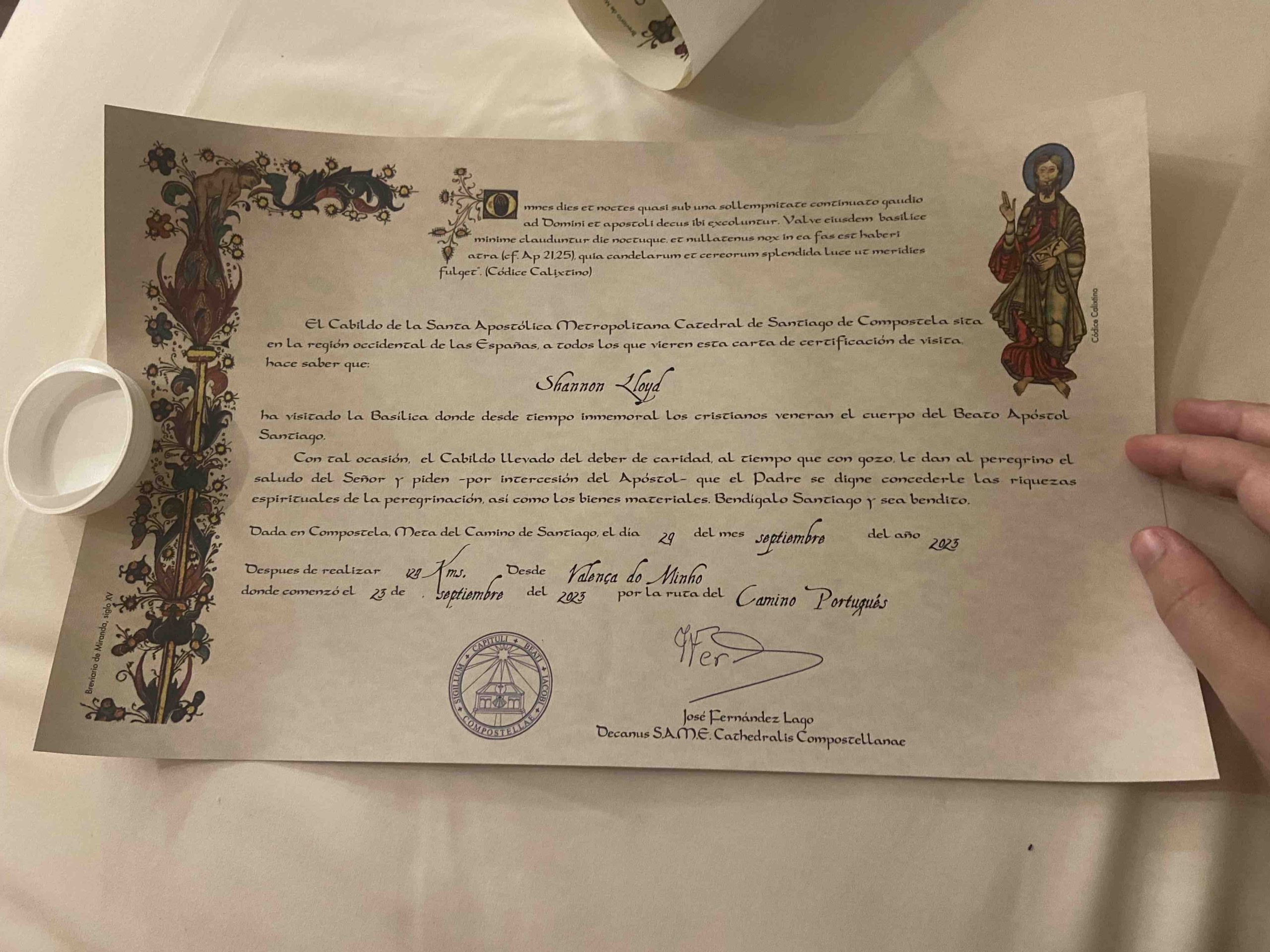 Post Script – permanent endings
Mary and I did it. Sure we finished a section of the Portuguese Camino, but we also went through with our tattoo appointment😅 We both got versions of the line symbol of the Camino, but facing up as if it's a sun, with an arrow below. This was a coincidence that they are the same, we both liked this design and they were 40 Euros🤷🏻‍♀️
We went to Ethan Clay (@claytatto0 on IG – last 0 is a zero), who ran a super professional and clean studio. There was a minor language barrier, but thankfully he had the care instructions printed in English. Writing this, we're about 3 days out from getting them, and healing well. These are both of our first tattoos, so this has been great!
Now for the usual adiós –
After spending three nights in Santiago, we'll head to Madrid where Mary will go on to the next part of her vacation, and I'll spend a few days in Madrid working before heading on to Canada for Thanksgiving.
As a reader, you can expect one more post from me in a few weeks. As with the WHW, I'll provide gear, accommodation, and any other recommendations and tips that I would think are helpful for future walkers.
Otherwise, you can find me on my hiking Instagram where I'll be sharing more adventures, and happy to connect with walkers!
Spanish words I learned today
Fin – end
Día lluvioso – rainy day
Affiliate Disclosure
This website contains affiliate links, which means The Trek may receive a percentage of any product or service you purchase using the links in the articles or advertisements. The buyer pays the same price as they would otherwise, and your purchase helps to support The Trek's ongoing goal to serve you quality backpacking advice and information. Thanks for your support!
To learn more, please visit the About This Site page.