Connection: Going Back North
N 34°39.128′
Driving through snow flurries, Chris and I entertained each other. We spoke at ease. No longer did the monumental task loom of conquering a trail, I was simply going to meander north and greet everyone with  a smile and warmth.
The warmth was needed as we arrived to Springer Mountain. The wind cut through us, and we slipped on an ice filled parking lot. A Ridge Runner cam to point us to the one mile trail that would place me up Springer. I laughed, "I'm not here to cross the Ts and dot the Is."
Understanding my intention, she gave me a pat on the back and a smile. After a short goodbye I made my way to Stover Creek shelter. The mountain laurels were heavy with snow as I descended into the valley. A couple waves of, "I'm here. Alone. Again," flooded my mind but fell quickly by seeing other wind bitten faces.
N 34°39.9675
I woke late. I had no worries of making it the five miles to the next shelter. As I laid in my tent, the conversations of other hikers brought a big smile to my face. At Hawk Mountain shelter I pitched my tent early. Most of my day was spent sharing smiles and excited energy. It was so refreshing to hear life stories distilled into awing stories. Laying in my bed I felts so grateful to have this experience with these people. I overcame my fear of being lonely again and found myself in the company of fellow nature lovers.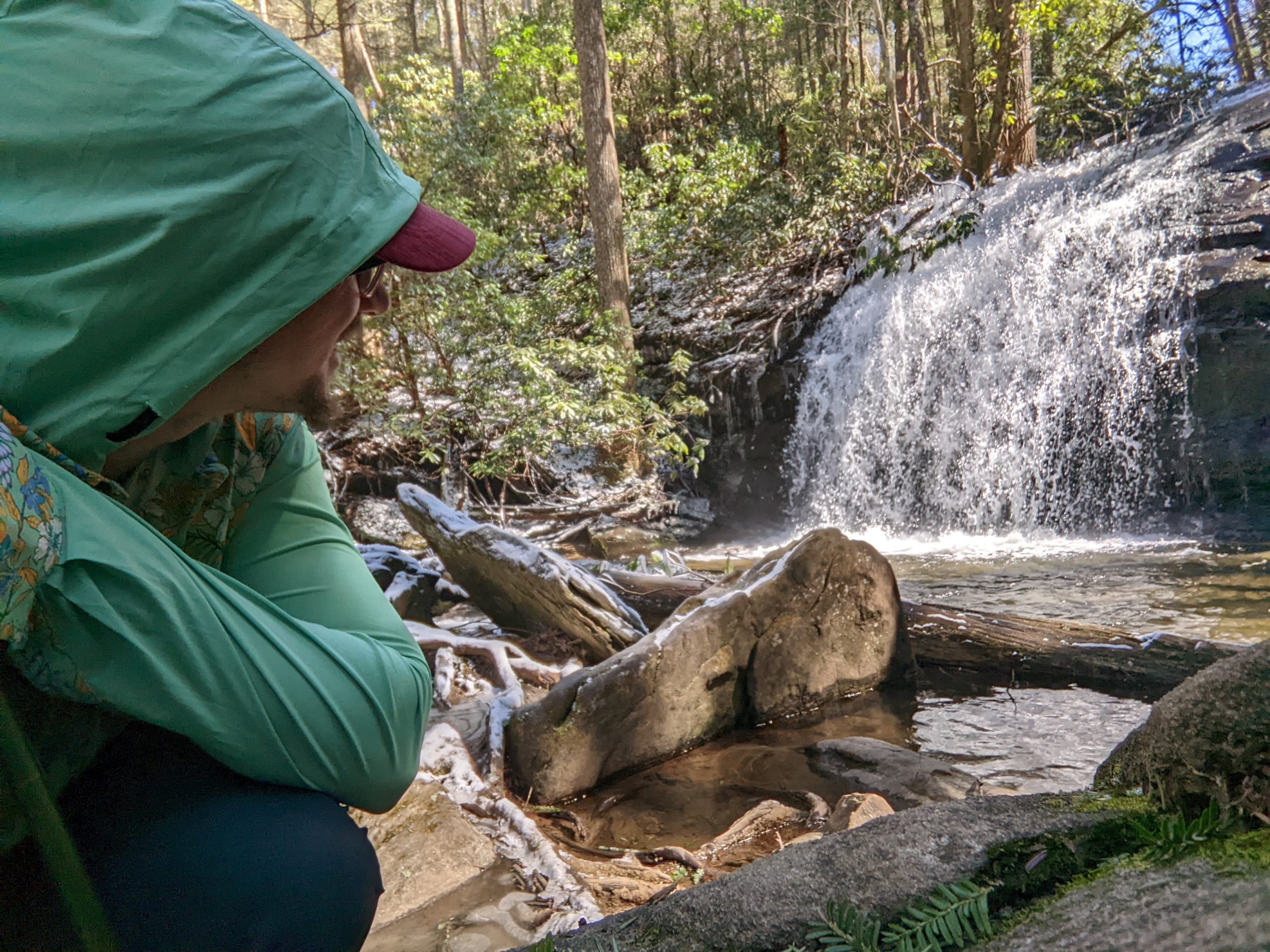 N 34°39.3735′
I found myself enamored by ways light played on the mica, the snow, snow's child and on each other. My mind consumed by the natural beauty found itself at camp early in the day. Only a few hikers were set up, but the camp grew into a packed warehouse of dirty smiling faces. Ecstatic conversation filled the fire pit, where I found my trail name after regaling people in stories. Siúlach (ShU-lock), from the Irish seanfhocal (old saying), "An té a bíonn siúlach, bhíonn scéalach." (Those who travel have stories to tell). A guy soon to be a friend name Jäger, limped into camp and was immediately cared for. I even received a hug from a caring stranger. We all take care of each other out here. Those who don't find themselves alienated quickly…They were right when they mentioned the AT as a roving Woodstock.
N 34°42.5160′
This is how my friend got his name Jäger: Approaching Woody Gap we sought to take the opportunity to drop some trash weight (it accumulates quicker than ya'd think). Below the trashcans laid a 3/4 bottle of Jäger. We began to debate. Five minutes later, we found Sparky, a determined older hiker watching us. I looked at him, the Jäger, now Jäger and thought, "if we don't drink this we lose the story." Twenty minutes later, we were tipsy and my friend encouraged 8 other hikers to partake in the trash Jäger.
Blairsville and a Zero
I got up early and started hiking alone. The gang, a day old, had rendezvous for Mountain Crossing. I ascended Blood with a thick fog that hung to the lower mountains. I felt clear of mind and recited a passage from the Tao Te Ching. Occasionally, the intermediate patch of fog would clear and reveal the mountains in the clouds. Toward the top of the mountain, the laurel created a tunnel that left one feeling protected at the high elevation. After the summit and a brutal descent, we regrouped at Mountain Crossing and all received some trail magi of Long Island Ice teas (Wayward and Shepard). We then got our first hitch within 30 seconds! The rest of the day and the next zero we situated and resituated our gear and our bodies. Everything was done in between bouts of nonsensical, spontaneous jokes, in which we built of each other's.
I'm feeling full, happy, and hopeful. Let's see where this goes.
Affiliate Disclosure
This website contains affiliate links, which means The Trek may receive a percentage of any product or service you purchase using the links in the articles or advertisements. The buyer pays the same price as they would otherwise, and your purchase helps to support The Trek's ongoing goal to serve you quality backpacking advice and information. Thanks for your support!
To learn more, please visit the About This Site page.