Day 31-35 Ghost Ranch to the Colorado Border
Day 31 June 1st: How Do you pronounce Abiquiu?
It was about ten miles from my camp site to Ghost Ranch. Alicia had sent me a box that she thought ended up in Abiquiu, so I thought I'd figure out a way to get it. There is a bus route that runs four times a day between Ghost Ranch and Abiquiu.  So at worst, I'd be able to jump on one of them, but I figured I'd give hitchhiking the old college try again.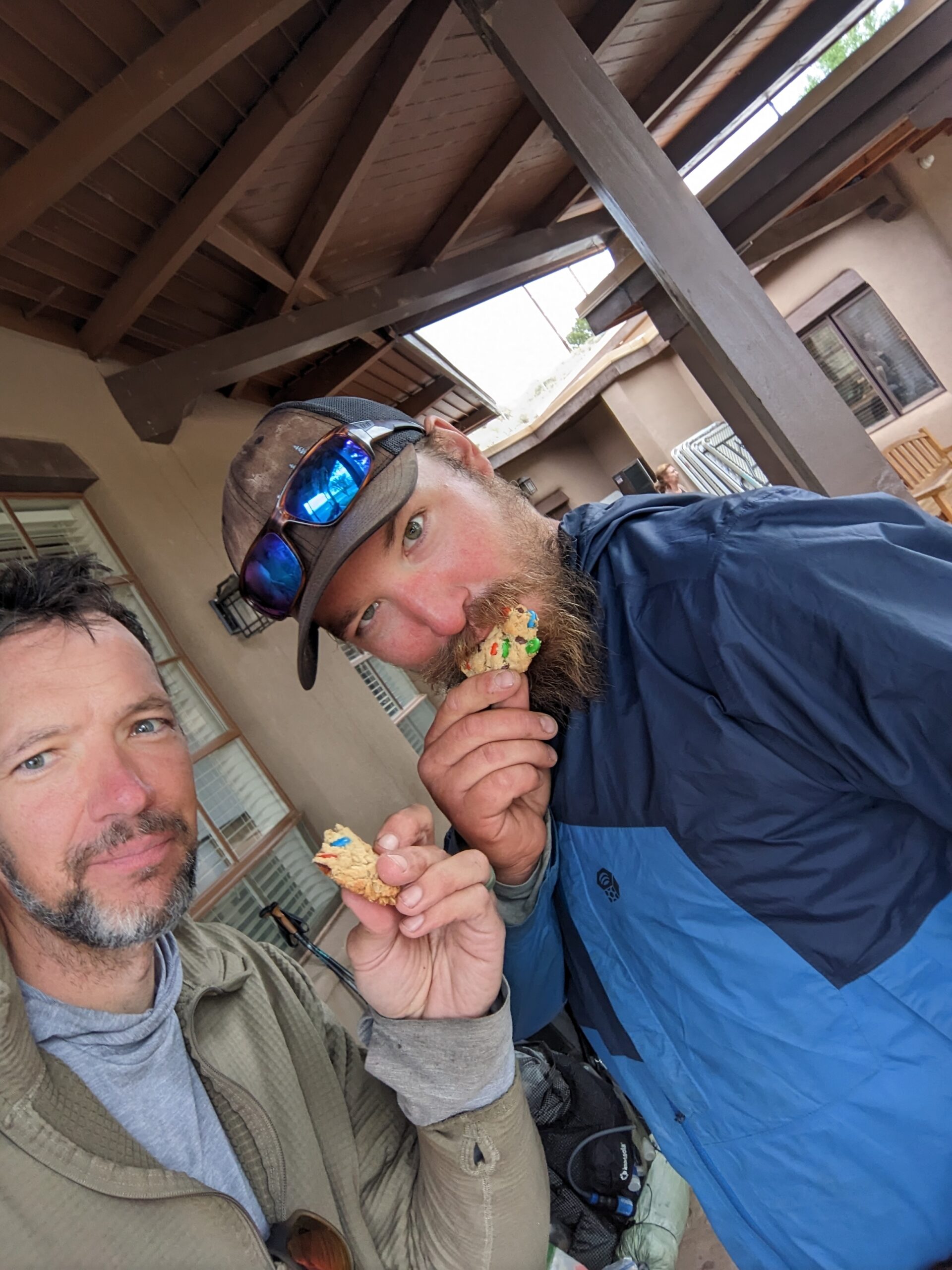 After an hour, I had no luck.  I figured I'd change my approach and have a snack. I pulled out some Fritos, took a knee and started eating my chips. Five minutes later a car on the other side of the road pulled over and asked where I'm headed.  
They have to move around some suitcases, but there is room for me and my pack.  Bob and Jordan are a nice couple meeting relatives in Santa Fe. They couldn't be more different than my first ride.
Of course I get to the post office and find it was all for naught and my box was delivered to Ghost Ranch. Oh well, I grabbed a green chili grilled cheese sandwich and a root beer float next door and figured out what was next.
I grabbed some beers and candy from a local gas station, then a cold brew from a shack. A couple of older ladies who were just returning from a silent retreat asked if I was hiking the CDT and chatted me up over their lunch.  Afterwards I was shocked they could go a week without talking. I barely got a word in.
After, I tried for 30 minutes to hitch back to Ghost Ranch, but the weather started to get very stormy, so I figured I'd wait it out in the gas station. As soon as I found a seat, a young lady asked if I wanted a ride to the Ghost Ranch. I was ecstatic and jumped at the chance.  They were actually a great couple on their delayed honeymoon. And had seen me earlier on the day.  
I arrived at Ghost Ranch to see the usual cast of characters: Die Hard, Out There, Slytherin, Professor, and Mando.  They were hanging out doing what hikers do when they're not hiking: opening boxes, organizing food, and drying out gear.  
Everyone was lamenting about the inability to eat at the dining hall. Slytherin and Die Hard were considering hiking through and not stopping.  I said I had a camp site and was headed out there now.  Thirty minutes after getting my tent up, Die Hard said we should go to Abiquiu for dinner, and we had a plan.
On our way to the front gate we got a ride from a small pick up who decided to take us the 16 miles into Abiquiu. I showed the crew and the y tiny town and we hung out eating BBQ sandwiches and drinking beers.  We did the bus back to the ranch.  
I closed the night with a great talk with Alicia.  
I'm sure Ghost Ranch is nice for regular people, but for hikers, I'd pass.  Abiquiu, on the other hand, is a nice spot for lunch or dinner.
Day 32 June 2nd: The Christian Thing To Do
I wasn't happy with how we were treated at the Ghost Ranch. It kept me fired up for most of the morning. I got up around my usual time, about 5:30, so I guess I slept in a little bit. I think I was the first one out of the campsite, but I wasn't sure. I did my best not to wake anybody but whatever. 
The hike out of Ghost Ranch was really nice. The scenery was tremendous. It was a little bit of a climb but it was early in the morning that's when I like to do those.
Bumped into another hiker that didn't camp with us and he said he camped not too far the trail. After that he was the last person I saw today. 
I have about 70 miles left until I reach the Colorado border. Once you get across the border then I plan on taking the train back into Chama to resupply and get ready for Colorado. 
I learned how to use an ice axe yesterday and from what I hear the snow is melting pretty quickly and it sounds like people are making good progress into Colorado. That's awesome news now I just need to figure out my timing with the family coming in in two weeks and what I can get done before they arrive.
Day 33 June 3rd Hiking Alone Again
I got up my usual time and did it fair enough job getting everything packed up. Of course it sprinkled last night because why wouldn't it. Packing my wet tent only means that later in the day I'm going to have to air it out and let it dry. 
The plan was to make a short four or five mile hike to a mountain lake and use the privy and have some coffee. I don't know what it is, but any chance to use a privy versus digging a cat hole is a good day. Pooping in the woods is fine, but a privy is so much nicer.
The lake was pretty cool not the world's greatest mountain lake but still pretty neat. There were quite a few fishermen already enjoying their weekend. I ate my breakfast and enjoyed a hot coffee. Alicia sent me a new brand and it's really good. I've determined that the biggest difference between instant and regular coffee isn't the taste but it's the texture. Real good coffee has an oil or thickness to it that you just don't get from instant. But the one she sent me had tons of flavor and I enjoyed it. 
I just missed my 10×10 probably because of the coffee at the lake and the use of the privy, but I was pretty close. And at the end of the day I still made 24 miles by 5:00 p.m. I'm never going to be mad about that. 
The problem with camping during town days is that it's a bit harder to recharge all your devices. So I left Ghost Town without everything at 100%. I thought I'd be okay but this morning my headlamp was giving me the blinking we're almost out of battery alarm. I can live without my headlamp but it does make my mornings a little bit later. And with another 50 or so miles to get across the Colorado border I'd like to still be able to get up early in the morning and use my headlamp for the first half hour or so. Add that to the list of my mistakes. 
Day 34 June 4th Animals Galore
I was up and at 'em at my normal time, which is just before the sun rises usually. Sometimes it may take a minute for the sun to crest over the mountains. But I had a special morning where I got to encounter a number of unique animals. 
I had originally planned to go about 24 miles today, but after giving it a little more thought and realizing that this would be my last full day in New Mexico, I decided to push it and go for a 30. This would be my second 30 of the trip.
I was making pretty good time and felt pretty strong until later in the afternoon. Twelve hours of hiking is usually my cap and it took me about 13. I ended up at a scenic overlook that would offer a great view of the sunrise in the morning.
The only downside was that my phone battery was pretty low and my extra battery was already empty. Not exactly the place I want to be in the day before a somewhat difficult hike.
First I was able to sneak up on a pack of wild horses and capture them on video. Less than a half hour later I was greeted by a very healthy-looking black bear. I unfortunately don't know how to operate a camera when I'm excited. I tried to get it on video but I completely missed. So both my close encounters with black bears have ended with me not getting any real evidence. 
I also came across four or five elk this morning.  Again the plan was to do a five-ish mile hike and then use the privy at a campsite. Only when I arrived at the campsite the one privy that was open for the season was almost overflowing. I was stuck digging a cat hole.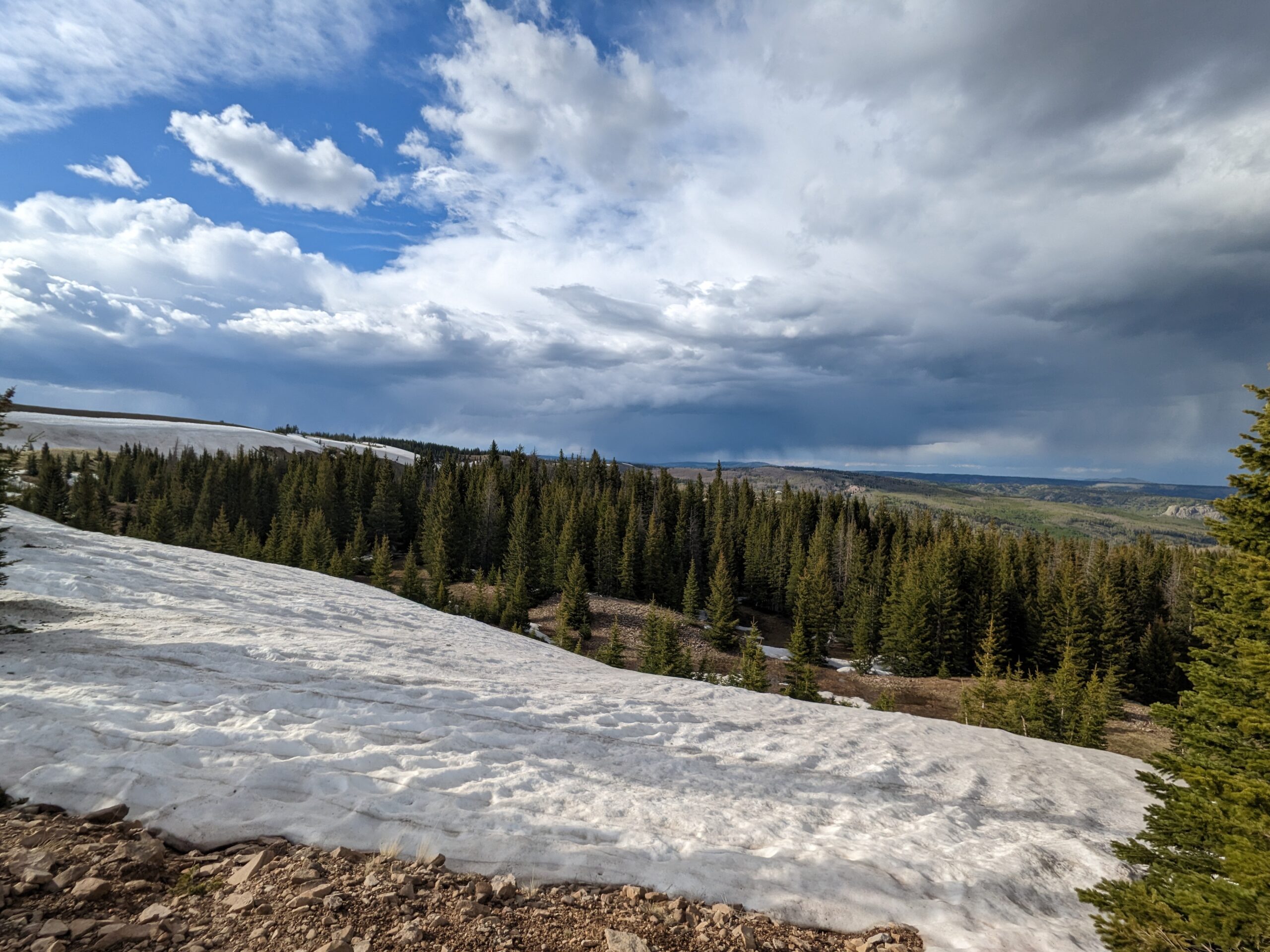 While I was making my coffee and enjoying the view Die Hard showed up around the corner and said hello. I get the impression he's going to skip a portion of Colorado and come back later. That option's a bit easier for him as he's a Colorado resident and I believe he's currently unemployed. Well, I guess I'm currently employed as well. But coming back and doing Colorado later isn't an option for me.
Day 35 June 5th: hiking in snow kind of sucks
To save battery I turned my phone off last night and left it to myself to rise. I got up at a fairly decent time probably a half hour later than normal. Still early enough to catch the sunrise. 
I had heard at this portion of the trail was a bit more difficult because of the snow and the tree blowdowns. The combination of the two can make the trail hard to follow and also a bit treacherous. Climbing over down tree branches in 12 to 18 in of snow just not something that happens quickly. At least not with me. And of course it rained the night before so everything was wet and or damp. 
I was on the struggle bus a little bit in the morning not really getting moving very quickly. In those instances, I just take it easy. Told myself it's my hike and I can do what I want.  So I made some hot coffee and a little more breakfast. 
The trail was tough most of the morning and afternoon. It didn't take long for me to wish I'd gotten up about an hour earlier to avoid some of the post holing that happened after about 10:00 a.m. I ended up scratching my shin during one of my post holes, and then of course about ten minutes later I scratch the exact same shin in about the same spot.
It was bad enough that I left some blood on the snow. It hurt like the Dickens but I didn't really have much choice but to keep going. I knew that was one of the dangers of hiking in snow like this.
I came across a couple of hikers, Falcon, Boss and her boyfriend. They were struggling with the path just as much as me. It was useful to have other hikers around so I could follow somebody on the trail and not have to use my phone which was barely hanging on. 
I made Cumbres Pass by about 2:00.  The first car I saw in the parking lot that was pulling out was headed towards Chama, which was where I was going. I made eye contact, stuck out my thumb, and smiled.  They were kind enough to stop. It was an older couple who had spent a lot of time in Chama but also lived in Colorado Springs. They were super sweet and had planned on hiking some of the trail today but decided to turn around when they saw the snow.  They don't know what they're missing. 
The first hotel I tried was booked for the night, or so the bartender said, but the bartender really didn't know anything. But I won't be too rough on him. I ended up staying the place about a mile down the road. Which isn't so bad because sometimes it's nice to be away from others. It's close to the supermarket and it's really nice hotel. 
I spent the rest of the day trying to figure out my way forward. I think I have it figured out but I'm going to talk with the local outfitter and maybe some other hikers tomorrow to bounce ideas off of them. I'll have about eight days before I need to be in Colorado Springs. 
But the big news is I made it out of New Mexico, at least for a while. Cumbres Pass is two and a half miles north of the Colorado New Mexico border. I only have three states left!  Northern New Mexico is pretty spectacular. Really most of New Mexico is pretty nice except for all the cattle ranches. 
Affiliate Disclosure
This website contains affiliate links, which means The Trek may receive a percentage of any product or service you purchase using the links in the articles or advertisements. The buyer pays the same price as they would otherwise, and your purchase helps to support The Trek's ongoing goal to serve you quality backpacking advice and information. Thanks for your support!
To learn more, please visit the About This Site page.