CT Days 21-22
Day 21 – 17.2mi
Last night at the campground, a man came around with a flashlight to the tenters telling us to beware of our food, there was a bear spotted in camp. I put my food in the office for the night, so I was good, though. That provided a little excitement – I was wondering if I would spot it when I got up to pee, but alas. Funny how the almost-bear-encounter was in town, not in the wilderness.
When I go to round out my resupply at the country store, I score a free egg and cheese biscuit that expired yesterday that the cashier gives away. I'll take free calories!
Pacer, Tambo, and I go get breakfast while SealMom catches up on emails. My eggs benny comes with a fancy arugula salad, the most healthy thing I've eaten all trail. It feels good.
When I go back to pack up my tent and things, it's already so hot. I'm sweating as I make my way to the Hiker Annex, a little rest house/hangout area complete with hiker boxes, charging stations, hot drinks, and an art station. Around ten of us have gathered here, to catch the free shuttle to back to the trailhead which departs at noon.
My anxiety builds along the drive, and by the time we get dropped off I positively have the jitters. It's always a relief to go to town – safety. Getting back on trail – there's always so many uncertainties to deal with.
We set off, along the hot, hot dirt road. I was wondering about the crowd that might accrue with ten people all starting from the shuttle at the same time, but we spread out quickly.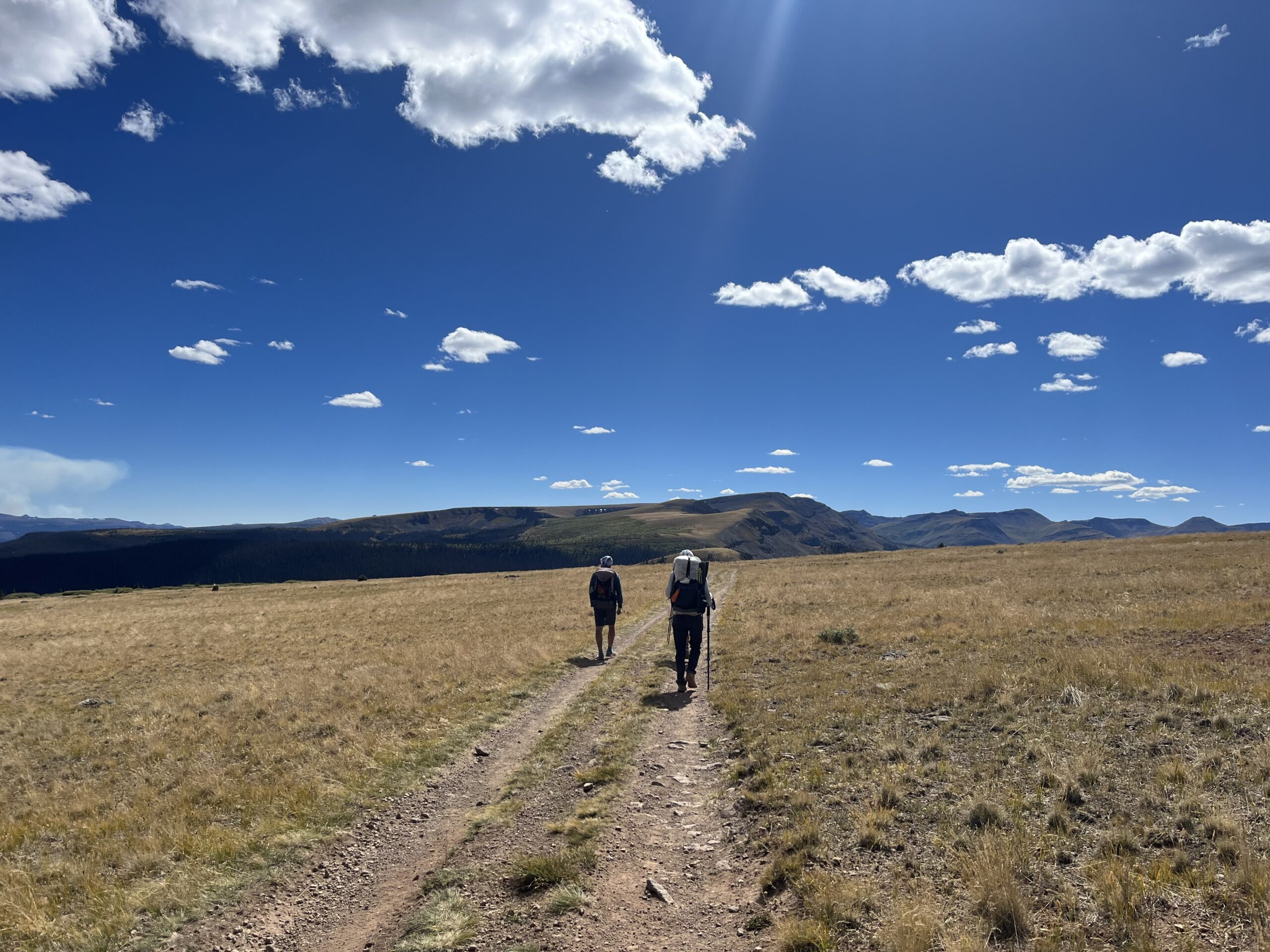 We climb, and soon we depart the road, flowing into a wet basin populated by a family of moose – mom, baby, bull. They munch happily on the willows. The deconstructed yurt stands above us, without its tarp – apparently out of commission from winter damage.
We climb up to the rolling ridge, and quickly fall into a pattern: climb diagonally up to a high point, roll down into a bowl, repeat. This occurs about three different times before we reach the utmost high point of the entire trail, at 13,271 feet.
I discover that I am a monotasker. I take up the back of the line, stopping to drink water, eat snacks, take pictures. Always pacing to catch up. I can't walk and juggle all these things at the same time. Others seem to be able to.
On one of the last stretches of climb, there is a very steep section of trail a few meters long that is as smooth as a slide. The sandy gravel provides no traction, and the fall into the rocks below would be horrible. I shake on my tiptoes, trying to dig in with my poles, feeling the tingling of a potential slip as I work my way up. Definitely the most precarious part of the entire trail yet. We make it through, but wonder how the mountain biker we saw earlier is going to tackle it.
The wildfire smoke mixing with the weather above Snow Mesa, where we came from yesterday, provides an intriguing vista.
Then we're there – the high point, in the sunset. It's all downhill from here, right?
Suddenly I feel nauseous. I sit down and try to sip water. I hope it's the heat, or the elevation, hitting me; I hope I'm not getting sick. A hiker we camped with a few nights ago came down with something, and I hope I don't follow suit. I'm enjoying this too much to leave now.
I drink water slowly on the road descent down the other side, and the cooling air of the evening helps to calm me.
We set up camp at dusk around some old mining remains, amongst mounds of red and white dirt. There's an old cabin, still standing, holes in the roof, but intact. There's also a black piece of equipment that looks like a boiler. Jokes of ghosts are thrown around – but I kind of take that stuff to heart, so I hope for no creepy vibes.
We prepare dinner inside the old cabin, which provides a good windbreak. But when I'm about to go retrieve my spork from my tent, Someone points out the orange light that is emanating from the boiler.
What?! That old piece of machinery is now glowing?! I'm thoroughly freaked. It's definitely haunted.
I make SealMom go investigate while I watch. Laughing, she removes a small flashlight from the inside – Pacer's joke. I really got got – I was going to move my tent for sure.
After dinner, we linger to watch the shooting stars through the open slats of the cabin roof.
Then the subject turns to names – trail names. SealMom and Pacer propose a name for me – "Taproot". Because I plant trees – but also they say – because they see me trying to find myself, trying to put down roots, or something, by being out here.
I feel so honored to be given a name by such awesome people. And also, I'm delighted, because I was secretly hoping my name would be tree or plant related. So that's it – the origin of my trail name.
This is definitely one of my favourite days on trail.
Day 22 – 24.1mi
We leave the old mine at sunrise, starting up the next valley. There are a few moose, just black specs below, feeding on the green.
I fall behind on the climb. As I'm making my way past some solemn hoodoos, a loud bang makes me flinch. It's hunting season in the mountains. I look about, but see no one else around. How far did that echoing shot emanate from?
It's another perfect blue sky day, and I wonder how much longer our weather luck will last. I'm definitely very glad it's holding for our longest stretch above treeline, here in the San Juans.
A huge day of ups and downs, and it's relentless. As soon as we reach the bottom, we're heading steeply up again. We're all finding it tough.
But so much beauty. Rainbow mountains, as far as the eye can see, waves of rock, with no sign of human presence – save for the trail, of course, and the very rare jeep road. I think it's one of the grandest places I've ever been. Some kind of ethereal royalty surely dwells here.
Red, green, gold. The red of the rocks, of the shrubs reaching the end of their lives in this late summertime. The green of the willows, painting the slopes like puffy little clouds. The yellow of the dried out grass, of the sandy slopes, of fallen willow leaves. Of flowers still in bloom, too, dotting the hills with their cheeriness.
There are still pockets of lushness here and there, with healthy flower faces turned towards the sky, where other slopes are completely desertified.
I'm walking through an oil painting. This is the most unbelievable place I've been, if only for its sheer vastness.
But we are tired from trying to conquer it with our feet. Everyone is feeling it, and the enthusiasm of yesterday afternoon is waning.
I end up on my own as others take a break, and climb up to a sprawling brown plateau, dotted with cairns. The peaks beyond morph into even more dramatic formations – straight up spires, sheer cliffs, crumbling curves. These mountains have a kind of artistic variation that distinguishes them from the Collegiate Peaks I passed through previously, which all seemed to mimic each other in their repeating triangular shapes.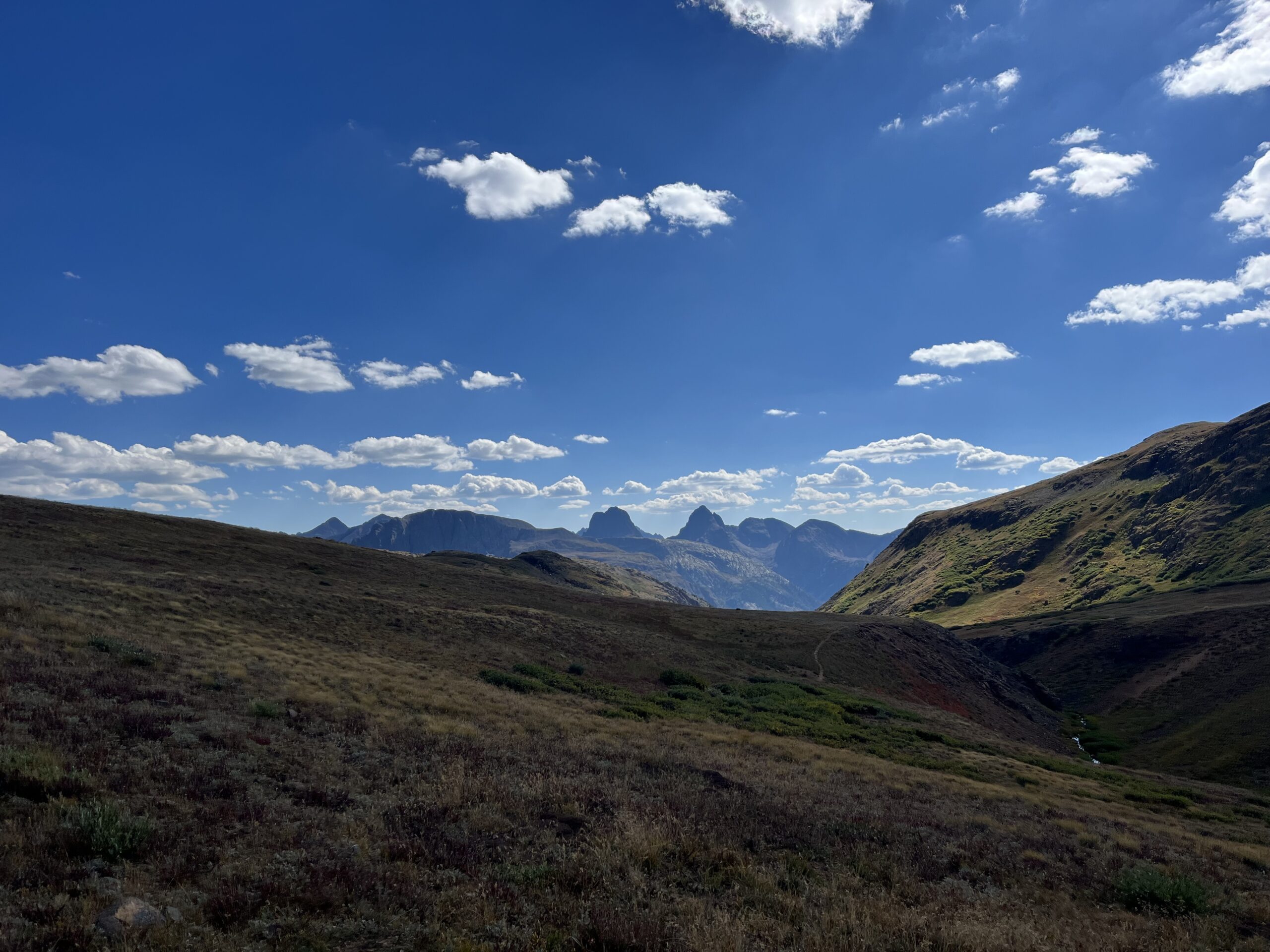 I rest at the junction where the CDT splits off from the CT (or vice versa). Farewell, continental divide. I'm a bit nervous for the steepness of the drop upcoming, so I wait for the others to catch up before I get a glimpse of it.
Finally we see the valley we are to descend into, to meet Elk Creek. If I could hardly believe where I was before, now I am in total denial. It looks like the Lord of the Rings, it looks like another planet.
After navigating the most savage set of slippery switchbacks I've ever hiked, we get to the glittering water of the creek. Old mining shafts make black holes in the sheer rock faces above the talus.
We find some flat spots just beyond another old collapsed little cabin. I wonder what could have motivated these souls to come all the way up here to hammer holes in the mountains. And if they saw the majesty of it all like we do now.
Affiliate Disclosure
This website contains affiliate links, which means The Trek may receive a percentage of any product or service you purchase using the links in the articles or advertisements. The buyer pays the same price as they would otherwise, and your purchase helps to support The Trek's ongoing goal to serve you quality backpacking advice and information. Thanks for your support!
To learn more, please visit the About This Site page.