CT Days 23-24
Day 23 – 27.5mi
In the weak light of the morning, we inch our way down the excessively sloped and slippery trail, following Elk Creek descending into the valley. We are surrounded on all sides by towering rock walls. The water leaves a ghostly white residue on the red rusty rocks. Tiptoeing, leaning heavily on our poles, we make it to the trees.
It feels good to be underneath the canopy again. And the spruce are verdant, alive. To breathe that fresh oxygen, to feel the cool vapors of transpiration, to be shaded by the sheltering branches  – a nice change from the high sun-baked country of the last two days.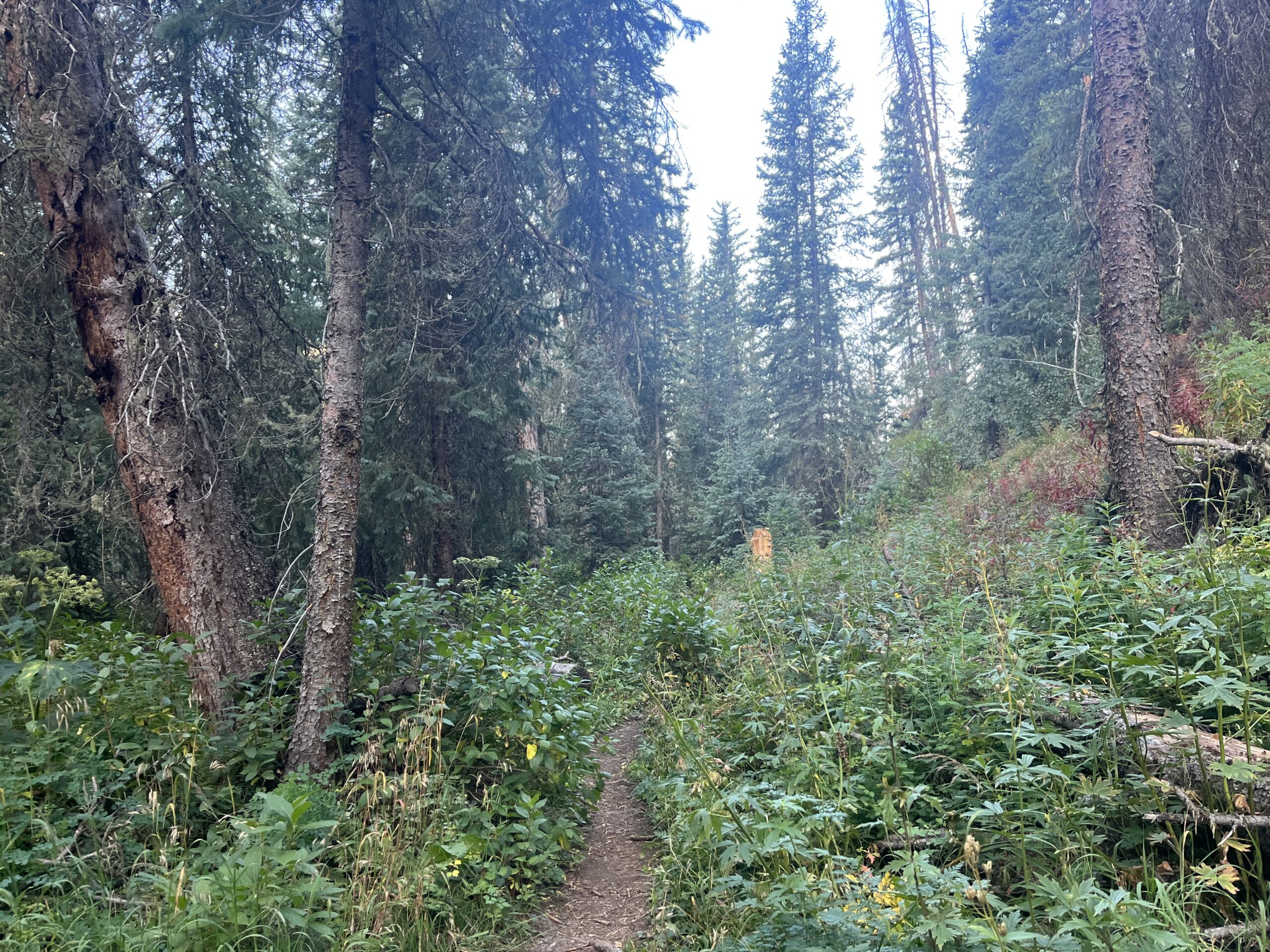 We go, all the way down, as the mountains grow, tower above.

All the way to the train tracks at the bottom, flowing along the Animas River.

The Silverton and Durango Narrow Gauge Railway ferries tourists shrouded in steam to and from the historic mining town of Silverton, from the larger hub of Durango. Durango – our final destination, the end of the trail.
It's possible to hop on the train to get to the trail town of Silverton. Unlike the rest of my trail fam, who are carrying six days of food, I am in need of a resupply. But I decide not to wait for the train, and climb up to the highway instead, were I'll quickly hitch to the grocery store and then get back on trail as fast as I can, to catch up with the group. Hopefully, an efficient pit stop.
As they all stop for water, I charge ahead, beginning up the switchbacks to the highway, with a 'catch you later' over my shoulder. With the head start, I hope they won't be too far ahead of me when I get back on trail.
While I climb, a hunk of dark cloud hovers ahead, congealing over a nearby peak. Then – thunder. I'm hesitant to proceed higher, but I'm still in the trees, and there are other people heading up too. Luckily, it's a smallish cloud, and seems to blow away to the south, leaving me in the sun soon enough. Relieved, I dash past Molas Lake campground to the rushing cars ahead.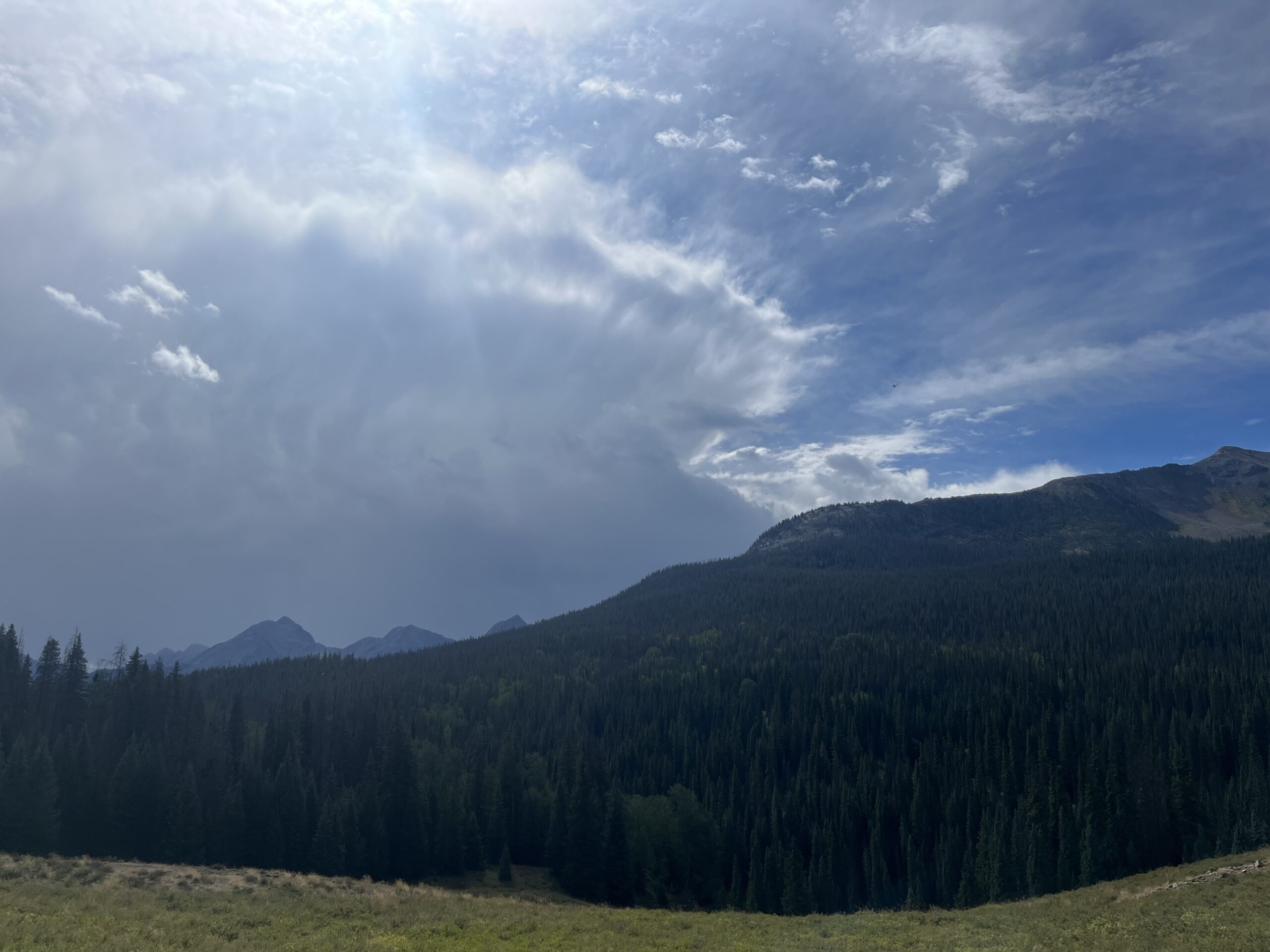 It takes fifteen minutes for me to get a hitch with a mountain biker couple. They feed me fruit and chips on the short ride into town, dropping me at right at the grocery store.
I'm a bit frazzled, wandering around the store wondering what I need, but I seem to get it all sorted quick. Ursack stuffed, I don't even have to wait a minute until a cool ultra runner lady picks me up and takes me back to the trail. A 1h25m round trip – pretty good, I think. People are so nice and helpful around here.
I'm excited that I'm only an hour and a bit behind my friends, and have high hopes of catching up with them before night falls. I resolve not to stop before I see them.
But – the clouds thicken overhead. Thunder rumbles. Fear strikes. A mile past the trailhead, I flounder, unsure of what to do. It's entirely exposed from here, save for a few small pockets of trees, for miles, all the way to the summit of Engineer pass. I don't want to be up there in this incoming storm. But I need to make miles, catch up. What do I do?
I see another thru hiker , and ask what they are going to do about the storm. They shrug, pull on their rain jacket, and head up straight into it. I see day hikers, even one with a baby on her back, walk past, heading up into the barren slopes.
I'm scared. Some day hikers with a dog, coming back down, report sightings of lightning. I decide to wait it out, in the fringe of the trees. Eventually, it sprinkles, and I set up my tent for a while.
I have a little cry and feel sorry for myself that I'm scared but other people are out there hiking. What do they have that I don't? Am I doing the right thing by waiting it out?
After too long, the sounds of thunder begin to grow fainter. I timidly poke my head out of my tent and see the darker clouds blowing away.
I pack up my tent, throw my jacket on, steel myself. I'm now about four hours behind my group. I need to get out there. Two bow hunters pass me, heading up into the still thundering (but slowly clearing) sky. I grit my teeth and follow them.
I nervously run from tree patch to tiny tree patch, looking up all the time.
Gradually, the clouds lose their anger, morphing from the black, fading into purple paintbrush marks in the sky. The storm is gone. I become more confident in my steps. A window opens up.
I scout every tent site along the way, searching for the familiar color and shape of a shelter, or to hear a familiar voice. I don't find anything.
The light turns red and then dims, leaving me in a twilight grayscale world. I end up summiting Engineer Pass at 8pm.
I descend via headlamp.
At some point, I see bright light flash in the distance. I convince myself it's a bug reflecting in my headlamp, but then it flashes again. The figure looks morbidly strange, like a clown riding a unicycle. Until I realize it's someone pushing their bike up the switchbacks. I'm not alone in this night travel. Unfortunately, they have not seen three tents camped together anywhere near here.
Soon it starts to rain. Lightly, and then it pours. The wide, white trunks of trees begin to appear in my narrow circle of sight.
I make it to the bottom of the valley and find a sheltered campsite under a big alive tree at 9.30pm, near the rushing waters of Cascade Creek.
It's been a long day, but I could run forever on the adrenaline that the thunder sparks in me.
I'm not sure how tomorrow is going to go, and I dread the weather watching game. I dread getting up early. I hope it's not raining when I wake up.
I'm not sure where my trail fam is, and I wonder if I'll see them again soon. There is some comfort there, in travelling as a group, in making decisions with the input of more experienced hikers. Which is why I wanted to be with them in these mountains, with these storms. The weather is only supposed to get worse in the coming days. But I guess until then, I have to make my own judgments, trust them, and be self-reliant.
Day 24 – 28.mi
I start just before dawn at the bottom, and I have to make it 13 miles to the top, before the weather rolls in this afternoon. It feels impossible, Blackhawk Pass seems so far away. And yet, it draws me toward itself like a magnet. My legs can't move fast enough.
Luckily, the morning begins without a cloud in the sky – only the remainder of cold mists, clinging to the distant peaks, evaporating quickly in the warming sun.
I climb. Clouds begin to slowly congeal throughout these strenuous hours, and I try to go faster, racing their formation. My heart is about to explode – I think if it hears the breath of thunder, it will.
And then I'm directly below the red wall that is the pass. A dark cloud threatens above, framed by the sparkling rock. But I must head up, look the hanging water in the eye, so I can make it down the other side. Afraid of being trapped in place, I have to keep moving.
I gasp, I struggle. I run when I can. And then I'm there.
As soon as I get over the pass and start my descent, my limbs stiffen up. I feel the pain of my heel blisters. My body temperature drops; I shiver. The pain-numbing heat of the adrenaline flowing through my blood is gone, and I sink into the parasympathetic. I now move away, putting the heights, the danger, behind me. A calmness settles.
After all that, I'm on top of a forested ridge line for the rest of the day. I wind around the edge of grassy golden slopes, keeping to the height of the land. The trail is so smooth, so flowy, that I think someone could convince me to ride it on a bike. I see a few mountain bikers around.
Then it opens up – it starts hailing on me. The air turns opaque and I'm swimming in it. It doesn't last long and melts before I can take a picture of it, however.
I watch the hail-cloud travel across the green hills. And then it starts making noises – the telltale rumbling. I peek around a corner, wondering if I should continue.
Another talkative cloud encroaches closer, and I'm right on the edge of it, but still in the sunshine. I decide to set up my tent and wait it out; I'm too tired to play cat and mouse with the storms right now.
No sooner do I get in my tent that it starts pelting big hail. This lasts for almost half an hour. I'm really glad I decided to hunker down.
Soon, freezing winds bring clearer skies, and with that bit of rest, I decide to keep going, to camp at the base of Indian Trail Ridge, setting myself up for an early start into my last miles above treeline tomorrow morning.
When I arrive at the bottom of the climb, stiff and sore and hungry, there's a thundercloud hovering, exactly where the established campsite is near deer creek. In the crook of the mountain, at the base of the talus. I decide I'd rather not face it, and turn around to delve into the forest a little, finding a nice spot under some healthy young trees.
It's been a while since I camped by myself. I'm a little apprehensive of this spot, as this section of trail has had the most animal poop on it I've seen this entire trip. Bear, cougar, deer. But me and my food will be fine, I'm sure, I've done this many times before.
The camp is comfortable and I quickly fall asleep. These long days help make good Z's.
I'm nervous and excited for tomorrow.
Affiliate Disclosure
This website contains affiliate links, which means The Trek may receive a percentage of any product or service you purchase using the links in the articles or advertisements. The buyer pays the same price as they would otherwise, and your purchase helps to support The Trek's ongoing goal to serve you quality backpacking advice and information. Thanks for your support!
To learn more, please visit the About This Site page.