GDT Section A and The Nocturnal Trail Family
After a very eventful first day on trail (day 2 of the hike) it already felt like we were in the swing of things. We woke up at 3:15 at the fire-ravaged Akamina campsite with our sights set on Lone Lake.
Waking up at 3:15 was surprisingly easy.
I hadn't been beat down by the heat and massive days on trail yet. I had that same excitement of the first day of school, eager to see what the day brought.  We hit trail just after 4:00 with our headlamps on. The first hour or so was a quick walk down the road to the next trailhead which would put us deep into the heart of Waterton National Park.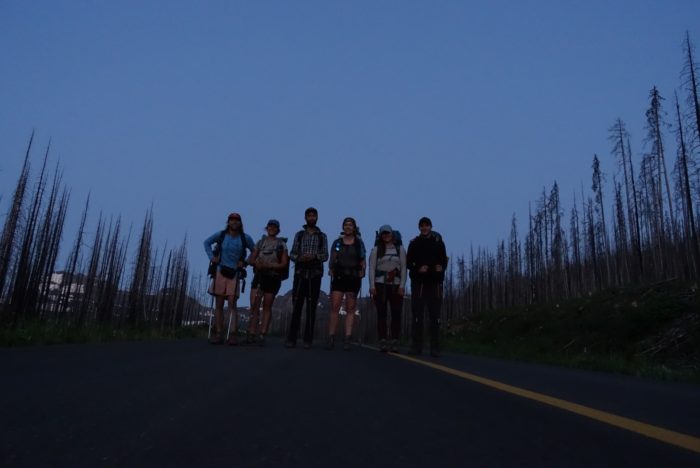 It was looking like a pretty cruisey day, we just had to get up and over Lineham ridge. But before the ridge, my first poop on trail!
Climbing up the ridge involved side-hilling up about 500m of scree and snow, having to kick steps in snow to keep from sliding down. My left foot had a couple of small blisters from jamming the side of my foot into the snow repeatedly. Tanya was having a rough go and was slowing down quickly, I could tell she was struggling because no audible sounds were coming from her.  She entered the twilight zone. I did what I could to coax her up but there isn't much you can do but accept your fate. This hill needed to be climbed. Nearly 2 hours later everyone reached the top and we had a ceremonial lunch on top. Incredible views at just over 2500m (8200ft).
Upon cresting the hill we were deep in the burn for several km.  It was midday and very hot. The temperatures were still climbing and today was already almost unbearable by 1 pm.  We reached a creek and all took a break for an hour. We had one final pass to climb which would be exclusively in the burn.  Temps must have been at least 30 (86f) plus the heat radiating all around us.  It wasn't long but it sure was tough. The idea of us sleeping in another dreary campground haunted us.
Finally reaching the pass I was almost brought to tears.  TREES!
Morale shot through the roof. We were camping at a lake, with trees! We could rest in the shade and swim all evening without cowering from the sun. We had a very relaxing evening at the beautiful lake and had a huge dinner. So huge that Tanya eventually puked up her dinner because she ate so much.
Morning 4 arrived dark and early at yet another alpine start of 3:15 wake-up call for 4:10 departure.
With our family of 5, we headed out on a nice easy morning walk, quickly stopping at Twin Lakes for a pre-sunrise swim.
Soaking in the extraordinarily warm water and pastel-coloured sky as the sun began its ascent into the sky. We gradually reached a small pass and came across a very strange geological feature, a gully running across the top of the ridge which was still filled with snow.  Trying to glissade down but failing, it must have looked more like someone running out of control and bailing in the snow.  Spirits were at an all-time high and it felt like we all acknowledged the amazing experience we were having every minute we shared on trail.
The next day we would be climbing what some consider the hardest peak on the entire GDT, we helped ourselves out by going up and over one extra pass so we could start at the base for yet another early start.  We camped at Scarpe Pass at the base of La Coulotte, our mission for the next day.  Following La Coulotte is an alternate that is considered to be one of the best sections of trail, Barnaby Ridge, it also follows the true continental divide.  The alpine ridge walk is exposed and doesn't have any water for several km. Most people opt out of Barnaby because of stormy weather. No storms were in sight but we eventually cancelled our plans for the alt because it would be too hot and too dry.  Not something commonly done in the Canadian Rockies but looking back it was definitely the right call.
Morning 5 came around pretty quick with our 2:30 wake-up call.
I took it upon myself to make sure everyone woke up by yelling good morning as loud as I could. Two other hikers rolled into camp the previous evening and wanted to join us for our early start. The plan was to hit the first ridge for sunrise and then complete the rest of the alpine traverse before the sun started heating up.
The morning began with headlamps and route finding up through subalpine.  It's hard to say what the terrain looked like because my field of vision was just a 4-foot diameter spot from the headlamp for the first hour and a half.  Usually around 4:00 the early morning light would give a bit more definition to our surroundings and headlamps were put away around 4:30. Our group of 7 slowly made our way up one of the hardest climbs of the whole GDT. Reaching the first pass just before sunrise, then continuing on to the larger of the 3 peaks next, La Coulotte.
The guide book and guthook both mentioned it being a scramble.  Tanya was quite nervous about this day, more than any other on trail. We haven't done much scrambling but fortunately have been climbing quite a bit in the past few years.
However, the ascent of La Coulotte was NOT A SCRAMBLE.
If anyone is thinking of doing the GDT let me say loud and clear, IT IS NOT A SCRAMBLE. I was pretty frustrated that it was described as a scramble. I never used my hands, it was just a 25-30% incline on loose scree. It really pisses me off when people miscategorize things. Scrambling is its own thing, and this was not that.  Despite the incorrect description, it was incredible. Massive sweeping alpine views and the sunrise lit up the entire sky. I was fueled by a level of stoke I've only felt a few times in my life. I charged onward and upward and led the pack to the peak. I found a groove of laboured breathing and consistent steps and fell into an entire new state of consciousness.
Once we all hit La Coulotte peak we thought we were done, instead, there was more climbing involved and the heat of the day was quickly approaching. I hit a massive wall and needed to pull out the sugars, hi chew, Mio and bars to push me up and over the last ridge. Finally, we hit the descent and quickly dropped elevation eventually reaching a nice grass clearing with a river running through it. We lounged for a few hours and all napped.  7km ahead was Castle Ski Resort, with rumours of a bar being open.  With the potential to get a burger and beer we charged on in the evening and arrived at a very strange town/resort at around 8 pm. Sadly, the bar was only open Friday-Sunday; it was Thursday. It was also Canada Day so we were hopeful there would be someone we could schmooze for free food or beer.
Pulling into Castle was a bit of a surprise, it was not what I was expecting. A half trailer park/permanent campground mixed with a ski hill. We found out there was a hostel there so we stealthily used the facilities, as everything was unlocked, but it appeared nobody had been there in several days.  This strange ghost town was very odd.
We ate dinner near the chair lifts and Heather scored us a couple beers from some dudes partying for the weekend. Trying to find a place to sleep we also encountered some not so welcoming local, we told him about our hike and I'm not sure he believed us. Saying where we started (the US border) was just 12 miles down the road, I responded by saying "Dude we aren't hiking on the road". We setup our tents just outside the "town" and called it for the night.
The next morning came around and we were all eager to get outta dodge. We were headed to Lynx creek, a chill 24km day, the final day before arriving in Coleman for our first zero.  It was basically a forestry road walk the entire way. It was relaxing and gave me some time to reflect on the previous week and about the hike.  It was much needed and I appreciated the lack of stimulation.  Something I have never searched for in previous hikes, the reprieve from the physical stress was welcomed.
We arrived by midday and all relaxed by the creek as weekend campers were all around us. Heather and Sarah decided to hitch the final 30km or so into town because of foot problems. Eventually, both getting different shoes. At around 4 pm Tanya was keen to keep pushing, so we could make our day into town easier, giving us more time to relax. Stefan was also down, it was his 30th birthday and he wanted to hit 30km. We continued on to basically walk until we got tired.
We hiked up and over Willoughby Ridge, our final ascent and a panoramic lower level ridge that was accessible to off-road vehicles. Stefan took a break at the top of the ridge and was going to camp there.  Tanya and I continued, the trail was rough with big rocks everywhere, requiring careful footwork for over 10km. We took a much-needed break and Stefan quickly showed up!! It was such a nice surprise. He didn't want to hike alone on his birthday and wanted to keep the family together. We continued on, eventually all becoming a bit delirious.
Finally reaching 42km, a literal marathon, and all of our largest days we had ever done.
We were in an area that had been clear cut so the campsite selection was grim. We ended up walking back up trail, not something any of us wanted to do in our state of delirium after a 16+ hour day, and camping in a tiny clearing in the woods that barely fit our tent. It would do. The next morning was only 11km and then our first zero!
On our final morning of section A, we woke up and speedily hiked down the FSR into town.  We slept in big after our giant slog the previous day and arrived around 11:00. We went straight to the motel and they had our room ready for us, complete with an AC unit and our resupply box waiting for us in our room! We showered and napped… More to come on our first day in town!!
Affiliate Disclosure
This website contains affiliate links, which means The Trek may receive a percentage of any product or service you purchase using the links in the articles or advertisements. The buyer pays the same price as they would otherwise, and your purchase helps to support The Trek's ongoing goal to serve you quality backpacking advice and information. Thanks for your support!
To learn more, please visit the About This Site page.