Gear Review: Hyperlite Mountain Gear Flat Tarp
The Flat Tarp. Probably the single most impressive piece of gear in the ultralighter's pack. There is no single right way to set it up. No freestanding poles to guide you.
I've made the transition from three pound freestanding tent, to non freestanding tent, to shaped tarp, and after lots of trepidation I was offered the opportunity to try one of the most advanced flat tarps on the market, the Hyperlite Mountain Gear Flat Tarp (this tarp was donated for the purposes of review – thanks ya'll!).
Long story short? It's as awesome as it looks.
And it looks like a spaceship.
Hyperlite Mountain Gear
is a small cottage gear manufacturer located in Biddeford Maine. They work exclusively with Woven Dyneema Fabrics, Dyneema Composite Fabrics, and Dyneema Composite Fabric Hybrids (formerly Cuben Fiber). This dedication to a single fabric is ambitious – Dyneema Composite Fabrics are notoriously tough to work with, all but unheard of on the mainstream backpacking market, and they are very expensive.  But with a 2015 "Top Pick" from Outdoor Gear Lab for their 8.6×8.6 Flat Tarp and "Best Ultralight Pack" for the Windrider from Backpacker Magazine, Hyperlite is making a name for themselves in the mainstream backpacking market. And they're bringing ultralight with them.
Circumstances of Review
I was able to review two tarps – the rectangular 6'x8′ and the square 8.6'x8.6′
Place: Western North Carolina and North Georgia
Conditions: High humidity, Sleet, Snow, Rain
Trails: Appalachian Trail, Bartram Trail, Art Loeb Trail
Specs
Hyperlite Mountain Gear Flat Tarp 6×8 and 8.6×8.6
Material: .74oz/yard Dyneema Composite Fabrics (Formerly Cuben Fiber)
Weight: 6.4 Ounces
Includes: 10 Guy Lines, Line Locks, Stuff Sack
Price: 6×8 (Spruce Green) $340.00
Best Feature: Lightweight
Worst Feature: Price
Dyneema Composite Fabrics (Cuben Fiber)
Hyperlite Mountain Gear makes all of their gear out of Dyneema Composite Fabrics or blends of Dyneema Composite Fabrics. This stuff is different than any other outdoor gear fabric.  
Weight Dyneema Composite Fabrics are incredibly light. Comparable tarps made of silicone impregnated (siliconized) nylon (SilNylon) are usually made at a fabric weight of 1.1oz/yd. Hyperlite uses .74oz/yd cuben fiber.
Strength Dyneema Composite Fabrics are incredibly strong. They are about four times stronger than Kevlar – oh and about 50 – 70% lighter.
Stretch Unlike SilNylon, Dyneema Composite Fabrics do not stretch. That means they don't sag or stretch in the rain like silnylon does.
Waterproof before stitching, DCF are completely waterproof.
One of the great things about this tarp is that it's user friendly.  The guy lines attach in a flash through line locks, so you're ready to set up the tarp just a few minutes after getting it out of the box. The line locks take the place of a series of knots that make a pulley system out of longer sections of guy line. These line locks, while adding weight, make the tarp super easy to adjust once pitched – without having to earn a merit badge in knot tying.
My first outing with the 6×8 Flat Tarp was a 3 night fast pack of the 115 mile Bartram Trail in North Carolina and North Georgia. I finished work in the evening and climbed the 5.5 miles from Stecoah Gap to arrive at the northern terminus of the trail, Cheoah Bald, in the pitch black hours of early morning.
After a full day of work and a sweaty night climb, I was surprised (and relieved) at how quickly and easily the tarp was to pitch. Its small size allowed me to find a campsite deeper in the woods and more protected from the whistling wind atop the 5000 foot bald.
The tarp performed exceedingly well on my Bartram Trail fastpack. One of the chief complaints of non-freestanding shelters (or shelters without poles) is that they are notoriously flappy in the wind. After an extremely windy night #2 at the Wayah Bald shelter I was sold on Dyneema Composite Fabric shelters at ANY price. The wind protection was excellent and far quieter than any other freestanding shelter I have ever used.
I had hot, humid weather on my Bartram Trail traverse. In the high humidity of North Carolina and North Georgia, the tarp's open face mitigated moisture well.  The very next week the tarp was fully covered in a heavy mix of sleet and wet snow on the Appalachian Trail just outside of Hot Springs, North Carolina.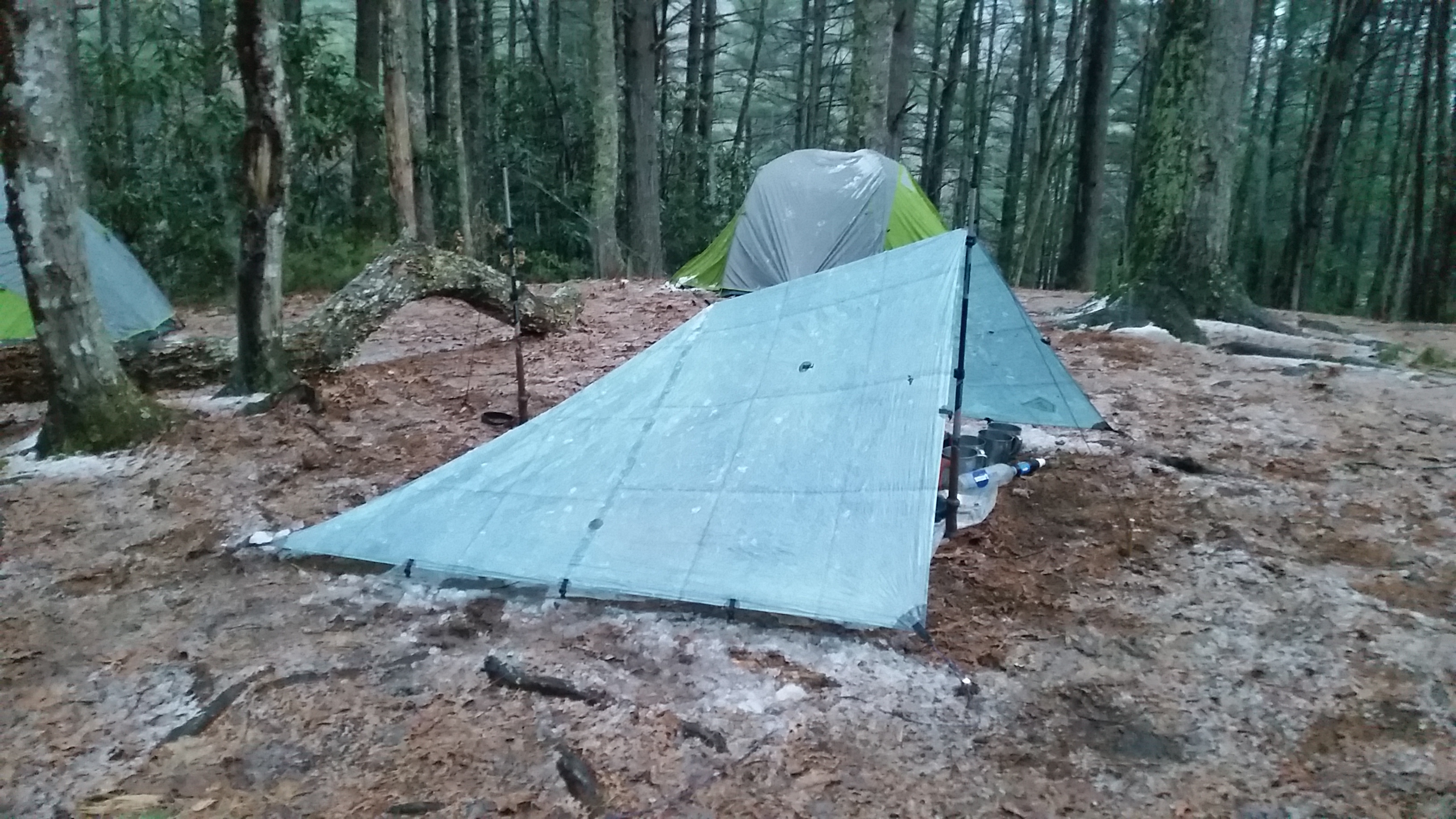 I was impressed with the Dyneema Composite Fabric's stretch resistant qualities. While a silnylon tarp would have sagged under the weight of the snow this tarp held its ridgelines taught.
However, after this brush with the frozen stuff the tarp's rear tie out began to lift from the body of the tarp.
The rear tie out is located on the seam, so in addition to the tie out coming loose, the bonded seam fusing the two pieces of material together began to come apart as well.
I contacted Hyperlite about this and they had a few different explanations for it. The first was that I had pitched the rear tie out at an angle that essentially created enough force to tear the tarp in two. When I inquired as to the limitations I should expect due to constrictions on pitch angles on the rear tie out (which would greatly reduce the tarp's versatility) they forwarded my question up the chain of command and finally decided on tarp malfunction.
Cuben can be fused in a few ways – it can be bonded, taped, sewn, or a combination of these methods. There are strengths and drawbacks of each method, and each manufacturer swears by their own fusing method.
There is much deliberation and the jury is still out on this one. But before Dyneema Composite Fabrics were revolutionizing the backpacking world, Cuben Fiber fabric was handling amazing amounts of stress on the world's fastest boats in the world's longest races.
While the name of the fabric has changed and the technology continues to improve, sailmakers still prefer one type of bonding over another – sewing and taping.
There are plenty of folks who swear by bonding as a method of fusing these fabrics. Hyperlite was so confident that the initial tarp was a malfunction that they issued me a challenge – to use the heck out of the next tarp and see the true potential of their gear.
Challenge Accepted
Circumstances of Review
Place: Western North Carolina, Upstate New York
Conditions: High humidity, Sleet, Snow, Rain
Trails: Appalachian Trail, Northville Placid Trail
Specs
Hyperlite Mountain Gear Flat Tarp 8.6×8.6
Material: .74oz/yard Dyneema Composite Fabrics (Formerly Cuben Fiber)
Weight: 8.4 Ounces
Includes: 10 Guy Lines, Line Locks, Stuff Sack
Price: 8.6×8.6 $350.00
Best Feature: Lightweight
Worst Feature: Price
The main difference between the first and second tarps is the size. The first tarp was rectangular which is a roomy fit for one person. This second 8.6×8.6 square tarp easily fits two because of its wider shape – just what I had in mind for my upcoming section of the Northville Placid Trail in upstate New York.
A classic A Frame pitch is more than wide enough to fit two plus pup. However longer folks (taller than 6'2″) should choose a longer tarp for better protection from the elements. Although it certainly covered him, my sweetheart/tarp model was concerned about spray from inclement weather – when choosing flat tarps he chooses rectangular tarps with at least a 10′ long side (Hyperlite offers an 8×10 rectangular tarp).
Sold on the larger size, I took the tarp to the Adirondacks of Upstate New York to really put it to the limit.
The 8.6×8.6 was the perfect size for myself and my sister.
Although this trip took place in late June, New York was experiencing a warm spell, so we enjoyed the versatility of different pitches to allow more airflow through the tent.
Throughout the course of the trip I was truly impressed with the tarp's performance. The seams and ridgeline were solid and showed no signs on malfunction like the first tarp. It was an effortless experience.
Although I love backpacking, I am an ultralighter at heart, and with summer warming up in the Southeast, the Hyperlite Mountain Gear 8.6×8.6 Flat Tarp became an essential of my Super Ultralight Summer Kit.
Using this kit I was able to complete a 35 mile section of the Appalachian Trail where I encountered both hot days and humid southern thunderstorms. The tarp also doubles as an awesome pack liner to keep food and quilt dry.
Overall:
Hyperlite Mountain Gear offers an incredibly versatile and user friendly shelter with their flat tarp. The line locks and pre-cut and tied guy lines make it easy for beginners to get started right away. The .74oz.yd fabric is made for durability. If you are looking to shed pounds in your pack and make the leap to a Flat Tarp, this is the perfect tarp for you.
Affiliate Disclosure
This website contains affiliate links, which means The Trek may receive a percentage of any product or service you purchase using the links in the articles or advertisements. The buyer pays the same price as they would otherwise, and your purchase helps to support The Trek's ongoing goal to serve you quality backpacking advice and information. Thanks for your support!
To learn more, please visit the About This Site page.