Time-Tested Gear We Refuse to Get Rid Of
While the outdoor industry is constantly coming up with mind-boggling advancements in gear durability, efficiency, and ounce-saving, the old adage "If it ain't broke, don't fix it" can certainly apply to your favorite backpacking items. Whether it's sentimental (the two-pound fleece from 1997 that's been all over the world with you) or practical (the semi-outdated cook stove that still works just fine), some things we just keep using.
We asked our hiking community what they just won't replace, no matter how sweat-wicking the modern mid-layers or lightweight the newest stoves are. Here are some pieces that have stood the test of time (and miles) for our community members, readers, and contributors. We'd love to link to the originals, but a lot of them are no longer made (longevity FTW!), so we found the closest items we could.
1979 Jansport Backpack
Bought a new Jansport external frame pack around 2006, but kept the old one to loan out. A shoulder strap lost a grommet this spring when a friend was using it on a section hike of the AT. We wired it back together and finished the last 30 miles of our 50 mile section! (Search was tough for an external-frame Jansport, but here's their Katahdin on sale)
-Lee Richardson
Jetboil Sol Ti
My dad pulled it out of his obsessive gear horde a couple years ago. It's seen trails all over California, the Long Trail, 500 miles of section hiking the AT, and now 1300 miles on my thru hike. It is rusty, and the grey insulator is so dingy and burnt in places because the ignitor broke and I have to light it with a lighter. The plastic lid is melted in multiple areas. The weight, with the titanium, still beats most modern Jetboils. It's been so trusty despite abusing the hell out of it, cooking right in it, and casually forgetting to clean it for days. (This isn't made anymore, but here's their popular solo option)
-Tasia Kellogg
Leki Super Makalu Trekking Poles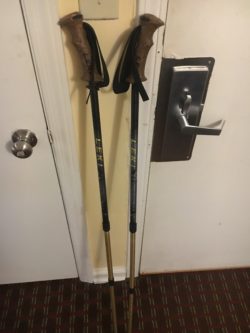 I purchased these in 1998, and used them extensively in British Columbia on Whistler and Mount Garibaldi, and the West Coast Trail. Also used from Springer Mountain, GA through Marion, VA this year. These things are light yet beastly strong. I cannot imagine hiking without them. I managed to snap one of them in the Smoky Mountains and the tech at NOC in Gatlinburg didn't bat an eye when I told him they were nearly 20 years old. He fixed them up good as new. Props to NOC and Leki! (Find Leki's newer version here)
-Jonathan "Goose" Harder
I got these in 2016 and hiked the AT 2017. I have a awesome Dirty Girl gaiter tan. I got stung by bees in Virginia and it would have been worse if I didn't have these on. No stopping for crap in my shoes. I will never hike without them. Hike on!
-Famela "Miki Huckabey" Jones
Small Sea-to-Summit Waterproof Stuff Sack
I got this at a kayaking shop in Freeport, Maine in 2011. I take it every hike I go on, including two or three-night overnight trips, and all my day hikes in the Maine and NH mountains. That's 22 4000-footers and everything on the Maine AT except the 100-Mile Wilderness. That will be this year. I D-ring it to my sternum strap and it holds whatever I need handy. Phone for photos, map, compass, and chapstick. Maybe a granola bar. It keeps everything dry and it never leaves my packs. It also never gets used for anything else as I don't want to misplace it. It's invaluable to me. (Find a variety of sizes here.)
-Joelle Corey-Whitman
Gossamer Gear Gorilla 40L pack

Bought this in 2016, used it for all 2,200 of the AT, which was about 5 months . Great combo of durability and light weight, and I can surprisingly fit a ton of stuff in it. I LOVE how many snacks I can shove into the hip pockets. I busted my butt several times and did some gear glue repair, and it's still in great shape! The buckle broke at the end of my AT hike, and Gossamer sent me a replacement buckle for no charge.
-Taylor Boone
 Snow Peak Stove

I got my Snow Peak stove (don't remember the model) in 2006 at the Outdoor Gear Exchange in Burlington, VT. I used it on numerous backpacking adventures on the Long Trail, carried It the full length of the West Highland Way, and my entire thru of the AT. My stove is teeny-tiny and has a fantastic wind guard. I'm not ultralight, so I have no clue how much it weighs…probably pretty little, and it has this awesome carrying case. It screws right into the canister and has these three prongs that my pot sits on, and they have taken plenty of abuse. It did have an automatic lighter, but that no longer works. I absolutely adore my little stove and hope it never dies. (Maybe it's this one?)
-Victoria "Little Red"
I have had it through over 2,000 miles combined on both the AT and PCT, plus countless smaller trips.
Where other gear has failed or needed replacing this bomb proof spork has held through thick and thin (Idahoans that is). Plus the long handle means I can reach every last bit of food hiding at the bottom of my pot.
-Bear Claw
I got this thing in 1992 and it has been to every continent except for Antarctica. It's A light weight synthetic quilt that can be used as a blanket, or a hammock under quilt. It was an awesome set of gear to start with, and built to last. Obviously. Looks great and is still clean because I took care of it. Maintain your gear!
-Gary Sizer
Brooks Running Shorts
AT thru hike 2015, West Highland Way, Westweg, GR16, GR20, Long Trail, strolls around the block. The Bloomers are floral shorts picked up at a small town Minnesota thrift shop in the summer of 2014 for $2.50. I bought them to wear to work at my job in a flower shop and soon wore them for all activities–walking, running, swimming, parties, sleeping, gardening, etc. Naturally they came on the AT with me and totally blossomed as my tried and true trail gear. They sustained plenty of wear and some mighty tears but always sprung back with a little TLC. They're still going strong for all activities mentioned above, although they're a little faded now.
(Not as cool as Olivia's, but here's a pair on sale.)
-Olivia Oberle
Buffalo Special 6 Jacket
Its been everywhere I've been, including the Cape Wrath Trail & Wainwrights. My dad was in the forces for 20+ years, and always told my how much of a quality piece of kit his buffalo jacket was. When he gave me his in about 1996 I was over the moon and have used it ever since. I'm sure he got his from the naffi on Hone garrison, Germany. It's super warm even when wet and good for winter hikes down to -5 nextto the skin. If I swapped this garment out for a ghost whisperer or Rab zero G id be SuL but theres something about this jacket it will always have a place in my pack. It smells like a charity shop and has about 15 small rips in the pertex shell but still wicks, breathes and functions as if it were new.
(All of their products look pretty neat)
-Lee Coleman
Atomic Whistle
I got this in 1980, it's the only piece of gear that made it from Springer to Katahdin. It's in a nylon cord loop and I wore it around my neck. I still use it when I hike. -David Christoffersen
I reviewed this jacket for a magazine job in 2013, and I've taken it on every extended hike since then, including my 2015 AT thru-hike. It's still in incredible shape—the down is lofted and warm as heck. I've torn it in multiple places, but what's a favorite down jacket without some duct tape? I have lighter and newer puffies, but this is by far my favorite and I'll keep dragging all around the country with me. Photo is first few weeks –> last few weeks on the AT. It's a definitely little droopier, but so am I.
-Maggie Slepian
Weight 11 oz..works great in the snow or above 5000 feet. Had since 1969… and yes the cylinder is heavy, but never fails last four to seven nights. -Linda Hurley
Thanks to everyone who shared their irreplaceable gear! Responses have been edited for length and clarity. Lead image via.
Affiliate Disclosure
This website contains affiliate links, which means The Trek may receive a percentage of any product or service you purchase using the links in the articles or advertisements. The buyer pays the same price as they would otherwise, and your purchase helps to support The Trek's ongoing goal to serve you quality backpacking advice and information. Thanks for your support!
To learn more, please visit the About This Site page.