Trials of the High Sierra in a High Snow Year
As most who have been keeping up with the PCT this year know, it's been a heavy precipitation year for California. This also meant a very high snow year (188% of what is normal with some elevations getting as much as 55 feet) in the High Sierra, which increased the level of difficulty in navigating an already notoriously challenging section of trail. I won't try to make any objective statements about the section, but I will try to accurately describe what it was like for me (a first time thru-hiker with little to no snow-hiking experience). In case you are a noob like I was before I left Kennedy Meadows, I'll detail some commonly used snow-hiking vocab below that I'll use throughout my descriptions.
Snow Vocabulary
Glissading: Using what your mama gave ya to slide down the snow 4x faster than it would take to walk.
Postholing: When you break through the top layer of frozen snow and sink to unknown depths (usually near large rocks or in the late afternoon) also see *the f*cking worst*.
Bootpack: Paths through the snow where lots of people have already walked; sometimes the person who made it was on trail, sometimes they had no f*cking clue where they were going. Either way, it's easier than traversing untouched snowfields.
Suncups: Twisters of ankles and slowers of progress—common in snowfields.
Snow bridge: Exactly what it sounds like; usually convenient and always terrifying.
Pass: Highlight of the day; is used to avoid climbing mountains, is usually as tall or taller than many mountains.
Kennedy Meadows (South) – Kearsarge Pass
After making my way through 702 miles of desert boot camp, I finally arrived at Kennedy Meadows. I was apprehensive but excited for the challenge ahead and what was bound to be a drastic change in scenery accompanied by an intense increase in snow. In a typical year, June 14 is the sweet spot for entering the Sierra. It's supposed to be that perfect window when the snow has melted enough to make passes navigable but not so much to make stream crossings unmanageable. The higher the snow year, the farther back this date gets pushed and the more dangerous everything becomes. The trail is harder to follow and covered in snow. The steams are gushing with snowmelt, especially in the late afternoon, making them much more dangerous. We were set to start our journey into the Sierra on July 2. We had already heard rumors of people who had entered only a week before us deciding it was too difficult and flipping up or skipping it all together (due to dangerous stream crossings, etc.). We spent two zeroes in Kennedy Meadows resting our bodies, strategizing the upcoming hiking days, and (after a few rounds of pine cone baseball) learning self-arrest techniques with our ice axes.
On the morning of the 2nd, Grumpy Bear let us pile in his van and shuttled us to the trailhead. The first chunk of trail from Kennedy Meadows to the Lone Pine trailhead proved to be beautiful, but relatively uneventful. We enjoyed a beautiful, snowy Chicken Spring Lake, but we didn't start encountering lots of snow until we began approaching Mount Whitney (on the 4th of July).
We set our alarms for 3 a.m. and were hiking by 3:30—leaving from the last legal campground for PCT hikers (Crabtree Ranger Station, about seven miles from the summit). After about an hour of hiking in the dark, the sky started to brighten and the snow started to appear. The approach involved traversing massive snowfields, tons of suncups, and a trail that was unidentifiable. Rocketman led the way, but we still lost the trail several times until we made it up to the mostly snow-free switchbacks. Two switchbacks went over a snow chute, which we got our ice axes and spikes out for, but the bootpack was well established and we didn't have much trouble. The final snow section was just before the summit and a little scarier than the first two, but still had a good bootpack and was manageable. We reached the summit around 9:30 a.m., and discovered that the hut on top was completely filled with snow. The altitude had gotten to me a bit so I pretty much curled up in a ball and force fed myself a Clif bar before taking some photos and heading back down. We wanted to get past the snowy switchbacks before the sun had a chance to soften everything, and we were successful. We did, however, have to traverse the suncup-filled snowfield in the afternoon, which proved to be quite exhausting. Even with cutting off some descent time by glissading for a bit, we didn't return to camp until around 4:30 p.m.—absolutely wiped with soaked shoes. The original plan had been to do an additional ten miles that evening to reach the base of Forester Pass, but I knew I was too exhausted and opted to push the plan back a day.
The next day we took it slow, knowing that we only needed to go ten miles before doing Forester the next morning. Due to poor planning and our slow pace, we hit Tyndall Creek around 5 p.m. By our judgment it was not crossable at the trail, so we began looking upstream. Thanks to some Guthook comments (and the realization that going just a little bit upstream wouldn't suffice) we followed the creek up for about a mile where it split into three more mild tributaries. Our feet got wet, but we did not get swept away so I'd consider the crossing a success.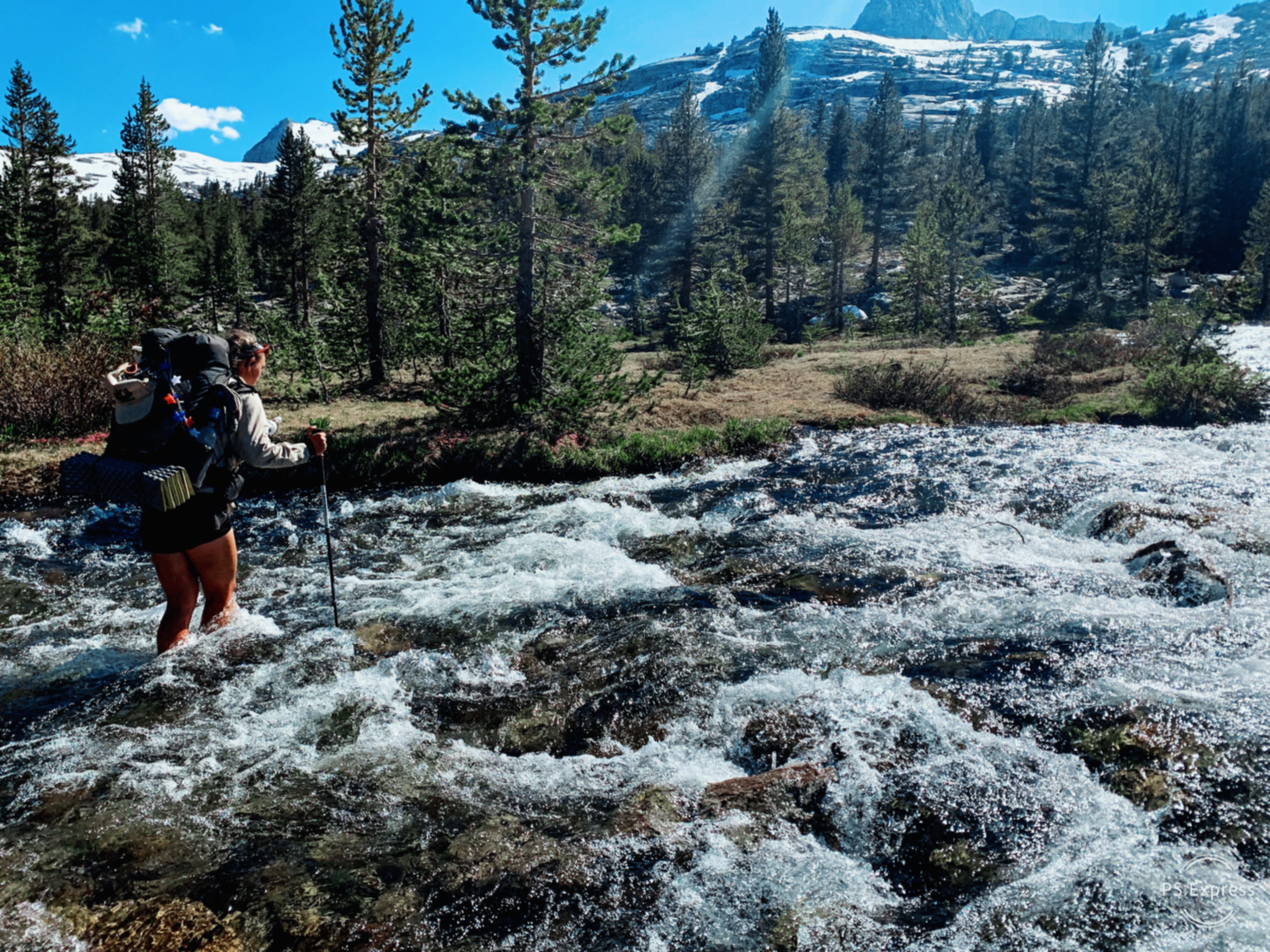 Rocketman and Stickerz were set on doing Forester and Kearsarge (not a pass on the PCT, but one of the shorter ones to get off trail and into town) in one day, so they started their morning at 3 a.m. again. Ashes and I decided to save Kearsarge for the next day, so we left around 5:30 a.m. We had about three miles of snowfield to traverse, but finding the trail was less of an issue because Forester itself was so visible. We essentially kept it in sight and headed straight for it.
When we got to the base of the intense ascent, there were multiple options (none of which seemed super promising) for bootpacks to follow. We opted for the one that essentially went straight up and cut off any sort of switchbacks. It was challenging, but saved a bunch of time. We eventually made it to some of the rock switchbacks that were clear of snow and continued up. The last bit of snow on the south side was crossing the infamous Forester snow chute. We got our axes out, but the bootpack was there and made it a pretty easy crossing.
The top itself was snow-free and we spent some time taking in the views before starting the descent.
We followed the bootpack of hikers who had come before us, which led us to a rock outcropping where we could actually see the trail! It seemed to good to be true, and it was. The trail quickly disappeared off the edge and into the snow at a spot where it would not have been safe to follow. After doing some searching, I discovered a boot path down below and what I thought might be a good way to get to it. I scrambled down some rocks (not an easy feat with a full pack) and down to where the snow met the outcropping. It appeared several people had glissaded from that spot, but I was trying to avoid it as there were exposed rocks right at the bottom. Despite my efforts, I began to slide and ended up breaking my hip belt in the process. I did get down safely and Ashes ended up following that path as it was the only one we could find.
We continued the rest of the day losing the trail and picking it back up over and over again. Finally, we made it to the last legal camping on the PCT before we could exit and go up and over Kearsarge. We were both pretty ravenous as we'd been in the Sierra for eight straight days and consumed most of our food. We were blessed enough to run into some JMT hikers who were trying to lighten their bear cans and had some lovely snacks to hold us over until the next morning (I'm looking at you, peanut M&M's).
Kearsarge was beautiful, but mostly uneventful—besides our first permit check. After what felt like an eternity, we made it to Onion Valley trailhead, where we were lucky enough to get a ride into Independence. From there, we hitched to Bishop, which turned out to be one of my favorite (if not absolute favorite) towns on trail. We zeroed at The Hostel California and loosely planned out the next stretch with a marker on a piece of cardboard (very official and serious). After getting back up and over Kearsarge, we would have to do Glen, Pinchot, Mather, Muir, Seldon, and Silver passes before exiting the Sierra again at Horsehoe Lake Trailhead to go into Mammoth.
Kearsarge Pass – Silver Pass
All the passes had their own challenges but some were more difficult than others. While not particularly dangerous for other hikers (as in not more dangerous than the rest of them), Glen proved to be the scariest/hardest pass I did in all of the Sierra. I lost the trail on the ascent and figured if I could just keep climbing up, eventually I'd get where I needed to be. According to my Guthook I wasn't far from the trail, but the farther up I went, the looser the rock was and the more dangerous the situation felt. I was climbing up rocks (the smallest of which was the size of my head) that moved as soon as I stepped on them (think the consistency of scree with the size of rock-hopping rocks). It got to a point where turning around and going back down felt too dangerous. There was a rock face that looked climbable and I thought if I could get up and over it I wouldn't be far from the actual pass. I made my way to it, secured my pack, and the second I started to climb a giant slab of rock broke free and fell—barely missing my right foot. I decided that route wasn't going to work and SLOWLY tried to make my way back down to Ashes, who had found the trail. The large rocks hit my ankles several times but I somehow made it down without breaking anything. We made it up and over the rest of Glen safely. The descent was slightly tricky with pretty steep snow traverses and conflicting reviews on which bootpack was safer, but we eventually made it down, and continued with what proved to be a trying day.
Late in the afternoon, about two miles from camp, we hit what turned out to be our sketchiest stream crossing in all of the Sierra. White Fork Creek was raging with snowmelt right across the trail. Stickerz went up to scout for a safer crossing but found that it essentially went up a cliff. The only place to cross was right on the trail. The creek was white with rapids and essentially turned into a waterfall that fed the much more dangerous and raging Woods Creek. Before that were several strainers (downed trees) that could catch and drown you before you even hit the wild rapids. We debated for a while over whether or not we should just set up camp right there and cross in the morning, but we had two more miles to camp and really wanted to get as close to the base of Pinchot as possible. Kazoo went across thinking Stickerz already had (she was actually upstream scouting) and made it—but he's almost six feet tall. Stickerz and I decided to cross together. We undid our hip belts, linked arms, and faced upstream. We made our way across slowly as the freezing water consumed us almost up to our waists. The current was strong and it was difficult to find sure footing so deep in the water. Just before reaching the opposite shore it got even deeper—past my waist (5'8") and up to Stickerz' ribs (5'4"). The current was too strong and she wasn't able to get her footing. Her feet were swept out from under her and all of a sudden I was the only thing keeping both of us from going quickly downstream. I anchored my feet as best I could, tightened my grip on Stickerz, and grabbed for a bush on the shore. Luckily, that bush held and with Kazoo's help we were able to get out of the water and onto the bank. Stickerz lost a water bottle in the process but was otherwise intact. I was shaky—from fear and cold. We nervously watched as Rocket Man and Ashes crossed. They made it with less of an issue but still struggled on the deep part. Looking back, we definitely should have waited until morning to cross. There were obviously other difficult stream crossings, but this one was easily the most dangerous for us. At Evolution Creek (one of the more well-known crossings) we took the alternate and crossed at a thigh-deep, slow-flowing area. For the most part, I looked for logs or walked upstream until I found a place I felt comfortable crossing. I only got completely soaked once at a calf-deep crossing that I underestimated. The bottom was slippery and the current a little stronger than I anticipated. I wiped out, and struggled to get back up, but finished the crossing safely.
I'm not sure if I got my snow legs after the first couple passes or what, but the rest of the major ones were conquered without any near-death experiences. Pinchot was slow and beautiful with a descent that was actually a lot of fun (shoe skiing is a favorite of mine). Mather has quite a bit of snow on the switchbacks but the trail was clear in between, which meant we essentially had to climb straight up through scree. I ended up putting my trekking poles away and spider monkey crawling up the whole thing. On the way down, I postholed into a snowbank that had some intense melt going on underneath. The snow collapsed in around my foot and I was stuck with my foot in the freezing water. Luckily, Nomad wasn't far behind and was able to dig me out with an ice axe (the most use we got out of it the whole time).
Muir was a VERY long slog through the snow, but not particularly difficult if you don't mind wet shoes. After that, we joked that we weren't really even doing passes anymore (probably because a lot more of the snow had melted). Seldon and Silver were both beautiful, but uneventful—as were the passes after Mammoth.
Final Thoughts
Overall, the Sierra proved to be one of the most difficult, but rewarding sections of trail. Sure, you were waking up every morning before the sun and traversing miles on miles of snowfields, potentially twisting your ankle or postholing with every step, but the views! Obviously, not everyone was able to go straight through like we were able to. We took our sweet time in the desert and were rewarded for it by hitting the Sierra at a manageable time for such a high snow year. We knew we might pay for it when we started to race the weather to Canada, and we are, but to me it was very worth it. I've seen photos of what the High Sierra looks like right now, without snow, and I feel lucky to have experienced it when I did.
Affiliate Disclosure
This website contains affiliate links, which means The Trek may receive a percentage of any product or service you purchase using the links in the articles or advertisements. The buyer pays the same price as they would otherwise, and your purchase helps to support The Trek's ongoing goal to serve you quality backpacking advice and information. Thanks for your support!
To learn more, please visit the About This Site page.