Four Books I Read Before My PCT Thru-Hike
Books.
Who prepares for a thru-hike by reading books when you can track down a million resources from the internet?
While I planned about 95 % of my upcoming PCT thru-hike through the interwebs, books provided more of the personal inspiration. There are innumerable books on hiking, the natural world, and the various philosophies behind it all; however, there is an unfortunate lack of time in the day to read them all prior to mid-April.
The following books are a few of my personal favorites for thru-hike inspiration.
John Muir
Muir has been on my must-read list for years. He finally made it to the top of the list when I received "John Muir: Wilderness Essays" for Christmas.
In the collection of ten essays, Muir vividly illustrates the magnificence of Glacier Bay, the dominating peaks of the High Sierra, and a fierce snowstorm in Utah. Muir not only describes vast and incredible landscapes, but he also has a talent for animating the diminutive and seemingly trivial scenes of nature that one can easily overlook.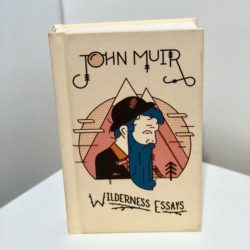 His extremely detailed accounts of animal encounters were my favorite reads of the collection. In "The Animals of the Yosemite," Muir recounts the tales of killing two rattlesnakes and how he learned to respect the slithering creatures. He observes, "I felt
 degraded by the killing business, farther from heaven, and I made up my mind to try to be at least as fair and charitable as the snakes themselves, and to kill no more save in self-defense." Well said, sir.
I also loved his exclamations throughout the essays regarding one wonderment or other. In the same essay, "The Animals of Yosemite," he comments on the eating habits of bears.

"To him almost everything is food except granite… Craunched and hashed, down all go to his marvelous stomach, and vanish as if cast into fire. What digestion!"
Not only did I find his style of writing continually captivating, but also effortless to read. That's not to say that his words were not compelling; in fact, quite the opposite. I know I will carry his vivid descriptions, particularly our shared Scottish sense of humor, along with me as I hike.

Zach Davis and Carly Moree
Game changer.
I promise that this awesome resource is not on my list because I'm a blogger for The Trek. If you don't believe me, read my post on my original blog about "Appalachian Trials" back in 2013. 🙂
Here's an excerpt: "Again, as I said in one of my earlier posts, 'Appalachian Trials,' by Zach Davis, is a must-read for anyone thinking about thru-hiking in the future. Honest, funny, and extremely helpful, both Miles and I read this one."
Now, replace "Appalachian Trails" with "Pacific Crest Trials" and add Carly Moree after Zach Davis and the above statement becomes true for the present day.
Magic.
But in all seriousness, please read "Pacific Crest Trials" if you're considering a PCT thru-hike. I probably didn't need to buy the PCT version, but I did and read through it in a matter of days. The gear chapter was particularly helpful for someone who knew zip on PCT-specific gear. The book was also a solid reminder to create a list for the following three things:
–"I am thru-hiking the Pacific Crest Trail because…"
–"When I successfully thru-hike the Pacific Crest Trail, I will…"
–"If I give up on the Pacific Crest Trail, I will…"
I wrote out these same lists before my AT thru-hike as well and then wrote them into the front of my journal. I plan to do the same for the PCT.
Henry David Thoreau
When you grow up in New England, reading the works of Emerson, Thoreau, and Longfellow (among many others) is basically a requirement.
"Where I Lived, And What I Lived For" is a Penguin Books Great Ideas edition and includes three select chapters from "Walden:" "Economy," "Where I Lived, and What I Lived For," and "Winter Animals." While I found that Thoreau had more frustration toward the nature of humankind than Muir, I also enjoyed the comparison between his experiment living on Walden Pond to the experiment of thru-hiking a trail of more than 2,000 miles. Yes, there are vast differences between living in the woods for two years in the 19th century versus long-distance hiking in the 21st century. But both experiments are essentially similar in purpose.
The idea of downsizing your possessions in life to the essentials is thru-hiking at its core. Thoreau lists four essentials – food, shelter, clothing, and fuel. Well, that sounds a lot like the base of any gear list, right?
While the majority of thru-hikers aren't living off the land, there is the goal of carrying only what is needed to survive a 2,600-mile journey. The extras – a pillow, a book, or that extra beer that you carried out from town – are a bonus.
There is certainly debate about Thoreau's foray into the woods of Concord, but I found his writing to be thought-provoking and relatable to our choice as thru-hikers to live beyond the realm of "normal" society.
Even if it's just for a few months.
Robert Moor
If you equally enjoy history and science and also have a curiosity to learn more about the many origins of trails, then this one's for you. Moor, a 2009 AT thru-hiker, had the same interests and questions. So he wrote a book on the subject.
"On Trails" goes in depth on trailblazing in all forms – from herding to hunting, and from insects to humans. It's a vast exploration of how trails molded planet Earth from all aspects. I particularly enjoyed the chapter on the Appalachian Trail and the IAT's struggle to become a solidified trail system. How interesting to envision a trail stretching across three continents!
Similar to Thoreau's work, "On Trails" is not specifically about the Pacific Crest Trail, but I assume that if you're reading this blog post, then you have some type of interest in trails.
Ever since reading Moor's book, I look at trails with so many more questions and insights than ever. The Trek reviewed this book here.
Books on Trail
And now that I finally have all of my gear, the question is – do I dare carry a book on trail?
It's extra weight and I suppose books don't count as one of Thoreau's four essentials. But, I think I'll have to side with Muir on this one: "… for the saving of both body and soul, is important, and deserves all the expense and care bestowed on it."
And the saving of the soul sometimes starts with a good book.
Affiliate Disclosure
This website contains affiliate links, which means The Trek may receive a percentage of any product or service you purchase using the links in the articles or advertisements. The buyer pays the same price as they would otherwise, and your purchase helps to support The Trek's ongoing goal to serve you quality backpacking advice and information. Thanks for your support!
To learn more, please visit the About This Site page.