60 Days and Counting Before I Leave
Bam! Just like that, I have 60 days left until I wake up at Scout and Frodo's. I just finished my mid-terms, and now time to relax for the week, being my spring break. When I get back, it will be a snap of a finger until finals and graduation. Lately, there has been so much going on that it has been a whirlwind mentally and physically. But I have been pushing myself to be motivated with my studies and training—it's hard work.
How Am I Training?
I am a busy working college student. It's not as easy for me to hit the trail for days at a time as it may be for other people hitting the trail this year.
So I have been signing up for fitness classes—TRX, spin, and yoga. These classes help prepare for when on the trail. TRX will help by building my strength with functional body movement with use of my body weight. Spin is my aerobic training since I struggle wanting to run. Yoga helps with flexibility and better muscle movement.
My trail training consists of small mountains/hills that I am frequently on. They are good for training and don't take up much time. When I am home I have a few more options for distance and terrain training that are more challenging, along with having more company available.
My knee/foot impact training consist of jump roping, step ups, and incline walking. Jump roping does the same impact as running, and is less strenuous on knees and ankles. Step ups help with knee movements going up and down steep terrain that consists of what I call six footsteps—I am short so those tall steps are tedious to me. Incline walking just helps with those climbs that we have to do when we are trying to reach elevation.
What I need to work on, is to be better about rolling out my legs with the foam roller. I use the foam roller to help prevent and recover my overuse injuries. Knowing that I have IT band problems, I will recover better over time with constant rolling. I need to be better about remembering to roll several times a day, now that we are getting close to trail time.
What's Next?
Since it is spring break, I was really hoping to do a couple day shake down trip. But, with this rough couple of weeks with 2019 snowmageddon going on in the Pacific Northwest, I can't really do what I was hoping to do. I know I could in the snow if I wanted-but not what I wanted to do.  Hopefully, I can at least get one weekend available before I leave to do a last minute shakedown. With the time available, I have done some day hikes in the snow.
I am signed up and excited to attend my second ALDHA-West ruck session, here in a couple of weeks. While there, I will be joining a couple group sessions about light weight gear, and resupply strategy. I will also have one of the members do a pack shake down- which I think I have dialed in. But, happy to get more feedback about how to get my base weight even lighter.
I have worked on getting my permits, now just the wait to get approved to enter Canada as I finish and not have to hike the 30 miles back from the border. My long distance and California fire permit printed out and minimized to save on paper weight. During my down time I had worked on little projects; my paper maps, made my duty bag and my med kit.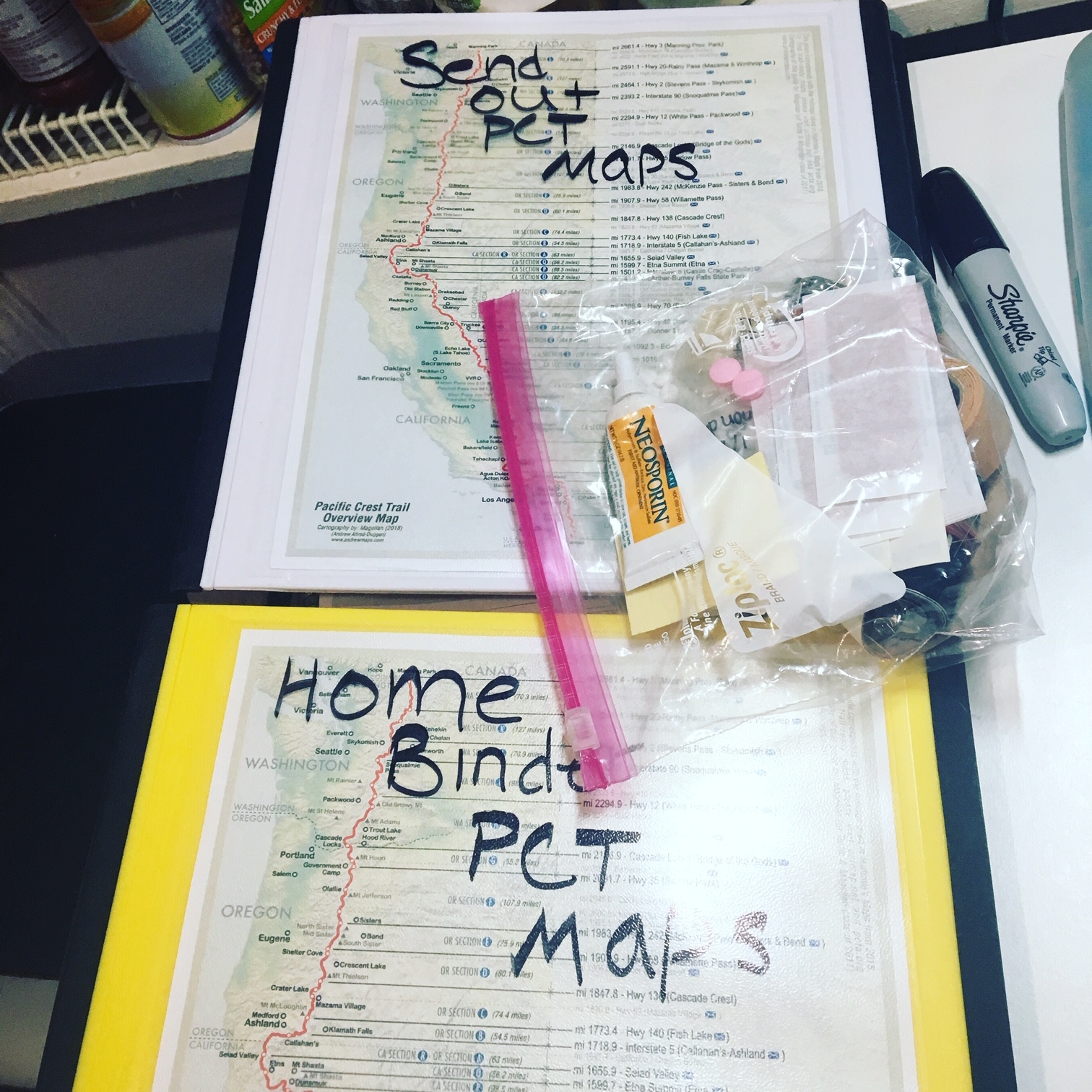 During the last weeks before I leave, I will finish getting all my gear and the kinks out. I am still struggling to find another pair of my leggings that I really like, which is a bummer. I am constantly searching for snack foods that I may like; such as, nut butters, bars, and other hiking high calorie snacks- Costco is the land mine for snacks!
Affiliate Disclosure
This website contains affiliate links, which means The Trek may receive a percentage of any product or service you purchase using the links in the articles or advertisements. The buyer pays the same price as they would otherwise, and your purchase helps to support The Trek's ongoing goal to serve you quality backpacking advice and information. Thanks for your support!
To learn more, please visit the About This Site page.
Comments
1
Sounds like you're doing everything you can to get yourself ready. We're excited for you to start and to follow your adventures on the trail! We're envious of you; we still have to wait for another year! Grrrrr…. 😐