Allow Me To Introduce Myself
Where To Begin…
As I stared at the screen watching the little blinking cursor taunt me with an empty page,  I wondered what would someone want to know about me? To answer that question I had to ask myself, what would I want to know about someone who was hiking the PCT?
A few things came to mind…
Why the PCT? Tell me your motivation!

What are you the most excited about?

What things make you the most nervous?

Where are you from? And how did that shape you and your decision?

How would you describe yourself as a person?

When do you start?!
So it is these questions I will be answering for you today!
Why the PCT?
While I can't say the PCT was ever something I would have thought I'd be doing when I was a kid, little me would have been ecstatic to hear we are going to be hiking the same trip I'd done when I was young with my family on road trips to visit my aunts and cousins! My family called it the Triangle Trip. We would start in UT and drive down to see my mom's sister in San Diego then up through California to Bend, Oregon to see her other sister and then back home, making a complete triangle.
It was always a dream to do this trip again as an adult but with an added stop in Seattle to see my grandma who had lived there for a long time. I had even planned out the trip in 2020 for my 30th birthday… But then the pandemic hit, and with everything shut down and it not safe to travel, the plans faded back into a dream…
It was around this time that I had made a friend online who was getting ready to do the AT. Austin was the first person who ever told me anything about thru hiking and I was super intrigued from the start! As someone whose dad got them out into nature early and often with camping, hikes and lots of random ass adventure to the middle of nowhere with a variety of different landscape photographers, I already had a deep appreciation for the outdoor adventures of the world. Even still, I thought Austin was nuts and I was so very excited to watch as he pushed through storms, closures and all kinds of obstacles to finally make it to the summit of Katahdin. It was inspiring!
Inspiration Turned Love Story…
A while after he got back we were talking and he mentioned how in 2023 he was planning another thru hike, this time on the PCT. After explaining that the PCT goes through the west coast states I obviously was excited to talk more about it. At a certain point I made the comment that "I wish I could do something like that" and his response was "why not?" He pointed out that I could even just do a section to get started and that I could meet up with him and his tramily wherever I wanted. I figured "f*** it, I can definitely plan out at least a few weeks to do a section," and I started making plans for what part I wanted to do.
Well…in all our conversations about the hike and along with our usual friendly flirty banter Austin and I started to realize we might like each other more than just friends… This led to him coming to visit me… Which led to me moving from Utah to Wisconsin to live with him… Which led to me then completely changing my section hike plans to doing the whole thru hike side by side with my partner and the revival/revamp of my dream I'd had as a kid to do the Triangle Trip!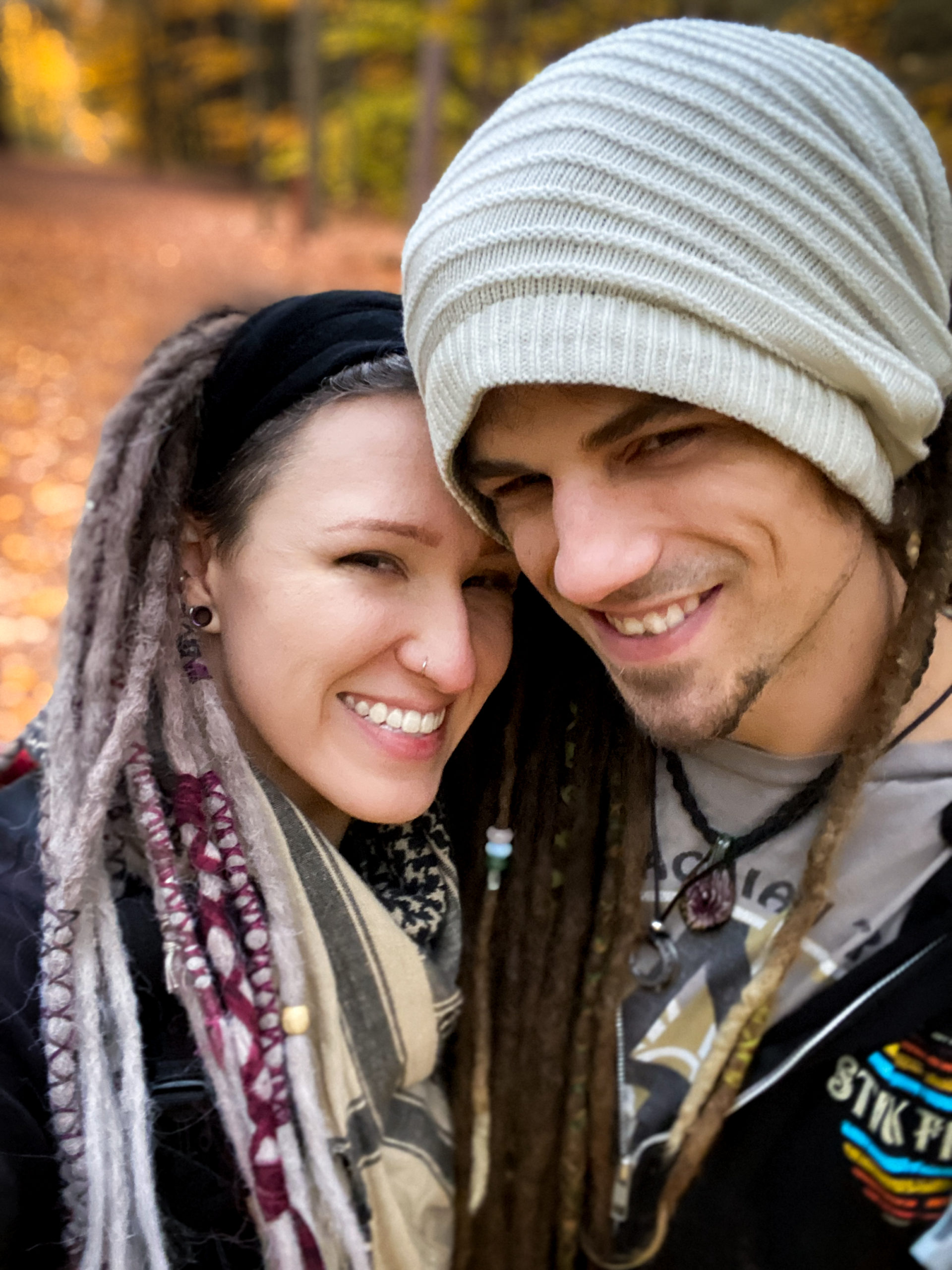 What Are You Most Excited For?
There are so many things I am excited about for this journey… I'm excited about the desert and the superbloom! The amazing people I'm going to meet and the friends I'll make! The beautiful landscape I'll get to see! All the type 2 fun! The hard and low points! The unbelievable and unforgettable moments! It goes on and on…
But really what I think I truthfully am the most excited about is how proud I'll be of myself for every step I take…I'm already proud for getting as far as I have with all the chaos of planning, Buying gear and making sure everything is taken care of when I go. It's been a logistical nightmare but it'll all be worth it when I get to start with that first step onto the trail. No one has ever expected big things of me…but I have always expected them from myself. I've always had big dreams and this one will be the first I've made come true!
What Things Make You The Most Nervous?
With any new adventure there will always be things that will cause some nerves… There are lots of reasonable things to be a little worried about (especially this year)…and maybe a few things that get us jumpy that maybe we don't need to stress about so much.
As I've spent countless hours online reading web posts, blogs, reddit stories, and reports I've had lots of information and time to formulate what I'd say makes me the most nervous. In all honesty I'd have to say water crossings. There are lots of dangers as you traverse the terrain but with all the snow, and with no experience, water crossings have me the most concerned. But I know with doing, comes confidence and that as long as I take it slow and play it smart everything should be fine. So while I am definitely quelling a bit of anxiety at the thought of swimming across a river with a heavy pack on for the first time, I am also excited to push past that and will definitely enjoy the feeling I'll get when I make it to the other side!
Where are you from? And how did that shape you and your decision?
I was born in Ogden, Utah surrounded by big mountains and beautiful empty deserts that I got to explore all the time. As a kid I didn't understand how lucky I was. I truly didn't appreciate it until I moved away for a couple years and then moved back. Now I've spent another couple years away and the drive into the valley from the canyon that takes me back to my home town whenever I come back will always give me butterflies. 
Growing up in such a beautiful place has given me the drive to see as many other beautiful places as I can! As much as I wish Utah had its own thru hike so I could do that one first, I know the deserts and mountains of the PCT will be an amazing place to go wander through and I am so excited to let the little kid in me go wild!
How would you describe yourself as a person?
I don't think anyone has an easy time with questions like this because we're always changing as we learn and evolve. How can we ever really define ourselves in a way that will allow someone to really know us? While no one will know us like we know ourselves, I believe it's still important to share what we can because it creates the opportunity for connection.
There are many ways I've described myself but my favorite has always been that I'm just "being unapologetically me!"
That "me" is someone who can tell you a thousand stories and facts about the most random things, someone who rolls with the punches of life and keeps moving forward, someone with a big heart that cries easily, a multi faceted person that has some polished sides and some rough ones.
And well, to sum me up, based off the labels of today's society…I'm a white, gender-fluid, pansexual, neurodivergent, plant-based, dreadheaded, kinky, hippy witch that likes doing photography, hiking, reading, writing, crafts, yoga and video games! Lol!
When do you start?!
I'm one of the "lucky ones" who gets to start right at the beginning of the season on March 10th! Should be a fun snowy start with hopefully lots of super bloom flowers in between!
Some have a lot of mixed feelings about starting this early, especially with the kind of year it seems to be gearing up to be, but I am honestly grateful and excited to be one of the first people who will get to be out there. 
The End And The Beginning 
So there you have it! I'm Accalia and that's my self PCT interview to introduce myself… I guess I did know what to write after all! I hope you all enjoy the many stories to come as I wander along the trail! 
Affiliate Disclosure
This website contains affiliate links, which means The Trek may receive a percentage of any product or service you purchase using the links in the articles or advertisements. The buyer pays the same price as they would otherwise, and your purchase helps to support The Trek's ongoing goal to serve you quality backpacking advice and information. Thanks for your support!
To learn more, please visit the About This Site page.