Back to Back Thru Hikes
Day 72 of Te Araroa. Day 254 of the PCT / TA back to back thru hike extravaganza. Woaw.

"How are you STILL hiking?"

Physically? It feels GOOD! I feel good, strong even. I've been extremely lucky injury wise, and found trail runners that worked for my feet right off the bat. The often throbbing pains I get in my hips whilst trying to fall asleep every night- well I'm just kind of used to it by now.

No, I'm not a triple crowner or a sponsored athlete (no shade to you guys, yes you're very cool and of course I'm a little jealous). I'm just a little red-headed gremlin from England who has kind of only just discovered thru hiking and its wonders. I love to frolic around, camp under the stars, push it hard and hike 14 hour days, but also chill it way out and not leave camp until 9am some days.

"Why are you STILL hiking?"

I genuinely just got a bit vortexed by trail life on the PCT and always had in mind that the southern hemisphere's summer AKA 'hiking season' conveniently starts as the northerns ends. I have everything I need to keep hiking, I thought. This might be the most 'trail fit' I'll ever be, and i'm actually still enjoying it! So why not?

Refresh your 'why'

I have been warned a few times that Te Araroa (New Zealand Aotearoa's long distance trail) was nothing like the PCT and I respect that advice. I threw myself onto the PCT because I wanted a huge life change and a big challenge. To be outside everyday and really connect with the people and the world around me. While some of those goals and 'why's' still stand tall for the TA, there are rightfully some new reasons for my ongoing hike.

I'm considering New Zealand as a place to maybe one day call home, so I figured walking the entire country would be a good way to scope it out? I wanted to really get to know the lands and the people. Whether my 'moving to New Zealand' proves to be only the time I take to walk the country, or a handful of months working post-trail, or even more long term, I am yet to figure out. But, as far as the south island goes, I'm pretty sold! 
"How are you affording this?"
Honestly a bit of a nosy question but I get asked ALL THE TIME and I usually answer pretty bluntly. I worked, and I saved. More context- I worked as a nurse during a global pandemic, so shifts weren't exactly few and far between, and literally what else was there to do during those long but necessary lockdowns?

When a likely innocent human asked if I was 'one of those rich kids chasing the hiking seasons' I laughed and thought it was one of the funniest things I'd heard all week. (I don't see how this would be a bad use of time/money if you are indeed a rich kid chasing hiking seasons?!) I was quickly reminiscing all of those dreary Manchester mornings where I'd cycle to work in the rain at 6:30am because it was cheaper than owning a car (and I am a terrible driver, and it's better for the environment, I can argue this case to no one for a long time).

Thru hiking is a cheaper way of travel!
This wasn't a last minute spontaneous adventure. I knew I wanted to travel/do something fun for at least a full year. So I worked hard to make sure I had the budget/visas/time to do so. I gave up an apartment and sold most of my belongings.

Camping on trail- for the most part- is free, as is hitch hiking* and I try not to go too crazy in towns, as we all know it's tempting to spend a lot on food treats and hotel rooms. The luxuries come to me in smaller ways now. A hot drink from my stove at lunch. The 'warranty offers' from most of my gear when it tries to fail on me (shout out to the Darn Tough sock exchange and the Thermarest repair station at trail days). 

*always offer gas money, or coffee, or lunch, or likely unwanted and rambly chitchat 🙂

"Are you hiking away from the post trail blues?"

A reasonable idea. But also a definite misconception for me, as the 'post trail sads' took a little walk with me everyday for a while! I missed my trail family dearly, wondered why I wasn't as close to anyone on this trail as I was on the one I just finished. Then I remembered it took literally miles and miles to make those friendships, so I needed more patience on this new trail adventure.

Views just weren't as grand in some parts of the New Zealand Northland (sorry) and I often found myself comparing the 2 trails. I'd just came from the likes of the North Cascades in Washington, and now I was wading through a knee deep bog, trying not to get electrocuted from the farmers fence or trampled by their cows. It's easy now to look back on those first weeks on Te Araroa as some type 2 fun. But this comparison game quickly stopped when I realised it was dumb to do so, and I couldn't! It was also a good chance to discover my preference for hiking through mountainous terrain. The kind, welcoming people of the Northland region definitely made up for any 'lack' of views.



"How does this logistically work?"

I had 2 whole weeks off! (can we still call these zero days?) in between trails and it was a road trip-fuelled haze of enjoying the treats and ease of the 'real' world once again. Winding down from a life changing adventure without really knowing why it was so life changing, and saying 'goodbye for now' to a trail family (weeps).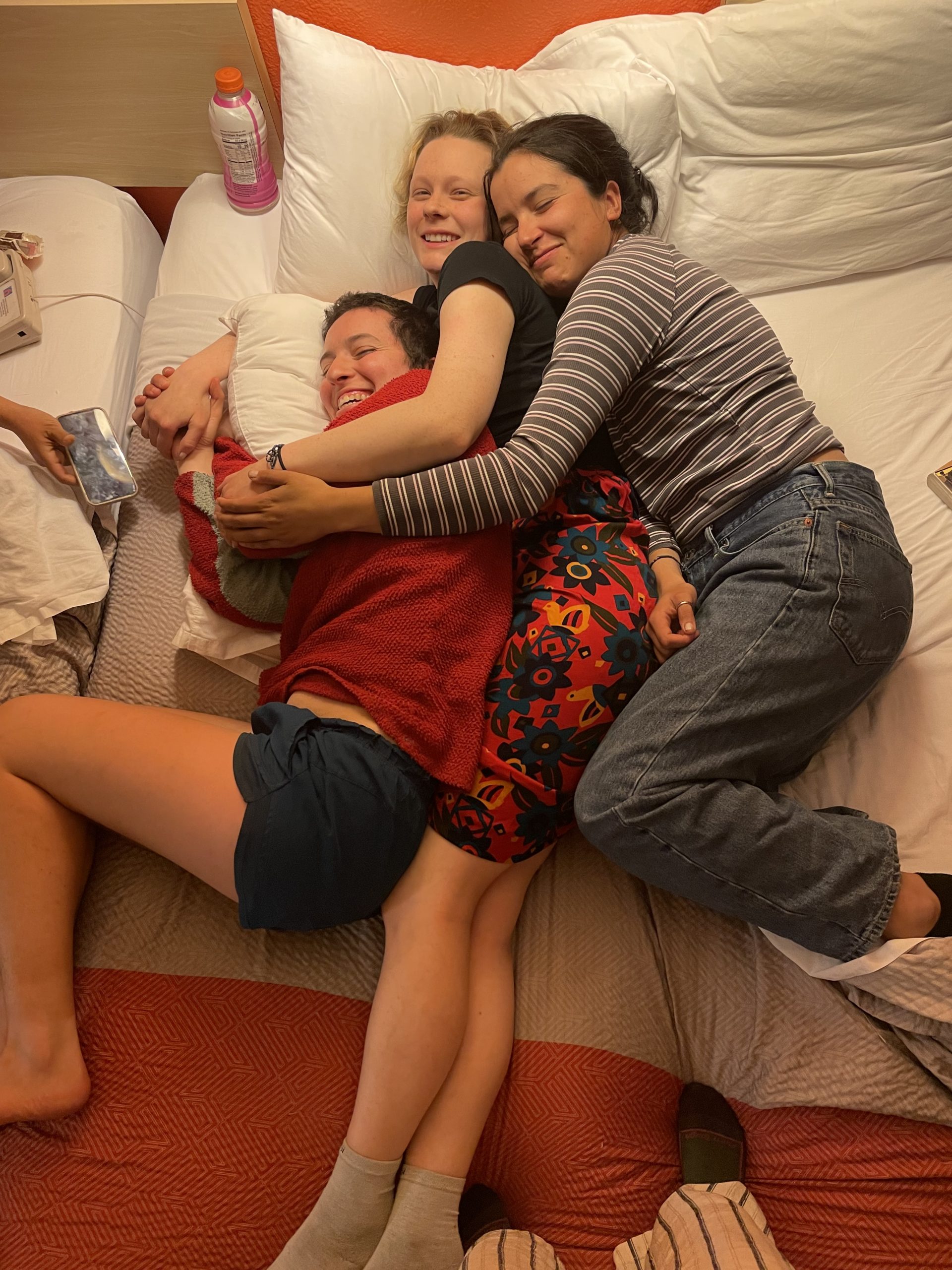 There was some convenient jet lag after travelling from LA to Auckland, as the time difference is so extreme that you essentially just skip a whole day and remain tired at night, awake in the morning.

I was ready to start the TA after just 24 hours in Auckland. Itchy, excited, and nervous!
A question from myself:

How many times can I walk off an old me? I wonder as I listen to Maggie Rogers again..and again… who will I be at the end of this almost one year long adventure? Why even give it an end at all? I've shed layers upon layers until i've been laid bare on the dirt path in front of me.
Sometimes literally. I've been left with my innermost thoughts. Just when I presume I have thought every thought possible, something new comes up- often an amusing and weird memory from the past, or an even more weird idea for the future. People keep asking what I'm going to do or how I am going to readjust to 'normal' or 'real' life after this. What do they even mean? My idea of 'real' life is vastly different now.

Happy trails, Clash
Affiliate Disclosure
This website contains affiliate links, which means The Trek may receive a percentage of any product or service you purchase using the links in the articles or advertisements. The buyer pays the same price as they would otherwise, and your purchase helps to support The Trek's ongoing goal to serve you quality backpacking advice and information. Thanks for your support!
To learn more, please visit the About This Site page.