Badger's PCT Tales: From a High Sierra Blizzard to an Outhouse Floor
If there's one universal truth of mountain forecasts, it's that they're not to be trusted.  This is especially true for any predictions made more than 72 hours in the future. For this reason, we weren't too concerned when Monday's forecast called for a drastic drop in temperatures and snow throughout the High Sierra on Thursday. This is a tale in wishful thinking gone awry.
Wednesday, September 20th, 2017
Fast forward to Wednesday night.  We had just hiked over Mather Pass, our second pass of the day after tackling Muir Pass earlier that morning.  We hit the pass right at sunset and stood frozen in our tracks as we marveled at the golden and pink sky illuminated to our southwest.
As the sun dipped behind the mountains, an unfortunate reality began to sink in—mother nature's mood was shifting for the worse. The afternoon was calm, sunny, and in the low 60s, conditions you'll gladly take in the High Sierra in late September.  As the sky faded to dark blues and grays, the air chilled quickly and considerably.  This substantial cooling was met by an angry wind.
Everyone we had crossed paths with earlier in the day—an unusual amount of people for this late in the season due to the flip-flop-apalooza happening on the PCT this year—had corroborated the forecast we chose to ignore: snow was coming.  This cold front eliminated any optimism we held onto for these rumors being false.
I pulled on my merino hoody, which proved futile in this punishing wind, and quickly added my rain jacket. This was my typical late-evening uniform in the High Sierra, as temperatures routinely dipped into the 40s after sundown. However, this was not our typical High Sierra night.
I tucked behind the first boulder large enough to shield against the unrelenting headwind to slide into my leggings and wind pants.  Still, I was cold.  I upped my pace to a light jog to keep warm.  Jabba was a hundred yards ahead doing the same. We maintained this pace until reaching the forest a couple miles further down the valley.
It wasn't until 9:30pm that we arrived to camp.  We set up our tents, shoveled ramen and candy bars down our throats, put on every single article of clothing in our packs, and passed out praying that the snow dieties show us mercy, as we were a grueling 30 miles from Onion Valley Trailhead, our nearest escape route.
Thursday, September 21st
"My tent fucking collapsed on my face!"
This was the sound of my alarm the next morning.
The previous afternoon, Jabba's trekking pole had snapped in half while rock hopping across a stream south of Muir Pass. Losing the function of your trekking pole is a bummer. Losing the function of your tent pole is a problem. Since he was using a trekking pole tent, he had a problem.
I unzipped my tent and poked my head out.  The ground was coated in an inch of snow, as was his tent, which was sagging comically as his makeshift pole repair attempt served no match for the added weight of the snow.
We had two options:
Because the forecast called for two full days of snow, we could hike 30 miles, through the snow, over three passes, in the hopes of somehow getting a ride into Independence to avoid a second day of potentially dangerous conditions.  Or,
Ignore reality, remain wrapped inside our quilts, and eat our emotions away.
After an hour of sulking in Option Two, we begrudgingly transitioned to Option One.
As I was packing away my tent, another hiker from the neighboring campsite walked over.  "Are you guys really going to hike out in this?" he asked.
"Unfortunately," I responded.
He took a look back at his camp, which was still fully set up, and then looked back at us.  "Would it be okay if I hiked with you guys?  I'm hiking the JMT, this is my first backpacking trip, and I'd rather not hike alone in these conditions."  He was clearly and understandably nervous.  I was nervous, and this was far from my first backpacking trip.
We obliged, of course.  He ran back and tore down his camp at a frantic pace, likely fearing us leaving him behind.
Jabba and I packed up, walked over to solo dude's camp, and waited as he packed away the last of his possessions.
"Hey man, I'm Jabba.  What's your name?"
"I'm Bobby," he responded.
Jabba fired back, "Bobby, don't you want to put on your rain jacket?" The snow started out as a light flurry but was now coming down at a heavier rate.  Jabba's outer layer was a cuben fiber rain jacket. I was wearing a parka over my rain jacket. Bobby's outermost layer was a North Face fleece.
"I don't have one."  Jabba and I looked at each other in disbelief.  Bobby was lucky that it wasn't 10 degrees warmer, as the snow would've turned to rain, and soaked his clothes as opposed to bouncing off it.
"Here, take a drink of this." Jabba passed him a SmartWater bottle full of bourbon.  "We're going to crush this trail right now. Brisk pace, no breaks.  Are you ready?"
"I'm ready," is what came out of his mouth; his body language said otherwise.
We started the ascent up Pinchot Pass.  As we cleared tree line, the clouds grew more dense, the snow grew heavier, and the wind more driving. We estimated the temperatures (with windchill) to be in the low 20s or colder.
The snow-covered trail was nearly impossible for me to track.  Fortunately, Jabba had much less trouble, so I insisted that he lead.  We took turns checking in on Bobby, who was 50 yards behind, although still keeping pace.
As we got to the top of the ridge, there was no more up in sight.  We had gotten to the top of the pass faster than what seemed reasonable.  Quickly the dense clouds opened up enough to reveal more mountain—a false summit created by the billowing clouds. We weren't at the top, nor were we close. Onward we marched.
By the time we had reached the steep switchbacks, typically the mark of nearing the top of the pass, it was true blizzard conditions.  The trail was covered in four inches of snow, heavier in spots due to drifts, forceful wind gusts, and no visibility past 20 feet.  We were trudging along at maybe one mile per hour, and still gasping for air despite being in prime thru-hiker shape.
If I had lost track of Jabba, for whatever reason, I doubted my ability to find the trail without the aid of my phone, which was tucked away. This was the first time of the entire trip that I was grateful for the mental safety net of my SPOT device.
We hit the top of the pass and waited a minute for Bobby's black fleece to emerge from the whiteout conditions below.  It did.  We began our descent.
After a frigid 45 minutes of sliding down the switchbacks, the most beautiful sight appeared overhead.  Blue sky!  First one small patch, then another, and another.  The sun came out.  Involuntarily, we cheered. Instantly the stress of the situation transitioned to an appreciation for the pristine, beautiful snow-covered landscape.
(Warning: the following video contains some non-PG language)
The clouds would follow this condense-snow-clear pattern for the remainder of the day, although the worst of the weather was behind us.
We took a short break at the ranger station during the ascent to Glen Pass to wait for Bobby, eat, hydrate, and self-medicate with bourbon and brandy. Eventually Bobby showed up. This was the first opportunity we had to engage in real conversation, and he filled us in on more of his story. He was a medical student and a reserve in the air force, and was looking for a relaxing wilderness trip before his last year at Virginia Tech.  Little did he know…
As we started to pack away our bear canisters, Bobby informed us that he was going to camp just on the other side of Glen Pass and that we didn't have to keep tabs on him anymore.  He expressed a sincere gratitude, confessing that he was planning on hiding in his tent for the rest of the day had we not camped next to him and set out for the trail.  We bid farewell and continued to hike with a very purposeful gait.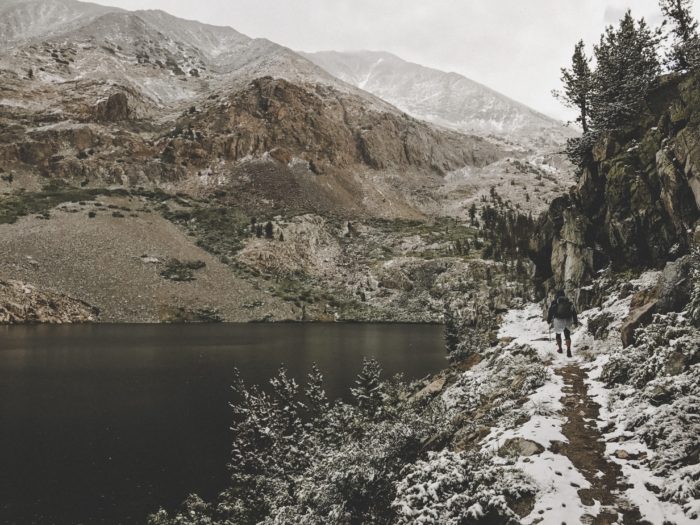 We lucked out as the rest of the climb up Glen Pass was under only partially cloudy skies. As we crossed the 11,000 foot threshold, the narrow trail began to sport patches of ice, an obstacle which felt insignificant compared to our experience on Pinchot Pass.  Before long, we cleared Glen, our second pass of the day. At this point, we had climbed nearly 6,000 feet over 23 miles through sub-freezing temperatures, snow, and with minimal breaks.  Needless to say, the day was starting to feel long.
We would hit Kearsarge Pass, our last climb of the day, at dusk. Despite a very icy trail with steep drop offs, we descended at a reckless pace in hopes of good fortune getting us a ride from Onion Valley trailhead into town. We got cell service for the first time in days a couple miles past the pass.  We spent the better part of the day brainstorming half-baked ideas of how we could get into town.  Since we wouldn't get to the trailhead until well after sundown, the odds of getting a hitch were realistically non-existent.  We both made a series of calls, desperate for salvation from what was shaping up to be another brutally cold night.  We struck out.  Since the trailhead was our lowest elevation camping option, and in theory the warmest, we continued on.
We got to Onion Valley Trailhead at about 830pm, our fuel tanks running on empty.  The temperature was in the low 20s, with a ferocious wind whipping through the valley. There was no chance Jabba's broken trekking pole would've stood a chance supporting his tent in these conditions.  And even if it had, we would've froze our ass off, as this was easily our coldest night to date.
"There's an outhouse by the parking lot."  He continued, "I'm sleeping in it."
We walked over to the outhouse, with two doors leading to two separate bathrooms.  He opened door one, "this will do." He walked in, the heavy metal door slammed behind him.
I opened the other door and took a deep whiff.  It smelled about as good as an outhouse can smell, which is to say, good for an outhouse, and a nightmare for a bedroom. The light from my headlamp revealed a couple dozen spiders and their webs in all corners of this cold, dark concrete room.
I opened the door again, took a step out for some fresh air, and weighed my options as the bone-chilling wind blew my hood back.
With an audible sigh, I turned back around, opened the door, walked in, and in disbelief, began to inflate my sleeping pad on the floor. Next to a fucking public toilet.  I proceeded to cook Fettuccini Alfredo. Next to a public toilet.  Baby wipe my disgusting, shriveled feet. Next to a public toilet.  Chugged the rest of my blackberry brandy. Next to a public toilet.  And laid my head down on the ground and quickly passed out. Next to a public toilet.
Friday, September 22nd
BANG, BANG, BANG.
"Badger, it's 5:30AM.  We gotta get out of here!"
Anxious to be out of the outhouse before any day hikers got to the trailhead, we packed our belongings, and sat like Xanax'd zombies in the parking lot, waiting for a hitch.  Within a couple hours, we would get one.
We started at Lone Pine to get a proper breakfast.  We ordered two entrees each, multiple rounds of mimosas, and then in a champagne fueled haze, finished the remainder of our errands.  We hitched to Independence and spent the rest of the day laying in bed at the Mt. Williamson Motel and Base Camp (a great stop for hikers, for the record), trying to process the previous 36 hours.
The hurt of the day before had left enough of an impact, that instead of getting back on trail Saturday morning, which was always our intent, we pulled an audible just before getting a ride back to Onion Valley.  Instead, we hitched north to the hostel in Bishop, CA, and treated ourselves to another zero, and perhaps our craziest night during this trek.  Another story for another day.
Affiliate Disclosure
This website contains affiliate links, which means The Trek may receive a percentage of any product or service you purchase using the links in the articles or advertisements. The buyer pays the same price as they would otherwise, and your purchase helps to support The Trek's ongoing goal to serve you quality backpacking advice and information. Thanks for your support!
To learn more, please visit the About This Site page.