Day 10 Through 12….Completion…Continuation…Sickness
Completing the Foothills Trail
On March 19th, I completed the Foothills Trail.  Deviating from the trail to complete two Palmetto Trail Passages had me short eight miles. It was a Saturday morning and there were a lot of people out hiking.  Almost could not find a spot to park.  Out of all the people I ran into, the most memorable would be a couple I met where the wife was from South Dakota.  On top of that, they were also 2019 "The Trek Trail Correspondents" for the AT. We have found each other on Instagram.
I started from Table Rock State Park and hiked back up to Sassafras Mountain to close the loop that I created. The first four miles was a pretty intense 2000ft climb up to Pinnacle Mountain, which is only 100feet shorter than Sassafras Mountain. Just below the summit is Bald Knob, which ended up being a very popular viewpoint and a great stop for snacks.
The final five miles to Sassafras Mountain was an enjoyable trail. Much easier than at the start of the day, and I was excited about getting one of my six trails completed for the year. Sassafras Mountain was a bit windy, but with blue sunny skies and a lot of people out enjoying the views. I took the Foothills Trail Spur from here to link up with the next Passage of the Palmetto Trail.  The western edge of this spur is ridiculously tough with a trail that literally goes straight up and down the tops of ridges. Went up and down three different mountains. It was not that easy. I found a campsite and dug in for a cold night.
Connecting with the Middle Saluda Passage
The following morning was cold. It was March 20th now. Quite positive the temp was close to freezing at night.  I also started a runny nose, which would become quite annoying as the day progressed. The eastern edge of the spur trail gets much easier with more of a flat ridge walking.  Due to the trail being high there is not a lot of water, but when the trail starts a descent you know that there will be some at the bottom.  At this point, it opened up to a forest road. I start to run into multiple groups of people. It is not far when I pass a parking lot.  A nice break at this parking lot before entering Ceasers Head State Park, which starts the Middle Saluda Passage.
This passage includes Ceasers Head State Park and Jones Gap State Park.   The trail is very nice in both places. I definitely enjoyed the latter of the two. Ceasers Head was nice and high with good views to the south of me. I ran into someone who saw me the day before at Sassafras Mountain.  We talked for a bit about the trail and my hike. The weather finally warmed up enough to take off my raincoat during the afternoon.
Jones Gap State Park starts when I cross Greer Highway. After a big climb from the parking lot the trail slowly climbs down into a canyon. Eventually following the Middle Saluda River. This part of the trail was very easy and soothing.  There was alot of water crossings consisting of rock hopping, I never got wet. This might be why I enjoyed this part of the trail. At the end of the Park you arrive at the Ranger Station.  I made a reservation thru the SC Park website, which was very easy to navigate, for a campsite for the evening. I felt like it was quite a push to get here and felt very fatigued.  My nose was a problem all day which contributed to a cough. This Passage continues past the station and up Hospital Rock, but do to ice on the trail high up on the cliffs, this portion of the Passage is currently closed.
Connecting with the Saluda Mountain Passage
The following morning I have a nine-mile road walk in order to connect to the Saluda Mountain Passage. This will be all morning along two-way backcountry paved roads.  For the most part, it is a gradual uphill the entire time, and at one point a dog follows me for about two miles on his own explorational hike.  I have had dogs follow me on the AT and CDT for miles and I am always unsure of how to handle it. Eventually, the dog comes up to a yard with two people outside, and when they find out he does not belong to me, they take him into their yard and plan on going back down the road.
I soon make it to US Highway 25, which is a  four-lane paved road with a divider in the middle.  This is a much steeper grade uphill. I walk this for 1.5 miles to a bridge where I scramble up to the road above. About 1.5 miles and I am at the TH for the Saluda Mountain Passage.  I stop here for a late lunch while exhausted.  I have no appetite and wonder if that is why I feel fatigued,  I try to force food, but it just tastes like blah. This is when I decide to make it to Saluda, NC for a rest.
The Saluda Mountain Passage is a nice trail when in the woods.  On two occasions you hit roads. The first is a forest road where I ran into a pile of abandoned TVs. The second one is a paved road that finishes the last 2.5 miles of the passage. The trail portion is up high and saw no water sources as you follow a ridgeline.  This also follows private property to the north with a lot of cabins set within 50 meters of the trail. By the time I made it to the paved road, I was beat.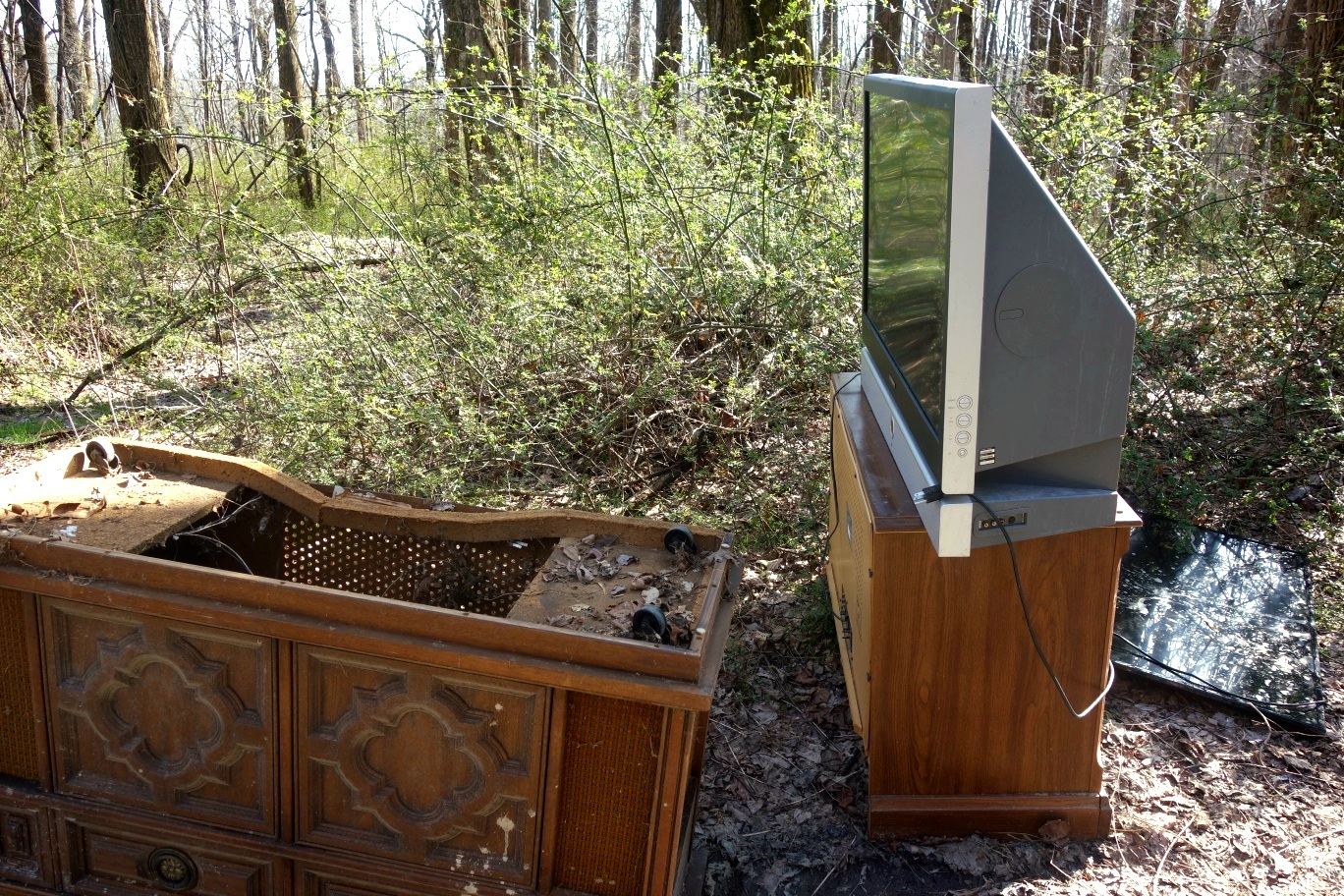 Followed the road, which was also the Passage for a mile. The road is very hilly with steep ups and downs.  I veer off the trail and continued North towards Saluda, NC.  This is when I started putting out my thumb for a hitch, but no takers.  I even pulled out a Twenty, which made some cars slow down, but no one stopped.  It's another three miles to town. After another steep hill, I come up to a guy who is working on his lawn and offer $20 for a ride into town. He tells me to wait and goes inside when a young girl comes out and talks to me.  I explain what I doing and when she relays it the man agrees to take me, but with no payment. Another even younger girl comes out and gives me a bottle of water, which I am most grateful for.  We all pile into his vehicle and I am taken to my lodging for the night.  I offer money again but he wants none of it. I thank him as they leave.
Down with the Sickness
The first night is a hot shower, pizza to-go at a local restaurant, and then bed.  My nose is going crazy and my cough is consistent now. But I'm exhausted and go to bed. The next morning I find a Dollar General nearby and go get some food/snacks and cold medicine for my nose, then hang out in my room for the rest of the day. The medicine works and I am feeling better until that night. Now the cough is worse and the stores are closed. The following morning, I go back and get some cough medicine.  It is currently the only symptom I have, but just talking to Birdy on the phone makes me cough. This is my last night in Saluda, so I look for a ride to one of three larger cities—Hendersonville,  Spartenburg, or Greenville–in order to put up in a room and find an urgent care. I am lucky to have friends all over because I get a ride the following morning.
Turns out I have bronchitis.  I also have amazing hosts that have agreed to put me up in a room where I can rest, take some medication, and recuperate. It has been almost a week, and I am getting better every day. I can breathe and talk now, for the most part, without coughing. I do cough on occasion and spew up some crud, but it is so much better than it was. In the next few days, I plan on going out to a local trail/park for a short hike to see how my lungs take some exercise. I am anxious to get back out on trail, but I also do not want to get out too early and get sick again.
Affiliate Disclosure
This website contains affiliate links, which means The Trek may receive a percentage of any product or service you purchase using the links in the articles or advertisements. The buyer pays the same price as they would otherwise, and your purchase helps to support The Trek's ongoing goal to serve you quality backpacking advice and information. Thanks for your support!
To learn more, please visit the About This Site page.