From Idyllwild to Kennedy Meadows South: Desert Dreams Are Over
So, this was it – the California desert section has come to an end on June 9 in Kennedy Meadows South, and even one and a half months after I started walking back down south at the Mexican border, I sometimes need to remind myself that I am not dreaming, but actually hiking the Pacific Crest Trail … like, FOR REAL!
But first, the numbers!
As my last sign of life was from Idyllwild, we are making a biiig jump with regard to the completed mileage, going up from 169 miles (Idyllwild) to 703 miles (Kennedy Meadows South). My highlight mile markers of this last stretch? Certainly the 1,000 km marker (which I obviously missed, because I am completely zoomed in when hiking uphill) and the 25% completion marker (that is one quarter of the whole trail done – ALREADY?). My longest mileage in a day so far has been the hike into Tehachapi, the last town stop before Kennedy Meadows, with 31.5 miles (approx. 50,4 km). I am on my third pair of shoes now (including the pair I had to ditch after one week already) and can say that my feet have gotten used to the Altra Olympus, keeping my blister game very low so far. My favorite statistic of this stretch: three times cowboy camping without being rained or snowed upon. If you wonder what I am talking about, I recommend reading this article (click) in the Desert Sun. Anyways, I LOVE cowboy camping now, particularly because my lazy butt doesn't have to pitch tent and can start with dinner faster (not to forget sleeping under the beautiful night sky and spotting one of the many shooting stars on a clear desert night).
Hiking game getting serious – snow, heat and water between Idyllwild and Big Bear
The multiple day stretch out of Idyllwild (Mile 179) into Big Bear (Mile 266) was characterized by more advanced trail conditions compared to the first couple of weeks. After my tramily (the words "trail" and "family" combined) and I got caught by that snowstorm while cowboy camping at Apache Spring the night before going into Idyllwild, the Jacinto mountain range was still covered in good amounts of snow as we hiked back out, and averaging a pace of one mph made the crossing of Fuller Ridge on microspikes an almost full-day attempt, only to be followed by one of the hottest days on trail so far: descending 16 miles into the valley and down to the Interstate 10, fully exposed by the sun, little shade, no wind. Yet the next day held another "first": crossing White Water River – the first real water crossing that had to be done to continue the hike north. We arrived early morning, water levels were knee to thigh high (depending on individual height obviously) and flow was at good, but manageable speed – everyone got safely to the other side. Mission Creek – another river on that stretch – kept us busy the following day, and to be honest, I gave up counting after possibly a bazillion crossings later.
A fateful encounter at the hot springs or: The early days of the "Pain Train" from Big Bear to Wrightwood
The four days (and a nero into town) from Big Bear (Mile 266) to Wrightwood (Mile 369) were easily some of the best on trail so far. Already in the week prior my legs started to get restless, and I felt that I was ready to regularly push beyond 20 miles per day. That sentiment ultimately made me leave the group I had been hiking with for the first three weeks on trail – a tough decision for sure as we shared so many "firsts," a lot of highs and a few lows with each other. I have built core memories and unique experiences with Hummingbird, Poppins, and Pisa (their trail names, in case someone's wondering), but I wanted to give myself a try at least. Turns out: My intuition was on the right path, and one and a half days out of Big Bear, I came across Blueb and Slingshot (back then still called Joyce – her actual name) during lunch break at some hot springs where I originally had planned to camp after 22 miles that day. Once Blueb mentioned that we could do just six miles more in order to hitch to a place called "Joshua Inn" and get beers and sandwiches to end the day, a new tramily formed that would stick together for the next three weeks. Not only did I do my first 28-mile day with them to get that beer and sandwich, but repeated the exact same thing the following day just to get to McDonalds in the evening, followed by a shorter, but way hotter day on which we decided to tackle a decent ascent in the middle of the day, fully exposed to the sun. By the time we arrived in Wrightwood for our first joint zero day, we had talked each other into several questionable decisions already (mostly motivated by food and/or drinks) and finally received the group name "Pain Train" from Maestro, a fellow hiker.
A little bit of everything: Snowy peaks, road walks and new mileage records between Wrightwood and Tehachapi
During our zero day in Wrightwood, further calls were to be made: How long should the next stretch be? Are we summitting Mount Baden-Powell or do we take the alternative route via an abandoned highway that – based on stories from other hikers – was supposed to give full on apocalyptic vibes ("The Last of Us" like, eh!). We decided for the mountain as well as to hike from mile marker 369 until Tehachapi (mile marker 566) without a further zero day, but a nero including food resupply halfway through. Our group of three had grown to five as we hiked out with Cola and Twister from Wrightwood. After making it to the summit of Baden-Powell (that was well snowcapped but by far not as much as a couple of weeks prior … but hey, the ice axe looks great on the summit pictures!), we hiked parts of the closed Angeles Crest Highway to bypass a restricted trail section to protect an endangered frog species. Though no zero was planned for this particular stretch, the passing of several small towns made the days feel less remote from the "real world," we had a lot of town food, slept in the backyard of a saloon in Acton, went through Agua Dulce (and said goodbye to Twister), resupplied in Green Valley, and had a lunch siesta at WeeVill Market close to Hikertown. Hiking a late afternoon until 10:00 p.m. on and along the L.A. Aqueduct, a water pipeline in the middle of the desert, to finally cowboy camp in the middle of a wind farm was indeed a unique experience. The stretch into Tehachapi ended with 31.6 miles (50,5 km … like what?!) and my longest day on trail so far. The following double zero in Tehachapi (a.k.a. two days of doing absolutely nothing but eating, sleeping, snacking, laying around, going for dinner, drinking wine, more town food) was therefore more than well-deserved for all of us.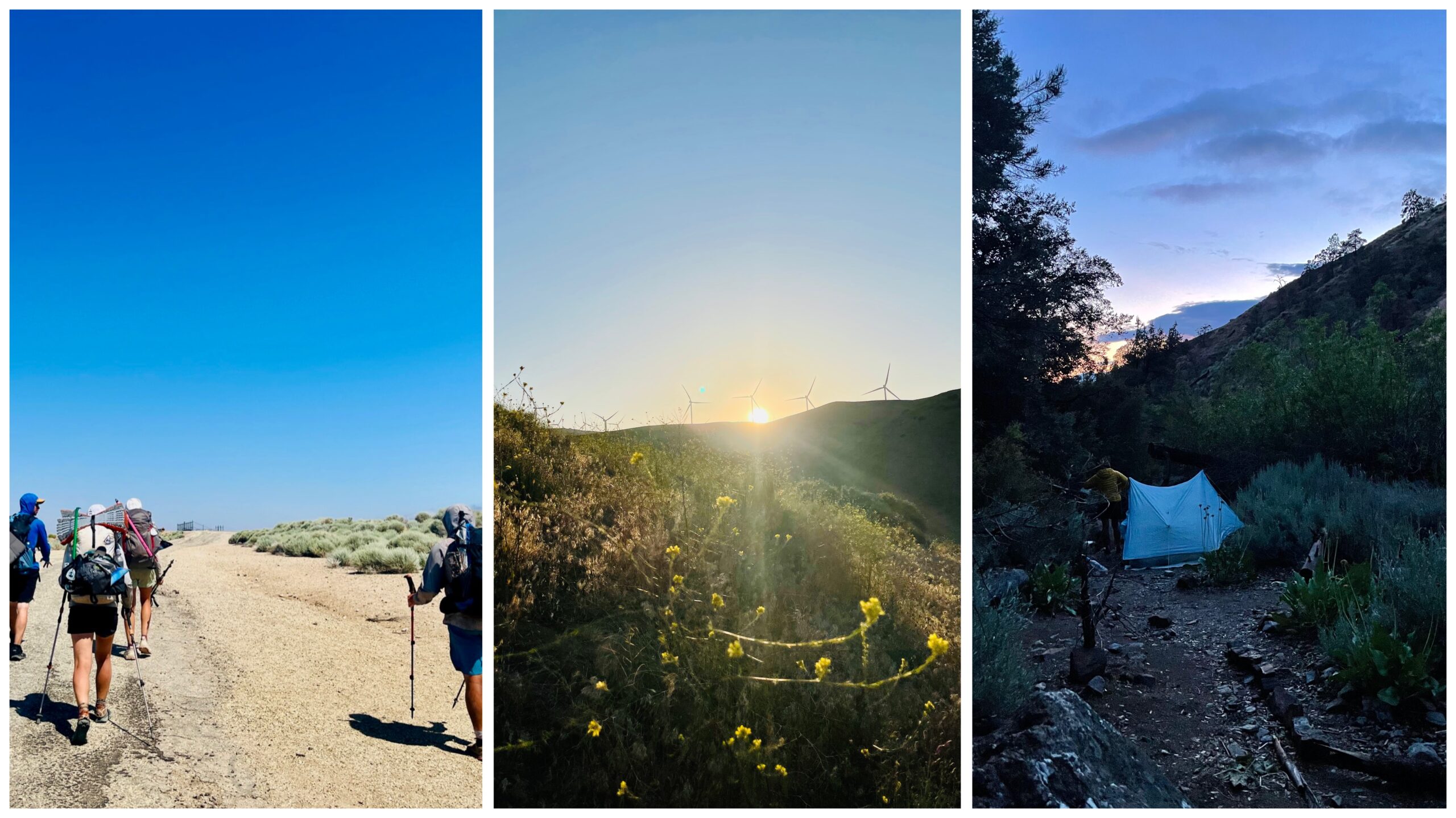 Welcome to the REAL desert: The final stretch into Kennedy Meadows South
You know what sucks? Hiking with three liters of water and a full six-day resupply … uphill … in the heat … with a damn strong cough. The day we left Tehachapi was certainly a harder one for me as I had caught a cold the week before that was not fully cured yet and that I kept dragging along with me (and would continue to do so for another two weeks: physical activity is apparently not the best recovery method – who would have guessed?!). The coughing got a little better over the next days, the heat though remained, and we finally got to know the real desert: several 20+ miles water carries (up to five liters in my case) in hot temperatures on an exposed trail. Despite that 2023 is a "wet year" for the desert and we barely had any issues to find streams and water flow on trail so far, hiking those stretches were only possible thanks to trail angels who are maintaining water caches for thru-hikers to refill their bottles at. There would have been no other natural water sources close to trail, which in turn would have required for even more water over longer distances. These caches are securing a safe hike through those hot trail sections – big shoutout to the trail angels providing the water!
The closer we came to Kennedy Meadows, the more the landscape started to change, and one could tell that we are approaching the Sierra Nevada: Pine trees, rocky ascents, a long-winded trail along the hills. Luckily, because – and I have to be honest about it – I had gotten tired of the desert by that time, despite the beauty of this year's superbloom and the excitement of the first weeks on trail. It was time to move on to the next chapter and that sense got stronger as the end came closer. And then, exactly six weeks after my start at the southern terminus, I reached Kennedy Meadows South – the end of the desert and the gate to the Sierra Nevada.

Town food, hiker legs, desert wildlife: I am a fan
!
Life on trail has a fast impact on your gratefulness for the small (and big) things in life. Never have I ever been happier about a cold soda that is left in a little cooler somewhere in the middle of nowhere by a kind person that I'll probably never meet, but who just likes to motivate and provide hikers with a little treat. Getting into town after a week of hiking to wash your gross clothes AND your gross self (I swear I have never seen dirtier water in a washing machine after four hikers have thrown their outfits in there) as well as the appreciation for food – on and off trail. Instant loaded mashed potatoes over a beautiful sunset feel like heaven on earth after having crushed 25 miles before and out of a sudden having dinner and breakfast at McDonalds are all you have ever been craving for (though I gotta say my biggest crave in town is and remains a good strawberry milkshake!). Having the outdoors as a temporary home kind of feels normal by now, though the excitement about wildlife (particularly snakes and desert mice) remains. And lastly, the level of appreciation for my body. Honestly speaking, I have not always been very kind and caring with it, but I am in awe of what it is actually able to cope with (walking 30 miles a day, carrying six days of food, thriving despite heat, sometimes water shortage, and malnutrition). Seeing how my body has already changed in just a couple of weeks makes me wonder and curious about the end game by around September, but certainly I am proud of what it already has accomplished.
Are there things that are not so great and that I am still having a hard time getting used to? Like swallowing my toothpaste twice a day (because: leave no trace), not showering for sometimes a week, or the constant dampness of my smelly socks? Sure – but luckily all those are easily forgotten once you have conquered the next ascent, caught another view or munch a much-deserved Snickers as a bedtime treat.
From NoBo to SnowBo: Off to Washington
The end of the desert also marked the end of my northbound hike to Canada. The Sierra Nevada is still buried under tons of (fast melting) snow, rivers are rising, and I was not very keen to hike several weeks through the white. So, I got my permit changed, which allows me to flip up all the way to the Canadian border and the northern terminus. From there I will continue my hike going southbound, hopefully finishing in Kennedy Meadows by September. Fun fact: Originally northbound hikers that decide to go southbound and escape the snow are so called SnowBos (instead of SoBo … got it?). Hence, Washington is up next and so the journey continues!
Affiliate Disclosure
This website contains affiliate links, which means The Trek may receive a percentage of any product or service you purchase using the links in the articles or advertisements. The buyer pays the same price as they would otherwise, and your purchase helps to support The Trek's ongoing goal to serve you quality backpacking advice and information. Thanks for your support!
To learn more, please visit the About This Site page.