PCT 2018 Gear Review
Just over a year ago, I began preparing for my thru-hike of the Pacific Crest Trail. Giddy with the thought of a new and exciting adventure, all I wanted to do was plan. Yet life continually took over. I found myself scurrying around in the final days of my departure, kicking myself for procrastinating. Once I hit the trail, I began to realize that my lack of planning was perfect!
Early on, I began to realize that it would be nearly impossible to have a base weight under 20 pounds with my old gear. The research began and I created a list of lightweight and expensive dream gear. As the summer progressed, I bought a new cook system and continued to drool over lofty, yet compact sleeping bags. The months went on and the ounces from my original base weight were dropping with each purchase. Although my bank account was hurting even before I started the trail, I knew my arsenal of gear would get me to Canada.
The key to my gear puzzle was my pack. I was torn between a burly 65L Osprey pack and a sleek 40L Hyperlite pack, with no options in between. Never in my life have I been successful in packing a 40L pack for a multiday backpacking trip, but I was determined. About a month before heading out, I was in my sister's garage ready to tear my hair out as I kept packing and repacking my pack in an attempt to make everything fit. Frustrated, I called it good enough and set out on an overnight training trip.
While I was able to fit everything into my tiny pack, the real challenge was fitting a bear can inside. The test came a week before hitting the trail with one of my coworkers in Yosemite. My pre-trail jitters were hitting an all time high and we agreed to go on a quick overnight jaunt up North Dome. Despite having my back rubbed raw with the bear can and UL pack combo, I ignored the pain and felt ready to take on the PCT with a lighter system.
Now, a lot of consideration went into the items I carried. With the dynamic environment of the PCT, not all of the gear I started with made it through the entire journey. In fact, about half of the items on my original list made it from start to finish, including:
Weighing a fraction of the weight of my traditional Osprey pack, I was easily able to cut down on my base weight with just one item. This pack was gifted to me three years ago, and little did any of us know at the time it would travel from Mexico to Canada on my back. Thank you, Andrea and Joe! The simplicity of this pack makes packing up in camp easy and the durability is incredible—just a few scratches through the first layer of material. The downside is that it doesn't breath well—bacne is real and gross! I would consider switching out to a pack with more cushioning when I have to carry a bear can. There were massive welts on my back for the entirety of the Sierra.
Sleeping bag and liner—Patagonia 850 fill (19 degree, short length) and Cocoon microfiber liner
Hands down, this bag was my favorite piece of gear on trail. As someone who generally sleeps cold every night, I can count the number of chilly nights on trail on one hand. This is an impressive accomplishment for me. My one complaint is that this bag was so comfy that I wouldn't want to leave it in the morning. I also just took the time to wash it and it looks brand new once again.
Puffy—Patagonia MicroPuff hoodie
Another great purchase. I was planning to bring a Nano Puff without a hood or a Down Sweater (both from Patagonia). On my last day at work before heading west, I impulsively bought this jacket and I am so happy I did. Having the warmth of down, but the easy maintenance of synthetic, was very convenient. The best part of synthetic was washing this jacket regularly in town.
Sleeping pad—Therm-a-Rest Z-Lite
Perfect for siestas and easy set up in camp. My next thru-hike will probably involve an inflatable sleeping pad, as long as I find one that I don't roll off of.
Ground sheet—Tyvec
It started out white and now is speckled with trail spice. Lightweight and durable, and still has life left in it.
Hydration bladder—Platypus Hoser 2.0 L with a hose
This thing is bulletproof and kept me well hydrated since day one. After minimal maintenance and chewing through the plastic at the valve, this thing was gnarly by the end.
Spoon—To Go Ware bamboo
Need I say more. Great spoon, didn't get gross, and I never lost it.
Trowel—Tent Lab Deuce #2
Light and fast, and still striving for a five-star dump.
Gaiters—Dirty Girl (standard)
Gaiters are a game changer. I'm the type of person who is annoyed by the tiniest of pebbles in my shoe and these kept most things out. And let's be real, carpe doughnut!
Trekking Poles—Black Diamond Trail Back
Before the trail, these trekking poles were not anatomically correct, but by the end they were. Somehow I kept each trekking pole in the same hand and by the end, my hand print was indented in the grip. I've had these trekking poles for three years already, and they're not going anywhere. Although new tips are necessary, especially after the lava fields in Central Oregon.
Hiking Clothes—Under Armuor T-shirt, Lululemon running shorts, and a Nike sports bra
My family continually joked with me since mile 1,100 that I looked homeless. This once-neon pink T-shirt was faded to a pale pink and the sleeves were shredding. After having the shorts for six years, the edges were fraying, and by the halfway point they had evolved to split shorts, on one side only. Despite the wear and tear of wearing the same thing every day for 133 days, my outfit survived. I wouldn't have it any other way.

Other items came and went as the temperature changed:
Six Moon Designs Skyscrape Trekker Solo
I didn't carry a tent the entire time. About halfway through the desert, I sent a majority of the contents of my pack up to Kennedy Meadows. I had to live up to my trail name of Cowgirl and chose to sleep under the stars as much as possible. When I did sleep in the Trekker I had an abundant amount of space for my 5-foot, 4-inch frame and all of my gear. Floor to ceiling mesh was a bonus on clear nights when the mosquitoes were out. The vestibules were, however, lacking in size, making it tricky to cook in the rain. I did resort to cooking in my tent sometimes and accidentally singed a hole in the mesh. Oops!
Boiling water in minutes—perfect for multiple hot drinks in the morning and quick dinners at night. Besides the main fuel line clogging slightly by the end, this tiny stove performed from start to finish. I did go stoveless for a hot minute and considered it again in NorCal and Oregon. By Washington, though, I was having hot meals three times a day with several hot drinks during the day.
Snow Peak 900 Titanium Cook Set
This was a panic purchase two days before I started. I had the same exact pot, just a bit larger. On my last REI trip, I was walking around the cookware and bought the smaller pot, half expecting to return it later that day. But I put it in my backpack and I'm very glad I did. This pot fits two packs of Ramen perfectly and the frying pan lid is great for a dessert pan. It was even used for self-defense in the middle of the night when my tent was under attack from a mouse.
Patagonia Capilene Midweight Crew and Bottoms
Perfect sleep clothes. Although, as someone who runs cold, I was considering upgrading to thermal weight in northern Washington.
Best decision ever to pick this up in Stevens Pass, WA. When the rain kept coming, having an extra synthetic layer was great for hiking and sleeping.
Patagonia Stretch Rainshadow Jacket
After sevens days of straight rain, this jacket soaked through on day seven. Light and breathable, but stunk after four months.
Patagonia Alpine Houdini Pants
Waterproof and semi-breathable. What more do you need in rain pants? By the end, however, these pants were falling down on me with my pack on, so I had to knot the drawstring, making it tricky to pee with my pack on.
This filter lasted just over four months. I was lazy about back flushing, so I became accustomed to a slow squeeze. By the end, I was so lazy about filtering that I ditched it in Stehekin. Call it a luxury item.
I hiked the desert with a Black Diamond Spot, but quickly became annoyed by fading light for night hiking. After toying for a while with the idea to upgrade to a rechargeable headlamp, I took the leap. Being able to recharge instead of throw away batteries with a little bit of life left was a nice luxury, and knowing that your headlamp would always be bright was even better… As long as you remember to charge it.
My charging situation evolved quite a bit throughout this adventure. In the beginning, I had an Anker single charge block. For such a lightweight battery and efficient charging, this was great. But as time went on, I started wanting to listen to music and podcasts. This battery did not offer enough power for this to be possible. So at Kennedy Meadows (south) I picked up a Goal Zero Nomad 7 solar panel to charge the battery pack during the day. In the Sierra, this system was great. As I dropped below tree line and started hiking in smoke, this system became less efficient. By Ashland, I cut my losses and sent the solar panel and the small battery pack home and went for a larger battery pack. Despite needing to charge every time I was in town, this little square offered me all the charges I needed in the last 1,000 miles.
Now the true rock stars on any thru-hike are your feet. If my feet weren't happy, I would still be in the desert. It hasn't been all sunshine and daisies, though; my feet took about 900 miles to strengthen and harden. At a recent post-trail pedicure, the man literally took a cheese grater to my feet to smooth out my hard-earned calluses. He also mentioned that I would need several more pedicures for my feet to look normal once again. Any who, shoes, socks, and orthotics are really what kept my feet going, and willpower of course!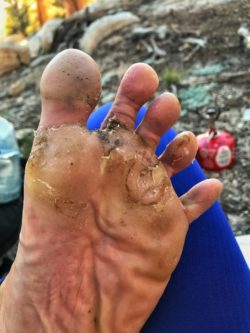 Shoes
1. Altra Lone Peak 3.5–Worn for 750 miles (including pre-trail training) from the Mexican border to Kennedy Meadows South (mile 702)
2. Altra Lone Peak 3.5–Worn for 1,050 miles (including a summit of Mount Whitney and exiting the High Sierra from Kearsarge Pass to resupply) from Kennedy Meadows South to Ashland, OR (mile 702-1,718)
3. Altra Timp—Worn for 950 miles (including all fire alternates) from Ashland to Manning Park, BC (mile 1,718 to 2,652)
On average, hikers go through four pairs of shoes. In my case, if I had planned better and had been less stubborn, I would have purchased a fourth pair of shoes in either Northern Oregon or Southern Washington. My first pair of shoes were simply too small for my swollen feet after hiking through the desert. The second pair of Lone Peaks looked surprisingly good for having so many miles on them, but the cushioning was gone. These shoes were so done that the woman at the outfitter took a photo to send to the sales representative.
Since Altra was updating the Lone Peaks in August, my size 11 feet made it challenging to find replacements in a small town. I ended up in the men's equivalent size, just in a different model. The added cushioning of the Timps was a welcome change, but soon the mesh of the upper started to tear. The holes grew bigger until my right foot was nearly falling out of my shoe while the left shoe was going strong until the last 50 miles. What was once my good shoe quickly became a disaster and forced me to duct tape my shoe onto my foot for the last two days.
Even after the mishap with the Timps, I will likely continue to wear Altras. The customer service is unmatched and you really can't beat the wide toe box. Be warned, though; after wearing nothing but Altras and Bedrock scandals for four and a half months, your feet will become extremely wide.
Despite having flat feet, I'm a fan of added arch support in my shoes. I started the trail with green Superfeet, but quickly realized that there was not enough support. In Wrightwood (mile 379), at the hardware store of all places, I found Spenco orthotics and quickly switched to the total support insoles. As I climbed to the summit of Baden Powell that evening, all of my achilles issues were solved and these orthotics lasted to Canada.
Brand new socks to a thru-hiker exudes a similar feeling to your first hot meal and cold drink in town. I went through seven pairs of socks on trail and it was like Christmas every time I broke out a new pair. With a background in distance running, my sock brand of choice was Swiftwick. These socks are super lightweight, breathable, and provide a small amount of compression. After getting some gnarly blisters in the middle of the desert, I tested my luck with Darn Tough running socks. Both pairs of socks were great, but the friction from the heat of the desert shredded the pads of my feet.
By Kennedy Meadows South, both pairs had impressive holes in the bottom. I decided to try something new and went for a pair of Injini toe socks. From then on, I wore nothing but Injinis and went through three more pairs. The original pair made it 1,000 miles to Ashland, but were promptly placed in the trash due to massive holes and their ability to stand up on their own. (I'm not joking.)
The amount of wear that goes on to durable outdoor gear is impressive. As I transition to the front country, my free time has been spent cleaning my gear and attempting to get the hiker stank out of my clothes and my car. (The downside of being a dirtbag.) When I flew back to my sister's house in San Diego, both her husband and her father-in-law commented on my body odor. I explained that I showered and did laundry before flying and told them to take a whiff away from my pack. It was like night and day.
Unfortunately, my pack had to be left to ferment in my car for six days as I traveled to a rowing regatta in Florida. When I returned to my car, I nearly passed out from the odor. With a quick turn around to start work, I left my rain gear in a bag and my pack in a bin with a bottle of air freshener close by. There was rain during my first week of work as an outdoor educator, so I was obligated to unearth my rain shell. After spraying the jacket down with air freshener, I put it on and the first thing on of my sixth grade students said to me was, "You stink." I don't blame them. I did stink! Luckily the rain didn't last long.
After hauling around stinky gear for three weeks, my washing window opened. I flew home to the East Coast for a visit with my family and open access to a washing machine. After several weeks in a plastic bag, I literally thought I was going to pass out from fumes as I moved my rain gear into the washing machine. The next item on the list was my sleeping bag. After five hours of drying and fluffing, my beloved Patagonia bag looked brand new. I was amazed by the amount of loft this sleeping bag was able to restore. My next challenge will be cleaning my once-white pack. Wish me luck.
The PCT definitely inspired me to continue exploring the world on foot. After being surrounded by so many hikers with so many variations of gear, I can't help but daydream about modifications to my system. When I look back, however, I can't really think of any modifications. All of my gear performed and protected me from the elements when Mother Nature was ready to throw us a curveball. There's always going to be new and improved, must-have ultralight backpacking gear. It's fun to look and research, but for now I'm going to keep my system. I made it from Mexico to Canada with this gear, so why not use it on more adventures.
Affiliate Disclosure
This website contains affiliate links, which means The Trek may receive a percentage of any product or service you purchase using the links in the articles or advertisements. The buyer pays the same price as they would otherwise, and your purchase helps to support The Trek's ongoing goal to serve you quality backpacking advice and information. Thanks for your support!
To learn more, please visit the About This Site page.