Hiker Box Diaries Episode 12: Dodging Cougars and Blowdown Steeplechase
A Typical Day On The PCT
7/29/16
7:30pm: I usually don't stop and camp this early, there's still light. The hike today was 32 miles through a 20 mile waterless stretch. The temperature today reached well over 100 degrees. The terrain was exposed and very rocky. My feet are covered in blisters and a few toenails are coming off, held together by duct tape. The last water source, seven miles back, was well off trail and uphill that led to a swamp that I unenthusiastically dipped my bottle into without filtering. I haven't filtered in a long while, it just takes too long. I stopped here because I thought I heard trail magic a few yards away. As I approached the campsite, I heard what I thought was a dinner bell ringing. I excitedly rushed toward the sound thinking a kind person had some food set up for hikers. My elation turned to bitter disappointment when I came through the brush to find two cows walking towards a water source, with bells around their necks.
I set up my tent quickly and by 9pm I was convinced I would tenting alone in this site. Then I heard something crashing through the brush from the opposite direction of the trail. I got out of my tent to defend myself and my food from what I assumed was a bear, when a thruhiker (Penny), appeared through the trees. She had gotten lost and had bushwhacked her way back to the trail. As she arrived, "Early Bird", came into camp via the actual trail. He is a very fast hiker, and it feels good to be in the same area as him this late into the hike.
9:00pm: It's still hot out. I am wearing no clothes to sleep. And no sleeping bag. And my tent doesn't extend down all the way and I'm visible to all who walk by me. Sorry, world. It's just too hot.
7/30/16
5:44am: Oh crap! I got up too late. This is gonna cost me. I brush my teeth and begin packing up my stuff. This is gonna cost me.
6:05am: I'm on foot. Early Bird is getting up now, and I jam a pack of Twinkies into my pocket and head out eating them as I walk. This is breakfast every day. Sometimes, it is donuts, or Fig Newtons or honey buns, but this is how I eat in the morning. I augment this healthy breakfast with a box of Good n Plenty. The 5 minutes after six is going to cause me to go less than 2.75 miles per hour in the first hour of the day. This will bother me. I don't know why.
8:13am: I took a wrong turn for a half a mile. This breaks my heart. A half hour wasted getting back on course. Some of the signs can be confusing. I should have had my phone on and used Half Mile's App when I got to the junction.
Early Bird and Wahlburg are now in front of me.
11:35am: It's hot again today. It's very exposed as well. The high today is 112 Fahrenheit and I'm sweating like its very humid here. Cow dung and horse dung is all over the place. I still haven't filtered my water. I'm limping a bit because it's starting to heat up. My blisters swell in the middle of the day and my shoes get uncomfortable. I stopped and took 4 ibuprofen. I don't like stopping. Early Bird says he is going to do 45 miles today. There's a small chance I could too, but my feet are making that unlikely.
12:56pm: I stopped and ate lunch with Early Bird. Lunch was 5 minutes on a rock and a few handfuls of Fritos and a liter of water. Got to move.
2:07pm: Keeping your mind occupied is half the battle. I engage in internal debates about nonsense. Today I try to think up the best pop songs with accordion ("When I Paint My Masterpiece" "Frankie's Gun" "We Can Work It Out" "Cold Cold Ground" "Sandy" "Jesus Doesn't Want Me For a Sunbeam"). It's what I do to make an hour pass by.
4:15pm: I just ate my 15th atomic fireball today. I don't stop to eat in this heat. It's still way over 100 degrees. Perhaps fireballs aren't the best way to combat this. I can feel my feet burning on the rocks. The bubbling of the blisters on my heels are making each every step squishy and painful. There is a pound of sand in each shoe.
6:15pm: Pacer and I stop to have a fifteen minute dinner. We take our shoes off and soak them in a cold stream. Almost two hours later we leave.
10:15pm: One mile from camp we run into what looks like a mountain lion by the river. We decide the best course of action is climb up the side of the mountain through poison oak to give the lion a wide birth. Our reroute takes over an hour.
11:30pm: We arrive at a campground. Well, a parking lot to a campground. Good enough for us. We set up our tents and settle down. Pacer is snoring within 30 seconds of laying down. I'm sleeping naked with no sleeping bag. It's still over 90 degrees. We hiked 39 miles today.
8:00am: I arrive in Seiad Valley with Topo, a fellow thruhiker. I walked the last 7 miles barefoot. My feet were too swollen to fit in my Altra shoes. I ordered 5 scrambled eggs, 4 English muffins and a steak at the diner here and ate with Early Bird, Topo, and Poptart (who is about to embark on the PCT unsupported speed record attempt.)
Oregon=Bore-egon
Sure, Crater Lake is amazing. But the trail avoids mountains and it feels like it's just walking. There are ups and downs but the climbs are usually 1,000′ or less. And there are blowdowns. I heard over 800 after Highway 140. There were two much older volunteers trying to clean it up with a handsaw. That's like trying to win a nuclear war with a slingshot. These guys are real heroes, but they have no shot.
Also tough is the cell phone situation. AT&T is absolutely useless in Oregon. I blow my battery trying to send a text. I feel like some of these parts of Oregon still use paper cups and string.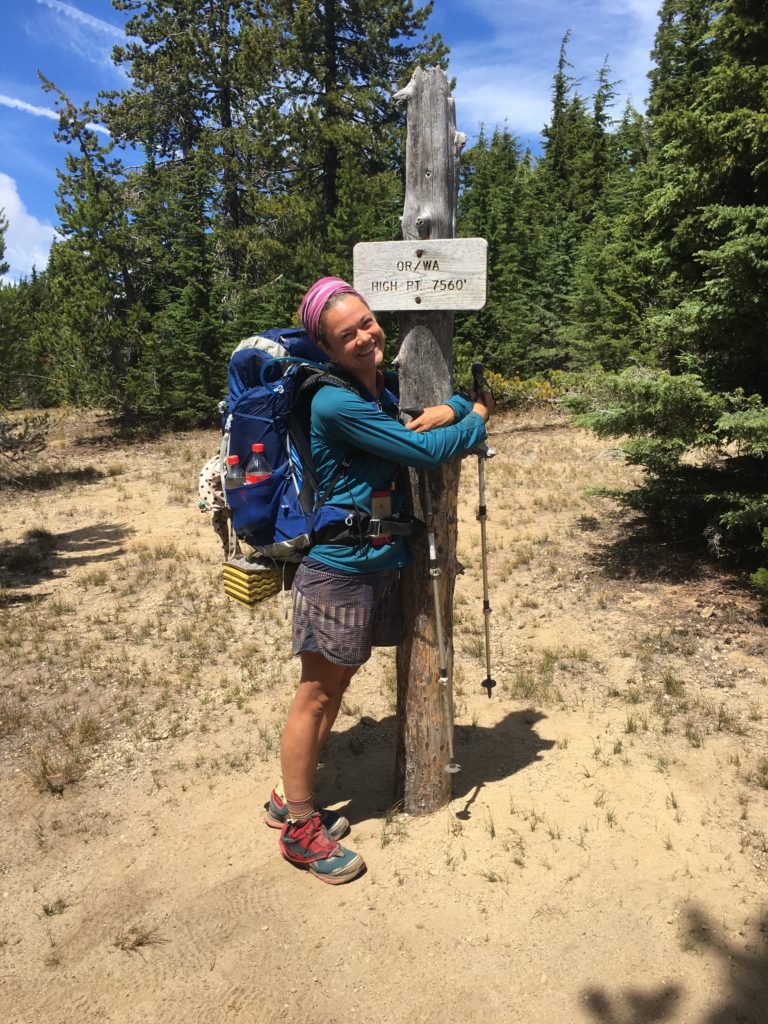 Right now I'm in Bend, staying with a trail angel, Lian in her home. I'm here with Frost, Morning Glory, Petunia, Zombie Dust and Early Bird. We hope to be at the Washington border by the end of next week. Just in time for PCT Days celebration in Cascade Locks.
Affiliate Disclosure
This website contains affiliate links, which means The Trek may receive a percentage of any product or service you purchase using the links in the articles or advertisements. The buyer pays the same price as they would otherwise, and your purchase helps to support The Trek's ongoing goal to serve you quality backpacking advice and information. Thanks for your support!
To learn more, please visit the About This Site page.