Last Days of Desert (Mile 444-703)
When your two feet are your mode of transportation, the days seem to move slowly. Each moment is enjoyed, each view lasts longer, and each step is cherished (when your feet aren't in screaming pain). Looking back, I can't wrap my mind around how I walked to Kennedy Meadows, a drive that I would have scheduled a full day for from San Diego. Here are just a few highlights over the past 200+ miles.
500 miles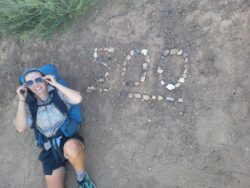 Hitting 500 miles is a landmark achievement, mainly because it gives you an opportunity to dance to 'I'm Gonna Be' by the Proclaimers. Myself and two others from my trail family blasted the song in the early morning of the Desert and danced with our heavy packs.
There is something to be said about how silliness and celebrating small accomplishments can fuel your mindset for the day. Parts of the Desert section can be brutal on your body. It's the period of adjustment from normal life to walking 20+ miles a day with a 30ish pound pack. It can be hard work if that's your mindset. Friends and goofiness take me out of the 'hard work' mindset and into the same mindset I had on the playground as a kid. The trail becomes my playground, my pack the tools for the new life over constructed, and my friends are the folks who push me, inspire me, and laugh with me.
Pam the Trail Angel

Lab Rat (a friend from my tramily) and I got into Agua Dulce a little later in the day and were looking for a place to stay. We had heard that the Mexican Restraunt in town would let you sleep on their patio so we headed in for Taco Tuesday, frozen margaritas, and the hope of a good cowboy camping spot. (Cowboy camping is when you camp with just the sleeping pad and sleeping bag, there is no tent.)
Over the past 200 miles my feet have been cramping up an incredible amount. I started walking around in the restaurant, with an obvious display of the 'hiker hobble'. A local asked me, 'Is hiking even good for your body?'. I laughed and replied with the only true answer, 'It's bad for the body, but good for the soul', and continued to hobble away.
We began to exit the restaurant, surveying the patio for the best spot to sleep when we met the women's club who was raising money to feed hungry hikers like ourselves. Lab Rat, an expert at securing a warm bed, began laughing with the ladies when they would ask us where we were going to sleep that night. He replied, 'Well, actually I plan to sleep right here' and gestured to the corner of the patio the women were in. 'You're actually on my bed right now.'
With that, one of the ladies, Pam, offered us a place at her house. She bought us drinks and then took us to her ranch, a goregeous property in Agua dulce. We had warm showers, a place inside to sleep, and she even made us hard boiled eggs from her chickens for breakfast.
Aqueduct

Part of the last streches of Desert is the infamous LA aqueduct. It's about 20 miles of walking in a straight line in the desert, with a view that never changes, and seldom water. What most hikers do to avoid the monotony of the aqueduct is walk it at night.
My Tramily (A Tramily is your chosen family on trail.) and I began walking around 6pm with a plan in hand. The sun began to set in the most goregeous display of desert colors and there was a thunderstorm in the distance that lit up the night sky as we lost daylight. My tramily had created an incentive for every 3 miles that we walked to break up the time.
My favorite of these was at Mile 15. I had walked ahead and knew the 5th 3-mile break was coming up. I threw my backpack on the ground, and left a note on my pack that read, 'Mile 15 – BEWARE of Water Pistols' and then hid in the bushes in the dark. When my tramily came upon my pack I descended on them with the water gun I had picked up in Acton. The group then hid and ambushed our friend who was further behind. The dry, infamous aqueduct became a night of incredible views, challenges, and laughter.
Double Zero
We ended up setting up cowboy camping around 12:30 the night of the aqueduct and woke up the following day around 4am to punch out 25ish more miles. My tramily was exhausted and needed a break in Tehachapi. Lucky for us, Pineapple Boy and his parents had a connection so we were able to stay in a beautiful home for a double Zero. (A 'zero' is a day where you wake zero miles. So a double Zero is two days like that back to back.) Every zero day had been jam packed with memories, but this time it was even more special.
Some of my favorite memories were:
 Pineapple Boys mom gifting me with an evening gown. This little blue night gown has become one of my most treasured possessions that I carry on my back. It revolutionizes town days and I no longer have to run around in my rain jacket while I do my laundry.
Nerf gun wars were a must as soon as I saw the stash of guns and bullets. We ran around the house, hiding in corners, and shooting each other for an hour or so.
 Double shower heads. Yep, you read that right. I went from being a smelly sleep deprived desert creature to having a shower with two shower heads within a few short hours. Imcredible.
I've never been one for painted nails until I came on the PCT. My tramiky sat around in a circle and painted each other's nails while asking each other questions from the '32 Questions to Fall in Love' list. It felt like a full-bown teenage girl sleepover.
Dinners and dance parties are two things that should always go together. We all helped cook a dinner together and took turns playing music we could dance too as we waited for dinner. Food that's not freeze dried is always incredible, having wifi to choose any song you want seems like a superpower, but friends make both of those things even better.
Water Gun
My hot take is that everyone should have e a water gun for the desert section of the PCT. There is no piece of gear I have loved so dearly as that red plastic gun I found in a hiker box. (A hiker box is a box filled with things other hikers have previously donated. It's essentially the hiking communities way of making sure that nothing goes to waste. One man's trash is another man's treasure.)
I knew the time was coming for me to part with my water pistol, Kennedy Meadows was less than 80 miles away (4-5 days). There has been a blood family on trail, including a mom, dad, and two very young and very strong hikers. I was coming up on the family and noticed balloons on his pack. I soon found out it was his birthday. 'I have a small offering for you', I said and pulled out the red water pistol from my bag. 'Are you interested?' His eyes widened and he smiled. I passed it over and briefly explained how I had hid in many bushes to shoot at my tramily with the gun. 'Use it well ', I commented as I left as if I were bestowing a superpower upon him.
Later that day Lab Rat and I had found a great siesta spot under a tree, hidden from the Mojave deserts scorching heat. When we got up to continue hiking, I saw the young girl in the family giggle and run beneath another tree. It was in that moment I realized, my advice was going to be used against me. 'Run!' Lab Rat said, and we both began running as the kids popped out of the tree and shot us with the water pistol. That boy truly had great aim.
Tramily
It's clear what's made the past 200+ miles incredible, and it's who I've been traveling with. Wigs, Lab Rat, Glitter, and Pineapple Boy have somehow made every moment of this life changing adventure even more meaningful. Not much else to say here that I haven't already told them directly, BUT I think traveling with less physical accommodations helps me appreciate people much more. There is no wifi most of the time, so we're all just stuck together with no distractions. All of my pain, joys, and wierdness are on full display for them and vice versa. I wouldnt want it any other way. I hope to keep this deep appreciation for people when I go back to my 'normal' life.
Affiliate Disclosure
This website contains affiliate links, which means The Trek may receive a percentage of any product or service you purchase using the links in the articles or advertisements. The buyer pays the same price as they would otherwise, and your purchase helps to support The Trek's ongoing goal to serve you quality backpacking advice and information. Thanks for your support!
To learn more, please visit the About This Site page.