PCT SOBO WEEK 7
Day 43 – 19.5 miles
I woke up unmotivated. Couldn't tell you why, and I didn't try to figure out why either.
I started walking and planning the next stretch to occupy myself. The burn scar was extensive, and I watched those small plumes of ash rise up with each step. I am over halfway done at this point, and I am both relieved and sad. I feel ready to go back home, but not so ready that I'm gonna cut this short, cause I don't feel ready for this to be over either.
Slowly, I made my way to Rockpile Lake. I somehow fell asleep on the shore and awoke in a panic! How long had I been out?! Only twenty minutes thankfully.
After the lake, I had to stop every two miles and devour food. I'm so hungry that it hurts and all of my food sucks. I smell a goat, and then see one. My first of the whole trail. Somewhere in the blowdowns, I lose Papi, my party hat. If you love something, you have to let it go.
I get to camp, and it's windy and cold. I can see the plume of the nearby Lookout Fire and it's so unnerving that I feel like I wanna crawl out of my skin. Dark clouds encompass the sky, a spot of cell service advises me that there is a thunderstorm predicted in twenty minutes! Fuck! I put everything up in a panic, climbing inside at the last possible second.
Rain pours for about two hours, then is replaced by a relentless wind that would rip my stakes out multiple times throughout the night. There is a brief moment where I can feel the air become energized and my body is buzzing again. I'm not sure why this is happening now.
I wake up with dirt in my teeth, it coats everything I own now, I am the dirt.
Day 44 – 3.7 miles
A trail angel picked me up and took me to Bend. Ironically, his neighbors moved next door because they lost their home in Paradise. It's crazy how everyone becomes all interconnected.
He drops me off at Black Bear Diner, and I notice they have taken Paradise off of their locations listing…. Ouch haha. My phone died at the table, and I don't know where my hotel is.
I see my saving grace. Starbucks! I linger for hours. I call my mom and have a chat with her for a while, I learn that Dave's phone is off, and it bums me out.
I'm glad to take a break. I'm really tired. I wonder to myself how people can do this shit without taking zeros, I would fall apart, I think.
I eat and eat and eat. I also learn that Oregon is very cheap but also doesn't sell liquor at their grocery stores. This place is weird. I got called (jokingly) and spoiled Californian… there is some truth to it.
Finally, the hotel awaits! I do all the chores and do Jack squat for the rest of the day. I call my grandma and chat with her. I also get to talk to my brother for a bit. I'm glad we live together, I talk about it all the time.
My life always feels like a bit of a mess. I think sometimes, it's about falling apart less rather than not falling apart at all. I read an article titled "choose your shit sandwich", it really resonated with me.
Day 45 – 0 miles
The day started out the best it could have. I was layin in bed, tootin around on Instagram when I got a call – it was Billy!
It was so great to talk to my buddy. I miss him and our AZT shenanigans. We talked for a while and made a loose plan of when we're going back to Arizona.
I got gluten free donuts and coffee for breakfast and started working on some logistics. I learn of a new fire in the Three Sisters Wilderness and have trouble finding information on it. I call Elk Lake Resort, and they confirm the fire is there and they tell me not to go.
Thankfully, the trail angel that helped me get to Bend is willing to take me to Shelter Cove instead. It sucks to miss miles, but I ultimately made the right call because an hour later, the PCT ended up closing and widespread evacuations were ordered.
I was feelin kinda down this evening, sometimes hiking really feels like a job and these fires are stressing me out. I am choosing to be out here, so I shouldn't complain, but I also gotta be real about it. Hiking isn't always super fun, and some days I just don't feel like trying that hard.
I talked to Blair for a while which helped, and then I got a surprise call from Dave! His phone is back on and it was great to talk to my best bud, I miss Dave.
I spent the rest of the evening dying my hair, it looks great. I also did some planning to hopefully summit a few peaks, maybe with better planning, I won't be too tired to actually do them. We shall see.
Day 46 – 15.4 miles
Boffin picked me up at 11, our destination was Shelter Cove. I'm now a no-good-dirty-rotten-skipper. I'm ok with that.
To my surprise, both Conway and Crockett were there! They had run right into the fire the night prior, it sounded terrifying. They were also heading out today.
I got my resupply box, and immediately gave half of it away. I had already shopped before I realized I wasn't actually going to Elk Lake. I had an ambitious plan to make it 15 miles, despite starting hiking at 2pm.
I blasted through the first 12 miles. I felt like shit, emotionally, physically (my pack was heavy with food and I despise that), all of the above really. I reminded myself that I don't have to feel like this much shit though, and if I had a better attitude, it might actually be a bit less shit.
I just got through it. Conway and Crockett were at the creek when I rolled up. We all admired the sorta view we had of Diamond Peak, the smoke was pretty thick again. They were pushing on, more miles than I wanted to do.
I arrived at camp, I made it the 15 miles in around 5 1/2 hours, and reminded myself why I don't like going fast like that.
I had a profound thought today. I'm honestly feeling kinda over this right now, might just be a mood or might be for real, but it doesn't matter cause either way, I'm getting to Belden. The only thing that keeps me going is the idea of me crossing that iconic red Belden bridge over the Feather River – to my place. Where I learned everything I know about hiking. A place I could always run away to.
And that's when I realized, I'm not running away anymore.
Day 47 – 28.4 miles
I woke up early in my own, that never happens. Best to take advantage, I thought to myself. I had forgotten about the relentless dew in Washington and was reminded of how annoying it was this morning. Everything was soaked and I wasn't even near water…. Lame.
I was a grouch. My lighter died, it was hot, smokey, and my pack felt impossibly heavy with all the food and water. The water in Oregon sucks.
I got service on a ridge and learned that my address for Crater Lake didn't match up. I was irked, and it was a drama I didn't feel like dealing with. Thankfully, I think we sorted it out, no fault of anyone in particular, it was just a confusing situation.
I pressed on begrudgingly. I am not feeling this again. I got to the water cache and was followed shortly thereafter by Conway and Crockett. I thought they were ages ahead of me! They slept in.
My mood improved dramatically after this. I learned of their plans to camp at the lake, which I was considering also although it would make it a big day…. But would it be worse to carry a shit ton of water?? Definitely. I commit to my biggest day yet.
My body is tired from the fast 15 I did yesterday, but today, I took Advil and decided I'll give it the beans. Might as well.
I hiked into the night and took out my headlamp for the first time this trip. Conway had gotten ahead, and Crockett was just behind me, I could see the flicker of his light through the woods.
Alas, after a 28-mile day, I arrive at the lake, although it's dark and I can't see it.
I've always had this idea that I should be able to do everything on my own. If you don't rely on anyone for anything, nobody can disappoint you. Here's the thing though – it's simply not true. You can't do life alone.
Today I thought about quitting all morning. Until I saw my friends at the water cache, and with a simple attitude adjustment, I was able to actually have a really good day. Some people I hardly know turned my day around by just existing.
I'm happy to be here.
Day 48 – 13.5 miles
I slept in, I knew I had a small milage day ahead of me, and it as also cold and cloudy, so I was in absolutely no rush. Finally, I meandered out of camp, but not before submerging half of my leg in the lake while trying to get water, awesome.
I hit the high point of the PCT in Oregon, which isn't all that high. I had my sights on something higher – Mount Thielsen.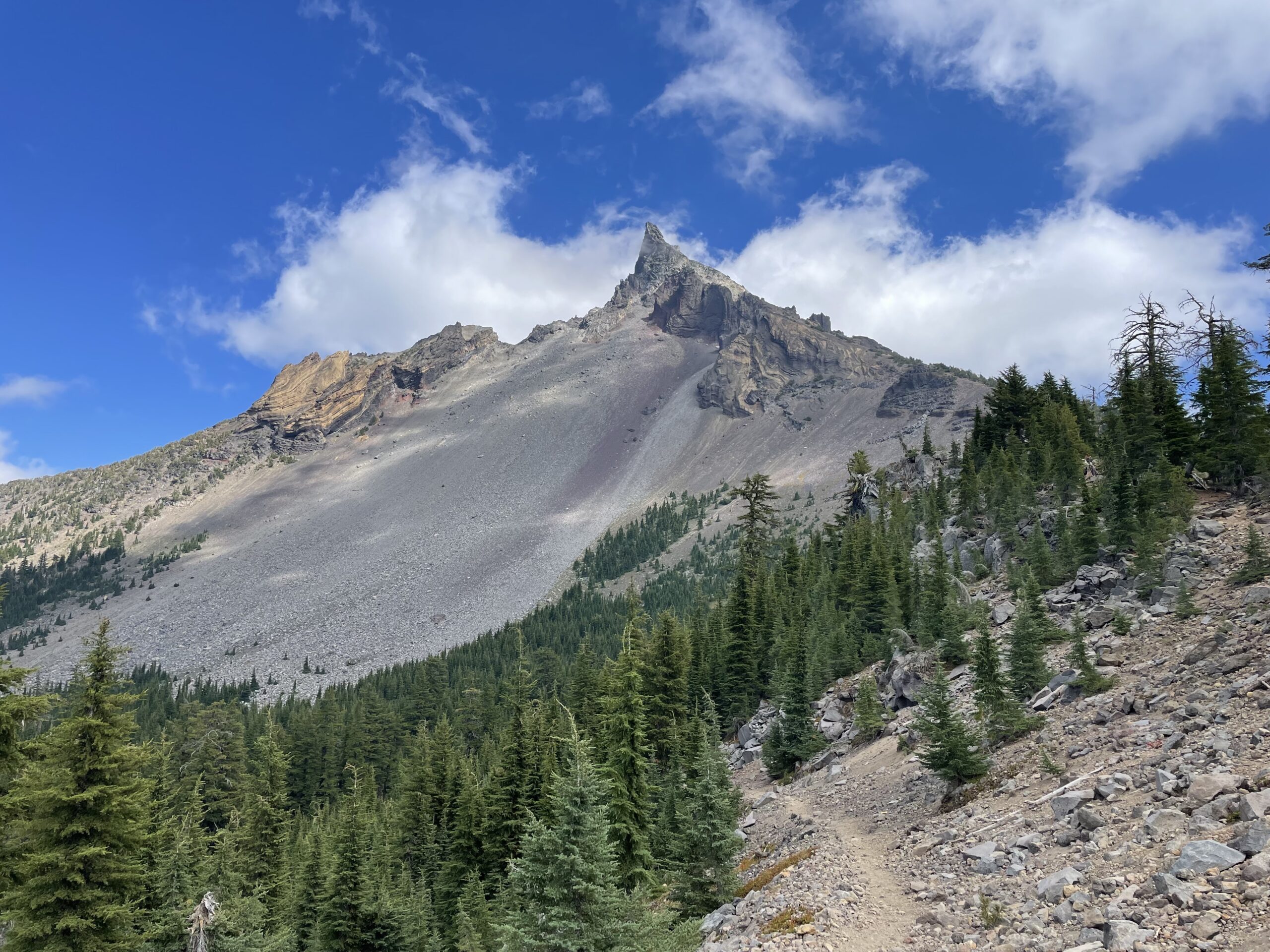 At the last water of the day, everyone asked if I was really going to summit. I said "fuck yeah", the clouds were starting to dissipate and my eyes were glued to the spire. Shortcut expressed interest in maybe summiting and said he'd be at the junction, I thought nothing of it.
Until I got to the junction, and he was there. We're doing this together now! We ditch our stuff and start the ascent, I quickly begin to wonder why someone said this was as bad as it was. There was a fairly established trail through the scree.
Things got a bit more technical as we entered a large talus field, and Shortcut said he was done. I said alright and continued. I ditched my trekking pole and was surprised to see that Shortcut changed his mind, he was right behind me.
We entered the chute. It got pretty exposed, some definite class 3 sections. We were then faced with the crux, a few class 4 moves and then we were at the summit. We both yelled like idiots, the stoke was real.
On the decent, we both fell in the scree, and I was bleeding. I had an amazing summit. We hung out at the junction for a while, and Shortcut had to get going. I decided to stay and camp even though it's cold.
Today might have been my favorite day on trail so far. Thielsen was really cool, I love bagging peaks.
Affiliate Disclosure
This website contains affiliate links, which means The Trek may receive a percentage of any product or service you purchase using the links in the articles or advertisements. The buyer pays the same price as they would otherwise, and your purchase helps to support The Trek's ongoing goal to serve you quality backpacking advice and information. Thanks for your support!
To learn more, please visit the About This Site page.