PCT Week 4: Night Hikes, Condensation and a Birthday Climb
Leaving Big Bear with a New Mindset
Big Bear is a turning point for me. Nearly 300 miles in and I reassure myself of my own journey. Realizing this, it is time to set off back on trail. The positivity is high, the excitement keeps the adventure moving.
In general I like hiking solo with the occasional hike with others. My tramily and I will usually camp together or be within a day of each other. As we yo-yo back and forth it's another climb up. In the background Big Bear is visible. The snow still covering parts of the previous section.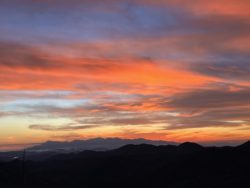 Camp is reached for the night, and we are treated to a beautiful sunset. Definitely one of the best so far. In the distance, the San Gabriel Mountains can be seen. First day back on trail a new sense of purpose fills my mind and the trail warms my heart on this cold night.
Mile 300, another 100 Miles Complete
KT and Tazzy-D join along as we take in the beautiful landscapes of the San Bernardino Mountains. Still slightly snow covered, the pine forest is refreshing as soon we'll be back in the desert hills.
Camp is setup on the sandy bank of a river. We enjoy ducks floating by as we make dinner. This campsite is more unique than any other site we've seen so far. One aspect of trail life I love is that every night you are in a new place and no site is ever really the same.
Now the downside of sleeping by a river is waking up to lots of condensation. I've been pretty lucky to only have a couple mornings with heavy condensation on my tent. Especially with a single wall tent, the condensation can start your morning off rough.
Even with a difficult morning packing up camp, the spirits are very high, it's a milestone day. We approach mile 300 first thing and just like that another 100 miles are completed. Every step on the PCT is an accomplishment and every day is better than the previous.
A Magical Night Hike
The Deep Creek Hot Springs are reached. While some take a dip, I choose to keep going. It's going to be a long day and the heat is real. I also know the hot springs are a vortex, once you stay there too long, it's hard to leave.
Just down the trail though magic awaits! It's been one of those days that just feels never ending. So seeing Sticks, who had previously hiked the PCT waiting at the parking lot with pizza and drinks was a blessing. As the sun sets we enjoy our last bit of magic.
The day is not done, we still have 4 miles left. Headlamps are turned on and off we go in the dead of night. Night hikes have become a regular occurrence. The hot desert days are not the best to hike in so we hike the night to push more miles. Camp is reached and we knock out immediately.
Condensation and even more Condensation
We awake to more condensation. I went weeks without any and now multiple mornings in row it's all I deal with. There are many ways to avoid condensation, but with limited campsites in this section it's hard to pick a perfect spot every night.
We're two days from Cajon Pass and a climb through Silverwood Lakes is on the schedule today. There are clouds and fog in the distance but it's not something to be too concerned with.
As we climb in the morning heat, Silverwood Lake exposes itself. The blue water stretches for miles, it's so different than anything we've seen all hike long. It's a perfect time for a lunch siesta. The best way to spend the hottest periods of the day is right by the water.
A perfect afternoon resting is hard to leave. Just like the hot springs the vortex is real, if we don't leave soon we'll end up staying the night. There is still a bunch of climbing left, so off we go to our next campsite.
Heavy fog is in the sky tonight. Our campsite is directly inside the clouds. It's not ideal, and the morning will be rough with condensation, but we call it home for the night.
Cajon Pass, the Promised Land
It's finally the day! Cajon Pass, a truck stop with a McDonald's is our destination! It might not sound too appealing but it's an iconic landmark for the PCT. Definitely not everyone's cup of tea but trust me, more than 300 miles on trail you'll be craving a Big Mac.
The morning is foggy. It's actually quite ideal to hike in, for me at least. I love the fog, and the cool weather makes it easy to push our morning climb. The spirits are high knowing what's ahead!
We reach the highway, and as we turn the corner, there they are, the Golden Arches! Now is it grand view from atop of a mountain, no it's still a truck stop. But it's still one of the those landmarks that can excite you.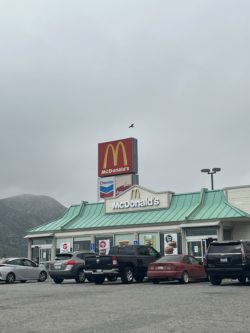 It is also a great place to catch up to everyone. We have been split from a bunch of folks for a couple days and it's a reunion. McDonald's isn't the only option for food here. There's a Subway, a Del Taco, and a couple gas stations, everything a hiker needs on trail.
The afternoon is spent charging our devices, and resting a bit before a climb to camp. We make our way back on trail, beautiful views coming in from every direction. It is still cloudy, but still beautiful nonetheless. Our campsite is right by a water cache. This next stretch has limited water and this cache is a necessity.
A Birthday Climb to Wrightwood
I awake to cupcakes being handed to me from under my vestibule by ROY-G-BIV. It's my birthday. There's no place I'd rather be than on trail. The morning is spent enjoying conversations with dozens of hikers making it to the water cache. I'm excited for what the trail has to offer today.
And guess what? It's all climb, every mile is a climb, every…single…mile. Between the large water carry and the climb, it still doesn't bug me, I love it! Every day on trail is a blessing, the devoted optimist in me will never let any part of the trail bring me down.
As much as the climb is a grind, I have a smile on my face the entire way up. Snowy peaks reveal themselves, the pine forests all around us, I can't ask for more. And after a good morning push, it's my favorite time of the day, my lunch siesta.
A perfect pine needle floor, insane views, fresh mountain air, my lunch spot was hard to leave. But I still have much more climbing to do. Did I mention this whole day was a climb? But it's worth it for what's to come.
I reach camp at sunset, I'm tired and still in great spirits. Now remember when I said folks were catching up at Cajon Pass? One thing kept my smile going on all day, knowing who was right behind me. And when I heard their voices I jumped out of my tent in joy! After 150 miles I was reunited with Base Camp and Yeti Legs! It was a perfect way to end my birthday.
Affiliate Disclosure
This website contains affiliate links, which means The Trek may receive a percentage of any product or service you purchase using the links in the articles or advertisements. The buyer pays the same price as they would otherwise, and your purchase helps to support The Trek's ongoing goal to serve you quality backpacking advice and information. Thanks for your support!
To learn more, please visit the About This Site page.