A Tramily's Fave Trail Moments, Food, and Songs
Today seems like it has lasted about a week and it is only midafternoon. We woke up this morning at a campsite 0.4 miles from the Highway 18 trailhead parking lot, where we hitched a ride into Big Bear Lake. Yesterday we passed the 265-mile/10 percent marker and it feels like I have made significant progress along this trail.
Once we got into town, we had breakfast and then sat around on the deck of the Big Bear Hostel – we wanted to stay the night and almost everything in town was already booked because of the Spartan Race this weekend. I'm glad we got into the hostel because it has been a great place to get all our town chores done and have a relaxing evening.
One of the stressful parts about being in town is getting all of your food for the next section sorted out. I got about 5.5 days of food, which has worked out to about 13 pounds (my best guess). It's hard because food is heavy, but we are burning a crazy amount of calories and being hungry makes everything harder.
We will be hitting the trail in the morning and our next town will be Wrightwood, in about five days.
Trail Friend Q&A – Three Weeks on Trail
One of my favorite parts of the trail has been getting to know other hikers and sharing this experience with them. I thought it would be fun to do a little Q&A with my trail friends to see how everyone is doing three weeks in. I asked everyone the same set of questions, and I'll start it off.
Canadian Treasure
Hometown: Vernon, British Columbia
Highest high: It's a toss-up between the sunset we saw at mile 160 and the sunset/sunrise/sleeping in the hut at the summit of Mt. San Jacinto. We were treated to the amazing sunset at mile 160 after a big climb – that was probably the most stoked I've been in a single moment. However, my time on San Jacinto was my favorite overall experience of the trail thus far.
Lowest low: After the amazing sunset at mile 160, we continued night hiking and ended up doing close to 20 miles that day. I had to solo hike down a steep path to a water source/place to camp. It was dark, super windy, I was exhausted, and it felt like forever before I saw headlamps at camp. That was my lowest moment mentally.
However, my lowest moment physically was yesterday when I had a gnarly thigh chafing situation and tried to improve things with Vaseline – which resulted in 5/10 pain that was the worst I've felt all trail. Luckily the situation has improved since.
Favorite part(s) of the day: Getting into my cozy quilt and looking up at the stars after a great day of hiking is one of my favorite parts of the day. I also love hiking in the morning when it's not too hot and I can cruise along without much effort.
Funniest moment: We met a group of French female hikers on the trail when we were climbing up toward San Jacinto. They asked us where we were going and we said Canada. One lady said, "I might be French but I'm not stupid!" We told her we were serious and eventually she believed us and actually said her husband is interested in the PCT. Anyway, it was a funny moment, one of my favorites.
Something I've learned: You hear from people who have hiked the PCT or another long trail that the "trail provides" – and it really does! The stars keep aligning, from getting a start date that worked well with writing the GRE, to getting hitches, to finding Shoe Goo in a hiker box today right when I needed it.
Biggest surprise: Despite all the videos and photos of the PCT I had seen before starting the trail, everything has seemed so new and fresh. Even the monument at the Southern Terminus, which I had seen so many photos of, was a completely new experience for me. I'm thankful that you can still have an experience like this despite being in the age of social media.
Fave trail food: I've really been enjoying Bob's Red Mill Museli soaked overnight with milk powder, trail mix, and peanut butter – a great start to the day.
Fave trail town experience: I loved my morning at Higher Grounds Coffee in Idyllwild, reading a magazine and having breakfast.
Fave on-trail song: "Times Like These" – Xavier Rudd
Flamingo Sunrise
Hometown: St. Louis, Mo.
Highest high: There have been so many and will be many more, but on day one when we took of from Campo we saw day hikers who asked where we were going, and for the first time, I got to respond: "To Canada!" That's when I realized I was actually doing this.
Lowest low: Walking into Scissors Crossing/Julian was our first afternoon in the real desert and I was wildly unprepared. We hiked 13 miles in the midday heat without much water and I thought, "What the heck have I signed up for?"
Favorite part(s) of the day: Early morning when we start hiking in the dark with our headlamps and watch the entire sunrise.
Funniest moment: At least once a day our group rolls into a snack break slightly underfed and delirious and ends up weeping with laughter.
Something I've learned: Hydrate early and often. Water and snacks fix everything.
Biggest surprise: Best surprise is how varied and beautiful Southern California is. I thought it would be all harsh, hot desert but we've been up at higher elevation almost all week hiking in the pine trees, and even the desert is far prettier than I expected, with vibrant wildflowers and cacti, plus the most beautiful sunrises, sunsets, and stars I've ever seen.
Fave trail food: I don't always have it, but when I do, nothing beats hot coffee on cold mornings. Or Peanut M&Ms.
Fave trail town experience: Meeting Idyllwild's Mayor Max, the only dog elected to public office.
Fave on-trail song: "Heatwave" – Snail Mail.
Hot Tuna
Hometown: Lake Forest, Calif.
Highest high: The hike up to the peak of San Jacinto. Although it was a tough climb, the landscape was absolutely beautiful and we were hiking under pine trees, which was a nice change from the hot desert. I felt fresh after a day in town and we got up to the top just in time for sunset. Definitely one of my favorite and most rewarding days.
Lowest low: The last seven-mile stretch into Warner Springs. We were hiking at the hottest part of the day because we just wanted to get there, my feet were hurting because they were still recovering from previous shoe issues, and I was exhausted. I was in pain and so hot. When we made it to Warner Springs I collapsed in a chair and downed a Gatorade.
Favorite part of the day: Around 6-7 a.m., after I am warmed up, walking, and feel fresh. It's such a beautiful part of the day with the sun still rising, and still cool. I love hiking at this time of day.
Funny moment: Every time I look at Canadian Treasure's baby picture (below) I just can't stop laughing. It's so cute.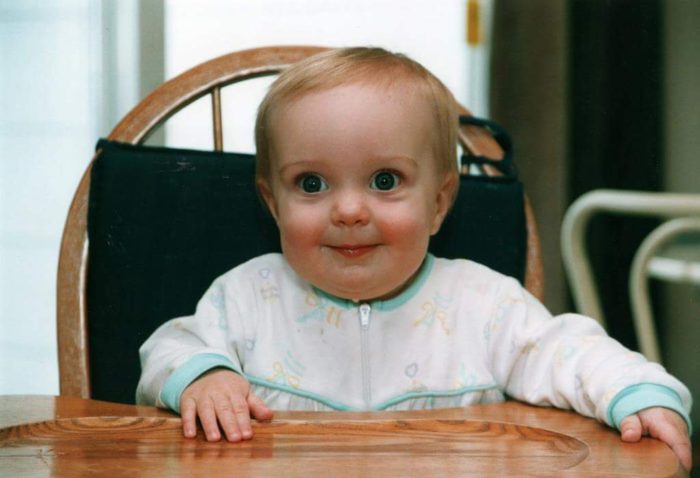 Something I've learned: A couple of things. 1) Never carry a plastic spoon. It will break. Probably multiple times. 2) Don't let people psyche you out. Many well-intentioned people who give cautionary advice (with good reason) will make various things about the trail seem a lot scarier then they are. Take the advice to heart, but don't let it scare you. Almost every time this happened, things turned out just fine. 3) Don't compare yourself to others. Go at a pace that's good for your body and don't worry about "falling behind."
Biggest surprise: How rapidly the landscape changes. You can start the day in a pine forest and end it in a desert. It's incredible, and always keeps the hike interesting.
Fave trail food: Oatmeal with peanut butter and dried fruit. Such a tasty way to start the day. Even better if it's cool enough to heat up a nice cup of coffee.
Fave trail town experience: Idyllwild. It's such a cute little town with very friendly people. And there was live music everywhere. I loved stopping there.
Fave on trail song: "Something" by The Shins, Portugal the Man, or Shakey Graves
Flower Child
Hometown: Portland, Ore.
Highest high: Every time I see the sunrise while we are hiking, I'm filled with gratitude for being out here and the opportunity to get to experience this journey.
Lowest low: There was a moment when I felt so disconnected from my body, wishing it would work in the way I want it to, and it just wouldn't happen. Having the mental drive to keep going, but not having my body follow through has been extraordinarily frustrating.
Favorite part(s) of the day: There's usually a break later in the afternoon when I get some hard-core giggles, mostly from Canadian Treasure's awesome jokes. That's my favorite part of the day.
Funniest moment: After we all ate too much In-N-Out under a freeway overpass, none of us could walk properly. The amount of painful groaning we experienced was too much.
Something I've learned: Start slow. Everyone says it, but I've realized how important it is by the pain I've put my body through.
Biggest surprise: I usually find my most profound spiritual moments in nature, and expected that to be true out here. But most of the time I'm thinking about food, water, how to keep my body from hurting, or looking for a good tree to pee behind.
Fave trail food: Nut Butter Filled Clif Bars. They taste like thick, chewy cookies.
Fave trail town experience: I love walking into a town and seeing hikers I've never met and knowing we immediately have a connection (and maybe a slight element of shared insanity). As I write this I'm sitting at dinner with a crew of nine other people I didn't know three weeks ago, sharing stories, and belly laughing.
Fave on-trail song: About 70 percent of the time I'm singing Simon & Garfunkel's "The Boxer" to myself in my head. But for hills I like Kaleo's "No Good"
Hiker Box
Hometown: Santa Ana, Calif.
Highest high: My birthday! The Whitewater Preserve was a nice treat in the hot desert. Plus there was beer.
Lowest low: Haven't really had a low yet
Favorite part of the day: Sunrise (it's neat being up before everything wakes up) and also sunset because it should be time to eat.
Funniest moment: When Canadian treasure was in awe of a napkin at In-N-Out (it was huge and just kept unfolding).
What I've learned: That it's not a good idea to skip breakfast.
Biggest surprise: Surprised at surpassing some walking goals so soon, i.e., walk a marathon.
Favorite trail food: Flamin' Hot Munchies or any dinner or candy
Favorite trail town experience: Big Bear, where I got to sleep in my first bed in a little over two weeks.
Fave on-trail song: "Jump Around" – House of Pain
Thanks to my trail friends for humoring me and answering these questions. I so enjoy spending time with them and I loved reading their answers. I hope you enjoyed reading them, too.
Affiliate Disclosure
This website contains affiliate links, which means The Trek may receive a percentage of any product or service you purchase using the links in the articles or advertisements. The buyer pays the same price as they would otherwise, and your purchase helps to support The Trek's ongoing goal to serve you quality backpacking advice and information. Thanks for your support!
To learn more, please visit the About This Site page.