I Saved $8,000 in Four Months for My Thru-Hike
In July 2018, I left my job shortly before relocating to Nashville Tennessee. During the following 14 months, our household learned how to live on a single income.
My Advantages 
It wasn't as difficult as you might think because the cost of living in Tennessee is lower than Washington state.
Living in Tennessee we saved money on housing, utilities, taxes, vehicle registration, groceries and gas.
My spouse's income increased as a result of our relocation, leaving us with a decent income.
My children started assuming responsibility for their own expenses, including gas, groceries, car insurance, and phone bills. Finally!
My Disadvantages
I've always been more of a spender than a saver. My savings account historically has always had a lower balance than my credit card. Yes, terrible. I know!
I typically lack self-discipline and motivation when attempting financial goals. They usually last a few weeks before I give in and give up.
Money suckage machines! If you have children, you know what I'm talking about. They are little cash vacuums sucking up all the extra you got! I've been actively working on resolving this issue.
Yes, I realize number three is a contradiction. But try to think of them as playing tug of war. One week it may be an advantage, a few weeks later the team pulling for disadvantage is winning. It's a work in progress.
 Getting a Job 
In early September 2019, I accepted a job at the world's #1 online retailer as a  part-time package handler making a mere $15 per hour. Two weeks later, I made my first deposit of $308 into an empty savings account.
The bank was probably in shock and wondering if it was posted to the right account. That account had remained empty since I opened it last September. Remember, I told you I wasn't a saver.
My Weekly Grind
As part-time employee, I can work 30 hours per week. My regular schedule is 22.5 hours per week, and I worked every extra hour available. Most days I signed up to start one hour early and on occasion would stay over, earning additional hours. Every week, I opened my banking app and transferred the entire week's pay into my savings account and began to watch it grow.
It's Hustle Time
On Black Friday, the 30-hour cap was lifted, and I was able to work up to 60 hours a week. During December I worked every overtime shift available. I was averaging 57-60 hours per week and every hour over 40 was time and a half.
Keeping the Motivation
I didn't allow negative self-talk to make excuses or a build a case for not working. I had a little pep talk with my lazy side and convinced myself I was capable of anything for four weeks.When my coworkers headed toward the time clock to go home, I worked another five hours. When shifts became available, I signed up before I had the chance to talk myself out of working.
All that hard work paid off! Between wages and Christmas gifts my savings account increased by nearly $4,000 in December!           
Savings Goal Accomplished
It is now January 10, 2020, and today I met my savings goal of $8,000 to hike the PCT starting in early April! Every dollar I earn between now and April is extra! Now remember, I had no previous history of being a good saver. In fact, I believed I was terrible at saving money. It was a negative self-belief I'd held for years. A belief I no longer accept as true.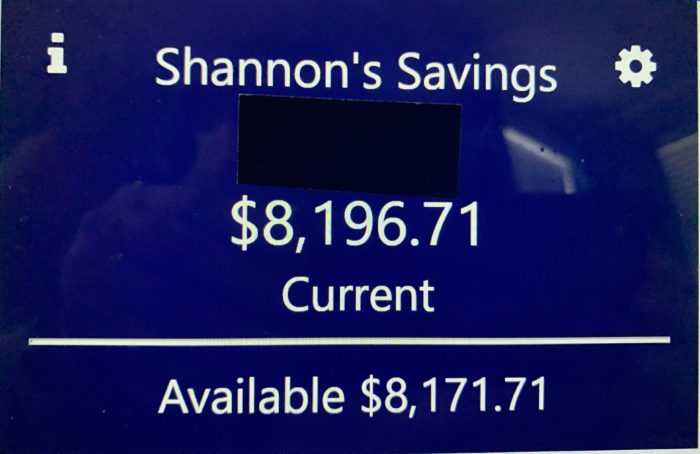 * Please be advised that this information is based solely on my personal experience and unique circumstances. I fully understand that this approach will not work for everyone.
Affiliate Disclosure
This website contains affiliate links, which means The Trek may receive a percentage of any product or service you purchase using the links in the articles or advertisements. The buyer pays the same price as they would otherwise, and your purchase helps to support The Trek's ongoing goal to serve you quality backpacking advice and information. Thanks for your support!
To learn more, please visit the About This Site page.