Sleepless in the Sierra
I had been told that the scenery changed pretty quickly once you left Kennedy Meadows and this turned out to be very true. Within the first 10 miles, the plants, animals and views all felt different. Taking a break by a river on morning one, I saw my first marmot, running around the rocks and coming surprisingly close to us. These cute fluffy animals could soon be seen everywhere, their curiosity evident as they frequently stopped to stare at us. We also immediately started climbing up to higher altitudes and got a view of snow capped mountains in the distance: the mountains that would be our home for the next few weeks.
No sleep, no problem
From the first night up in the Sierra, I slept very little. Despite the challenging 22 mile day, with lots of elevation gain, sleep evaded me. I didn't think much of it. The next night we camped by our first alpine lake. We walked 21 miles to get there and I jumped in the icy water as soon as I arrived. I lay down to sleep that evening feeling happy and tired but again, I could not sleep.
The next day we only walked 16 miles to get to the campsite near the base of Mt Whitney and I arrived feeling completely wiped out. One of my group spontaneously decided to climb Whitney that evening for sunset, and although I really would have liked to go with her, my body didn't feel up to it. I decided instead to get a very early night in the hope that I would be able to sleep for up to 6 hours before getting up at 1am to start the climb in time for sunrise.
As I lay there, more exhausted than I knew possible, sleep evaded me once more. I managed to doze sporadically for half hour bursts, but when my alarm went off I was wide awake. In that moment, there was nothing I wanted to do less than get out of my sleeping bag and go climb a 14,000 ft mountain in the dark. But I reminded myself that I would probably never get the chance to climb the tallest mountain in the lower 48 States again. No matter how hard it was, I knew I wouldn't regret it.
Mt Whitney
As we started the climb, I felt surprisingly awake. The first few miles of walking was pretty easy, even in the dark. Eventually we reached a place where we could see the switchbacks ahead of us: not because it was light, but because there was a trail of tiny headlamps zigzagging their way upwards in the dark. We followed them up.
The climbing itself wasn't too bad, but soon it became cold; so cold that I had to stop and put on all my layers. As we continued higher I became lightheaded and a wave of nausea washed over me. I knew drinking water or eating something would help with these symptoms of altitude sickness, but that would mean stopping in the biting wind. My brain told me that I had to keep moving to stay warm. So I did: one foot in front of the other, advancing at what felt like a glacial pace.
The last mile of the climb seemed to stretch on forever, but finally we reached the top. We could see the huddled figures of the hikers who had beat us there outlined in the orange glow of the approaching sun.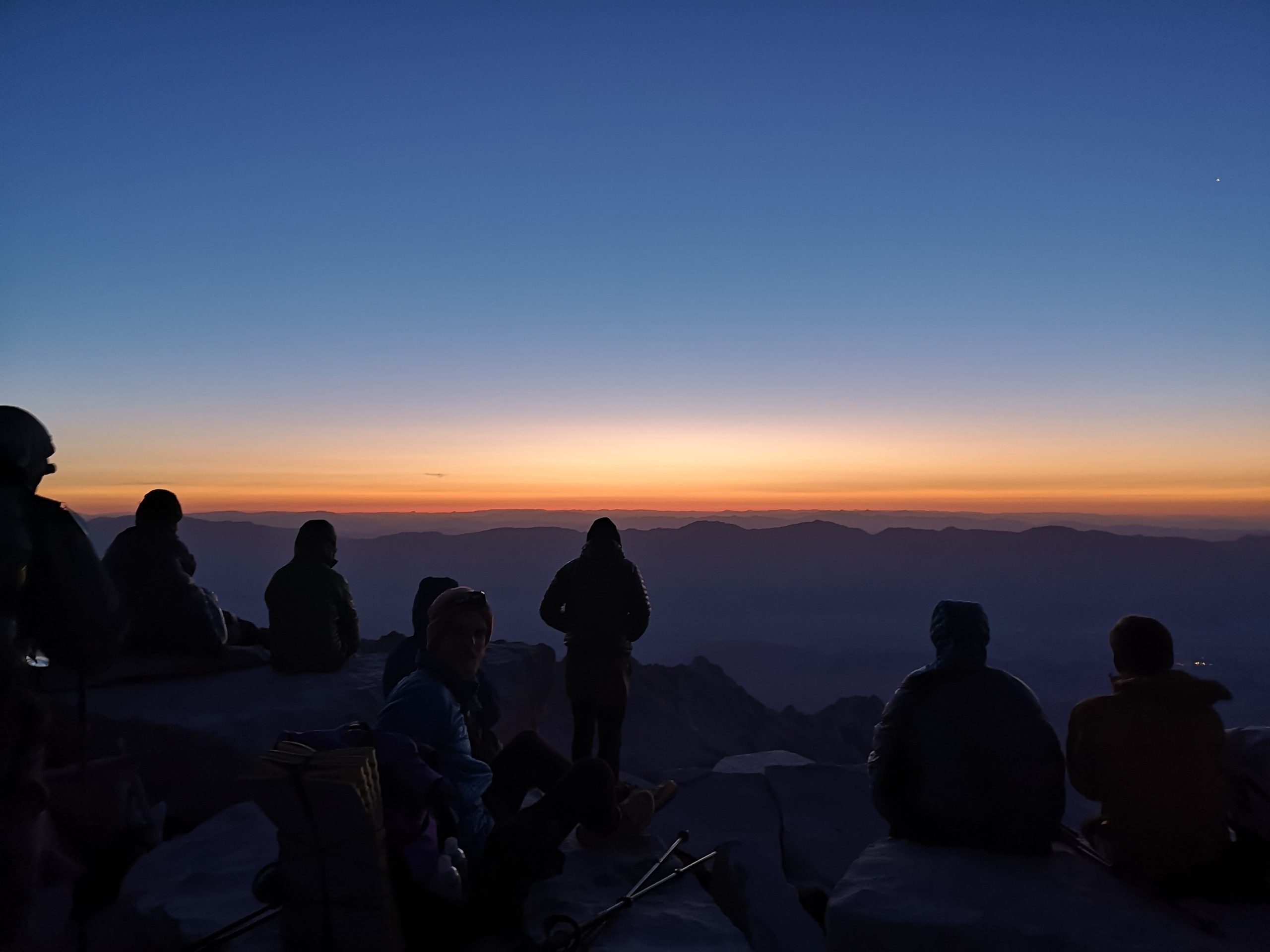 We sat ourselves among them, under our sleeping bags and took in the view. As far as you could see in every direction, jagged mountains covered in snow sat beneath us. It was crazy to think that we were literally at the highest point for thousands and thousands of miles. After some food and water I forgot about my altitude sickness and watched the sunrise feeling insignificantly small. We took some pictures at the top, then after an hour which had felt like 15 minutes, decided to head down to get warm.
The descent seemed to go on forever. As we went we passed loads of other hikers we knew, who had opted not to go up for sunrise. I found myself feeling immensely grateful that I was no longer the one going up. I told one of our friends that we passed, who happens to be a doctor, about how exhausted I was because I hadn't slept in 3 nights and she replied, "Oh yeah, that'll be the altitude." Turns out altitude insomnia is definitely a thing.
I ran the rest of the way down the mountain hoping beyond hope that I might be able to sleep when I got to the bottom. I crawled into my tent at about 9.30am and immediately passed out. I guess my body had finally reached its limit.
2 Passes in 1 Day
After walking another 8 miles in the afternoon, I slept deeply that night and woke up feeling well rested for the first time in the Sierra. I was so relieved at this because that morning I would be climbing Forrester Pass: the highest point on the PCT. As is becoming frequent on my hike, this monumental moment snuck up on me before I knew it and I felt completely unprepared. I knew that there might be some snow on the other side, but that it was definitely not considered the most dangerous descent. But I had also ended up slightly behind the two people I was hiking with, so would be tackling my first major pass alone.
This wasn't really the case in the end of course, as there turned out to be lots of hikers I knew going over the pass that morning. The climb up was actually very short and basically snow free, and there were only a few patches of snow on the other side which I crossed with no issues.
Once down the other side I realised that I could definitely make it over Kearsarge Pass that day too and was excited to do so and get to town that evening. Suddenly I was on a tight time schedule and barely took any breaks for the rest of the day to be sure to make it. However, on the side trail that takes you over Kearsarge Pass via Bullfrog Lake, the brilliant blue water was too beautiful to resist and I found myself jumping in for a quick swim with another hiker. Even with this brief interlude, I still made it to the trailhead by 4pm and was in Bishop in time for dinner.
However, this final, slightly stressful day of my first week in the Sierra got me thinking about how I wanted to do this section. I hadn't expected that we'd maintain our mileage from the desert, but we had still done mostly 20+ mile days. I was exhausted and stressed by the time I made it to Bishop and realised that I was rushing through the most beautiful section of trail yet. I decided to take a zero in Bishop, even though it meant breaking up the trio I had hiked almost the whole desert with. I needed some proper time to reset before heading back into the mountains, and I resolved that when I did so, I would listen to my body and only walk as far as felt right for me.
Affiliate Disclosure
This website contains affiliate links, which means The Trek may receive a percentage of any product or service you purchase using the links in the articles or advertisements. The buyer pays the same price as they would otherwise, and your purchase helps to support The Trek's ongoing goal to serve you quality backpacking advice and information. Thanks for your support!
To learn more, please visit the About This Site page.