The First 500: A collection of photographs from the PCT
Today marks my two-month trailiversarry and, being only 566 miles in, it's safe to say I'm taking my sweet time. Sure I've knocked out a few 20 mile days here and there but I've been finding myself taking impromptu zero days and soaking in the culture of the PCT. From the people to the quaint trail towns there are endless reasons why I'm going so "slow" and loving every minute of it.
A lot of folks out here seem to be under the impression that they need to be doing 20+ miles everyday or are on some sort of deadline. Personally, the challenge for me isn't doing big miles, it's trying to capture the essence of the PCT through a lense. When I finished my Appalachian Trail thru hike I'd lay awake at night dreaming of being back on trail and out here on the Pacific Crest Trail I'm dreaming with my eyes wide open. Since writing has never really been my forte I figured it best to share my experience through photographs. Without further ado, I present to you a small taste of the PCT.

The iconic PCT logo. Every time I walk past one it brings a smile to my face. Whether on a tree or a stake in the ground it's a constant reminder that the adventure is alive and real.

Like many other hikers, my journey began at Scout and Frodo's in San Diego. After being shuttled to the Southern Terminus in Campo, CA we posed for this group photo. The shadows of the trail angels really show that while the hikers are setting off on an epic journey, there's more going on behind the scenes within the community.

This is LA Hopi. He was the first trail angel we encountered. He gave us bee pollen to eat, T shirts he designed himself, and blessed us in a prayer circle of protection.

Our first zero day in Mt.Laguna. This was also the first time we had a campfire since fires are banned in most of the desert.

Hiccup soaking in some rays from a sunset. It's wild how drastically the tempeture fluctuates when the sun goes down.

Just after setting up our cowboy camp I sat down to make some dinner. When I sat down on my pack I put a hand down and felt something furry. Looking down to see what it was I saw this little fella.

Fellow hiker and photographer Snap enjoying a vista. You can check out some of his photos HERE.

This was a long exposure taken at Eagle Rock. My girlfriend waved her headlamp back and forth across the rock to give it the red hue.

Coming into Cabazon there was a 3 mile stretch of sand that was reminiscent of walking on a beach. It was 105 degrees out that day and this underpass was the first shade you encountered. Here my girlfriend Hiccup is recooperating from the harsh stretch.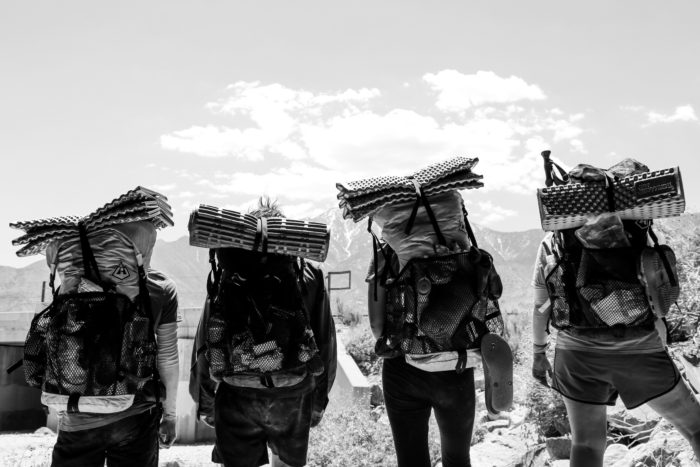 Hikers gather as they prepare for the next stretch. We ended up night hiking about 10 miles after this shot was taken.

On May 4th we decided to go full on May the 4th be with you mode. While we were short a few lighsabers we purchased some souvenirs from the big dinosaur in Cabazon and ended up creating a pretty sweet long exposure while listening to the Star Wars soundtrack.

Beautiful rolling hills as far as the eye can see. It's always nice to see a lush green forest when most of the time you're kicking up sand in the desert.

This is Evil Goat. With many thru hikes under his belt he's one of few people that doesn't mind carrying a luxury item. When I asked him about the weight he replied "Music doesn't weigh anything".

The view on the way up to Guffy's campground. We got to hike through the cloud layer and were greeted with this once we broke through.

This is Spirit Wolf. He works for the forest service and we got to have a nice chat about how animals interact with humans on the trail. The night before there was a mountain lion in camp and he compared it to a curious child.

We spend a lot of time hiking in the evening to avoid the mid day sun. Here's a look at Hiccup charging up a mountain just before we set up camp for the night.

Former thru hikers Barrel Roll and Moosey serving up some trail magic. Many thanks guys. The burger was delicious!

In the desert there's tons of yucca. This one was nice because it was far enough away that it didn't stab me as I walked by it.

Cheeseborn and Kelleysue hosted some trail magic that included breakfast burritos and Tecate served with limes. Thanks guys!

Soaking in the view at one of my favorite camp spots on Mt.San Jacinto. What's your favorite camp site?

This is Sunshine. She's a fellow Granite Gear Groundskeeper and packed out 2 hubcaps across the Mojave Desert. A true badass.

One of the many views on the way up to Mt.Baden Powell. What are some of your favorite views? Share one in the comments.

Former thru hiker Legend standing next to his truck. He had a challenge where he would cook anything on demand in 10 minutes. While we were there he made porkchops and a veggie burger. Rock on!

One of many beautiful sunsets we've had the privilege to witness. It's so surreal being above the clouds.

The Mojave Desert is known for being a very hot stretch of trail. Our group decided to try and beat the heat by hiking the 17 mile section at night. The moon was full so we seldomly had to use our headlamps. Here's fellow hiker Marble taking a quick break and posing for a picture.

Like any good western, I'll end this post with with a shot of Hiccup staring off into the sunset.
If you enjoyed these photographs feel free to follow along and check out more images from this hike and others on Instagram or on YouTube.
Affiliate Disclosure
This website contains affiliate links, which means The Trek may receive a percentage of any product or service you purchase using the links in the articles or advertisements. The buyer pays the same price as they would otherwise, and your purchase helps to support The Trek's ongoing goal to serve you quality backpacking advice and information. Thanks for your support!
To learn more, please visit the About This Site page.