Week One: From Campo to Urgent Care
Day One: Campo to Lake Morena; 20 Miles
Dad and I woke up at 4:30 in our hotel. After I got dressed in my hiking clothes I handed my dad a bag of all the clothes I wouldn't need. I lived in my hiking clothes now. We went to Denny's for breakfast but neither of us ate much. I think we were both uneasy.
The drive to Campo took an hour. It was strange to think that it would be my last time in a car for a while. The land zipped by, covering more miles in minutes than I would in days.
We pulled up to the dirt lot where the terminus was at 7:15. Scout and Frodo's group was already there at the terminus. After pictures as a group and by myself I said goodbye to my dad and started off on trail. The nerves washed away at once. I started to feel myself again. Not my normal self, my trail self. My favorite self.
The first ten miles everyone played leapfrog, passing each other and then falling behind again. By lunch I had covered 12 miles. By 2 it was up to 15. My feet hurt. Really bad. I saw a rattlesnake and almost pooped my pants. At this point I decided it was a good idea to take a siesta with a group by Hauser Creek. We chatted for an hour or so before I took off again for Lake Morena. After five terribly painful miles I made it.
As I was walking in a group of trail angels greeted me with an applause, burgers, salad, cookies, and Gatorade. It made it all more worth it than it already was. Once full I set up camp and was asleep in no time.

Day Two: Lake Morena to Mile 37; 17 Miles
I woke up to dew. Everywhere. Soaking everything. I packed up my saturated belongings and headed out. I felt sore, my feet were tender, but I felt OK. I soon began to walk with a German fellow named Luke. We stopped with some other hikers from Canada—Luke and Janet—under an overpass to get water and soak our feet. We all split from there.
It got hot quickly. I decided to stop at Kitchen Creek. I hiked down to it on a scrambly trail and instantly plunged into the pools at the base. Tourists looked at me like I was nuts. After this I looked at my feet, but they didn't look good. I did what I could to try to fix them and made myself a hot lunch out of an extra dinner as a reward.
At 1 I headed out. I was behind on miles due to my dip but it was now the hottest part of the day. I started up the incline only to be greeted once again by trail magic only a few miles after.
Her name was Lee. She was sitting in a red camp chair next her truck, where the road crossed the trail. She told me she was a trail angel and wanted to feed me. Obviously I didn't turn her down and since it was hot I decided to sit there and talk to her for a while. As I snacked on fruit and drank water we began to connect. She did her best at fixing my horrendous blistered feet and gave me some medical supplies to keep up with them. After she fixed my feet she loaded me up with snacks and water I decided to hike the next seven or so miles to a water source close to Mount Laguna.
It was a hard seven miles. Luckily it was overcast but my feet had never hurt that bad. I finally hobbled my way into camp and found a girl and her father from Germany. He is only doing 21 days of the trail while she plans to do the whole thing. I talked to them while I made dinner and we all went to bed relatively early. I spent the next three hours fighting leg and foot cramps as I tried to sleep.
Day Three: Mile 37 to Mount Laguna; Four Miles

I woke up to a misty morning. It didn't seem like it would rain too hard. I cooked in my tent again. I ate grits and an avocado Lee gave me. I packed up just as it started to rain and fought huge gusts and waves of rain and mist hitting me as I hiked up the ridge toward Mount Laguna. I got into town and to the restaurant as fast as I could. While I was walking to the restaurant I met a girl named Kate who told me it could get below freezing that night. She said many hikers were going to take a zero day there. I decided to try to wait the storm out regardless.
I sat with a bunch of other hikers in the lodge and ate scrambled eggs with a side of fries. It kept raining. Then I got a beer. It kept raining. Then I played cards. It kept raining. Finally I decided that I would regret not taking a zero and went in on a cabin with three other hikers. Twelve of us ended up staying in the cabins in town.
We showered and hung everything up to dry. Then waited. There wasn't a ton to do. I gave Brightside and Kate pack shakedowns and we made a plan to get to Warner Springs in four days.
Day Four: Mount Laguna to Mile 64; 22 Miles
I didn't sleep well in the cabin last night. Even though I was awake I was happy to be dry and warm. Jake left at 5:30 a.m. I took my time and didn't leave until 6:15. I still wasn't hungry so I didn't eat much breakfast.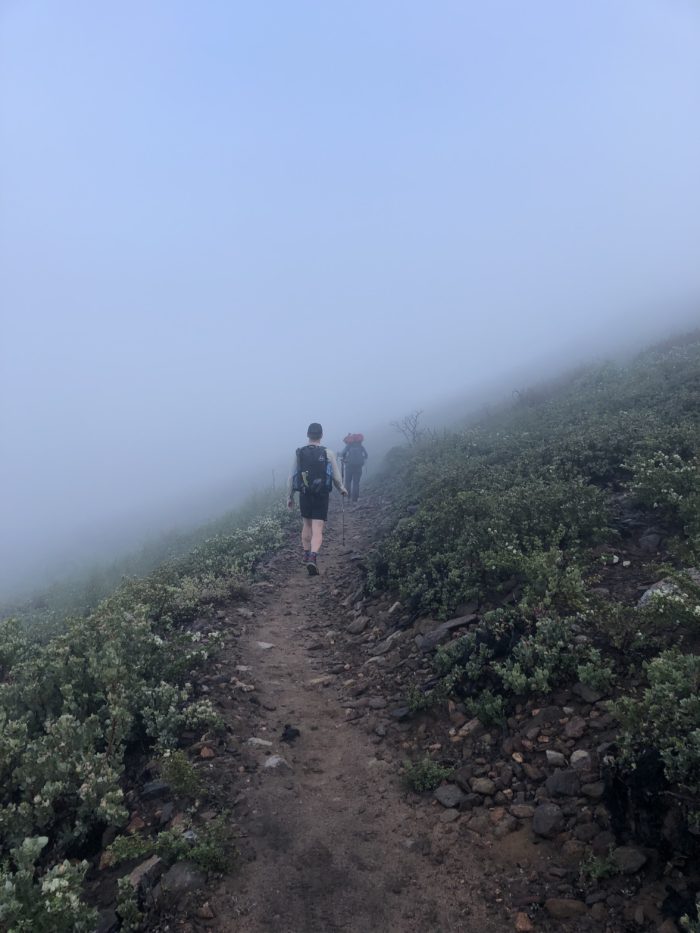 I immediately ran into Luke, Janet, and an Australian woman. We walked toward trail through this fog. We got on trail and ran into loads more people who took zeros the day before! We all hoped the fog would break. Instead it turned into waves of wet wind. I hiked most of the day with the Australian woman. Her trail name was Gables. We talked to each other to distract ourselves from the wind and cold.
I almost did my first ten by ten but found cozy bushes that shielded me from the wind and decided to call Lily and my parents instead. It will come soon, I'm sure. We made it to what was supposed to be camp by 4ish. It was too windy to set up camp so we decided to push downhill four miles to a lower elevation that was hopefully away from the wind.
My feet were in rough condition so I was worried about going on but I did it anyway. I actually felt great. I rolled into camp singing Nahko. I felt like I learned to float down trail regardless of unplanned conditions.
Day Five: Mile 64 to Mile 80; 16 Miles
I slept in. It was the first time since getting on trail and it felt incredible! I'm quickly getting tired of making breakfast so I ate a Probar and rolled out. I was the last one out of camp but was OK with it.
My feet hurt bad from the start but I was still happy to be out there. I spent the day at a slow hobble pace but still passed many friendly faces along the way. The last five miles down to the water cache felt like years. I played would you rather with Frisky and Liz to pass the time.
I wasn't planning on going into Julian but free pie and a beer sounded too good to pass up. As we rolled up to the road a silver minivan pulled over and offered us a ride. We didn't even have to try to hitch. His name was Ghost, and he is known for giving free rides into town for PCT hikers and even drives some to Warner Springs if they need to switch shoes.
Moms Pies was first on our list. I got the triple berry pie with a scoop of ice cream and an ice water. I met a guy from Oregon there and we headed to the brewery. All day all I wanted was a double IPA and they had it! It was even called the PCT IPA. Then it was off to the candy shop for free cider and a bag of candy.
We decided since it was 3:30 we should get back on trail. We were walking toward the end of town where hitching was supposed to be easier and once again Ghost pulls up and offers us a ride. We didn't even need to try. He dropped us off at the overpass with the water cache. We all filled up with water and then started the climb up toward camp. On our way up we saw a rattlesnake and walked a big detour around it. We all camped in a dry creek bed.
Day Six: Mile 80 to Mile 101; 21 Miles
We woke up early and I packed my pack faster than I ever have. We knew it was going to be hot and we wanted to race the sun. My feet hurt. My hobble slowly turned into a slightly normal stride. We did our first ten by ten, all while telling riddles and playing would you rather.
We made it to the water cache by around noon. There were bunches of people there enjoying the shade. There was also a woman who was giving everyone bad advice all while using two gallons of cache water to bathe herself. There was a three-liter limit and you are NEVER to use cache water to bathe but none of us wanted to yell at her for it. We knew it was a battle we wouldn't win.
So Luke, Janet, Andrew and I rolled out quickly with the objective of sneaking four more miles in before the hottest part of the day. By 1 we were desperate for shade. It was hard to come by so we all settled under separate bushes at a campsite and hunkered down.
I tried to take care of my pinky toes but it was clear they were infected. I washed them in my pot and let them sit out but they only felt worse.

At 3:30 we left the shade for seven more miles. I hobbled the whole way. Hitting the 100-mile mark was a nice mood booster. But after that my feet went back to pain. We came into camp to smiling faces, though. Gables, Vons, Brightside, and Kate were there, plus many more. They all looked at my feet and were surprised I made it this far.
After setting up camp a trail angel came into camp with two cases of Coca-Cola and a case of beer. It was the cherry on top of a proud day of mental pushing.
Day Seven: Mile 101 to Warner Springs
I woke up knowing my feet were infected. I could feel that they were swollen and pulsing. I pulled my socks off and did what I could to take care of them but figured hitching into Warner Springs would be the smart choice. I packed up camp and tried to get a hitch into town, but nobody would pick me up. I asked some firemen that passed if they knew anyone who could help. They gave me the number of the trail angel who lived in town. I called her but she didn't pick up.
So I decided that I would try to hike the eight miles into town. It was clear only minutes in that I wouldn't be able to make it. I pulled out Guthook and tried to find a bailout point. It looked like Eagle Rock was my best choice.
I made it there but was pretty miserable. I took pictures with everyone and was happy I got to see it. My next step was to hike out to the paved road I could see from the rock. I hoped somebody would pick me up. At that moment the trail angel called me and told me she would come get me.
At this point I broke down. I was so happy for the kindness. I called my girlfriend and just had her listen to me cry. I knew I had to get to town and then get to the hospital to fix my feet.
Twenty minutes later Patty picked me up. She was the nicest woman. I really enjoyed talking to her as we drove into town. We picked up my resupply box at the post office and then she drop me off at the community center. From here my Aunt Susan called me and asked if I needed a place to stay for a few days to recuperate. At first I said no but then I decided that it was my best option for getting my feet better even if it was going to be hard for me to leave the trail. I watched everyone take showers and do laundry at Warner Springs while I waited for her to drive up from Yucca Valley. I also got new shoes from Two Foot Adventures.
When she came I said goodbye to my new friends and we were off. She bought me a burger at Dairy Queen and then we drove to urgent care in Palm Desert. The doctor looked like he had never hiked a day in his life. He told me 15-25 miles a day was to much for anyone. I told him my feet were infected. He told me to let him make a diagnosis.
Well… surprise, surprise, it was confirmed that my feet were infected and I would need antibiotics, and antibiotic foot cream, and up to five days off to recover. I took the first two suggestions, but I figured I could shave down the five days to two with enough rest and foot care. Now it's just a waiting game.
Affiliate Disclosure
This website contains affiliate links, which means The Trek may receive a percentage of any product or service you purchase using the links in the articles or advertisements. The buyer pays the same price as they would otherwise, and your purchase helps to support The Trek's ongoing goal to serve you quality backpacking advice and information. Thanks for your support!
To learn more, please visit the About This Site page.