Two Days Off, and a Birthday Celebration
It's not often that Miles and I use the term zero days. Note the plural form.
We usually take one day off in town and are back on the following day. We decided to take two days off in Mammoth Lakes, though, to celebrate my 29th birthday.
Our first day off was mostly spent running errands and organizing our packs. The second day was way more relaxing. We got breakfast at Stellar Brew (thanks for the rec, Brian and Abby), we relaxed in our room, hung out at the hotel pool for a couple of hours, and finally ended the evening at the Mammoth Tavern for happy hour. We had picked up a massive slice of double-chocolate cake at the grocery store and devoured that and a bag of microwave popcorn in bed that night while watching "Modern Family" reruns. It was pretty much the best zero day ever.
Back to the Mountains
Leaving town after a zero is usually tough if you've really loved the town that you've stayed in. It was doubly tough this time since we had been in town for two whole days. To be honest, the hiking directly north of Mammoth wasn't all that spectacular, so missing the luxuries of town was magnified. After about ten miles, however, the we began to see the peaks of Yosemite, and our moods changed significantly.
We ran into a bunch of hikers we had met early on as they were heading into town – Pink Panther, Bud Light, Snuggles, sisters, Jill and Jamie, Snacks, and Penguin. We hope this won't be the last time we see them.
Yosemite-Style Birthday
The next morning, we planned to wake up early so that Miles could retrieve his new pack at the Tuolumne Meadows post office. Well, that didn't happen. I just could not wake up early. We had stayed up way too late in town. With the distractions of town activities, phones, and TV, it's easy to stay up till midnight, whereas on the trail, we go to bed before 9 p.m. on most nights.
We hit Island Pass (hardly even a pass) and then Donahue Pass not long after. Donahue was our official entry into Yosemite National Park. This was the first time either of us had set foot in the park, so we were quite excited. Thankfully, it was an easy pass to conquer, with hardly any snow on it.
After lunch, Miles decided to hike ahead so that he could get to the post office before it closed. I would be hiking alone for the afternoon, but didn't mind all that much since the scenery was beautiful around every bend in the trail. I rock-hopped several streams and managed to only get one foot semi-wet. That's always a win.
The last section in to Tuolumne Meadows was super flat as I hiked along Lyell Creek for most of the way. While I should have been cruising in this section, I felt like I was hiking super slowly. Too much time off?
When I arrived at the trail-famous Tuolumne Meadows general store, Miles was waiting for me with some Sierra Nevada beer, grapes, and a birthday card.
"Happy birthday," he exclaimed as I set my pack down near a shaded picnic table. We shared the beer and grapes, while he told me that his pack was sent by Osprey to the Yosemite Valley post office instead of the one at the general store, so we would have to wait until it arrived tomorrow, delaying our start.
Birthday Pancakes
The next day was my actual birthday. To be honest, though, there were many times when I actually forgot it was my birthday. We had no cell reception and we spent most of the day waiting around the store for the mail car to arrive. I did sleep for 11 hours lat night, so that was the best part of the day.
Miles bought me breakfast at the grill and placed birthday candles in my buckwheat pancakes and sang "Happy Birthday." It was a nice way to start off the day and he did everything he could to make my 29th birthday special.
Finally, his new pack came in the early afternoon. He loaded up his new Exos and we hiked out through Yosemite. The park was gorgeous, truly. It was pretty cool to see all of its beauty in person. I took a break at Tuolumne Falls while admiring a rainbow making its way across the water. The cool spray of the falls was welcome and a light breeze warded off invading mosquitoes.
We enjoyed our frozen burritos (unfrozen by that time) and our packed-out Sierra Nevadas before hitting the hay for the night.
A birthday to remember, for sure.
A Water Bottle Rescue
The next day was the coldest day we had consistently dealt with on the entire hike thus far. Normally, we shed our layers after an hour or so of hiking, but today the fleece layer stayed on all day.
After we stopped for lunch just before Benson Pass, I made my way to the stream's edge as Miles finished his lunch so that I could fill up my water bottle. The moment I placed my bottle in the stream, it escaped my grip and began to float downstream. My initial thought was that it was gone for good and that I had also just littered. But, the power of currents seemed to be in my favor. The bottle began to bob against a nearby boulder over and over again. I ran up to the tent site and grabbed a massive stick near the fire ring and headed back to the stream.
I stepped into the stream a bit and tried with all my strength to drag the bottle back using the massive stick, rubbing soot all over my fleece in the process. Suddenly, I hear a "riiiiiiip" sound and quickly glance behind me to see that the small hole I had in my rain pants is now a massive hole. With sadness, I then watched my water bottle float down a small waterfall and farther away from me.
I ran down alongside the stream to witness my bottle's fate, when all of a sudden, it stopped heading downstream and was pulled into the safety of another rock's influence on the current. After I scanned the area to make sure it was safe, I jumped into the shin-deep water and rescued my bottle from its peril.
My shoes and socks were wet, my fleece and left hand covered in soot from the stick, and I had a huge hole in the ass of my rain pants, but I had my water bottle safe in my possession once again.
And for the duration of this entire rescue effort, Miles was spectating from his lunch spot laughing at me and eating his tuna salad. Ugh.
1,000 Miles
The following day was kind of a big deal. After dealing with a plethora of mosquitoes near Dorothy Lake Pass and seeing several deer, we hit the 1,000-mile marker right at the end of our day of hiking. If you had told me back at mile 100 that we would make it this far, I would not have believed you. I will say that focusing on the smaller mileage and town goals has been the difference maker in motivating us on our hike since Warner Springs.
Steak Dinner
The next morning I was exhausted, but relieved that we would be heading into Kennedy Meadows North that evening to send home our Sierra gear and lighten our load.
As we neared Sonora Pass, we still encountered several snow patches, some as long as a quarter of a mile. The character of the mountains had drastically changed since leaving Yosemite the day before. It was still incredibly beautiful, but just in a different way. We were able to see the surrounding mountains from all directions as we ridge-walked above 10,000 feet.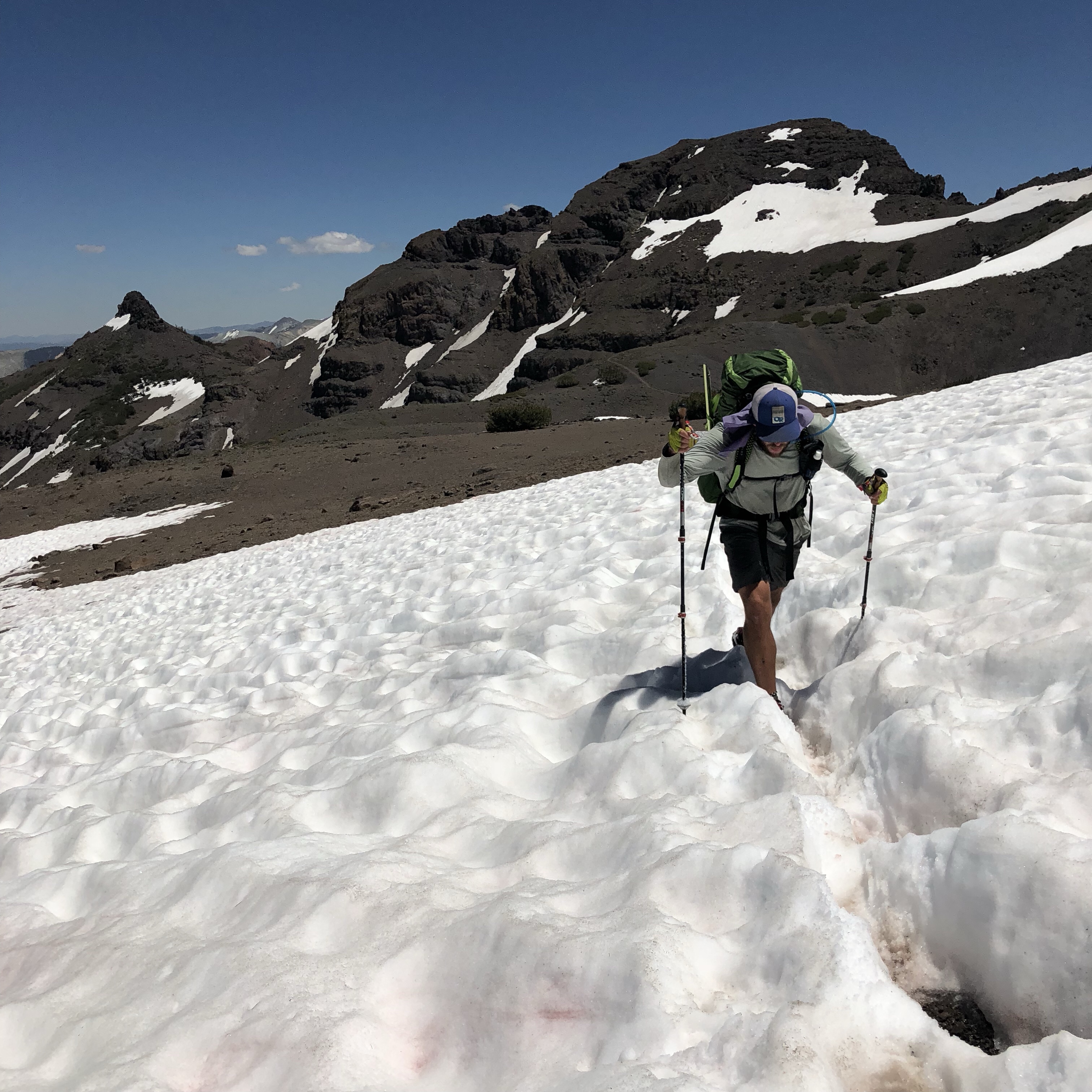 Coming down from Sonora Pass was slow going. There was much more snow here than we expected. We were relieved to finally make it to the road, and after about 20 minutes we got a ride from a section hiker heading home after a week of hiking farther north.
We made a quick four-hour stop at Kennedy Meadows North (not to be confused with the more famous Kennedy Meadows) getting our resupply, sending home our ice axes (which we never used once), Microspikes, and bear canisters. We were so relieved to shed the extra weight. While we did have to pay for the staff to send it out, it was so worth it.
Last order of business was dinner. I wolfed down a steak, baked potato, broccoli, roll, salad, soup, apple crisp, and two beers. Yep. I was pretty proud of my eating abilities that night.
We wanted to get back on trail that night, so we walked a mile back to the road and got a hitch from another section hiker. It was perfect timing on a road that doesn't have a lot of traffic. As we hiked farther north, we couldn't believe how much lighter our packs felt after shedding our Sierra gear. We hiked until dark, still hiking through snowy patches, and so tired, that we ended up camping on a less than desirable sloping spot. Whatever. We just didn't want to walk any longer.
We couldn't wait to arrive in South Lake Tahoe in just 3.5 days, where we would take a much-needed zero.
Affiliate Disclosure
This website contains affiliate links, which means The Trek may receive a percentage of any product or service you purchase using the links in the articles or advertisements. The buyer pays the same price as they would otherwise, and your purchase helps to support The Trek's ongoing goal to serve you quality backpacking advice and information. Thanks for your support!
To learn more, please visit the About This Site page.