PNT Preparations: Section hiking, gear changes and worries about the trail
Hey Y'all
Tinkle is back – new year, new trail!
Last summer, I blogged about my hike across the Pyrenees. This summer (drumroll, please) I will attempt a thruhike of the Pacific Northwest Trail aka PNT. Before getting to know the PNT better, I wanna tell you about the last couple of weeks.
What's the best training for a thruhike?
HIKING is, right? At least that's what I think is best. I surprised my trail sister in late April for her birthday and was therefore way too early in the US to start hiking the PNT. That's why I jumped to the AT. I would have never thought to hike a section of the AT. I guess that's the beauty of life! You never know where you end up. I joined my friend Spirit Kick, who I hiked with back in the days on the PCT. He is thru-hiking the Appalachian Trail and planning where to meet up was quite hard, just that to be said.
We met up in Pearisburg, Virginia. I was very curious how the AT's gonna be. All I ever heard was that it's super hard, raining a lot, and there are barely any views. I'm the kind of person, who likes trying things before making my opinion.
The first days out on trail were tough. I wasn't in shape and carrying five days' worth of food didn't make it any easier. My feet were hurting a lot. But that's all part of it, right? The weather was relatively nice with some showers in the afternoons. On my second day out, I even saw two bears and a snake! Time on the trail was flying by and it felt so good to be back. When people asked if I was thru-hiking it was weird and new to answer – no, I'm only hiking a section.
(almost) Sunset at McAfee Knob
A highlight for sure was Virginia's Tripple Crown which includes Dragon's Tooth, McAfee Knob, and Tinker Cliffs. We arrived at McAfee in the late afternoon and the lighting was perfect. It was my first big day and I was tired (but so happy) arriving at camp that night. We hiked around 19 miles and it was my fifth day on the trail. I was very proud of my body to adapt so fast! The weather changed from rainy to super hot and very humid.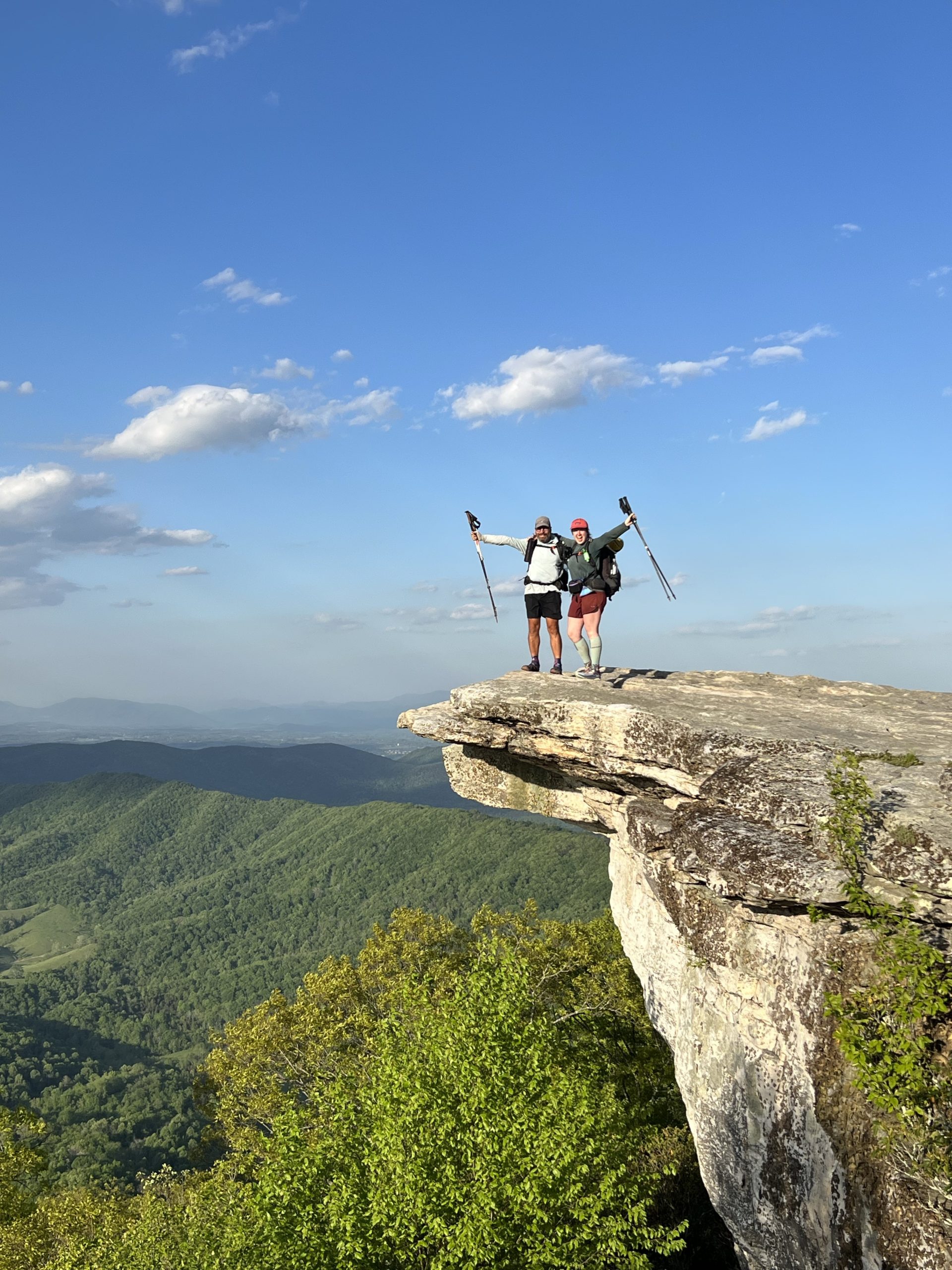 NEW GEAR!
I bought a new tent and it was great to try it out for the first time. For those who are wondering, I got the Tarptent Notch. It's a two-wall one-person tent that you set up with your trekking poles. In the beginning, I was skeptical but after two weeks I finally figured out how to set it up properly! Haha I know, two weeks is quite long. Another new gear piece was the fanny pack. I fell immediately in love with it! ?
I originally planned to put my vlog stuff in my fanny pack, but so far everything else is in there. Let's see about that later on the PNT. I'm sure I'll find a place for my tripod. Also, I decided not to film my section hike on the AT. But I am gonna film my journey on the Pacific Northwest Trail! Here is the link to my YouTube channel. I'm a beginner videographer and it would mean a lot to me if you check my channel out! It's my new baby 🙂
Why hike if you also can canoe?
That's a question I asked myself when we hiked into the Shenandoah National Park. I think the AT took the least scenic route through the park. Basically, it followed the road and crossed it a dozen times. I walked with Spirit Kick until Elkton. There we stayed in the cute hiker hostel called Small Axe Farms. Kelly and her husband converted their barn into a hiker's paradise. She also made us delicious food. Being vegan was no problem and it was soo good! Highly recommended to stay there, if you are in Elkton!!
Another friend of mine is section hiking on the AT. She was asking me if I would be up to going canoeing. In hiker lingo also called Aquablazing. I got a ride to Luray where I met the Aquablazing crew! Because I was so early at the hostel, I went to the famous caverns of Luray. It was a little pricey but definitely worth it in my opinion (if you aren't on a super tight budget). See yourself ?
The next morning we were dropped off with canoes and life jackets at the boat landing. Our adventure can begin! We also had two huge dry bags for our valuable gear and two coolers for food and drinks. The instructions were pretty minimal and I was only slightly nervous. We loaded our canoes and off we were! I was in the canoe with my friend Blue Cheese and her cute doggo Emmi. What a crew ❤️
It was super relaxing floating down the river. The first rapids we came across were class one and therefore easy peasy. I was sitting in the front and there you can't really do much. The person in the back has to do all the steering. I was doing a kayak course last summer, but being in a double canoe is so different. We camped along the river and had a campfire at night.
In the three days we were canoeing we did 40 miles. Probably even more because we were zigzagging from our poor steering skills! ? At the beginning of the second day we came across class two rapids. As we paddled closer to the rapids my heartbeat went straight up. We were the last boat from our group and saw the canoe in front of us flip over. I was so glad, that we made it through without flipping over! We stopped to get the water out of the canoe and made a break. Thankfully none of the gear got lost in the flipping boat. Nashvegas though lost his phone in the river.
We stopped every once in a while at a rope swing or just to have lunch somewhere on shore. I had a great time canoeing and was sad when it was over on the third day. I could have done this a few days longer! ☺️ Maybe one day a longer canoe trip?
The Pacific Northwest Trail
Let's dig in! It's about a month until I start the PNT. The trail is about 1250 miles long and goes through Montana, Idaho, and Washington. It starts in the epic Glacier National Park and ends at the Pacific Ocean on the Olympic Peninsula. The PNT is a young trail and therefore it's not as developed yet as the PCT. There are sections where you have to bushwack and also some road walking sections. It is supposed to be very physically draining and goes through rugged terrain. Also, the trail is quite unknown and that means only a few dozen people thruhike it every year. It is a big challenge for me!
I planned to do this trail back in 2020 but we all know what happened then. So I am super excited to finally start it and experience it myself! I chose this trail because I loved the Washington section along the PCT. Although I didn't see most of it because it was all rainy and in clouds. Fingers crossed for this time!
I am nervous.
What worries me the most is probably the wildlife I could encounter on the trail. Which could be such as Grizzlies, Moose, and so on. It's also the first time I will carry paper maps with me because it's supposed to be hard to navigate. The PNT follows connecting trails that could be overgrown and also not recently maintained or no trail at all. Starting the trail solo also doesn't add a lot of security.
Because it's a young trail there are also more preparations and research to do. I bought paper maps, a town guide, and trail notes. There is the smartphone app FarOut (I still call it Guthooks) but I don't wanna rely only on that. Currently, I'm figuring out where to send resupply boxes and how I will get to the Eastern Terminus.
Okay, that's a wrap 🙂
Happy Trails, Tinkle
Affiliate Disclosure
This website contains affiliate links, which means The Trek may receive a percentage of any product or service you purchase using the links in the articles or advertisements. The buyer pays the same price as they would otherwise, and your purchase helps to support The Trek's ongoing goal to serve you quality backpacking advice and information. Thanks for your support!
To learn more, please visit the About This Site page.