Food Review: Good To-Go Backpacking Meals
Backpackers know that food is an essential component of any adventure. You want to feel satisfied, well-nourished, and fueled up for the day with food that is nutritious enough to keep you moving and help your body stay in good repair. Unfortunately, it is often difficult to place "nutritious food" and "hiking food" in the same category.
There is little doubt in my mind that when I thru-hiked the AT in 2017, much of the extreme pain and exhaustion I experienced was related at least partially to the fact that I was subsisting on a steady diet of chemicals and garbage. Let's face it, that diet tends to be the most accessible and, for a long time, we backpackers really could not hope for anything better tasting or better for you. Fortunately for us, Good To-Go backpacking meals arrived on the scene in 2014 and has proceeded to completely upend much of the conventional wisdom regarding what backpacking food is and can be.
Related: The Best Meals for Backpacking
Price: $6.50 to $12.95
Diet: Gluten free, majority of products vegetarian
Products: Breakfast, dinner
Good To-Go Backpacking Meals Overview
Good To-Go was founded in 2014 by Jennifer Scism, an Iron Chef contestant, Golden Fork award winner, and former co-owner of a renowned New York City restaurant, who discovered a love of outdoor adventure after leaving the city for the coast of Maine in 2010. Along with her husband and business partner, David Koorits, chef Jennifer created Good To-Go in response to the underwhelming flavor and nutritional value of traditional freeze-dried backpacking food. Their mission is to provide adventurers with healthy, great-tasting meals that can be prepared anywhere one has access to boiling water. All Good To-Go meals are gluten free, preservative free, low in sodium, and produced and packaged at the company's headquarters in Kittery, ME.
Circumstances of Review
Good To-Go was kind enough to provide me with a tour of its facility in Kittery, as well as seven dinners and one breakfast for the purposes of this review. I sampled these meals in a variety of circumstances, including during a brief overnight on the Pacific Crest Trail in Washington, on a two-day backpacking trip through the Sawtooth Mountains in Idaho, and at the end of several day hikes around Steamboat Springs, CO. On each of these hikes, I walked between six and 12 miles per day. I used these meals along with my usual cooking setup, which includes an MSR PocketRocket 2, MSR Titan Tea Kettle, Sawyer Squeeze water filter, BIC lighter, and a spork. I tested for ease of preparation, satiety, and of course, taste. All meals tested were the single-serving size.
Key Features
Gluten free: All Good To-Go meals are 100% gluten free.
Low sodium/no preservatives: In support of their mission to create truly healthy meals, Good To-Go keeps the sodium content of their meals low and refrains from the use of chemical preservatives.
Ease of Preparation
I found Good To-Go meals to be extremely easy to prepare. All you need to do is boil the requisite amount of water, pour it in the bag, wait for the contents to rehydrate, and eat the food. The directions on the packaging are straightforward and provide the water measurements in both cups and milliliters.
Satiety/Portion Size
I suspect that had I been pulling thru-hiker miles, I would have been left wishing that I had opted for the double portions. However, following the relatively short days of hiking during which I tested these meals (none exceeded 12 miles per day), I found the single serving portion of these meals to be more than sufficient. The ingredients are filling and the caloric density relative to weight is comparable to that of competitors.
Taste
I can honestly say that I was very impressed with the taste of the meals that I tried. In my experience, it is usually clear that the flavor in backpacking food is attributable almost entirely to salt. But with the Good To-Go meals I tried, I noted herbs and spices, aromas, even nuance.  Here is an individual breakdown on the unique flavors in each meal that I tried. We've linked to the single-serve options, but many of these come in two-serving packages.
I absolutely love risotto. In fact, I was so excited to try this meal that I dove in a little sooner than the directions advised and wound up eating it slightly al dente. Still, the flavor was excellent. The taste and aroma of white wine was undiminished by dehydration, and the rich creamy texture that you expect from risotto was intact.
Pad Thai
MSRP: $7
Calories per serving: 430
This was the first meal I tried. I remember being told how healthy these meals are, and what struck me immediately about the Pad Thai was how it tasted so healthy and wholesome in the best way possible. The vegetables really come through in this dish to fill the too often gaping void of fresh produce in hikers' diets. The carrots actually had the texture of fresh carrots and the peanuts added a nice crunch. While you might expect a Thai dish to be spicy, the flavor was actually very mild and approachable for any type of palette.
Thai Curry
MSRP: $7
Calories per serving: 380
I am obsessed with curry. If I see a curry dish on a menu, there is no need for me to read further, I know what I want. And while I'm not the kind of person who carries a little vial of hot sauce around with her everywhere she goes, I certainly do not shy away from spicy food. This dish definitely brought the heat with plenty of red Thai chilis and warmed me right up on the cold, damp night I tried it. I thought it was delicious, but I would caution anyone who dislikes spicy food to pass on this one.
If I expected any dish to be too hot to handle, it was this one. So when I tried it, I was surprised to find that the spices in the chocolatey mole sauce actually deliver an aromatic sweetness, and there is really nothing muy caliente about it. On a pro tip from Justin, my friendly tour guide at the Good To-Go factory, I turned it into a burrito. I took the quinoa and rolled it into a tortilla along with the fresh avocado and pepper jack cheese I had packed out. 10/10 would recommend. It was amazing.
This was another dish that I thought might be hot and spicy, but turned out to be mild instead. I appreciated the texture and flavor of fresh vegetables. The yogurt sauce replete with Indian herbs and spices was flavorful. However, I do not love the texture of chickpeas and because there are a lot of them in this dish, it was not my favorite.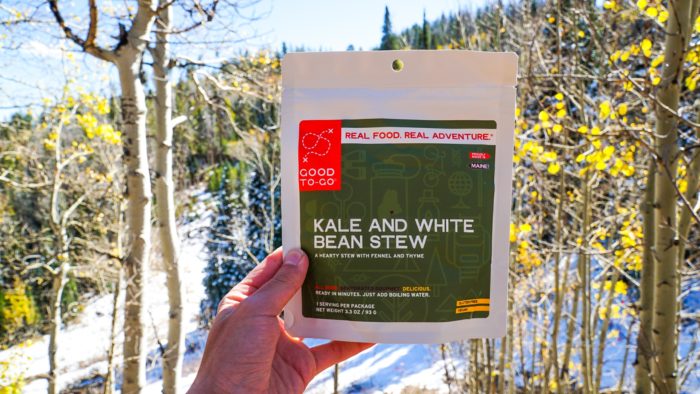 This is one of the newest additions to Good To-Go's pantheon of entrees. Launched just weeks ago at the end of October, I had the privilege of sampling this meal before it was released to the masses. I'll be honest, this was the meal I was least excited to try. I tend not be a huge fan of beans. I just think they have a mealy texture and I figured that, since this is a vegetarian stew, there would be a ton of them. I was pleasantly surprised to find this is not the case. Instead, much of the thickness comes from potatoes, and the proportion of beans to all other ingredients is not at all overwhelming. I was impressed that a vegetarian stew could have such a rich, hearty flavor, and was glad that I saved it for a cold autumn night.
This food may be from the coast of New England, but so am I. As a native of that region I consider my standards quite high when it comes to fish chowders. I did not expect to hate this meal, but I did not expect it to taste like home either. However, this meal really shifted my understanding of what dehydrated food can be. As I sat on the ground taking in my Rocky Mountain surroundings, I was transported with every bite to summers back home spent on decks overlooking the ocean. The corn was sweet and juicy, the white fish was meaty and flaky, and the thickness of the broth was perfect.
Granola
MSRP: $6.50
Calories per serving: 580
The one breakfast I tried turned out to be my least favorite Good To-Go meal. Don't get me wrong; it had great texture and I really liked the nuts and blueberries. I discovered, however, that I just really don't care for the flavor of dehydrated milk. Good To-Go also makes an oatmeal that does not contain dehydrated milk, so I would probably opt for that next time instead.
Pros
Good To-Go meals are about as healthy as you can find in the world of backpacking food. They are lightweight, easy to prepare, and absolutely delicious.
Cons
Cost is the obvious downside of high-quality meals such as these. It is simply not realistic on most thru-hiker budgets to expect to eat food like this every night. Generally speaking, as the length of your trip increases, the likelihood that you will be able to afford these meals decreases. Also, while low sodium tends to be a plus in most situations, hikers actually require quite a bit of sodium because they sweat so much all day long. So it is possible that some may find this to be a problem. Good To-Go meals also usually take around 20 minutes to rehydrate, which is really just a personal con because I am very impatient when it comes to food.
Overall
I was blown away by the quality of Good To-Go. These meals prove that you do not need buckets of salt to flavor your backcountry cuisine. Instead, all you need is a world-class chef in possession of a dehydrator. Even though the cost may prohibit most from indulging in these meals too frequently on a thru-hike, I would still encourage anyone to treat themselves to a Good To-Go meal every now and then. Your body and your taste buds will thank you.
Find the full line of Good To-Go backpacking meals here.
Affiliate Disclosure
This website contains affiliate links, which means The Trek may receive a percentage of any product or service you purchase using the links in the articles or advertisements. The buyer pays the same price as they would otherwise, and your purchase helps to support The Trek's ongoing goal to serve you quality backpacking advice and information. Thanks for your support!
To learn more, please visit the About This Site page.