SMT Chapter 9: Back to the Mountains!
Day 25: Lucky Coincidences
I slept surprisingly well and left my hostel around 8:30 am. Thankfully, I felt much better than yesterday, though not back to 100% power. The hostel was on the outskirts of Ajdovscina, so I began my day with a walk through the town. Since it wasn't directly on the SMT, my first goal for today was to find someone willing to give me a ride back to the trail. I stood on the side of the road with my thumb out, but my initial attempts were unsuccessful. People did stop, but they weren't going to the destination I wanted. So, I split my hitch into two parts, and within a few minutes, someone offered me a ride to the first destination. Unfortunately, there wasn't as much traffic here as there was in Ajdovscina, and when no cars were in sight, I began to walk up the road. I figured I'd walk an extra 10 km if necessary. I had long given up hope of finding another ride when a single car finally drove up the road. I tried my luck, and a kind Slovenian lady saved me from walking the additional 10 km on the road. We chatted throughout the entire ride, and I thanked her warmly when she dropped me off at the SMT.
I hiked up through the forest to Koča Antona Bavčerja. The hut keeper was standing by the door as I reached the hut and asked if I wanted something to drink. I ordered a coffee and sat on the terrace. After finishing my drink, I asked him to refill my water bottle. He inquired about how far I was going, and when I mentioned I was headed to Vojsko, he told me I would need more water for that. He went to the kitchen and returned with my water bottle filled and a large glass of water. I appreciated his kind gesture, and before I left, he showed me my route for the day on the map. With a joyful goodbye, I set off towards Mali Golak, a small mountain about two hours away from here.
The descent led through the forest, but many trees had been uprooted, burying the trail beneath them, and making it difficult for me to follow. I climbed over countless tree trunks, and without my GPX maps, I would have struggled to find the trail. Honestly, balancing on tree trunks well above the ground seemed more dangerous to me than being in the high mountains. Anyway, I slipped a few times and got some scratches. After a while, I left the devastated area, crossed a road, and hiked up to the closed Iztokova Koča. Since my stomach felt a bit uneasy, I lay down briefly on a bench to relax. After the break, I ascended Mali Golak, where I met a Slovenian couple at the summit. We started chatting, and I told them about my hike, the unpredictable weather, and so on. I bid them farewell and began the descent.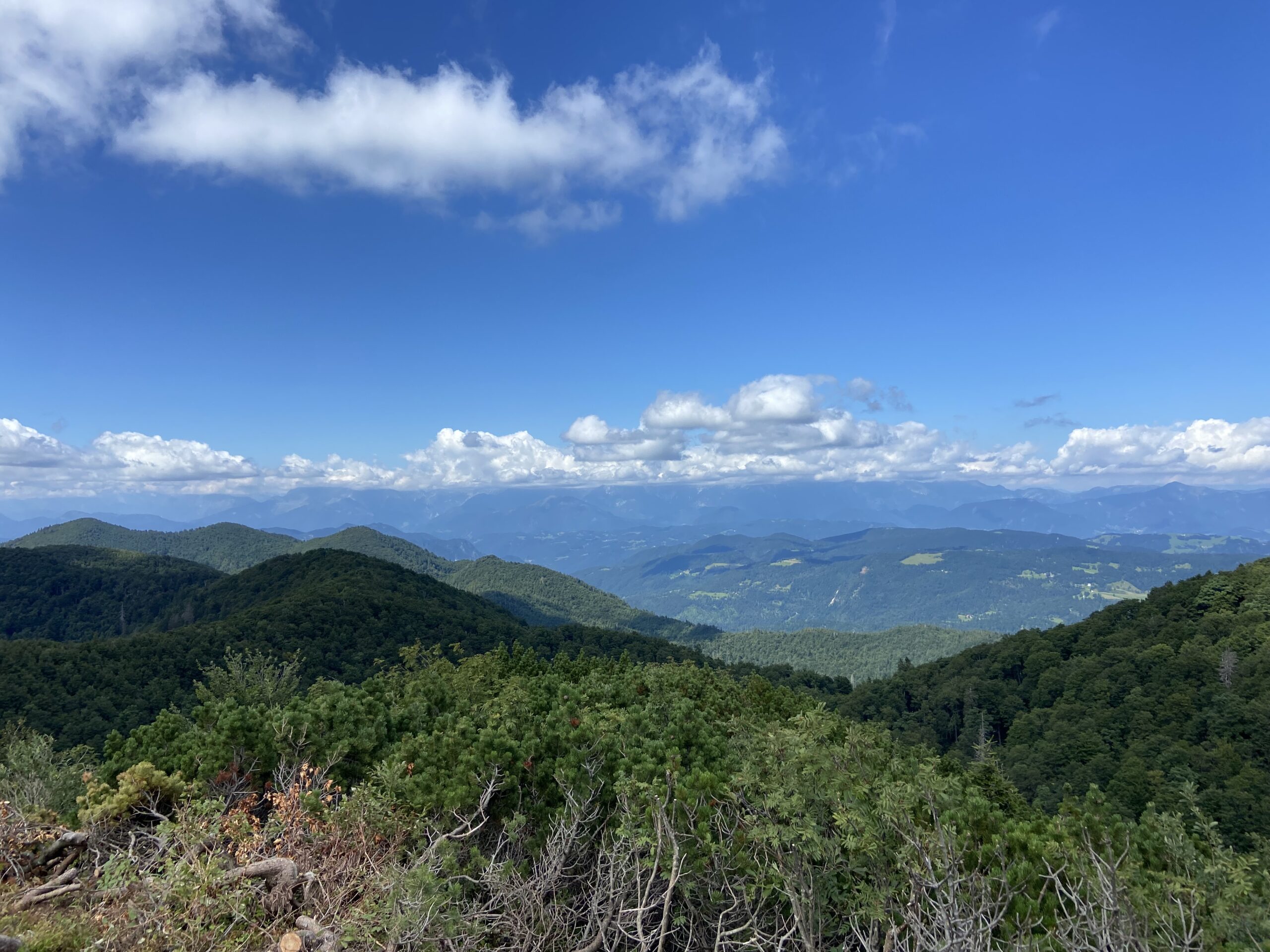 Originally, I had planned for a "short" day today, but the spot where I had hoped to camp was evidently private property, as the farmer was mowing the grass with his tractor there. So, I decided to keep going, not very pleased about the next 6 km on the forest road. After a short while, I heard a car approaching from behind, so I stepped aside to make space. Instead of passing by, the driver stopped right next to me and rolled down the window. Inside were the two hikers I had met on Mali Golak! They asked if I wanted a ride, and after some hesitation, I agreed and let them give me a lift to Vojsko. We chatted during the ride, and both of them were incredibly nice!
In Vojsko, I got off, thanked them, and found a covered picnic table with a bench I wanted to sleep on. Since I had internet here again, I checked my messages and messaged someone who was also hiking the SMT but in the opposite direction. I had expected to meet him today, so I wrote, "Did I miss you?!" He replied, "I don't know, I got lost." I asked him where he was, and he was already a few kilometers past Vojsko, but he wouldn't make it to the hut behind Mali Golak before dark. So, he decided to go back to Vojsko, while I looked for a place to sleep. The bench would have been okay, but it could have been convenient to share a room. I inquired at an accommodation, but all the rooms were full. However, the owner offered me to sleep in the garden, which honestly I liked better than a room anyway. I sat on the grass in the beautifully decorated garden and waited for J.
When he finally arrived at our sleeping spot, we talked for the rest of the day. J was from Finland and had even lived in Slovenia for a few months. We chatted until the sun went down, laid out our sleeping mats, and went to bed. Above us stretched the most beautiful and clear starry sky I had seen in a long time.
Distance: 23 km, +1303 m, -1083 m
Day 26: Ticko Mio
J and I woke up in sleeping bags damp from the condensation of the previous night and tried to dry them (unsuccessfully) during breakfast. When we set off, everything was still wet, so we had no choice but to take a longer break in the sun later that day. Since we were hiking in opposite directions, we said our goodbyes at the intersection: I headed to Idrija, and J hiked towards Mali Golak.
For the first two hours, I hiked on the road in the rising sun. There was no traffic so early in the morning, so walking on the road bothered me less than usual. Eventually, I turned onto a small hiking trail into the forest and hiked over the ridge of a chain of several small mountains to Koča na Hleviški planini, where I took a break. The hut appeared closed and was bathed in sunlight, so I spread all my gear on the table and bench to let it dry in the sun. Afterward, I routinely checked my legs for ticks and unfortunately found some. Countless tiny bloodsuckers were crawling on my legs. As soon as I focused on one, I spotted another from the corner of my eye and tried to remember where each was, so I wouldn't forget any. Initially, I didn't want to kill them; I placed the ticks on a rock and tossed them far away, making sure they wouldn't come back. After sending about 10 ticks into exile, I decided to take matters into my own hands with my knife, so that other hikers wouldn't suffer the same fate.
A German couple arrived at the hut and sat down at one of the tables. I told them to check for ticks since there were many here. The woman offered to check my back as I was still dealing with the pesky bloodsuckers on my legs. After removing more ticks, I glanced at my shoes where ticks were also crawling. This actually disproves the theory that ticks fall from trees.
After my break, I hiked down to Idrija. On a forest road, I checked my messages on my phone, and IZ (whom we met in the Kamnik Alps) had asked if I knew anyone who could host her for a night in Innsbruck. While typing a response, I stepped into a ditch, likely formed by heavy rain, and fell forward. Result: scraped knee and scraped hand. Lesson learned: no texting while hiking!
Upon arriving in Idrija, everything somehow became stressful. I spotted an ice cream parlor and bought two scoops of ice cream. My bf T called me, so I talked on the phone while enjoying my delicious ice cream. The ice cream cone broke in the middle, and I had to eat my ice cream with my hands and pieces of the cone – all while on the phone. I went into the supermarket to shop, but at the same time, I still had to sort out the sleeping arrangement for IZ with a friend who lived in Innsbruck. Plus, I needed to plan the rest of the day. Thus, my mind was divided among all these tasks, and I wasn't fully present in any of them. Completely stressed by the city and all the things I was juggling, I hiked back up into the mountains.
It was hot, and the ascent was more strenuous and steeper than expected, causing me to take several breaks along the way. My ankles kept rolling on both sides, mostly without pain but still odd since it rarely happened to me before. It became truly concerning when I rolled my ankle on a large rock while crossing a waterfall. Fortunately, I landed on my hands, but my left side was already quite close to the edge. My heart skipped a beat, but everything was okay, and I continued hiking.
Upon reaching the top, I sat on a bench and had to regain my inner hiking peace. The fact that I had made so many mistakes today didn't exactly show that I was focused while hiking. I decided to conclude today's journey at "only" 25 km and give myself a bit of a break. Apparently, things weren't going smoothly today.
On the terrace of Planinska Koča Mrzl'k, I spent the remainder of my day in a sun lounger, resting and recovering.
Distance: 24,5 km +919 m, -1028 m
Day 27: Is there such thing as a Marathon for elevation gain?
After a good 9 hours of sleep, I packed my backpack feeling well-rested yet a bit sleepy. The hut keeper was already awake, so I ordered a coffee to accompany my breakfast, which consisted of tortilla wraps, almond butter, and jam.
As I left the hut, the sun was just rising, casting the valley in a deep orange light. I hiked through the tranquil morning atmosphere, with only the birds chirping and a few crickets singing.
The first half of the day alternated between hiking trails and roads, passing through small villages and farms, across gentle hills covered in tall grass, and into an endearing valley with few inhabitants. Unfortunately, the restaurant here was closed, which was a pity since I had been looking forward to having pizza. The water fountain marked on the map across the road wasn't working, so I took a short trip to the nearby river to fetch water. Afterward, I lay down in the shade on the empty parking lot to take a break before my long ascent.
After about an hour, I packed up and returned to the SMT. The long ascent proved to be indeed lengthy and extremely draining. It was the kind of climb where you constantly check the map to see how much further it is. The sun was scorching, my sweat was pouring down, and I took countless breaks on the way up. Finally, around 4:00 pm, I reached the summit of Porezen and the hut located just below it. I laid down on a bench in front of the hut and needed a bit of relaxation. I had planned to cook, but wasn't really keen on taking action, so I asked in the kitchen if they had anything vegetarian. The cook served me pasta with cheese sauce, a salad, and a basket of bread. My couscous with vegetable broth would have seemed quite plain in comparison, haha.
Distance: 25,4 km, +1800 m, -1103 m
Affiliate Disclosure
This website contains affiliate links, which means The Trek may receive a percentage of any product or service you purchase using the links in the articles or advertisements. The buyer pays the same price as they would otherwise, and your purchase helps to support The Trek's ongoing goal to serve you quality backpacking advice and information. Thanks for your support!
To learn more, please visit the About This Site page.