The Most Beautiful Place in the World
AKA The One Where They Hike in the Juans…
Another Resupply
Woke up in the middle of the night, so looked at the stars. The Milky Way was phenomenal! Did get pretty chilly around dawn (some ice in the water bottles) and hard to get going. Woke up about 6 am and started walking around 6:45 am. Took a while for the sun to hit us in our little dell. Picked a good spot to camp, didn't see any water after until we got to the pass.
Got to the cache about 8:30 am and found it easily. Ate the goldfish and canned oranges. Sad there weren't more snacks. Dog food was already bagged, but seems there is less food in each bag than what I have been feeding. Left the solar panel (battery is close to full charge), zip off pants, and olive oil bottle. I've been hording F-Bombs, cliff bars, and gel shots the last 10 days or so, a good choice I think. Checked email, etc. briefly. Dealt with the problems I could and tried not to let it all get under my skin.
Set off again around 9:30 am. Filled up with water next to the road and the Aussie guy from yesterday offered us a ride. Turned him down and continued on. The parking area was packed! Stopped about 10:15 am to handle an email I forgot, then trucked on to the top of Jarosa Mesa. Passed what looked like a distance hiker and 2 weekend backpackers.
Took lunch on the Mesa about noon. Relatively warm with just some wispy clouds to the west. Wonderful views! Moseyed down and up before picking up speed over the next hill. No sheep, but there was a group with LOTS of kids. Said they'd heard about us… Turns out they are a big family hiking to Molas Pass.
Stopped for a short water break at the top of the hill, then pushed on to the meadow by the Yurt. Dogs pretty warm and seeking shade. Had already decided on a short day, but still hard to stop because the weather is amazing AGAIN!!!! Hope this continues a few more days.
Set up in the meadow, the yurt isn't up yet. Went and got water. Lots of algae, so hard to find a good spot to filter. The family asked a few questions and is camped near us, very quiet though, I'm impressed. Read some and am on the epilogue of War and Peace. Had ramen and apple wood smoked chicken for dinner, a light food day.
Both dogs are accumulating problems, but we're so close! Skittles appears to be getting an infected toenail and the sore in between Prima's toes on the front looks sad. Not sure what to do other than keep up with the booties.
Planning on getting up early to try to make Carson Saddle by lunch. Planning on Cataract Lake for camping. Also, there is a decent size spider stuck in my tent. We are both afraid of each other!
The Most Beautiful Place in the World
Wow! What a day! Alarm went off at 5 am and I snoozed it once. Got up and started packing, ready to go by 6 am. Chilly morning, we were all shivering while I packed and I didn't sleep very well. Decent sunrise at least. The parents of that family were up when I left, but didn't see them again after that. Slow start body wise. Took my time up the first few fills.
Saw a herd of Elk at treeline and tons of Pika about. Nice views of Redcloud and Sunshine. Made great time and got to the CT High Point about 9:30 am. Took a little break before continuing on. Saw lots of people it seemed like around Coney Summit and Carson Saddle, makes sense since it's Saturday I guess. Kept trucking toward the next pass and stopped at the first water source to fill up.
Kept going, but slow- one of my tougher climbs of the day. Made the pass after a snow break and continued down to toward Cataract Lake. So green while going downhill! Got to that little lake about 12:45 pm and had lunch. Decided that since the weather was once again outstanding to do a big day. As such I had 2 tuna packets for lunch and pulled another cliff and the Lara bar. Read only a little, then put musher's secret and booties on the dogs and started walking about 2 pm. A day-biker passed, but otherwise quiet in that section.
Felt great going up the next pass and lots of water for the dogs. The views in the next basin were out of this world! I felt really over stimulated and didn't know where to look. Absolutely the most beautiful place in the world.
Met a biker and two section hikers on the downhill, then didn't see anyone until descending to Stony Pass. Took a break at the pass above Cuba Gulch around 3:30 pm. Starting to become cloudier, but didn't have height for a thunderstorm. Cuba Gulch is even more phenomenal when it is green and a bit snowy. Had a nice view of Handies too.
Enjoyed the views and kept going to above Minnie. One of my favorite spots with those huge Cairns and great views of Sheep Mountain. Took a break and realized we had already hiked 21 miles according to GAIA. Decided to go for a marathon day (5:30 pm at this point).
Started slow, then picked up steam. Ran out of another memory card, I took a ton of pics today. Got a great shot of the dogs on the Data Book spot.
Met a NOBO hiker, then avoided 2 confused hikers with a dog. Saw two shepherd camps, but no sheep today. Several cars on Stony Pass and passed 2 camps on those bald hills. Sun starting to set, so hoofed it. The dogs got a bit slow on the road walk, but got a second wind. Went all the way to Cunningham Gulch and set up near where we camped last fall just as the sun set. 26 MILES!!!!!
The dogs crushed it today! They are definitely tired, but I never saw them limp or anything. Got water, then made everyone dinner. Didn't give the dogs oil so they would eat and both wolfed their food down. I had loaded mashed potatoes and hot chocolate. Just finished cleaning everything up.
Planning on sleeping in till 6 am at least since we are doing a short day tomorrow and the hill will block the sun rise. In a lumpy meadow again, so hopefully I sleep alright. Saw ptarmigan today, including a chick, and tons of wildflowers!
Almost feels like we're home since we are in familiar territory now. Less than 100 miles and about a week of hiking left. What a trip! So thankful for everything and trying to enjoy these last moments.
Elk Creek
Even with the lumpy-ness, I slept super well last night. The dogs wanted up when the alarm went off and ran down to get a drink from a puddle. Grabbed the bear bag and ate a poptart for breakfast. Got everything packed.
Couldn't get the booties on Prima's front, decided that was the whole reason I wrapped her dewclaws, so I cut the wrappings off. They still looked bad, but not necessarily infected or anything. Left the booties off to let the swelling go down. Both dogs were excited to hit the trail and had a ton of energy, which made me happy.
Nice weather and the hiking seemed to go fast above treeline. Lots of people today, saw more dogs than the last 2.5 weeks combined! Talked to a CDT LASHer (Wolf Creek- Nederland) that also did the CT SOBO in 2018. After that we met a mother and son doing a section hike, the son also lives in Durango.
Took a break at the top of the switchbacks and put socks/booties on Prima. Wonderful views all around! Started the decent. Skittles was very confused by the switchbacks. She had a hard time making it around the corner before turning around, causing her to go uphill half the time.
No fireweed, but TONS of other flowers like clover, paintbrush, and some yellow flowers. The mine shaft had snow in it and lots of waterfalls the whole way downhill. The dogs crushed it on all the steep talus, but boy was it scenic! Their booties took a beating.
The porcupine campsite barely missed getting wiped out by an avalanche last year… Went across 3-4 avalanche debris areas. Once again the dogs did amazing! Skittles lost another boot though.
Thought for a hot second about trying to make it to Molas, but decided I wanted time to eat and go through the hiker box without being rushed. Took lunch about 11:50 am next to Elk Creek, but cut it short since we got eaten alive by mosquitoes. Slowly walked down towards the Animas and passed Arrow and Vestal peaks. Passed several campsites before stopping at a nice one that's maybe a bit close to the trail and creek.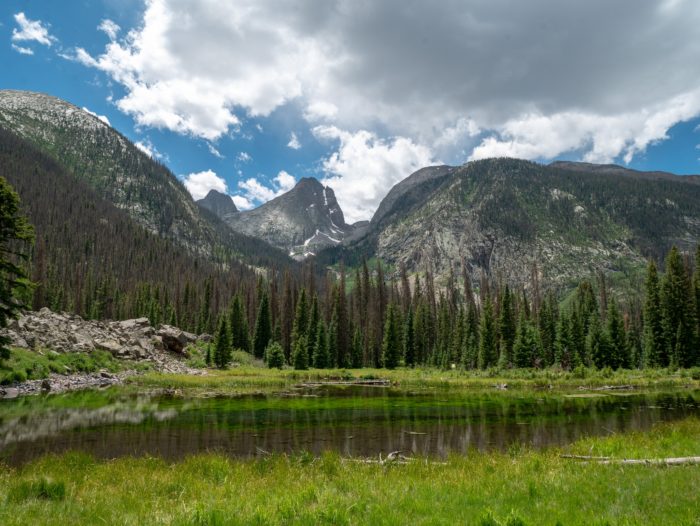 Stopped around 2 pm with 6 miles to go to the pass. Clouds started forming and thundering around lunch, but since the sun was out I washed socks and myself. Of course once I finished it really started thundering and has been raining off and on all afternoon. I guess everything will stay wet.
Made a teriyaki bowl and added peanut butter, sriracha, and lemon juice. Not bad! Read some, but the last about 50 pages are Tolstoy's ramblings on historians.
Took a nice nap until 5:30 pm, then got up and did some chores. Heard Elk when I got up, but no other wildlife. Saw monk's hood, larkspur, elephant's head, dusky beardstongue, etc. Probably going to bed early. Glad it's flat, but hope a tree doesn't fall on me. Can't wait for food at the pass!
Affiliate Disclosure
This website contains affiliate links, which means The Trek may receive a percentage of any product or service you purchase using the links in the articles or advertisements. The buyer pays the same price as they would otherwise, and your purchase helps to support The Trek's ongoing goal to serve you quality backpacking advice and information. Thanks for your support!
To learn more, please visit the About This Site page.