The Weminuche High Route
There's, like, a million thru-hikes out there on our giant and beautiful planet. Every month I seem to learn about a new one. This year I was introduced to a few. Standing out, however, was the Weminuche. The 50-mile route goes from near Durango to downtown Silverton, Colorado, through some remote, breathtaking terrain in the Weminuche Wilderness. It passes by the Chicago basin 14ers, through the Needle Range, over stunning alpine passes, around lakes, crosses valleys, and through a few historic mines.
THE DETAILS:
Where: Southern Colorado
Start: Durango
End: Silverton
Direction: NOBO strongly recommended for logistics and enjoyment
Distance: 50 miles
Elevation Profile: Between 9,000 to 12,900 feet; Gain and Loss: +17652′ -19609′
Resupply: No
Days: 4-7. More if you decide to bag any peaks along the route.
HOW IT GOES
The route starts about 30 miles outside Durango at Endlich Mesa, accessible with a 4×4 high clearance vehicle. Otherwise, there is a 9-mile uphill road walk to get to the start of the route. We could only drive my friend's Subaru a mile and a half up the road before it became too rutted and rocky to continue. It's not that bad as far as road walks go.
From the Southern terminus, you hike across two mesas before reaching Trimble Pass, the beginning of the big mountain stuff. Views of Chicago Basin get even better with a quick peek over Columbine Pass or take an incredible side trip to summit one or more of the Chicago Basin 14ers there.
The route takes a turn and gives you a taste of the "high route" to come by swinging off-trail around the North side of Hope Mountain before rejoining a trail down to Vallecito Creek. Enjoy some incredible views in this section. I was even treated to wild strawberries and raspberries when I dropped below treeline on the trail again.
At the Vallecito Creek junction, the route turns north, crosses the creek, and prepares for things to get hard. Once you leave the Vallecito Creek Trail, there won't be much of a trail, if any, for the remainder of the route. You'll stay at high elevations, primarily above 12,000 feet, pass by numerous 13ers, bushwhack up waterfalls, climb and descend some challenging passes, cross basins, and hopefully even see some mountain goats!
Eventually, for one mile, you'll walk on the Colorado Trail, then climb up off-trail along another waterfall up into the trails in the Highland Mary Lakes area. After finally having some relief on these easy trails, you're going to get slapped in the face with the remainder of the route as you yet again climb very steep grassy terrain to access Spencer and Arrastra Basins. Rewards include stunning mountain views, kind of scary old trails, and overlooks of the massive abandoned mining town of Silver Lake and Arrastra Basin. It doesn't let up unit the final 3 miles or so on a dirt road that will take you right into downtown Silverton, CO, for pizza, beer, and the sweet sigh of relief you'll have upon seeing flat ground again.
Congrats! You're a certified badass.
LOGISTICS
From Durango: You'll need to get to the trailhead or do the 9-mile road walk from the lower parking to start the trail. It's a 45-minute drive from the Durango-La Plata Airport to the bottom of the jeep road. Plan to add some time to drive up to Endlich Mesa from there. I would not recommend driving to the Trailhead unless you have two (2) 4×4 vehicles to shuttle cars. You could probably get uber to the lower parking lot from Durango. Hitching to the start of the trail might be challenging with the infrequent traffic to your destination.
Trailhead: Endlich Mesa Trailhead (37.47727, -107.63147) 4×4 necessary
Lower Parking:2WD Accessible (37.45514, -107.68228)
After Arriving in Silverton, you'll need to get back to Durango via your car, a preplanned shuttle, or hitchhiking the 1 hour south from downtown Silverton back to Durango and uber or hitch back to the lower parking area.
There are tons of options for camping in Durango, including the lower parking area, hotels in town, and a great gear shop for last-minute purchases.
Silverton, being a much smaller town, has fewer options, but they are still great. There are two hostel options, the Blair Street Hostel and the Avon, for hikers wanting to sleep indoors on a budget. There's also fantastic camping nearby if you are picking up your vehicle. I had arranged to be picked up in Silverton by friends. You'll want to do more research and planning if you're hiking solo or don't have outside help.
EXTRA! EXTRA! READ ALL ABOUT IT!
There were a lot of amazing things about the high route. Here are four other things that I enjoyed beyond the actual route itself.
The Weminuche range has sheep! I saw two sheep herds, one at the beginning of the route and another near the Highland Mary Lakes. Both are in alpine meadow and mesa settings. There are guard dogs in these herds who barked and chased me away from them when I got too close. Would you mind letting the sheep be and respect the animal's space?
Mountain Goats: toward the end of the route, I encountered 13 mountain goats; I followed them up the pass I was climbing from a distance. It was terrific seeing so many out there walking around at close to 13k feet.
Peak Bagging: At Columbine Pass, you can access four 14,000 foot peaks by hiking over the pass and spending a night in Chicago Basin. Mt. Eolus (14,083 ft.), North Eolus (14,039 ft.) connect along a ridge to tag as a duo. Both are class 3 scrambles. Sunlight Peak (14,059 ft.)and Windom Peak (14,082 ft.), however, are both class 4. Helmets are recommended. Plan for an entire extra day or more if you're going for one or more of these summits.
There is also ample opportunity to summit more than a few technical 13,000-foot peaks along the route.
Colorado also has a long history of mining in the mountains. Near the end, you'll encounter a large abandoned mining community in Arrastra Basin around Silver Lake. It's a significant and exciting part of the hike; the route stays very high above the basin, looking down at the lake, dilapidated buildings, and mine shafts on the other side by contouring an intimidating-looking, thin trail to the other side of Arrastra. You'll even get to walk across some old mine entrances on a "trail" that appears to be a road or path from the mining days. You can find out more about Arrastra Basin here. For those interested in the history of this operation and community, there is a long article here that chronicles it.
THE TRIP REPORT
PART ONE 8.20.21
Miles hiked: 15.37
Camp location: City Reservoir (Durango reservoir no. 1)
Moving Time: 5hrs 16min
Haley dropped me off on the road at 2:30 PM. After the 2.5-hour approach, I arrived at the Endlich Mesa Trailhead, the beginning of the Weminuche High Route. There, I met Forest, Erin, and their dog Cookie, who were out for a day hike. They offered me a beer and some excellent conversation before I started up the trail at 5:27 PM, officially beginning my solo thru-hike.
After the slog up to the top of the road, the trail is unmaintained, rutted out by rainwater. In parts, it appears like a two-track jeep Road. Maybe from the old mining days? Then, after coming over a mound, the mountains are visible on the horizon, and the rolling sweeping Alpine Meadows fold into each other in the distance. The trail stays high for a while, about 12,000 feet, before eventually dropping back down below the tree line and winding its way down the steep hillside, reaching Durango reservoir at the bottom. Here the valley opens with beautiful views west of the river flowing down the mountain and east with the river filling up the Reservoir. There is a blanket of alpenglow settling over the mountains above me.
I found two small tent sites, enough for one tent at each on the East end. The site I decided to camp at had a large, flat area and a fire ring with a nice rock to sit on during dinner. I ate Ramen with peanut butter and curry powder. I attempted to eat some of the gummy worms I had not finished in the afternoon. The pancakes, hashbrowns, and egg breakfast I ate with Haley kept me full longer than I anticipated. One day's highlight was walking over the Endlich Mesa during golden hour; everything was beautiful in the hazy glowing light.
I felt strong, especially on the climb up the jeep road. I felt no need to take breaks, and my legs just kept on moving. It was fun and exciting running into the couple at the trailhead with their dog. I very much enjoyed drinking a beer and chatting about my guiding jobs. They told me about owning a small business and the stresses and woes of a typical career path, weekend warrior lifestyle. The two of them were delightful, and the dog was cuddly. I wish I could've walked a little bit longer; it would've been nice to get more miles done in the morning or even during the earlier part of the afternoon. It was vital for me to spend time in town relaxing, eating an excellent breakfast, and going back to the gear store to get a pair of gloves and new shoes, which I sorely needed. My old pair of Hoka Speed Goats were right thrashed, and my fingers were cold in the evening. In the morning, I imagined I'd be very grateful to have something to put on my chilly fingers.
PART TWO 8.21.21
Miles hiked: 22.97
Camp location: Small alpine lake above Leviathan Lake
Moving time: 11 hours and two minutes
I started the day later than anticipated, around 8:45 AM, and immediately climbed from the campsite up to Silver Mesa, where I encountered a massive flock of sheep and some very loud barking guard dogs who attempted to chase me away. I circumnavigated around the flock to avoid the dogs and disturbing the sheep. There was a shepherd to who I waved to as I passed the herd.
Silver Mesa was beautiful. I was navigating with large rock cairns and almost no trail, leading me to Trimble pass. On top, I had my first solid view of big mountains in the distance, all the Chicago basin 14,000-foot peaks were visible, and I got an even better view of them as I continued forward toward Columbine pass. I got my first taste of the high route after that, climbing up an unnamed off-trail pass and going around the backside of a mountain. Then, dropping down the steep pass to the beginning of a gorge I crossed, I had insane views looking down the valley and Johnson Creek.
At the bottom of the trail is the intersection of Johnson Creek and Vallecito Creek. I took a left and began to walk a very mild and peaceful path until a ford, where I started the multi-thousand-foot slog/bushwhack up Sunlight Creek and the Kodiak High Route. The trail completely disappeared at times, especially near the top, where it begins to fade completely. All of this involved a significant amount of route finding. Above the treeline, there was no trail. Occasionally it would reappear for a couple of hundred feet. The rest of my day was off-trail, exclusively following the GPX track. It became much more technical navigating loose talus, boulders, and gravely scree. After my fourth pass, the trail dropped down towards Leviathan Lake, and I camped at a small lake above it on the route.
I was drained. I guess that's something you can expect after doing a 23-mile day on the high route. I spent a lot of time listening to music and audiobooks. Haley's playlist and The Martian by Andy Weir got me through it. There's something lovely about reading a book about someone who's stuck in the middle of nowhere, totally alone. Emotions welled up during the part of the book before he made contact with the earth again. I felt alone, isolated, but mostly peaceful, knowing that I have developed the tools, skills and have practiced competency to get me to Silverton safely. Even so, being by myself did add an element of uncertainty and loneliness.
I certainly missed hiking with "Uncle Nutsack." Having someone to talk to and share my feelings with on a difficult day takes a lot of the weight off of my shoulders. Instead, I was that support for myself. All of this felt like an essential thing for me to do; I needed the alone time. I need to do something independently. I'm pretty sure I enjoyed it. Tonight all I can hope is that the weather is fair, it doesn't rain too hard, and my tarp doesn't blow away. I'm going to try to suck down some more water and head to sleep. Tomorrow I need to do a better job of hydrating and getting electrolytes into my body – I felt how much harder the day was because of my lack of hydration and electrolytes.
PART THREE 8.22.21
Miles hiked: 21.37
Camp location: Completed trail in Silverton
Moving time: 10 hours and 54 minutes
In the morning, the air was frigid. After putting on all of my layers, I packed up camp and headed out around 7 AM. Sitting minutes, the nice grassy area I camped in devolved into hopping on founders and balancing across loose talus. As soon as the sun created over the mountains, it was too warm for a jacket, and I had to stop and take layers off.
The trail wrapped around the mountain's east face to my left and climbed upwards in a beautiful country. A lot of rocks. A lot of slow-moving. When I finally got out of the talus, the route contoured on steep grassy slopes and leveled out just a smidge with a gorgeous waterfall, more glossy alpine lakes, and fields. As far as I could see, this only lasted an hour or two.
The route down to the Colorado Trail was rowdy. I decided to go rogue and stayed high and east of the route instead of following the drainage into a field of willows. I was treated with a gigantic cliff, a wonderful vista overlooking the lake I was supposed to be standing next to, with no obvious way down. In the sport of adventure I shrugged hopefully and told myself, "well, it's either going to be fine to keep going or hiking back up this hill is really doing to suck."
A few minutes later I reach a grey talus field and worked my way down to the creek. Near the sides of the creek the rocks became white, and then a firey orange and red mix of smooth, flat topped boulders lined the watercourse all the way to the end of the flat tier. Therushing Creek fanned out on the open plane and then narrowed in a notch, becoming a waterfall. Down in the valley below, I imagined the still invisible Colorado Trail snaking alongside the roaring Elk Creek, my one mile of respite from tough hiking all morning.
On the CT I met a woman doing a section hike. We talked for a few minutes and I told her the section ahead above treeline was one of my favorite sections of my CT thru hike. She decided to hike all the way up to the top to enjoy the views and the stars that night and we parted ways.
Ten minutes later I was off trail again, grabbing branches and heavy breathing my way up intermittent deer trails on the 1,500 foot climb in 1.5 miles off trail. Slog would be an appropriate adjective for this short climb. It was not easy, even when a trail finally appeared hear the top.
In Highland Mary Lakes I started seeing footprints in the mud followed by an onslaught of day hikers. I hadn't mentally prepared myself to see families with children enjoying the gorgeous lakes and with the encouragement of cold wind, I decided to pass on swimming and trucked last everyone out there. I did see it second hers of sheep bleating on a hill in the distance.
Again, as soon as I stepped foot off trail the difficulty and grade drastically increased and I was sucking for air up to Sugarloaf mountain. I met a solo backpacker with a dog near the top and sat down for almost half and hour to chat and eat half of my snacks for the day. I was two days ahead of schedule so, who cares?
I went rogue again and practically slipped and slid my way down a hard packed 50 degree gravel slope. It was fun when my feet weren't involuntarily leaving their placements on pebbles at least
Looking into Arrasta Basin was one of the highlight of the entire trail. Silver Lake down in the bottom, with it's banks peopered with abandoned mining buildings, all falling apart in their age, was jaw dropping to say the least. The trail it's self was a wild looking horseshoe contou. Just a few inches wide and obviously not maintained in years, it was erroding away, sliding off the slope. This crap was why I had gotten new shoes for the route and, damn, I was grateful to have good tread.
After walking over the mountainside mines, the route retained it's ridiculously challenging terrain and knee ruining steepness until the dirt road down into Silverton. I texted Haley on my inReach to let her know I was almost to town and cried as I ran down the Jeep Road. I melted into relief. Overwhelming joy and gratitude flooded into me, and I called a little bit more. My body hurt. Creaking knees. Sore back. Worn out mind. Tired feet. Sleepy.
I ate a whole pizza and two beers. An hour later, when Haley arrived to pick me up, I was still feeling completely fried. I was still sweaty and shivering in my puffy. I felt shaky from my exhaustion. She asked me if I was drunk. I was just wrecked. Physically, mentally, and emotionally. When we got back to Durango, I drank a half-gallon of orange juice and got in bed.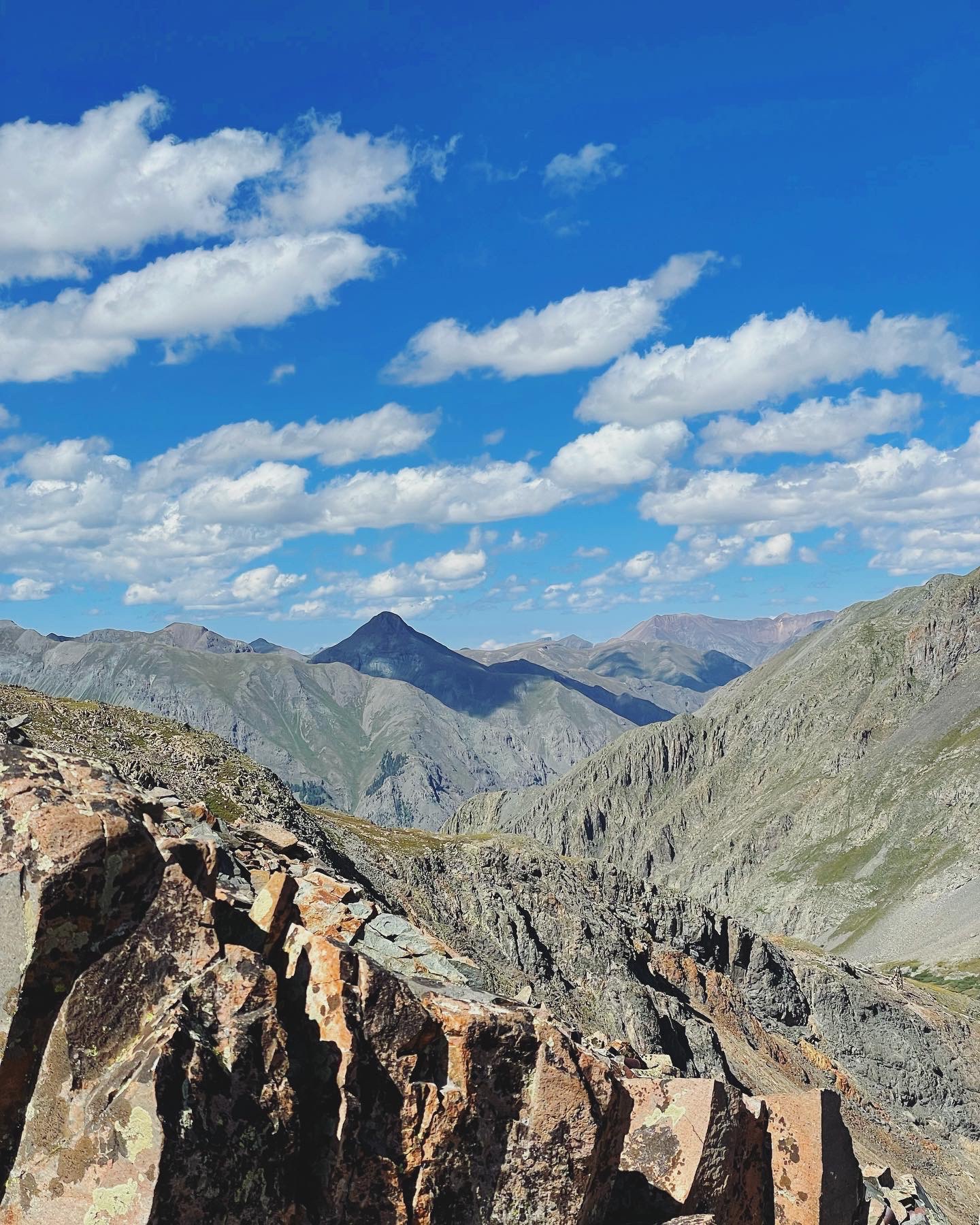 Affiliate Disclosure
This website contains affiliate links, which means The Trek may receive a percentage of any product or service you purchase using the links in the articles or advertisements. The buyer pays the same price as they would otherwise, and your purchase helps to support The Trek's ongoing goal to serve you quality backpacking advice and information. Thanks for your support!
To learn more, please visit the About This Site page.