Week 12 on the AT and Our Food Evolution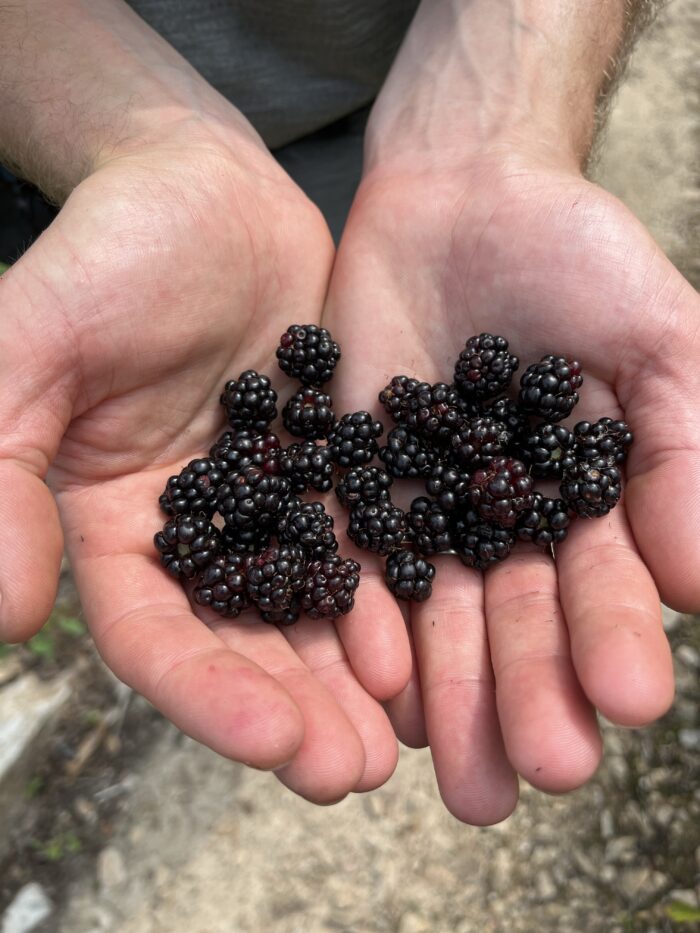 Hello Friends! If you've read my preparatory blogs you know that All Day and I eat vegetarian. We stopped eating meat three years ago.
We wondered how this would translate to our thru-hike and it's worked out well. Between our sent boxes and plenty of grocery stores we have no problem resupplying. Most restaurants also have vegetarian options.
We have had to increase our food intake and make a few changes.
We carry A LOT of food. When people talk about their "base weight" it includes just their gear. Add the 13lbs of a five day food bag to All Day's pack and seven pounds to mine, along with enough water to make it 10 miles (2.2lbs per liter) to the next water source and base weight doesn't mean much.
Back at home we are into low-waste, whole food options. We would balk at food science and thought we could carry that attitude across 2200 miles…nope.
We realized the importance of adding electrolytes when we contracted norovirus and we're terribly dehydrated. Since that time we've carried propel packets and utilize them even more when it's hot outside. They make a huge difference in how we feel after sweating buckets.
Protein bars have become a large part of our diet. We eat them multiple times per day. We try whatever is available but really like the mint flavored cliff/elevation brand builder bars.
Cold soaking dehydrated vegetable meals, while fine for All Day, wasn't working for me. I didn't enjoy eating them and felt I was lacking nourishment. So we purchased a stove and now I absolutely love them!
Embracing change encourages acceptance.
Day 84
Mile 1167.7 – campsite
We got going a little later this morning because we had stayed up a little later last night. No matter what day it is or how late we get to camp, we do our chores; pitch our tent, get water and hang our bear bags.
The terrain wasn't bad this morning but water sources were far apart so we carried more water than usual. At a parking lot 4 miles away from our campsite discovered trail magic of water in a cooler.
There were rocks periodically, but nothing too difficult to navigate. When we were ready to take our break we got to use our new camp stove for the first time! We really enjoyed the end product and are glad to have it with us now.
We found blackberries, ripe and delicious.
As we made our way down to switchback, the skies opened and rain began to fall.
We put our backpacks down by a tree and headed to get water from a spring that was down the hill. The rain was relatively heavy, and when we returned, our backpacks were sitting in a flood coming down the hill.
It was a lot to deal with, but we gathered our things and continued on. The trail was a river so we decided to camp in an area with hemlocks and nice leaves on the ground that wasn't flooded. We enjoyed our dinner and are relaxing.
Day 85
Mile 1187.4 – campsite on a ridge
It can be hard to want to get out of the tent and put on wet, squishy shoes, but we did it.
It was a good hiking day with lots of eastern hemlocks (my favorite tree) and water sources that weren't too far away from each other. The rain has stirred up lots of leaf litter and so stream water didn't taste so great.
We did stroll to a shelter area that had a tasty spring.
Our lunch break was relaxing and we enjoyed our hot lunch. We are both very happy to have the stove.
All Day spotted a porcupine munching on some greenery. He didn't seem to mind us much. Just showed us his quills and kept on enjoying his greens. We also spotted two scarlet tanagers. There were several red efts, as they come out after the rain.
We were able to end with over 19 miles on the day, which is always surprising and helps improve our average.
The daylight is already fading around 8pm.
A gentle breeze is coming up over the ridge.
Day 86
Mile 1202.5 – stealth site
1200 day!!!
It rained heavily all night long. We had to wake up and close all of our vestibules. The rain made the tent, pretty dirty as well.
But we awoke to clear enough morning with some fog. We begin our hike through lots of rocks. Sometimes the rocks are very large and they're easy to step on other time is the rocks are smaller and a bit more tricky. Sometimes there's a mixture and you might get your foot caught in them or twist funny, or step on just the most painful spot.
Yesterday I got stung by a wasp of some sort on my calf muscle and it hurts. I am pretty much covered in bug bites. My skin reacts differently to all of them and most of them. It's like crazy especially in the evening. I'm surprised my skin even knows what to do about this.
As we continued to hike our shoes started to dry out and we stopped for water and then stopped again at the 501 shelter. It was a pretty great shelter. It's more like a cabin and even has access to water, picnic tables out front and a shower of sorts. It was a great place for a rest.
We called Last Minute and talked to him for a little while since we had service on the ridge. He's only recently recovered from his week with us. He hadn't been able to bicycle for a while because he had hurt his ankle.
As we continued, the sky began to darken and thoughts of where we would eventually do laundry and shower and dry out, entered my mind.
It started raining and as we kept walking, I knew I was done for the day and we found a little stealth spot. An actual stealth spot off the trail. There is a camp firing but you can tell it's really old.
We were able to get in touch with our friends, Lost and Found and will be able to hang out with them for the Fourth of July. We're very fortunate they are at a similar mileage. They are like our private trail angels.
Day 87
Mile 1220 – Motel 6
It rained quite a bit overnight. There was even thunder and lightning quite close our tent. At some point the rain stopped and I opened one of my vestibules to let some air flow in. Then it began to pour and I had to close it back up.
Have you ever felt like you camped over a poop field? Human feces is a concern on the trail. It is difficult to dig a deep enough hole and we alway hope others won't poop in campsites. Sometimes the smells of decay in the forest also take on a poopy aroma.
Our goal was to start hiking at 6:30 so we could make it the 18 miles to meet up with our friends. Fortunately the rain had let up before we tore down. This has been the case for the past few days and we are very grateful.
The terrain was flattish with rocks of varying sizes which slow us down from time to time.
We made decent time and enjoyed our hot lunch break.
Our descent into town was a classic Pennsylvania down, straight down! We came across a couple at the base of the hill restocking their trail magic cooler.
Lost and Found were waiting for us in Port Clinton.
We went to ALDI for resupply, then a gas station to get beer. The Motel 6 was a few miles away and the room is clean and good.
After laundry and showers we made our way to the Red Robin for a late dinner.
Feels good to arrive at your planned a day off!
Day 88
Motel 6 – Zero Day
We slept in like teenagers and awoke after seven am. We took our time enjoying some of the breakfast items we had purchased at ALDI, banana muffins and fruit. Lost and Found opened up their rooftop tent to air out, and I called my mom and talk to her on the phone for a little while.
We struggled to find a restaurant that was open on July 4, mainly because it happened to be a Tuesday, which is a day where restaurants are often closed. We found a Golden Corral about 40 minutes away. Why not?
Golden Corral was better than I ever remember it being and they had so many options and we all quite enjoyed ourselves. After that we went to Walmart to pick up a few items. All Day needed a replacement pair of underwear, and we needed some more propel packets, and some snacks.
When we returned to the hotel, it was time for us to take our wet stuff out onto the lawn to dry. It always feels good to get your wet items dried off, especially when the sun is shining and it seems like you can kind of sterilize them.
Afterword we sat on the nice rocking swing that was made for four people and enjoyed the beer.
We went back into the room to relax in the air-conditioning and eat some more food that we had gotten at ALDI. We watched some TV, made some plans and ordered me some new shoes since I've had mine since Hot Springs and they're starting to come apart a little bit. The tread is definitely wearing down. We will get them once we clear into New Jersey.
It was time for bed around 9 o'clock as usual. It was quite a relaxing day.
Day 89
Mile 1237.5 – campsite
We woke this morning and had the luxury of enjoying running water for our morning so we could feel extra fresh as we begin our nice hot hike.
Lost gave us a ride to the trail head and we said goodbye. Hopefully Found's knee feels better soon so they can get back on the trail.
The climb out was not nearly as strenuous as the climb down into Port Clinton. And although the day was hot, it's always so much cooler in the woods than it is in the land of concrete and asphalt.
Our hike was good and we felt refreshed. We've been fortunate because Cheer has been making notes in Far Out about water sources when they have a good flow and she's just a day ahead of us right now.
We had a nice break before getting to some rocks, because sitting on a rock overlook in the hot sun did not sound appealing.
We continued on and got some water at our last water source for the next 10 miles. We had planned to camp there, but decided to just go ahead and make it up the next hill. It's a beautiful evening and we're finally cooling off a little bit but we certainly don't want to sleep with our quilt, at least not right now. It's been fun to hike during a day that is sunny with no rain.
Today we saw lots of deer and a couple smaller deer and fawns. We scared one fawn out of its hiding place. Paul pulled a tick off of me. We saw another Scarlett Tanninger during our break and a frog. There is so much life in the forest.
Day 90
Mile 1254.9 – campsite
The day began with plenty of large rocks to traverse. They slowed us down quite a bit but were fortunately balanced out with some long stretches of old logging roads.
It started out pretty hot and the day was clear. We both got as sweaty as we get pretty early on.
The Lookout Hostel was 9 miles in and a great spot for a break. I had a shower and we enjoyed a frozen pizza and an ice cream sandwich. We relaxed and talked with other hikers for quite a while, moving on after a couple hours. We even missed some rain.
The second part of the day was a bit cooler but incorporated large boulder areas where trekking poles were useless and I had to climb down on my bottom.
These took a great deal of concentration to navigate, which was tiring.
Still we made it to camp before dark, with a little time to unwind.
Affiliate Disclosure
This website contains affiliate links, which means The Trek may receive a percentage of any product or service you purchase using the links in the articles or advertisements. The buyer pays the same price as they would otherwise, and your purchase helps to support The Trek's ongoing goal to serve you quality backpacking advice and information. Thanks for your support!
To learn more, please visit the About This Site page.