1 week down and rolling!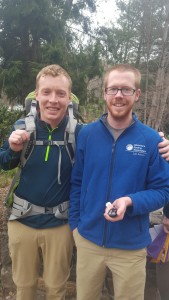 So I'm 7 days in and it's been AWESOME! After a 14 hour drive down from New Jersey,  I wanted to do nothing but hike, so my first few days were a little heavier on the miles than I should have started, but I've fallen in with a fun group for the moment that might help bring my pace to a more reasonable speed.
Day 1: 11.6 miles
Day 2: 21.5 miles
Day 3: 18.9 miles
Day 4: 20.1 miles
Day 5: 6.3 miles (went into town)
Day 6: 4.5 miles (thunderstorm threat)
Day 7: 13.7 miles
The first 4 days, my body was on a crazy high. I'm finally where I want to be, putting all my months of planning into action and LOVING it. But with the threat of heavy thunderstorms and my last cliff bar eaten for breakfast,  I took a bunk for the night at the Top of Georgia Hostel in Haiwassee, GA with a couple friends I met and we all resupplied in town.
The town visit was perfect. After a very filling buffet, we stopped at Bacchus Beer and Growlers to see what Georgia had to offer. The tap list did not disappoint and after a few tastings we each took a  growlette out to the lake and drank on the dock.
With a thunderstorm threat the next day, the four of us (Moonshine, Mountain Goat, Survivor, and I) split 40 beers up into our backpacks the next morning and made the 5 mile jot to the closest shelter to wait out the rain. And if you're wondering, that put three of our packs over 50lbs.

I made a cribbage board out of a damp log and matchsticks and played cribbage with Mountain Goat and Moonshine (I won all 3 games).


It was the first night I slept in a shelter (as opposed to my tent). It was packed, 12 of us. But there were 3 stories so it wasn't too bad. One hiker, Crow, kept snoring crazy loud but it was sporadic so I was able to get an ok amount of sleep still. I don't think I'm going to opt for shelters though in the future, as long as weather's good. There's too much going on, anytime anyone moved it would wake me up.
Today held two big firsts: I hit my first 5,000′ peak- Standing Indian Mountain, and I crossed over my first state line! Although mainly just symbolic because it was only 78 miles in, it's cool knowing I only have thirteen states left.
The last thing I want to mention is the trail magic I've encountered to date. Trail magic is help given to hikers, usually in the form of food, by others, a lot of time past thru/section hikers or locals. But in more basic terms, trail magic is any type of help given to hikers.
1. Bear Bait (a thru hiker in 2005) was handing out hot chocolate and cookies at the Tesnatee Gap.
2. Feival and Little Foot were giving out burgers at deep Gap. I wasn't there for this, but Moonshine was backtracking some miles to find his jacket and grabbed us some burgers on his way.
3. The same night, a father and son (Lou and Louie) were camping at the top of Standing Indian Mountain and gave us half his steak. KICKASS.
Affiliate Disclosure
This website contains affiliate links, which means The Trek may receive a percentage of any product or service you purchase using the links in the articles or advertisements. The buyer pays the same price as they would otherwise, and your purchase helps to support The Trek's ongoing goal to serve you quality backpacking advice and information. Thanks for your support!
To learn more, please visit the About This Site page.