114 miles to go. Victory will soon be mine!
I don't have a lot of time, so I'll keep this short. I last wrote from the White Mountains Hostel and Lodge in Gorham, NH. It was a beautiful place and my favorite hostel so far without a doubt. They had a flat screen with Netflix and HBO and it was a real house and it was nice and modern, not somebody's garage. Not that I don't appreciate the garage hostels, because I definitely do! They have their own special charm that make up a huge part of this experience. The White Mountains hostel was completely full when I was there. Skippy, Didgeridude, and I played Rumikub and Scrabble with Molly and Rabbit and then pretty much everyone in the hostel would gather around the TV and watch movies, Netflix shows, and football together. It was very nice.
Since the whites when that Hut Master said "You guys are like locusts," I've been in a pretty large bubble. It seems like people from behind have caught up and people who were ahead have slowed down, including myself. I've been sick twice since I last wrote, resulting in some really low days. I got sick in Andover before Rangely. We did a 13 mile slack pack into Andover and I just felt off. I wasn't really hungry, I was absolutely exhausted, and I skipped dinner that night, went straight to bed, but then couldn't sleep well. The next day we had what should have been an easy 13 miles into Rangely and it was hard. I couldn't put down any food. All I had was a pop tart and an apple for breakfast and I felt overly full like I was going to throw up. This lasted for the whole 13 miles. I didn't eat a thing, and by the end of the day I was nauseous, tired, cranky, sad, and very weak feeling. A few days later, I went into another town and ate at the general store. As I was lying on the bathroom floor doubled over with stomach pain, the words of two flip floppers echoed around in my head. "Don't eat at the general store, we had two friends get sick there. Don't eat at the general store, we had two friends get sick there." Ah, yes. This must be the general store I wasn't supposed to eat at.(Flip floppers are people who start the trail going North and then stop usually around the halfway point, transport themselves to Katahdin, and walk south to complete the trail. This is usually done because they won't make it to Katahdin by October 15th, when it closes)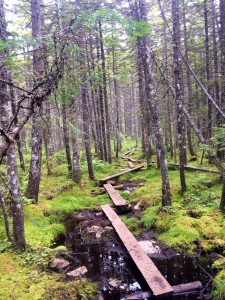 Maine has been beautiful. We pass ponds and lakes every day with clear water. You can see straight to the bottom for at least 3 feet and drink it and it tastes fine. I'm starting the hundred mile wilderness today. The hundred mile wilderness is 100 miles of…well wilderness. I probably won't have much cell service, and I won't be hitting any towns for resupply or a phone charge. After the hundred mile wilderness I'll only have 2 days left! This journey has been nothing short of amazing, but I'm really looking forward to the end. Only 114 miles left to go. The end is actually in sight.
See you on the other side!
-Stardust
ps: I went 6 whole days without showering
Affiliate Disclosure
This website contains affiliate links, which means The Trek may receive a percentage of any product or service you purchase using the links in the articles or advertisements. The buyer pays the same price as they would otherwise, and your purchase helps to support The Trek's ongoing goal to serve you quality backpacking advice and information. Thanks for your support!
To learn more, please visit the About This Site page.