4 States and Some Rocks
Day 88: Quality Inn, Harpers Ferry to Dalhren Campground (18.1 miles, marker 1043.2)
Interesting hike out of Harpers Ferry today. There was some very interesting history to look at as I exited, including the Harpers Ferry cemetery and the home of the founder of Harpers Ferry, and the old Episcopal Church.
It was a little distressing how difficult it was to find the markers out of town, considering this is the home of the Appalachian Trail Conservancy. The trail then followed an old canal towpath for a couple miles.
This was followed by a strenuous climb up out of Harpers Ferry, where there were some fine views and an opportunity to look back at the train line and river between which I had walked the previous few miles.
The rest of the hike today was a beautiful walk through the woods until I reached the Dalhren Campground. This was a unique campground in that it was set up for Appalachian Trail Hikers, and had a pump with potable water, and a bathroom with showers and flushing toilets. I met up with two hikers whom I enjoyed dinner with, P.U.B. (Positive Upbeat Badass) and Brainstorm. The campsites were individually set up with picnic tables, and it made for a lovely night.
Day 89: Dalhren Campground to Ensign Cowell Shelter (14 miles, marker 1057.2)
Had a very nice hiking day today. Began my hike out of the campground and as I approached Washington Monument State Park, the weather began to turn very stormy. There was a covered pavilion at the beginning of the park that I ducked into and met up with P.U.B. and soon after hopper joined us. Today turned into the day of following other people's lead for positive results. P.U.B. decided that the weather was terrible and we should wait it out in the pavilion for an hour. I followed her lead and it worked out perfectly, as things cleared up after about an hour. We hike together for most of the day, enjoying the history of the original Washington Monument.
We also got to enjoy the pleasure of crossing over a highway that had traffic bumper to bumper, while we walked faster than the cars while picking blackberries. My original plan was to hike four miles further to the next shelter then we actually did. When we arrived at the Ensign Cowell Shelter, we met up with Brainstorm, who explained that it made no sense to go any further. If we stop there, we could hike the next day with a lunch stop at a park and order pizza, and then the next day with a lunch stop at a barbecue joint. If this wasn't enough to convince us to stop, there was also a random day hiker hanging out who was making us nervous about leaving brainstorm (a woman) alone with him. Decision made, we stopped for the night. This was also fortuitous because my body was ready to give up even though my mind was not.
Day 90: Ensign Cowell Shelter to Tumbling Run Shelter (18.4 miles, marker 1075.6)
Interesting and fun day today. I hiked most of the day with Brainstorm and P.U.B. First we hit the High Rock Ledges, which is renowned for all of the graffiti. Families will actually bring spray paint to graffiti the rocks when they are there. Being from the New York area, I know what beautiful graffiti looks like, and this is not it. But the views were nice and we had fun taking pictures and getting photobombed.
We then hiked on to Penmar Park, where we had ordered pizza and sandwiches a couple hours before, so they arrived soon after we arrived. There was an amusing sign there with entirely wrong distances on it.
After stuffing our faces, we walked another 0.3 miles to the border of Pennsylvania, AKA the Mason-Dixon line. We continue our hike together to Tumbling Run Shelter where we called in a night.
Day 91: Tumbling Run Shelter to Tentsite (17.6 miles, marker 1093.2)
Today was most memorable for the barbecue. This was only because we arrived at a barbecue place for lunch which advertised it was open from 11:00 a.m. until the food was gone. The three of us arrived at 1:00 p.m. to discover they had three pulled pork sandwiches left. We gorged ourselves on pulled pork and soda and potato salad and enjoyed a solid 30 minutes to digest while lazing in the sun. The rest of the day's hike was relatively easy, and camping was lovely. Excitement is building amongst the group because tomorrow we hit the true halfway point.
Day 92: Tentsite to Pine Grove Furnace State Park (11.5 miles, marker 1105)
Today turned out to be huge. Hit the actual halfway point on our hike. I was with pub at the time, and it was a celebration, and a little bit of a disappointment as we really wanted a band and a party to go with our achievement.
That said, once we got to Pine Grove furnace State Park, we had the opportunity to do the half gallon challenge. This is where you eat a half gallon of ice cream as quickly as possible for reaching the halfway point. It used to be that ice cream was sold in half gallons, but now it's sold in quart and a half, so you have to buy an extra pint to make a half gallon. I chose coffee crunch with Neapolitan as my finisher. The challenge took me 37 minutes to complete.
Afterward, Pub and I went to the lake for a swim where we met some previous thru-hikers and had dinner with them as a bit of trail magic, and then got a campsite at the state park. The campsite was probably a mistake, since we could have hiked a half mile past the park and camped in a nicer space for free, but of course hindsight is 20/20.
Day 93: Pine Grove Furnace State Park to Boiling Springs (19.3 miles, marker 1124.3)
The hike out of Pine Grove Furnace was pretty gentle. I headed out early, about 6:30 in the morning. Unfortunately, when you walk this early, you tend to run into a lot of spider webs. It was very nice that about 7:30 when crossed a SOBO hiker, and thank him for clearing the webs on the path ahead. The rest of the hike today was relatively uneventful, until I entered town. I was able to buy new shoes, as my old shoes had begun to fail on me about a week before, and with the upcoming terrain involving lots of rocks, I knew I needed a new pair soon. I met up with Cobweb Rose, Snapshot, Mountain Crusher, Navigator, and Dimwit, a few hikers I had met previously, and we all got dinner and then all had reservations at the same hostel.
The hostel was lovely and we all prepared for our slack pack of 25 miles the next day, which I was doing with Cobweb Rose, Snapshot, and Mountain Crusher.
Day 94: Boiling Springs to Duncannon (25.2 miles, marker 1149.5)
A really big day today. Started with breakfast at the 101 Cafe, which means we actually got a kinda late start for a 25 mile slackpack day. I spent most of the day playing leapfrog with Cobweb Rose, Snapshot, and Mountain Crusher. The first part of the day was very flat and even, mostly through fields and flat areas.
Just a couple miles into the trail I ran into some nice trail magic and enjoyed a hot dog and some other snacks. I continued through the fields and eventually climbed to the Darlington shelter, designed by Earl Schafer, the first AT thru-hiker. After a brief stint celebrating the solstice and national hike naked day,
I entered the most difficult part of the day, the last five miles, where we entered what can truly be called Rocksylvania. The terrain was difficult but with only a ten-pound pack, was actually kinda fun hopping rock to rock.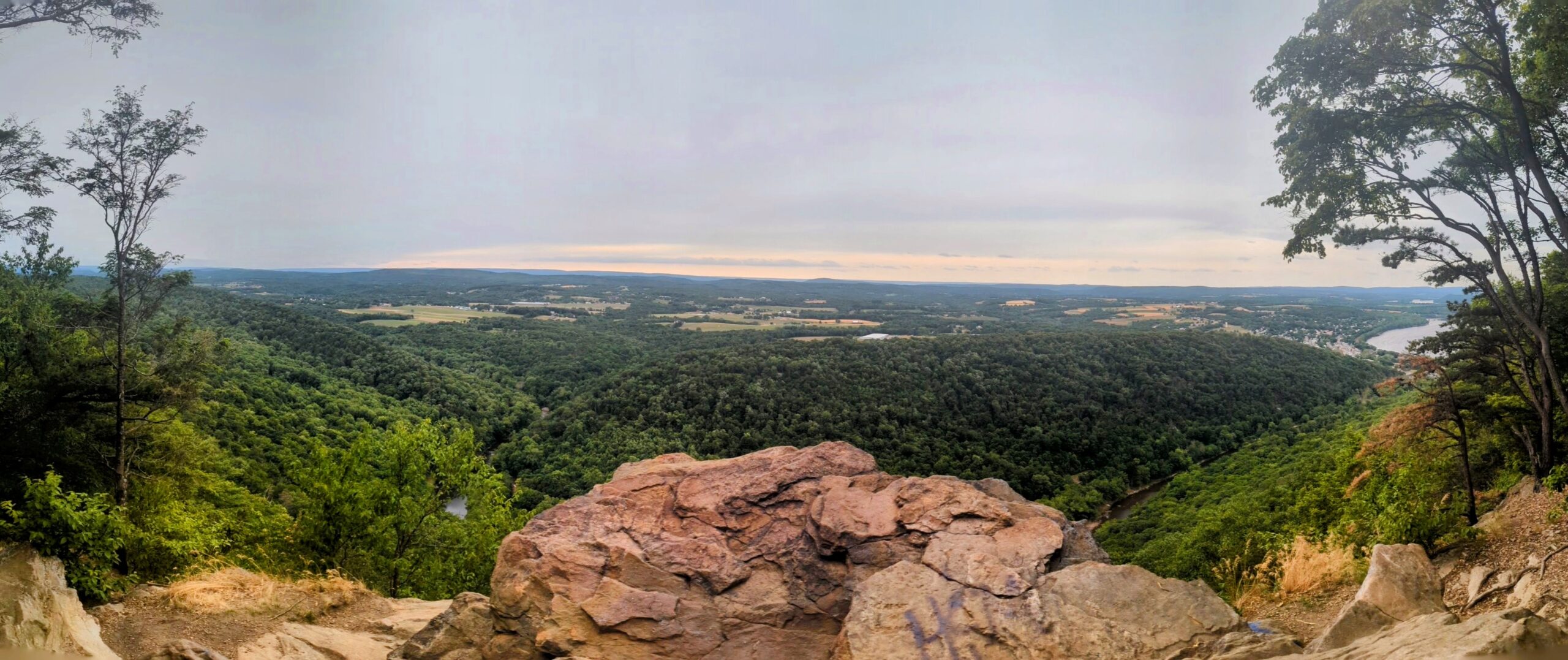 After completing the 25-mile day and finding my hostel, I went to The Doyle, an iconic AT hotel, restaurant, and bar. It turned out to be karaoke night, so after a burger and a few drinks, ridiculousness ensued.
Affiliate Disclosure
This website contains affiliate links, which means The Trek may receive a percentage of any product or service you purchase using the links in the articles or advertisements. The buyer pays the same price as they would otherwise, and your purchase helps to support The Trek's ongoing goal to serve you quality backpacking advice and information. Thanks for your support!
To learn more, please visit the About This Site page.