A Quarter of the Way In
At some point, hiking the Appalachian Trail becomes sort of mundane. Every morning you rise with the sun, or another hiker's headlamp. Then you pack your things, eat your foods, drink your drinks, and keep putting one foot in front of the other, until you can unpack, sleep, and do it all over again.
There comes a time when you're no longer meeting a dozen new people every day, you no longer feel a thrill when you collect water straight out of the earth (and through a filter of course) and even beautiful overlooks dim slightly. Sure, you still stop to take it in, but you're no longer lingering.
To me, that means you've made a home here.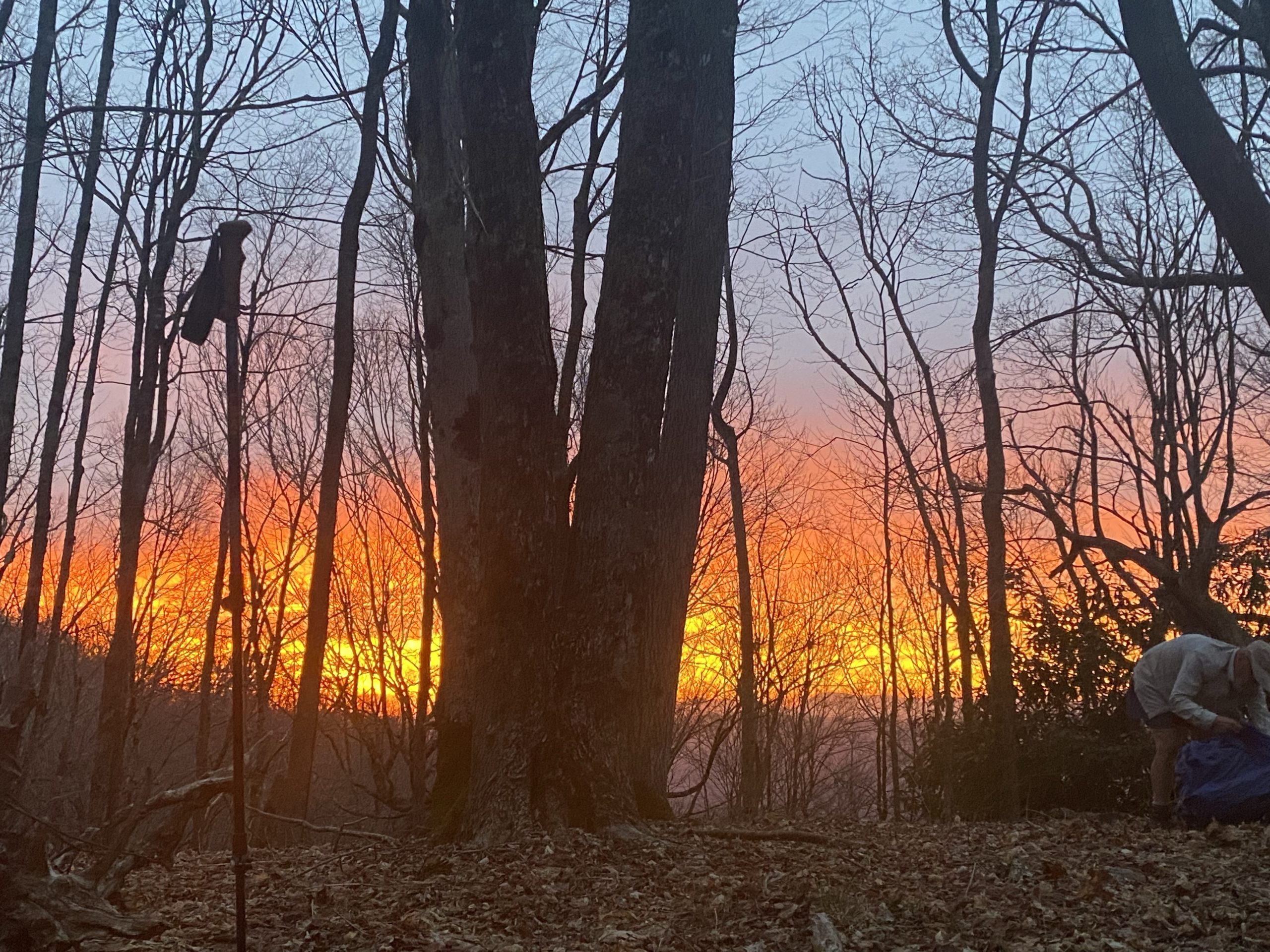 As the days pass by, I find myself wondering how I ever did anything different with my life than simply walk. I have forgotten what it's like to wake up in the same place for more than a few consecutive days. I've forgotten what it's like to stand up without hobbling a little. And I've forgotten what it's like to have to plan what you're going to do with your time. 
My life is simple now, I hike until the next town, where I get enough food to get me to the town after that. Then I hike again. And I have to hike, otherwise, I'll run out of food. There are so few choices to be made out here, and most of them are related to "is that blue blaze worth it?" (A side trail, not a part of the AT, for those non thru hikers at home.)
And somehow, this extremely monotonous routine has gotten me a quarter of the way through the trail. It has also given me some of the most rewarding experiences in my life. 
Highlights From the First 25%
Leaving Franklin
My last post left off with me making my way into Franklin, which is lucky because the day I hiked out of Franklin was one of my favorites. Most hikers holed up in town for a few days, because there was going to be a bit of snow, and very very very cold temperatures.
I too stayed in town for the worst of it, but I also made my way out early in the morning, when it was a brisk 10-ish degrees, and I enjoyed my first snow day on trail. 
I couldn't stop admiring the way the snow glistened, or the way that the water that normally flows across the trail had frozen beautifully. Everyone on the trail that day was unusually chipper, whether it was from the unique landscapes or because they were tired of cabin fever, I can't be certain, but it made for a wonderful day. 
Sure, we all also ice skated down the trail a few times, and more than a few people had some rough falls, (myself included) but we were all able to huddle around a campfire that night. And all of us looked back at our day and thought, "Huh. I did that. That is pretty amazing."
Evening After Evening 
For some reason, immediately after Franklin, I started to run into campfires more often. Generally, most thru hikers are just too tired to deal with fires, and so we only see them on weekends. That's when the backpackers we refer to as "day hikers" come to visit. (They're hikers who only come out for a night or two. We all know they're not truly day hikers, but it's the closest term we have for them. And thru hikers are a little pretentious.) 
Now I look back at that series of nights, and I marvel at how much it felt like I was surrounded by family, even with people I had just met. And I miss those nights, I miss those fires. It was an experience that I didn't know would fade, but as the days got longer, so did the miles, and now when we get into camp there just doesn't seem to be enough time to linger around a fire. Most nights I am asleep before the sun sets. 
The Smokies
The Great Smokey Mountains National Park was something I was eagerly anticipating, even as I took my first steps on the Approach Trail. I expected incredible hiking, beautiful vistas, and an influx of new people to meet. Each of those expectations was met, and more. 
The Smokies were the first part of the trail that I felt happy. Prior to that, there was excitement, like the first day of school. I also felt satisfied regularly, because I could already recognize that I was doing something that is worthy of being proud of. I felt pleased as the miles ticked by, and I felt inspired by the incredible things I saw along the way. But happy wasn't a word I used frequently. 
Thru-hiking is hard. Like really hard. And as I was getting used to being on trail, I didn't have space for true happiness. But the Smokies changed that. For one thing, the hiking was fairly easy. It was beautiful and rewarding, but not super challenging. I started hiking bigger miles, and I also fell in step with my favorite people I've run into on trail. That was the start of our little trail community. 
Many people talk about their tramilies, (trail families) but they don't talk about the other people. Your tramily will make plans together, and try to end up in the same spots on the same days. They're the people who will call your emergency contact if you don't show up. The other people on the trail just happen to be there. And in the Smokies, and a long time after that, I had a great group of others. I didn't see them every day, but each day I did see them my heart soared. They're like your neighbors (if your neighbors are great.)
The Snow
When I think of the weather on this section of the trail, my brain goes immediately to snow. It didn't snow frequently, but when it did snow, it left an impression. 
Hiking out of Franklin was the first snow. The second snow left me confused. I went to sleep on an absolutely gorgeous evening. We made smores on the fire, watched a beautiful sunset, and then crawled into our tents. I woke at some point to the sounds of precipitation hitting the rainfly. I thought it sounded funny but went back to sleep. When I woke up in the morning, I didn't think about it. I sat up, opened my tent, and as I was unzippering my rainfly, I got dumped on. I had no idea that it had snowed, and I paid for it. 
Roan Highlands 
The next time it snowed, one of the people in the "tram" was so smart, and she arranged a double hostel stay to ride out the weather. My hiking partners didn't want to waste a day though, so we got shuttled out to the trail to hike back to the hostel. 
My first words on the trail that day were, "Let's just get this over with." Eighteen-ish miles, and a hot meal stop later, I trudged into the hostel. I put everything in front of a fire, including myself, until I felt a defrosted enough to go to sleep.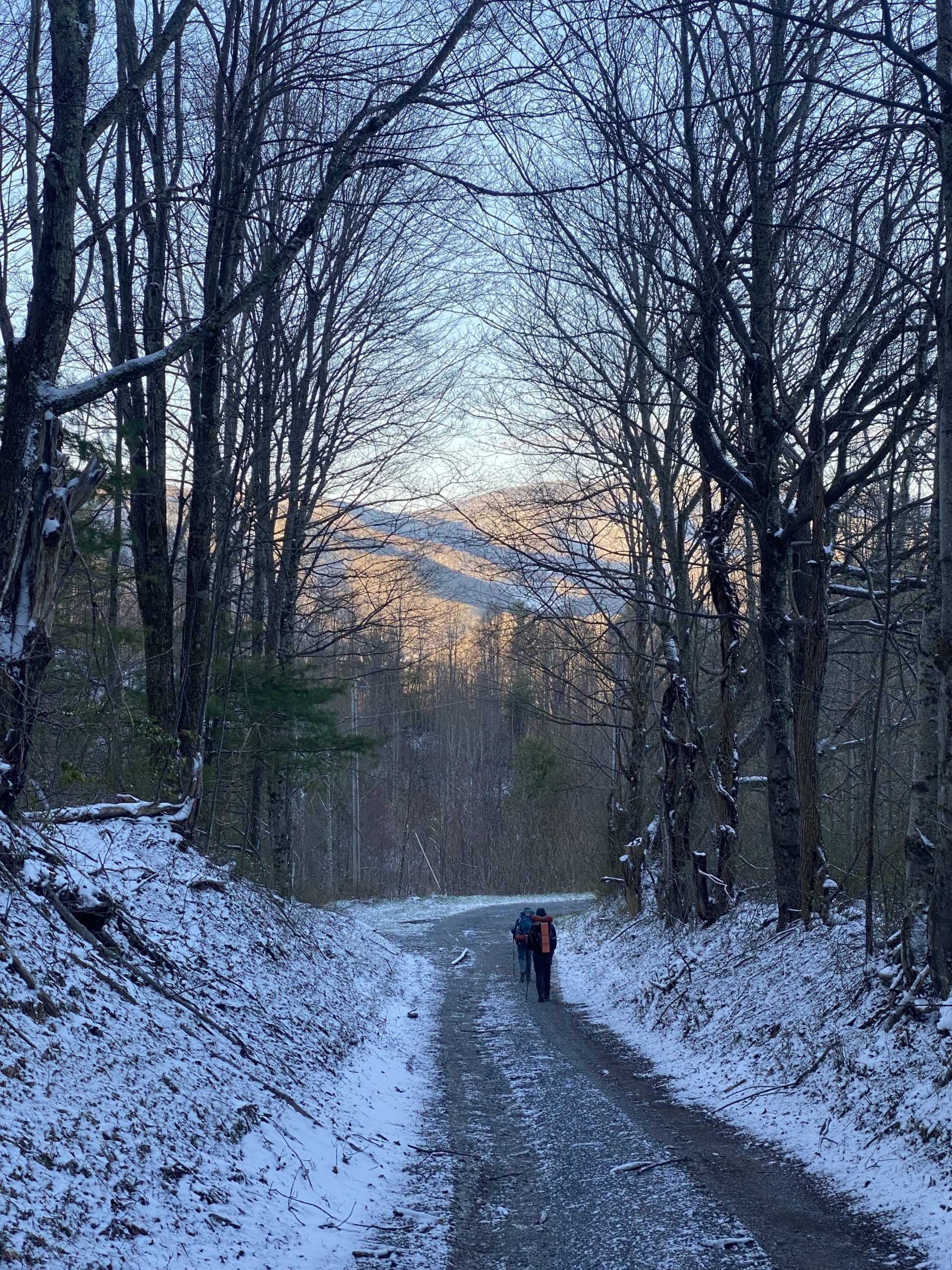 The Last Snow
Even though it is the end of May as I'm typing this, I'm so hesitant to say "the last snow." I feel like I'm about to jinx myself, but honestly, if it snows again, I'm just going home. And that mentality is thanks to that last snow. 
The evening prior, to one of my least favorite trail days, was just like any other. We made our plan for the next day, we knew it was going to rain in the morning, and we knew it was going to suck. That part is all okay. 
The morning came, exactly as expected. We started our ascent, and that's when things got rough. Constant rain turned to snow, and when we hiked over the tree line, it was also so cold, and so windy. I was trying to use my trekking poles, and each time I pressed one into the ground, it ended up about four inches to the left of where I intended to put it. 
My hiking pal and I were simply screaming. It was cold, and frustrating, and almost impossible to stay on the trail. We were getting blown around, and we didn't have a good channel for our frustrations. It was fine though, because the wind was so loud that no one could hear us anyway. I could barely hear her, and she was only about four feet in front of me. 
When we crossed back under the cover of the trees, the wind let up. And it got slightly warmer. You might think those things are good things. You'd be wrong. You see, when it was raining earlier, the rain froze to everything. Trees were covered in ice, and as it started to warm, that ice started to melt off the tree. Each time an ice chunk melts a little, it loses its grip on the tree. And when it does that, it falls and pelts innocent hikers in the face. 
Eventually, the day ended up being only moderately cold, and very wet. Which was bearable, but it led to another problem. Everything I owned was soaked, and the temperatures that night got down to the low twenties. 
I woke in the morning and everything was frozen. Before putting my shoes on, I had to stick them in my sleeping bag and wait for them to melt. I had to blow puffs of warm air at each joint in my tent poles so I could fold them up. 
I was extremely lucky, though, because my mom was driving from Florida to New York. She missed me, so she planned to do trail magic that day, about eleven miles from where I woke up. A gap I was sure to pass through that day. Instead, I texted her a new place to go to, only two miles from me, and she picked me and a few friends up. The four of us spent the afternoon sitting in a hotel parking lot, drying our gear in the sun, and she drove us back to trail in the morning. 
Those Aren't Even the Worst Parts
By far the worst part though is the people we've lost. There are many people on the RIP list, and it never gets easier to say goodbye. It doesn't matter if they get off for health reasons, because they only intended to be out there until a certain date, or if they just hated everything about the Appalachian Trail and it was time to say goodbye to their daily torture. When I daydream about reaching Katahdin, I still picture them being there. This experience wouldn't have been the same without them.
Additionally, by this point, the novelty of the trail has worn off. Pushing myself to hike mile after mile is hard sometimes because I've done it so. fucking. much. I've fallen into a mindset where it doesn't matter if I make it to my intended mile marker each day because I'll simply get there tomorrow.
I used to believe that if I dealt with harder hiking today, it would be easier tomorrow. That isn't true though. Because tomorrow still has something equally as hard. Or if it is objectively easier hiking, it might feel harder, because you're sore and tired from the day prior. 
That's what I'm dealing with now. A constant ache. And it affects everything. Every muscle, tendon, and joint has flared up at some point. They either scream at me for letting improper footing take me down, or they remind me in the middle of the night that, "Hey! We could really use some rest!" Unfortunately, I have to ignore that and push onward, knowing that there will be a town to rest in soon enough. 
I recently forced myself to get off trail for an extended break (a whopping three nights away from the trail) because it was beginning to be too much. Previously in my life, I had learned that it doesn't matter how much you love what you're doing, you need to take breaks from it. I had forgotten that on the trail, and it caught up to me. So I hid away for a few days, seriously debating if I even wanted to go back to the trail. I ended up back out there, but those stories will have to wait until the next post. 
Affiliate Disclosure
This website contains affiliate links, which means The Trek may receive a percentage of any product or service you purchase using the links in the articles or advertisements. The buyer pays the same price as they would otherwise, and your purchase helps to support The Trek's ongoing goal to serve you quality backpacking advice and information. Thanks for your support!
To learn more, please visit the About This Site page.